Royal Caribbean's Cruise Ship Anthem of the Seas is a playground for adults and kids alike. Here are my top 10 Anthem of the Seas activities for families.
I admit: I've had some preconceived notions about cruise travel that I am learning aren't entirely accurate. The #1 myth perhaps is that cruises are just for older retirees and people who love to sit around, watch shows, and enjoy endless 24-hour buffets.
Today's cruise ships offer so much more. I loved having the opportunity to travel on Royal Caribbean's newest ship, Anthem of the Seas. As I wrote about previously, the staterooms are modern and spacious, with lots of different room options. Travelers are offered a large and wide variety of gourmet dining options. The entertainment options onboard are top notch. And this particular ship has an impressive array of activities to keep families active and engaged onboard.
Here are my top 10 reasons families will love Anthem of the Seas.
---
Jump to:
1. iFly Skydiving adventure

For adventurous families, you'll love the Anthem of the Seas RipCord by iFly, the first skydiving experience at sea. There are age, weight, and medical restrictions to participate, so be sure to check with Royal Caribbean for the most up-to-date information. After registering, signing waivers, and watching a quick video, you'll suit up and the instructor will take you through a brief but very important training course focused on proper position and hand signals, since you won't be able to hear each other in the wind tunnel.
The entire flying experience is one minute long, and if you've never done it before, prepare for a very memorable, exhilarating minute!
Can you tell I was having a blast? I LOVED this, and couldn't stop smiling, even with winds pushing against me at high speeds! :)
Here's a very short 20-second video of me in the iFly tunnel.
2. SeaPlex
Families with kids of all ages (and even those without kids!) will never get bored on Anthem of the Seas, and the massive sports and entertainment complex known as SeaPlex makes sure of that. This complex is multi-use and changes frequently throughout the day and night. During the day, you can soar on the only flying trapeze at sea or bring your A game on the full-size regulation basketball court, which is also used for team sports such as soccer, volleyball, and badminton. I personally loved the bumper cars, and the main SeaPlex floor also turns into a roller skating rink at select ties. At night, a special floating DJ booth drops from the ceiling and the SeaPlex floor is electrified with a mix of lights and music as it transforms into a dance floor.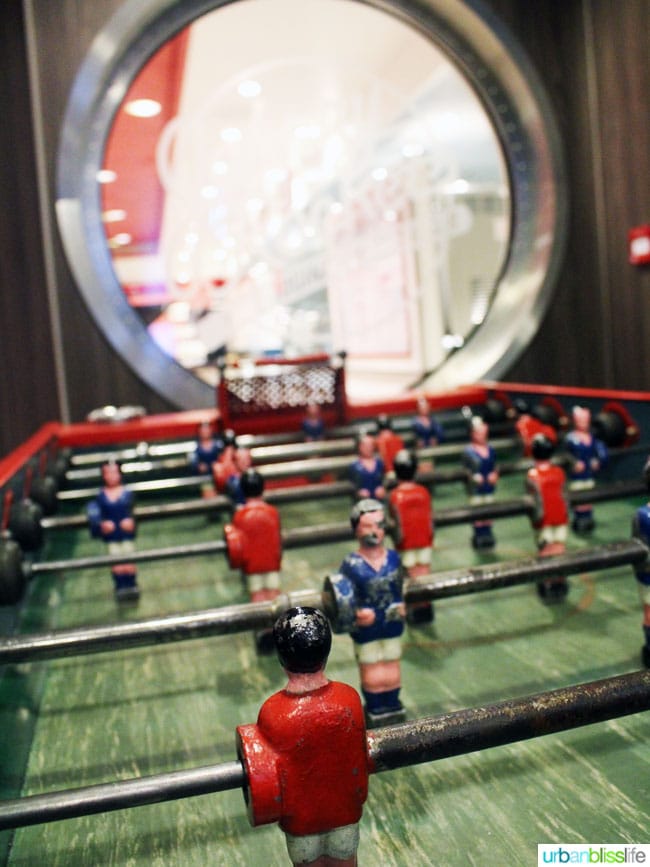 If you have tweens or teens who are worried they'll be SO BOOORED (we've all heard that before, right?), show them photos and footage of the live gaming suite with Xbox, table tennis, air hockey, foosball and other interactive games.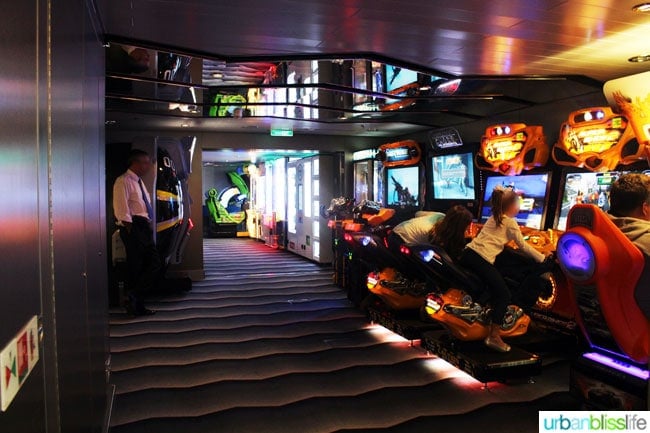 There's also an arcade with games for kids of all ages, and a private Teen Room where adults aren't allowed at certain times (other than supervisors) to spoil the teen fun. I love these spaces reserved just for 12 to 17 year olds. It gives them a chance to chill without their parents or younger siblings and also to meet other kids their age onboard.
3. North Star

North Star is an exclusive and intimate experience that takes guests on an exhilarating journey high above the sea. This glass observation capsule gently rises more than 300 feet in the air and rotates upwards and over the sides of the ship to provide the most breathtaking, 360-degree views imaginable.
This shot was taken while at the top of our North Star journey:
4. Adventure Ocean
For families with little ones, Adventure Ocean is Anthem of the Seas' large kids' club. The Royal Babies & Tots Nursery is open to kids ages 6 months to 3 years; the Aquanats room is for potty trained 3-5 year olds; and the Explorers Room is for 6-8 year olds. At night, from 10 p.m. to 2 a.m., Adventure Ocean turns into a Late Night Party Zone for children between ages 3 and 11. There is also in-cabin babysitting for children who are at least one year old. Hours and prices vary, and availability is based on registration, so be sure to check with Royal Caribbean with questions related to your children's specific age ranges and activity requests before boarding.
5. Rock climbing
Anthem of the Seas offers a 30-foot outdoor rock climbing wall that
6. Interactive art
One thing that truly surprised and delighted me on Anthem of the Seas was the amount of interactive art displayed throughout the entire ship. There is something to intrigue and entertain you as you walk to and from every activity. My kids would have loved the light switch art (pictured above) and the beautiful Pulse Spiral Chandelier (pictured below).
The chandelier works by placing your hands on the metal plates in-front for 10 seconds, then the 200 light bulbs flash in time with your heartbeat. After its finished flashing, the recording of your heartbeat is then transferred to the lowest light bulb and will move up the chandelier each time a new heartbeat is added. How cool is that?
These are just two of MANY examples of innovative, interactive art found throughout the Anthem of the Seas ship.
7. DreamWorks fun
Kids (and adults too!) will love seeing some of their favorite characters from DreamWorks movies come to life on Anthem of the Seas. Onboard are Po of "Kung Fu Panda;" Shrek, Fiona and Puss In Boots of "Shrek;" and Alex the Lion, Gloria the Hippo, King Julien and the Penguins from "Madagascar ." Families can sign up for a DreamWorks character breakfast, take advantage of Meet & Greet opportunities throughout the cruise, and participate in various games and activities centered around DreamWorks movies and characters.
8. Flow Rider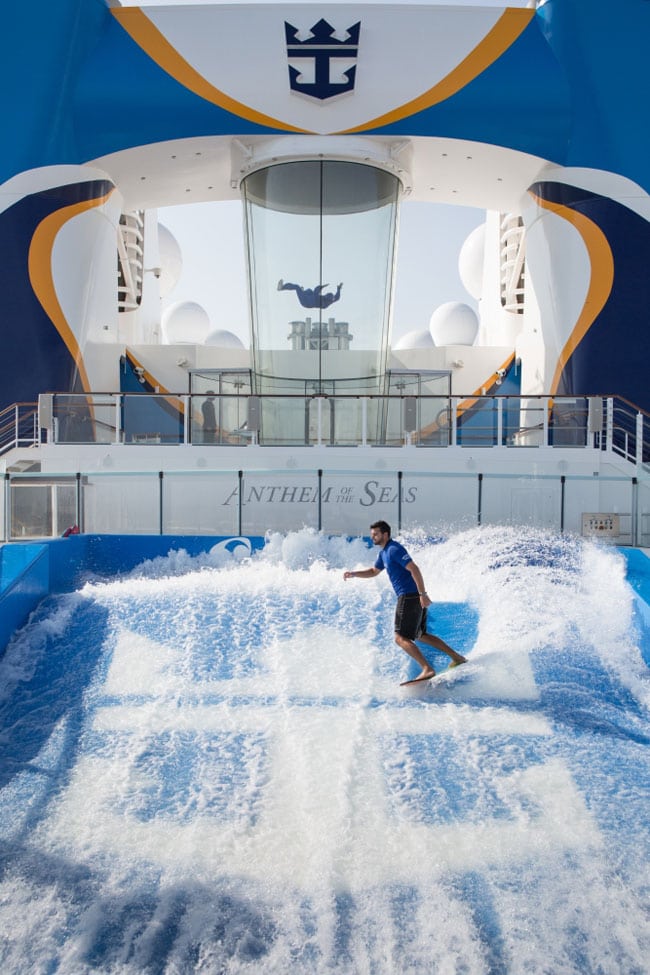 Directly below the iFly skydiving area is FlowRider, a surfing simulator. There are height restrictions depending on whether you want to boogie board or stand up. I didn't have time to do this, but it looked like so much fun!
9. Pools
There are three main pools on Anthem of the Seas. The main outdoor pool deck is large, with tons of lounge chairs nearby for sunning. There are also two whirlpools, and a ginormous screen that is used for announcements and social media fun during the day and movie nights.
The second pool is an all-weather pool that also has whirlpools and a wading pool. This section is quieter and tends to be less crowded than the outdoor main pool, which means the pool bar next to this pool is also less crowded.
The third pool is the adults-only pool in the Solarium. It's a really beautiful pool with a
10. Fitness & Spa
After all of the incredible dynamic dining you will do on Anthem of the Seas, you can also work it all off in the HUGE fitness center. There are several treadmills, ellipticals, and stationery bikes, as well as a host of classes throughout your stay. A jogging track circles around the deck of the main activities area (you jog right by Gigi the Giraffe!). The spa is a serene little getaway where you can get haircuts, manicures, pedicures, massages, and more - for kids and adults! I know my daughter would have loved to have done the mother/daughter mani/pedi services, and they also have mother/daughter and father/son massage services.
There really is so much for families to do to keep busy on Anthem of the Seas. For more, be sure to visit my past articles and visit my Urban Bliss Life YouTube Channel for Anthem of the Seas videos.
Anthem of the Seas: Dynamic Dining
Anthem of the Seas: Entertainment at Sea
Which family activity do you think you would love the most?
Thanks so much to Royal Caribbean for the complimentary travel and media visit on Anthem of the Seas. All opinions and photos are, as always, my own. For more information about Anthem of the Seas, visit: http://www.royalcaribbean.com/anthemoftheseas/.