Cruise ships are known for offering show-stopping entertainment. Royal Caribbean's Anthem of the Seas entertainment will wow you with state-of-the-art technology and top talent. Be sure to check out my YouTube video featuring a few of the highlights!
In this second part of my travel bliss series on Royal Caribbean's Anthem of the Seas, we'll take a brief look at the many entertainment options onboard this massive cruise ship. Be sure to visit my post on the Anthem of the Seas Overview and Staterooms to get more details about the ship itself.
Jump to:
Anthem of the Seas entertainment: party in motion
From the moment you step onto Royal Caribbean's Anthem of the Seas, you're made to feel welcome. There is plenty of space where you can lounge and find quiet respite from the crowds. And, there is a definite high energy buzz that vibrates throughout the ship and is maintained by the ship's vast array of entertainment options.
Our own media cruise was kicked off by:
an Anchored in Anthem Ceremony, featuring bagpipes
previews of the We Will Rock You musical and tribute band performances on board
a beautiful rendition of America the Beautiful
impressive real-time viewing and countdown to the official anchoring in America moment.
You can view some of those moments in my YouTube video.
All of the Anthem of the Seas entertainment was capped off by a large balloon drop in the ship's main indoor space with more live music.
The Sail Away Ceremony took place out on the main decks. A DJ spinned great party tunes, and we watched in awe as we sailed by Lady Liberty and beautiful New York City.
We Will Rock You
While I didn't get to see this award-winning musical that broke records in London while I was onboard (so much to do, so little time!), I got a preview of We Will Rock You during the Anthem of the Seas Anchored in America ceremony.
These performers are incredibly talented! They rock the house with a killer medley of Queen tunes, such as Bohemian Rhapsody, Radio Ga Ga, and of course, We Will Rock You, among other songs.
Two70 and Spectra's Caberet
Two70 degrees is a multi-million dollar multimedia performance space. The entire room is outfitted to be part of the performance, with 18 projectors that combine to create an ambient surface over 100 feet wide and over 20 feet tall, and robotics like you've never seen used on stage before.
Spectra's Caberet is an original Royal Caribbean production that is a technological and theatrical sizzler. With the use of acrobatics, dance, costume changes, and a dazzling multimedia display, the narrator, Spectra, takes you through his multi-dimensional imaginative world. Personally, I loved it, and thought the cast did a fantastic job; some of my fellow, older passengers whom I spoke with afterward did not.
That said, my mom is the same age as some of those passengers, and she told me she enjoyed the show too. It's not a show for everyone, but you really should know what a cabaret is and know that this is an edgy, modern twist on a classic cabaret, before you go. If you go with the right expectation and perspective, I think you'll love this Anthem of the Seas entertainment too.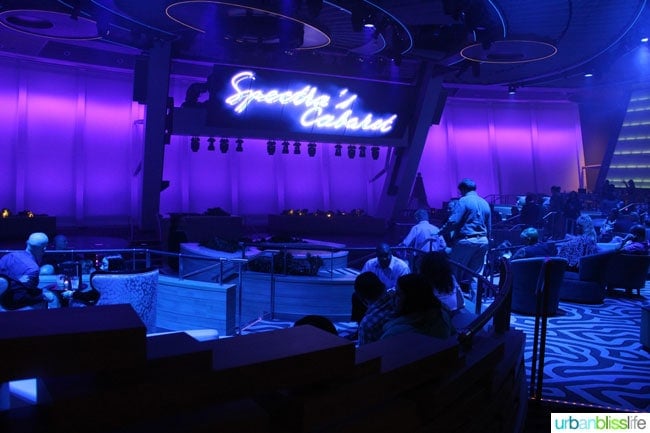 Music & Dancing
Throughout the entire ship, you'll find live music as part of the Anthem of the Seas entertainment. From Latin music to pianists to DJ dance parties to 80s tribute bands. There's something to suite almost every musical taste onboard.
To give you a real taste of some of the entertainment you'll find on Anthem of the Seas, I made this short video from my time on the media cruise. You can find it on my Urban Bliss Life YouTube channel. While there, I hope you'll watch some of my other food, wine, and travel videos and subscribe!
Coming up on the next Travel Tuesday feature, I'll share a peek at Anthem of the Seas' Dynamic Dining options. If you love food + drink as much as I do, you won't want to miss it!
Be sure to read my previous post: Royal Caribbean Anthem of the Seas Overview & Staterooms.
More Travel Stories
Which show/entertainment option do you think you would enjoy the most?
Thanks so much to Royal Caribbean for the complimentary travel and media visit on Anthem of the Seas. All opinions and photos are, as always, my own. For more information about Anthem of the Seas, visit: http://www.royalcaribbean.com/anthemoftheseas/.