The Hilton Athens is centrally located and offers weary travelers some of the best service and exquisite hotel dining experiences I've ever encountered.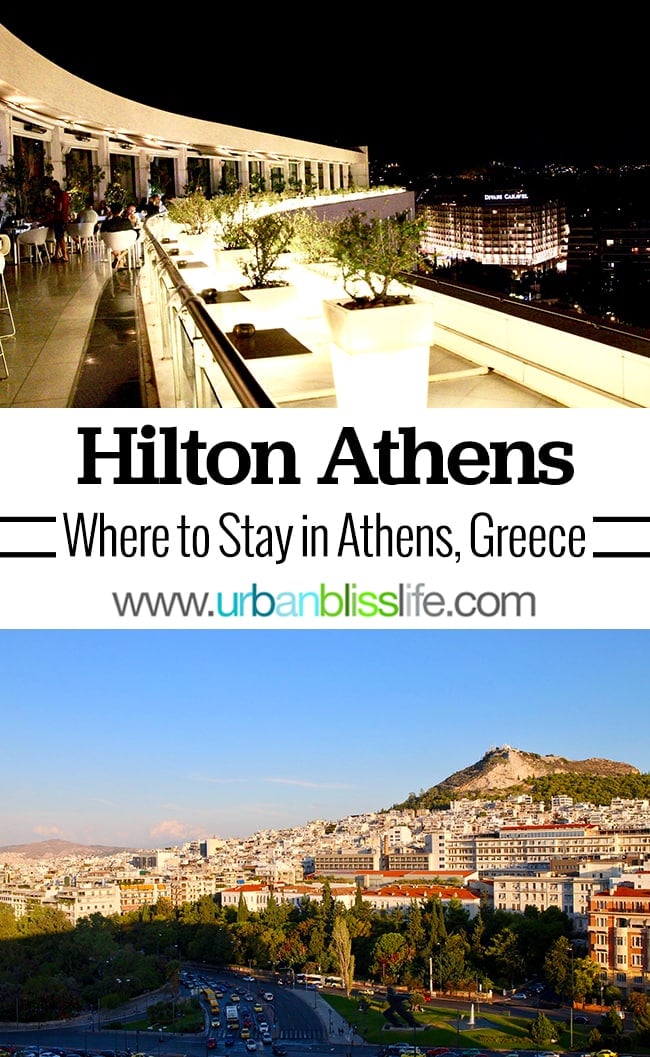 London to Greece
After an action-packed, 10-hour layover in London, I boarded my final flight to Athens, Greece.
That's when my feet finally started hurting. 25,000 steps in 10 hours will do that to you.
My flight landed in the Athens airport at 2:30am. Grateful for only having a backpack and small carry-on rolling luggage, I immediately hopped into a taxi. As we drove into the funnel of dark night, the lights from the freeway dimmed to a quiet black on city streets. I went through my mental safety checklist as a solo female traveler at 2:30am in a foreign city. 36 hours of travel can do that to you.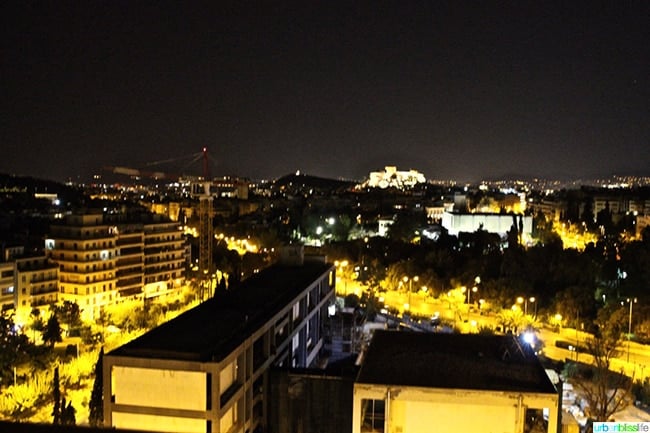 After expertly maneuvering through a few narrow streets, my taxi driver explained that we were close to Hilton Athens. Almost immediately after he made that declaration, a massive light-filled structure beamed from the black sky in front of us. "That is the Hilton."
"Whoa," escaped from my lips. Apparently 30 hours of travel turns me into a tired Rocky Balboa.
The taxi driver chuckled. "Yes, I think it is the largest hotel in the city. You cannot miss it."
It was 3:15 am. Suddenly, I was alive with electricity, bursting silently inside at the opportunity before me to explore a new city.
Travel has a way of doing that.
Executive level rooms and suites
Checking into the Hilton Athens at 3 am, I was greeted warmly by two front desk staffers. These lovely people made me feel right at home and I immediately felt at peace with my long days of travel. This amazing service set the tone for the rest of my stay here.
My room was on the 11th floor, the Executive Level, which comes with its own front desk staff who are equally warm, amazing, and helpful. In my room, a delicious set of boxed sweets, fruits, water, and wine welcomed me in.
Executive Rooms are each 366 square feet, with private balconies and plenty of space to rest in-between meetings and after a long day of exploring.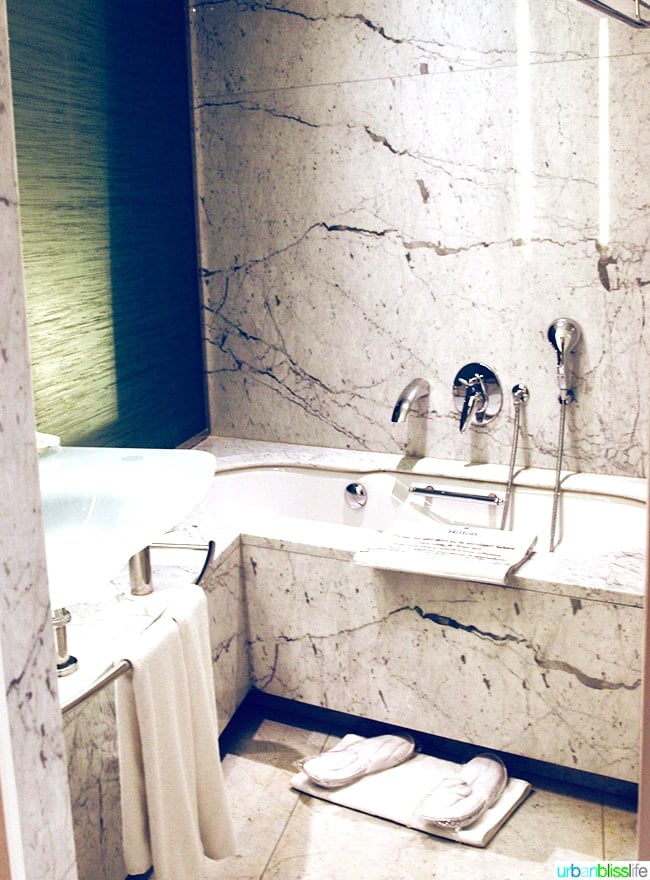 The bathrooms are like mini spas, with gorgeous white marble throughout, a large marble shower, and jetted tub.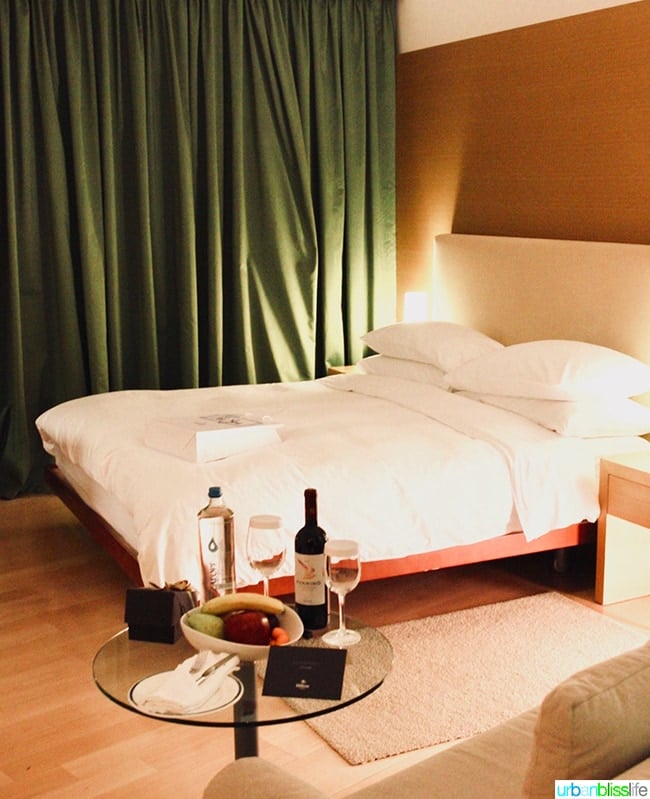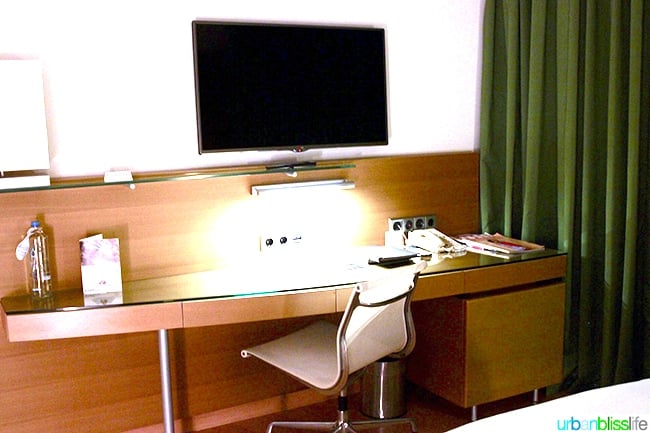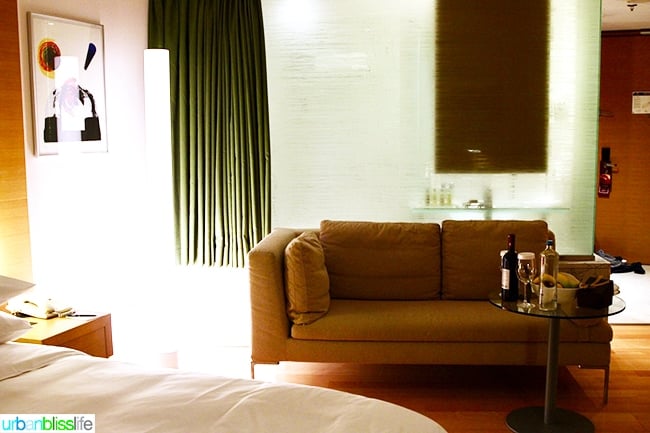 The beds at Hilton Athens are so comfortable. Each room comes with a cozy couch, and a desk area with ample outlets to help you get your work done while you're here. But I loved being able to work from the comfort of my cozy hotel bed with an incredible view of the city.
Best view of the city
I thought the view from my room at the Hilton Athens at night was incredible, but once daylight hit, the view absolutely took my breath away.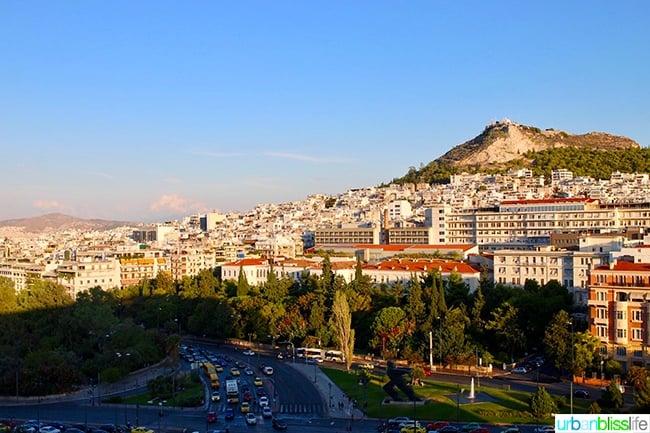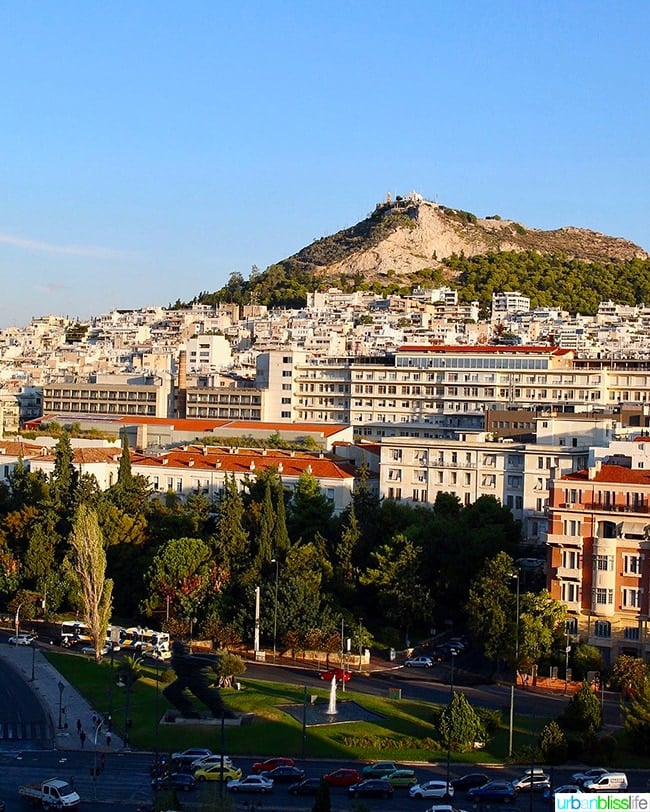 This. This historic, stunning city is what I was able to wake up to. I fell so in love with this view.
Travel Tip: If you want a room with a view, stay at the Hilton Athens. Every room at Hilton Athens comes with a view - not just the Executive Level rooms and suites. The view is different depending on room location, but whether you are headed to Athens for the first time or the twentieth time, a stay at the Hilton Athens guarantees you city views.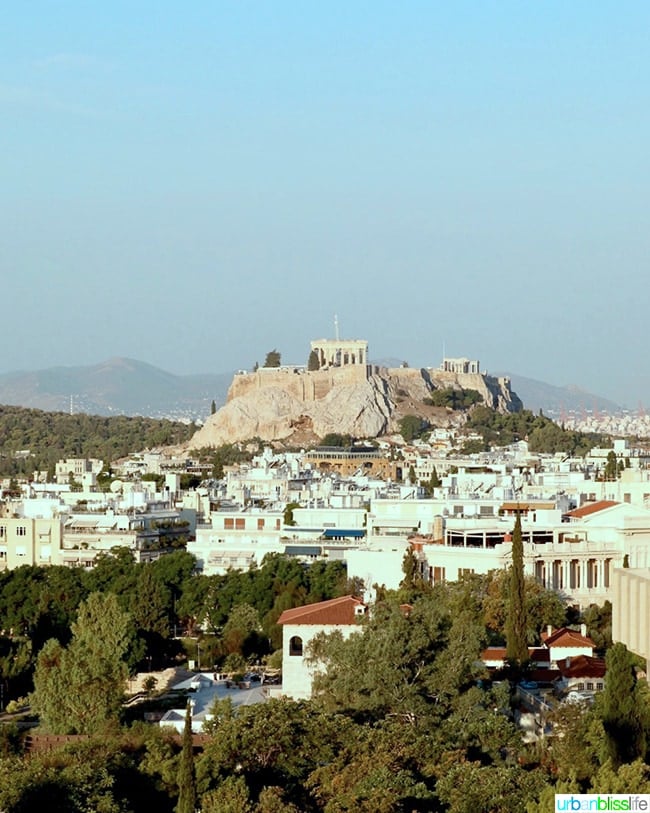 Lucky me: my room was one that had a direct view of the Acropolis. This made me even more excited to visit it on my first day there!
Breakfast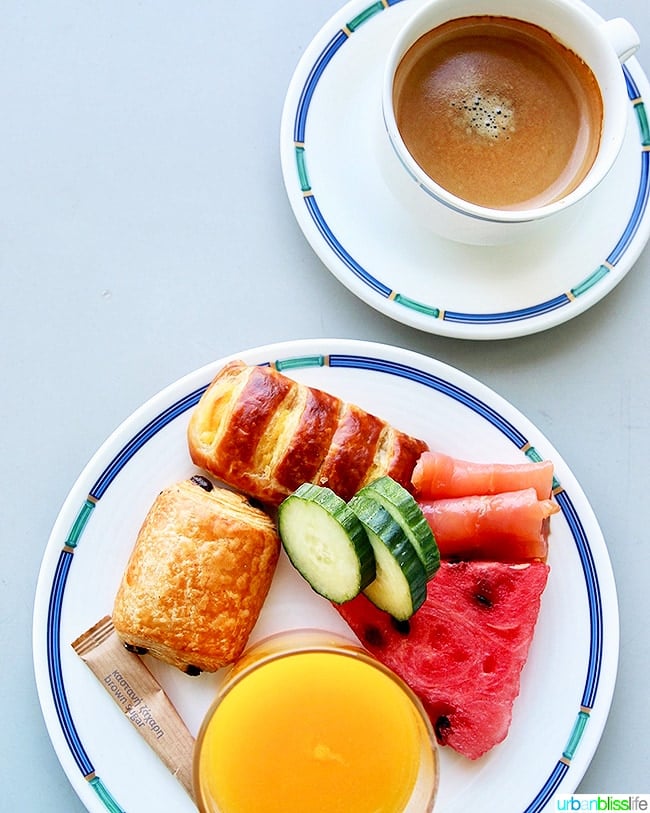 Guests on the Executive Level have access to the Executive Lounge with complimentary breakfast, as well as complimentary snacks and coffee throughout the day.
There's also an incredible city view from the lounge balcony, as well as plenty of space to spread out and relax, read the paper, and enjoy your coffee before starting the day.
More dining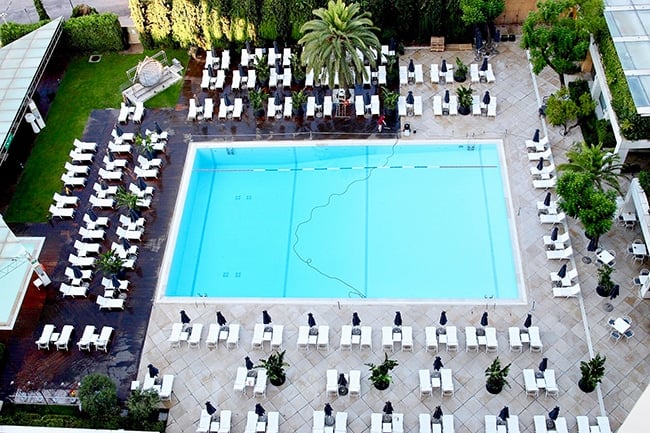 For lunch at the Hilton Athens, consider dining al fresco, poolside, at the Oasis Pool Bar & Grill. Note: this particular restaurant is open from May through October. You will find similar dishes at Hilton Athens other restaurants, the Byzantino and Galaxy Restaurant and Bar.
On our last day in Athens, we were treated to a delicious lunch by Executive Chef Konstantinos Athanasiou. Here is a look at some of the delightful dishes you might find when dining at Hilton Athens.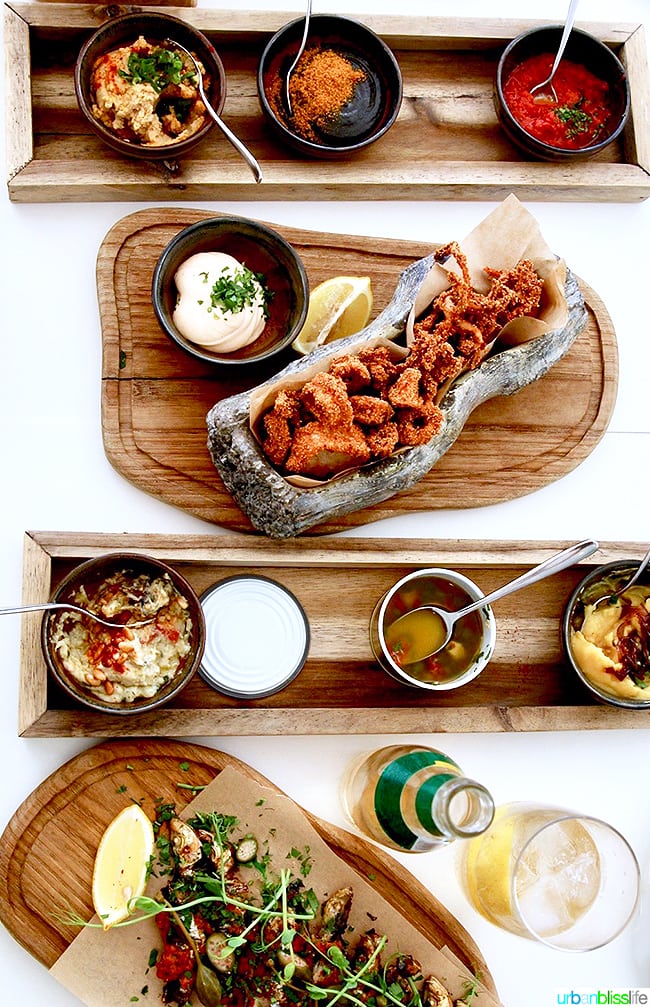 Keep in mind that many ingredient are seasonal, so not all of these dishes may be available during your particular visit. But based on dining experiences here during my stay, you can rest assured that any meal you enjoy at any of the Hilton Athens dining establishments will be thoughtful, creative, and absolutely memorable.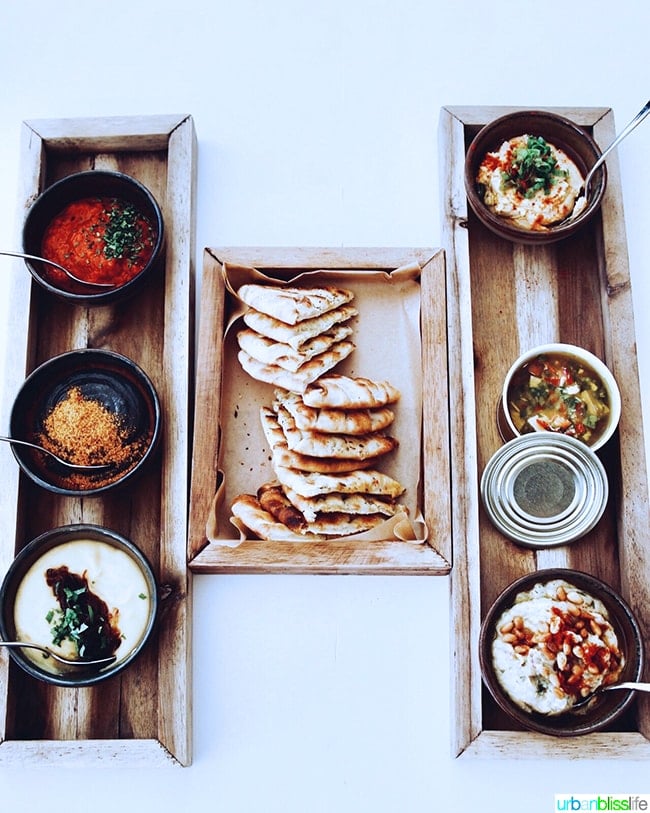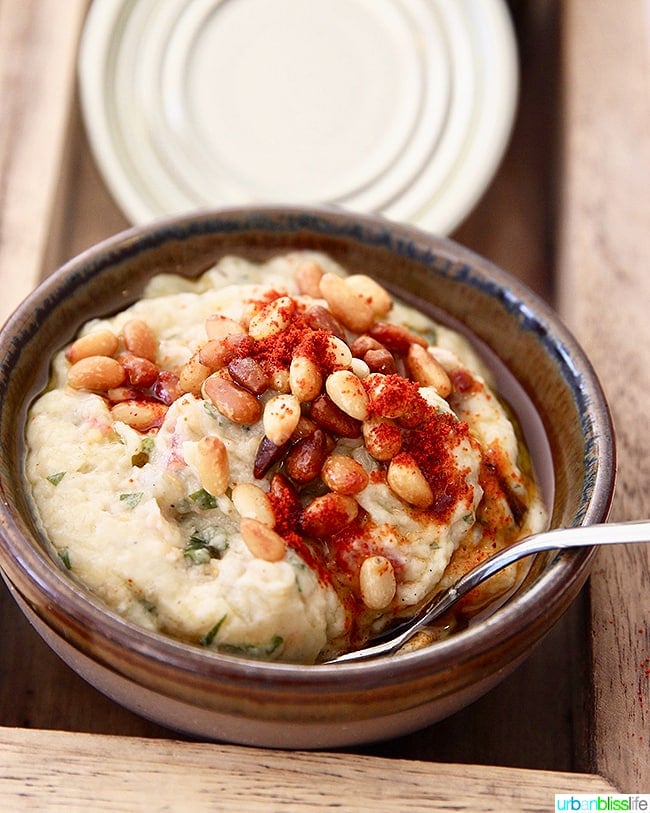 Start with a variety of Greek dips, served with toasted pita bread. The hummus with pine nuts, herbs, and smoked paprika was one of my favorites.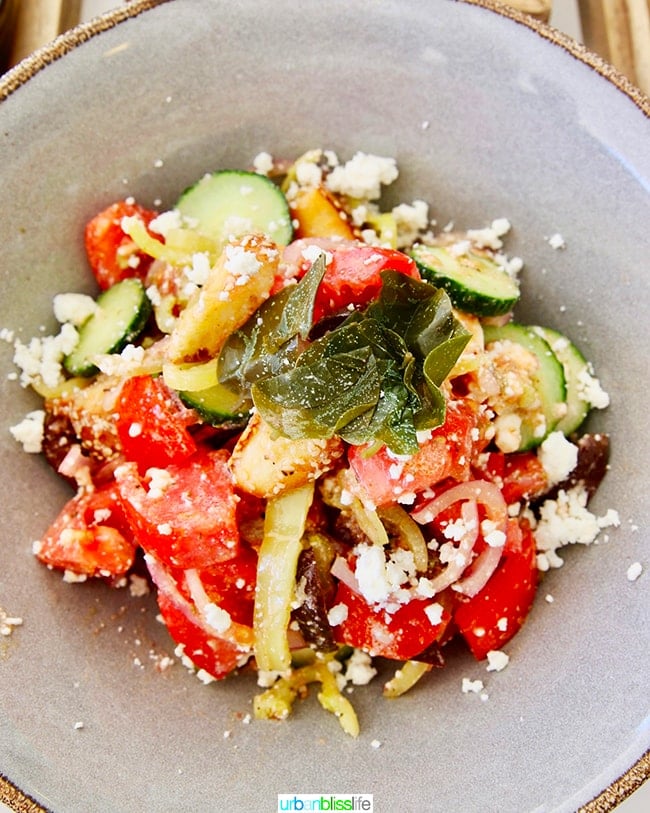 You can't go wrong with the classic Greek Salad, served here with red and yellow tomatoes, onion, peppers, Kalamata olives, feta cheese and caper leaves.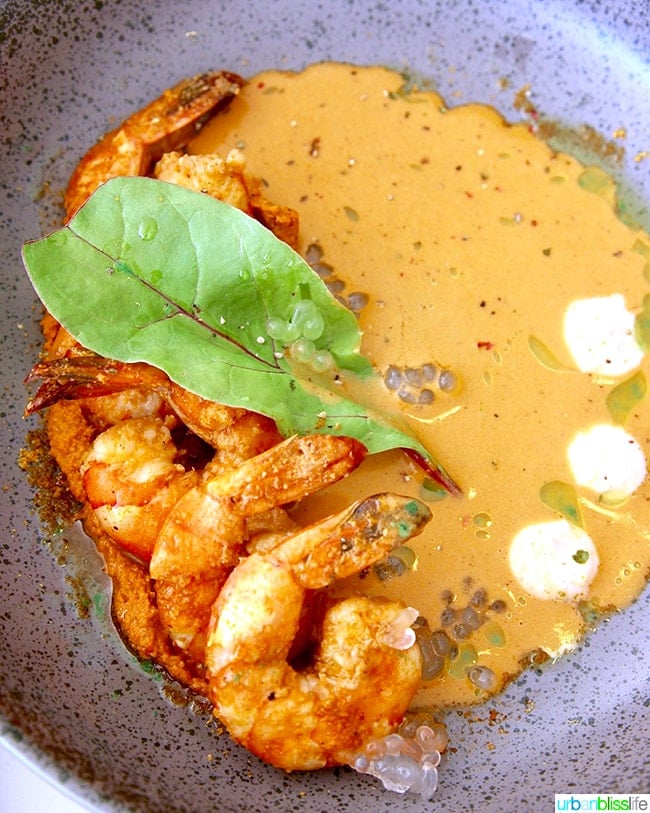 These prawns in a tangy coconut-based sauce were one of my favorite dishes.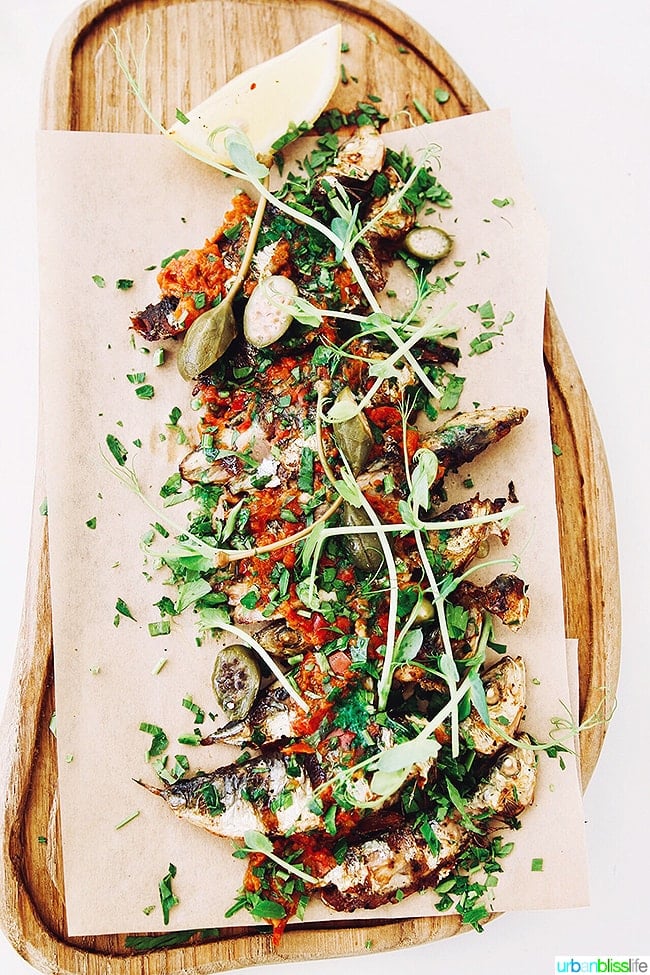 But I also really enjoyed these sardines. The saltiness from the Greek sardines was matched beautifully by the brightness of fresh herbs, tomatoes, and a hit of lemon.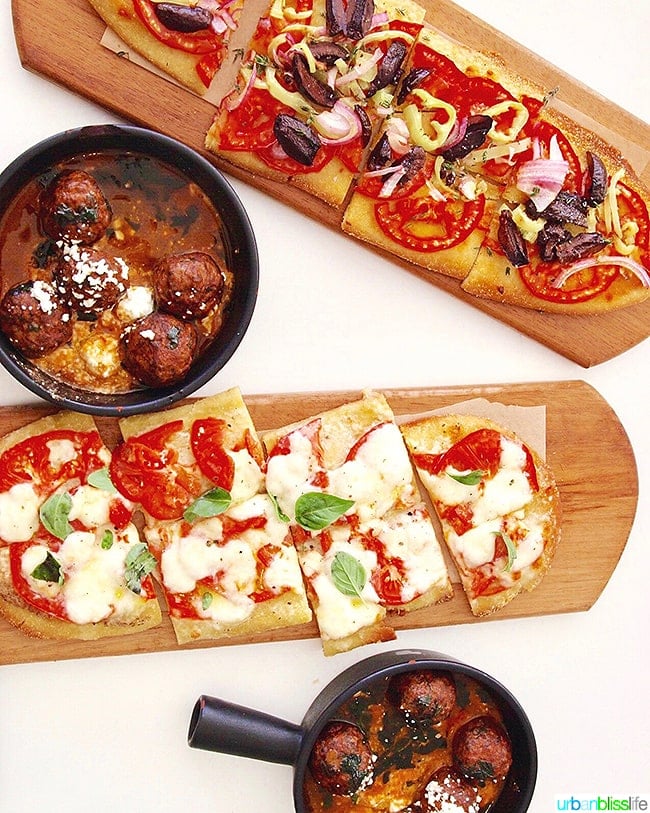 We also enjoyed some meatballs as well as two Greek flatbreads: a classic Margherita-style flatbread and a Greek-style flatbread with Kalamata olives, tomatoes, peppers, and red onions.
Then, of course, there's dessert.
Desserts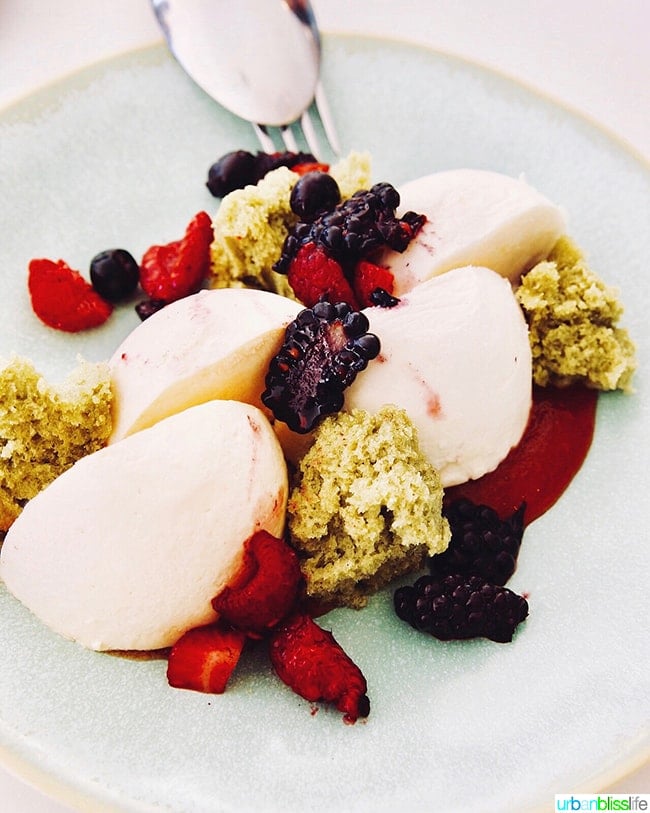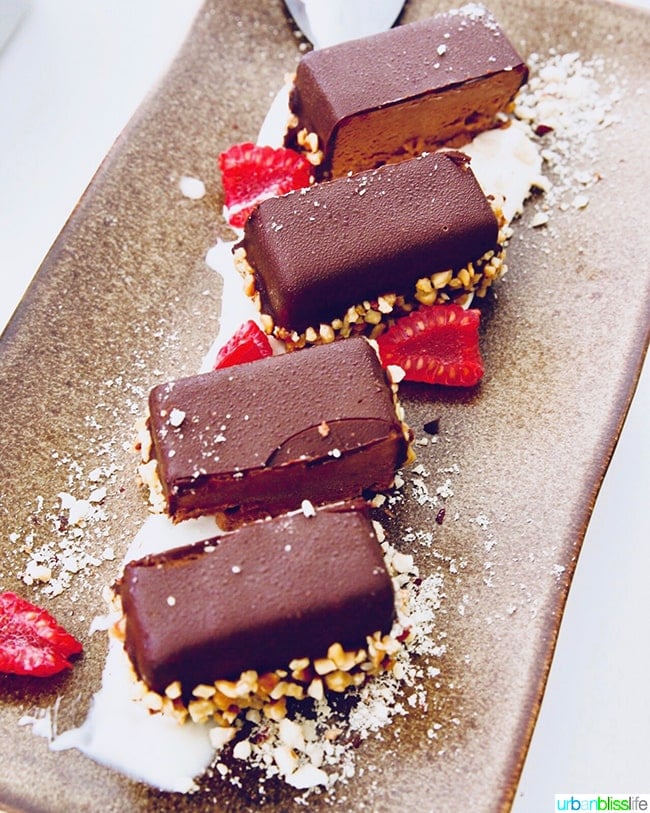 Both of the desserts are very summery and seasonal, so you likely won't find them in winter. But you will see the creativity in the flavor combinations and the playfulness in the presentations carry throughout the year when you dine at Hilton Athens.
As someone who travels quite a bit, I usually endures versus enjoys hotel food. However, I am highly impressed by all of my dining experiences at Hilton Athens. The chef and his team have created dining experiences that allow you to fully enjoy Greek cuisine with creative global flair. It's no wonder that the restaurants and bars here are frequented by locals as well as tourists.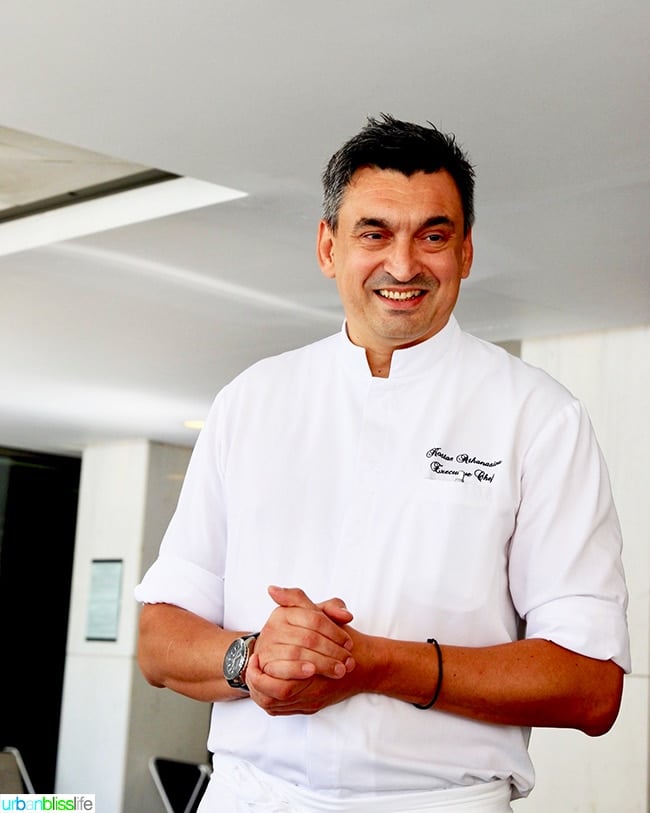 Many thanks to Executive Chef Konstantinos Athanasiou and his team for creating a hotel dining program that excels at satisfying, surprising, and delighting both the Athens locals and tourists at once.
Late night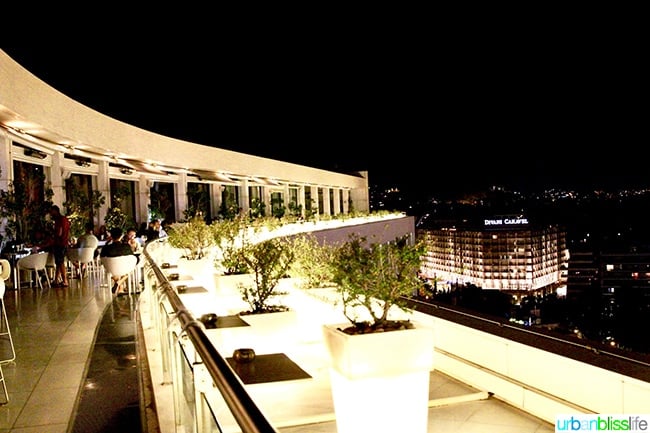 As if the exquisite rooms with city views and gourmet hotel dining experiences weren't enough, you get both at once when you dine at Hilton Athens Galaxy Restaurant and Bar.
Enjoy this rooftop restaurant best at night, when the bar terrace lights make this jaw-dropping views of Athens feel other-worldly. Here, you can enjoy a dazzling selection of sushi as well as appetizers and a small dinner menu.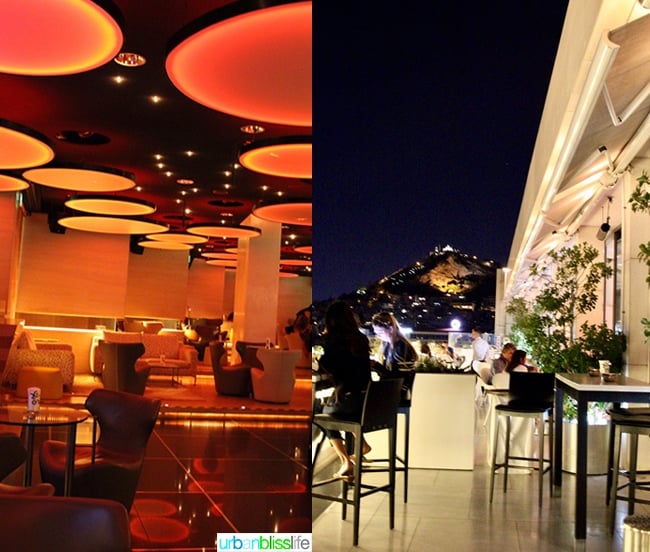 Our group decided to enjoy the view with rounds of Mastica Tears cocktails. These signature drinks are made with Greek Mastic Tears lemon liqueur, Aperol, Antica Formula vermouth and chocolate bitters. The bar also has a lovely selection of Greek wines.
Why I love staying at Hilton Athens
The location, the service, the amenities, the rooms, the views, and the dining experiences are all exceptional at Hilton Athens. Each staff person I encountered was friendly, attentive without being intrusive, and helpful. Considering I arrived in the dead of night, I received similar exemplary service as I did at 5am when I called to borrow a universal adaptor (the one I brought didn't work in Greece). And then again at 11am when checking out and needing a print out of my boarding pass. It is clear that management places high value on customer service at Hilton Athens. That value ripples throughout every aspect of the hotel.
This experience inspired me to sign up for the Hilton Honors program. I LOVED my stay at Hilton Athens, and I truly cannot wait to return someday with my family!
Visit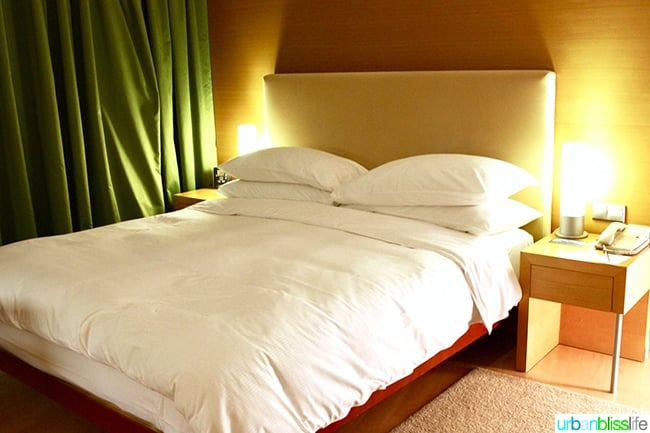 46 VASSILISSIS SOFIAS AVENUE
ATHENS, 11528|
GREECETEL: +30-210-7281000
For more information and to make reservations, visit the Hilton Athens website.
Have you stayed at Hilton Athens? What hotel aspect highlighted in this travel article would you look forward to the most?
Disclosure: Thanks to Hilton Athens for the complimentary visit. I truly enjoyed every minute of my stay here and cannot wait to stay during my next travels to Athens. As always, all opinions and photos are my own.