In this second part of my Long Layover in London series, I take you to Buckingham Palace, Hyde Park, and more! Follow along as I share my London travel journal and travel tips for long layovers in new cities.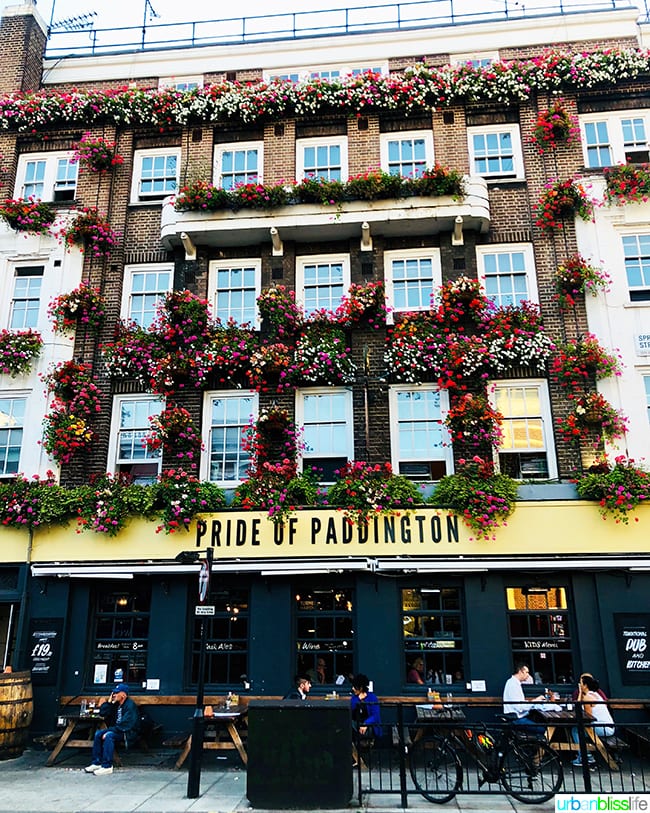 If you choose to take a long layover between flights and explore the city, there are two main travel tracks you can take.
Perhaps you want to enjoy a slow travel experience during your long layover. You just want to visit one or two hot spots, enjoy a nice full meal, and then head back to the airport.
During my 10-hour layover in London, I decided to take the travel-at-full-speed experience. I had never been to London, and wanted to make the most of the six hours I actually had on the ground to fully explore the city and see as many sights as I could.
Both types of long layover travels have benefits and are wonderful in their own way. It's up to you to decide which suits your type of travel needs & wants at the time.
If you haven't year read Part 1 of my Long Layover in London blog post, I suggest starting there. You'll get a look at London's churches, the Bond Street shopping district, Paddington Station, where I met a friend for lunch, and travel tips about customs and hop on, hop off busses.
Jump to:
Long layover in London, part 2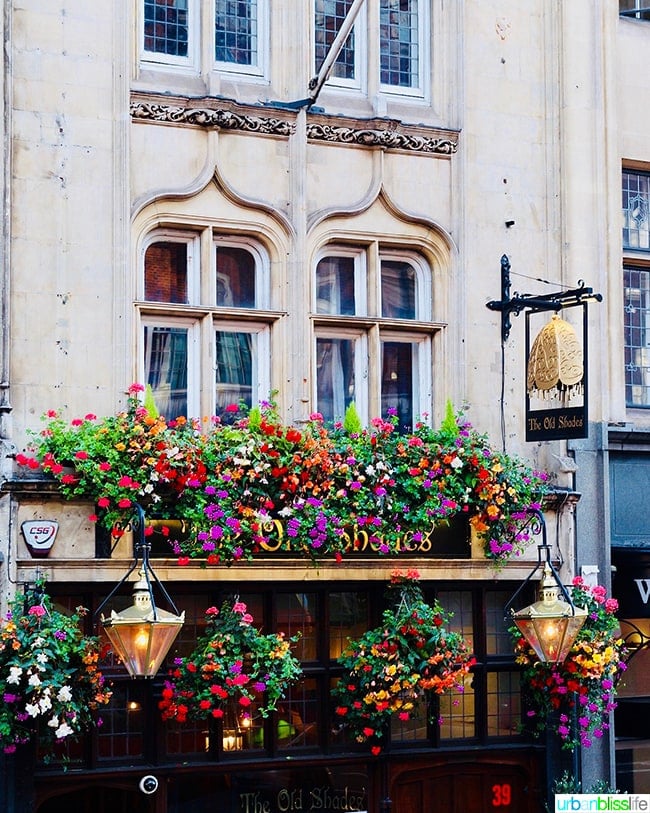 I continue my mad dash across the city during my long layover in London.
From Westminster Abbey, I walked over to Big Ben. Except... was it Big Ben? Was it, really??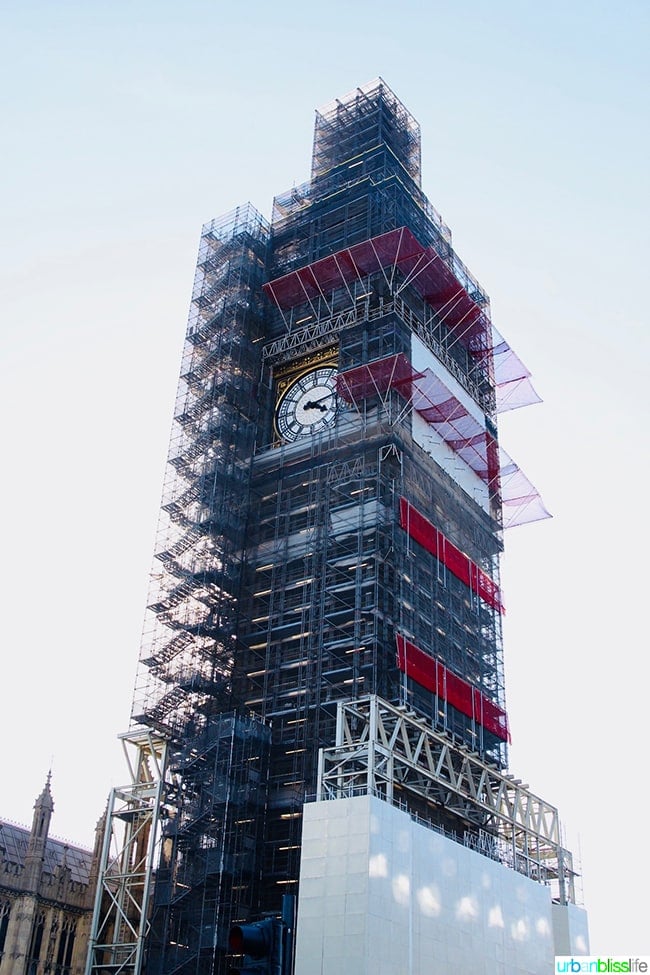 For those of us who were obvious tourists (and there were a lot of us!), it was hard to tell from the massive construction facade that coated this iconic London structure. But there it was. Technically, Big Ben is the largest of the bells within Elizabeth Tower, but most people refer to the whole structure as Big Ben. It is currently undergoing a $38 million renovation, during which one of the clocks is to be visible at all times, but the bells will not ring. Construction started in 2017 and is expected to last a total of four years.
I will see you again after you've undergone your surgery, Big Ben.
The London Eye
From Big Ben, you can cross the Thames river to check out the famed London Eye.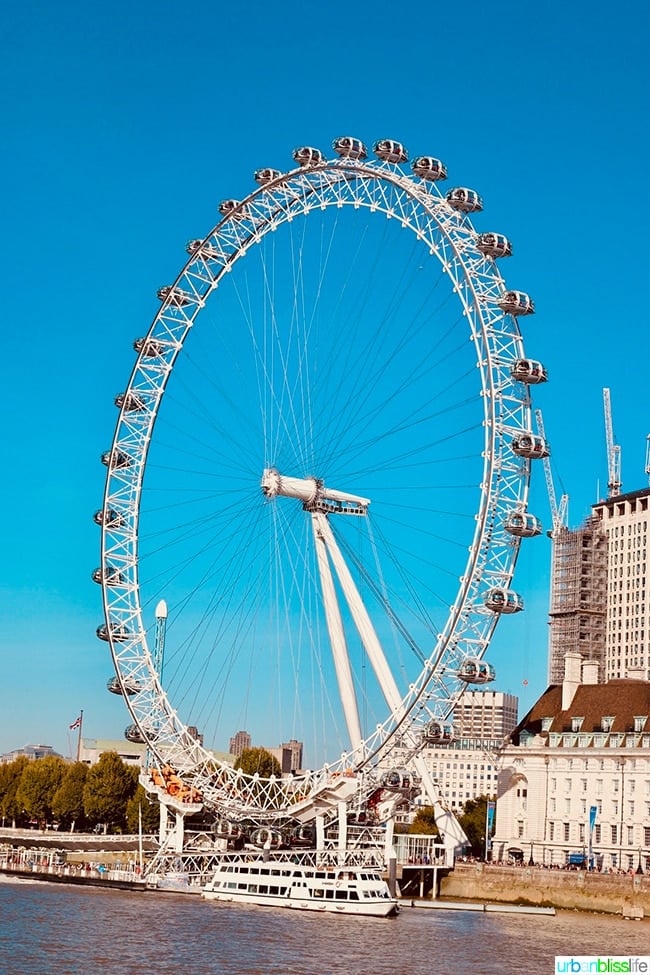 Technically known as the Coca-Cola London Eye, this is the "world's largest cantilever observation wheel." Meaning: it's a super big ferris wheel with individual enclosed "capsules" where you can take your touristy Instagram shots.
Since I was short on time, I viewed the London Eye lovingly from a distance across the river.
Also, I didn't have tickets, which you can purchase in advance starting at 25 pounds for a standard ride ticket.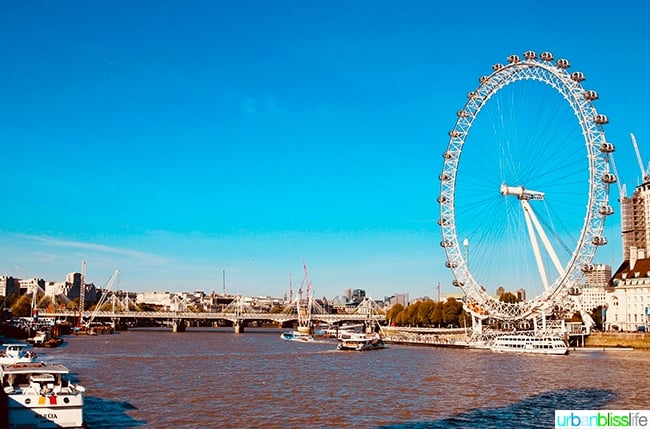 You can also book private capsules with special champagne packages, birthday packages. etc. I think if you have a bit of time, and you really want to make the London Eye one of your main stops during a long layover, you can and should do it. Don't forget to #eyeloveLondon from your capsule!
Green Park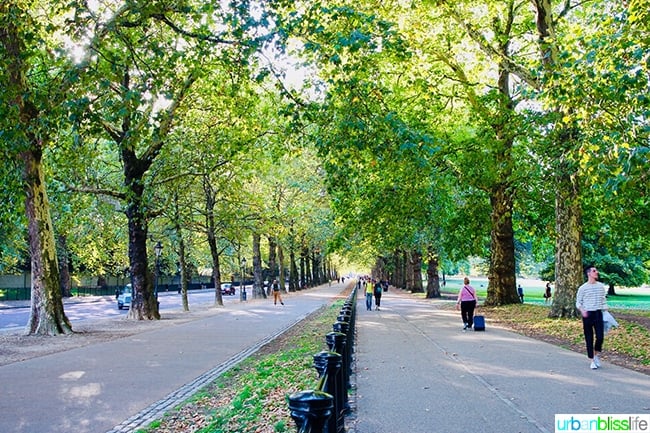 After spending a little bit of time being corralled within herds of tourists also checking out Westminster Abbey, Big Ben, and the London Eye, I needed some breathing room. I still had my ticket for a Hop On/Hop Off bus, so I caught one over to Buckingham Palace and decided to get off at Picadilly.
From there, I walked across Green Park to Buckingham Palace.
Canada Gate
Now, before I get to Buckingham Palace, I want to share with you Canada Gate.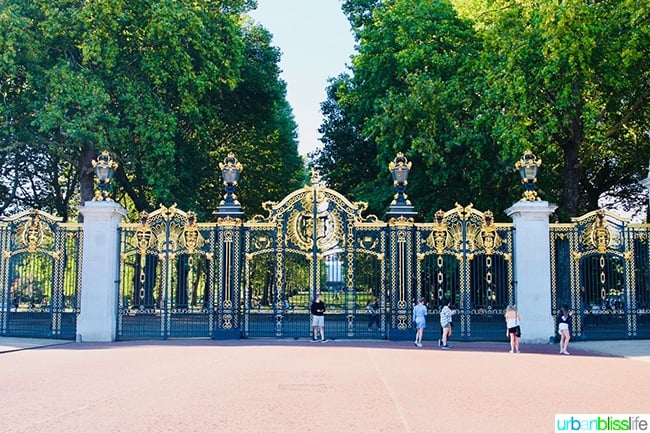 Installed as a memorial to Queen Victoria, the Canada Gate serves as the entrance to Green Park from Buckingham Palace. If you're walking through Green Park from Picadilly, as I did, you'll come across the massive gate on the opposite side.
The gates hold the crests of different Canadian provinces, and are a majestic, ornate, beautiful sight (and photo opp) on their own.
And then, there's the Grand Dame of London: Buckingham Palace.
Buckingham Palace
I was so busy marveling at the detail in the Canada Gate that when I turned my back to the gate, it took my mind and eyes a few seconds to realize that I was looking at Buckingham Palace. It looks very different without the massive crowds of tourists (there were a couple hundreds, perhaps) and without the spring flowers we see across the way in most official photos.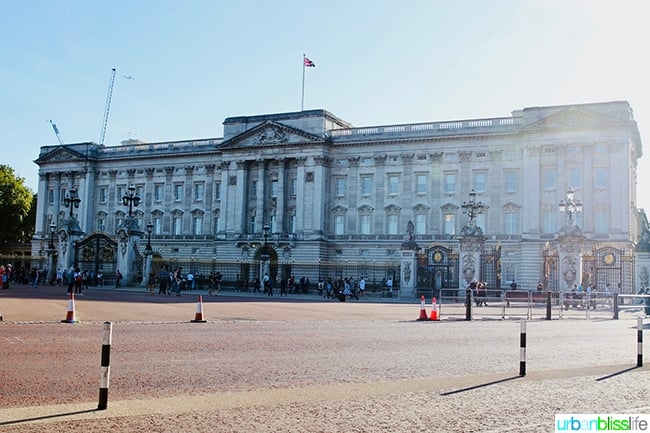 Buckingham Palace is the administrative headquarters of the Monarch, and has served as the official residence of the Queen since 1837.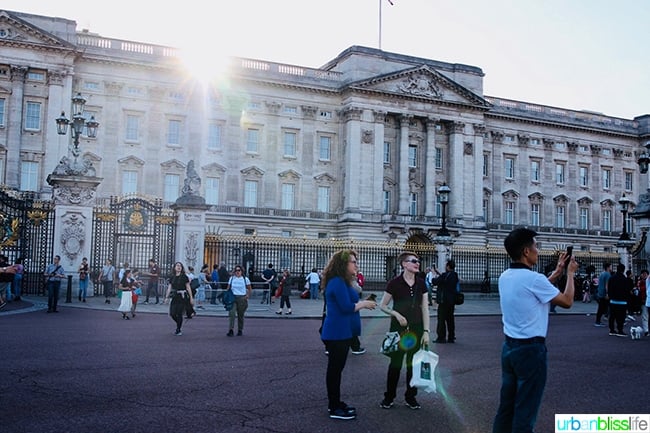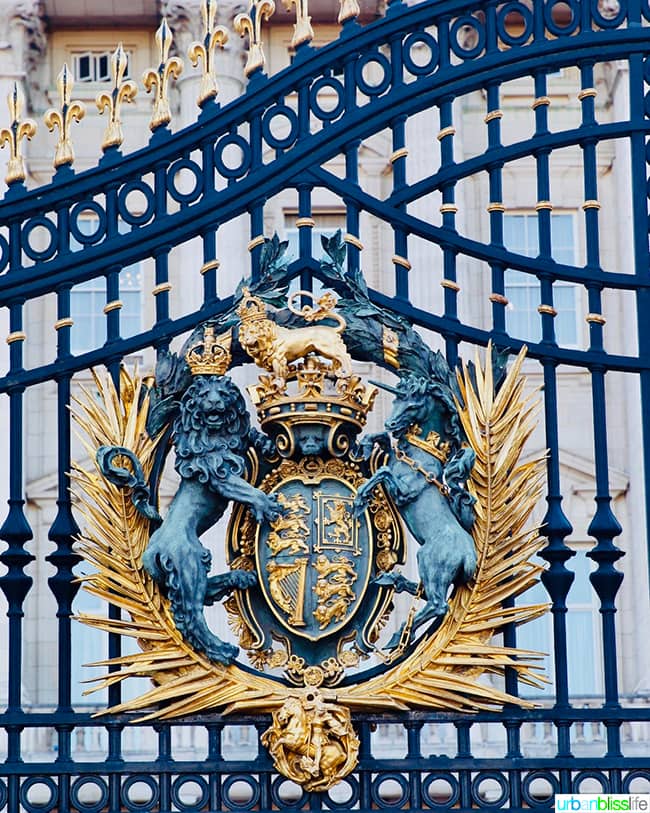 Tips for visiting Buckingham Palace:
Wear comfortable shoes and plan for two to two-and-a-half hours for a visit.
Be prepared for airport-style security before entering the palace.
Go before you go: the only restrooms and baby-changing facilities are at the end of the tour.
Photography is only allowed in certain areas, so be sure to check the website before you go and listen carefully to instructions and check posted signs throughout.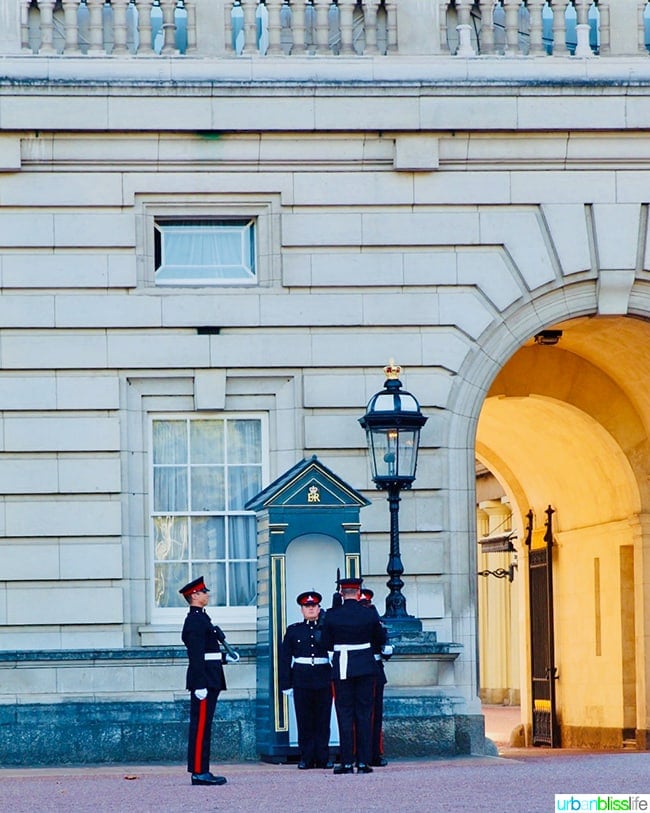 I went expecting to see the Changing of the Guards (the iconic fuzzy hats!), but I was there mid-afternoon and missed it. The gentlemen pictured above are reportedly royal Navy guards, and I did witness a smaller changing of the guard ceremony, but it wasn't the big official one.
Since I knew my time was limited, I was just content to see the exterior of Buckingham Palace on its own. But if you do want to see the official changing of the guard, here are the details:
The Changing of the Guards dates change regularly, and are posted on this website. Official start time is usually 11am and the ceremony lasts 45 minutes. For the best viewing, plan to arrive by 10:15am.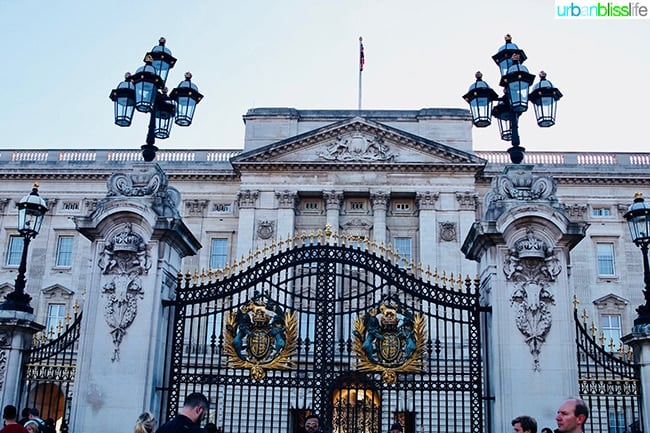 Hyde Park
After viewing the outside of Buckingham Palace, I knew it was about time to start walking back to Paddington Station.
Using Google Maps, I decided to take the scenic route back through Green Park and then through Hyde Park.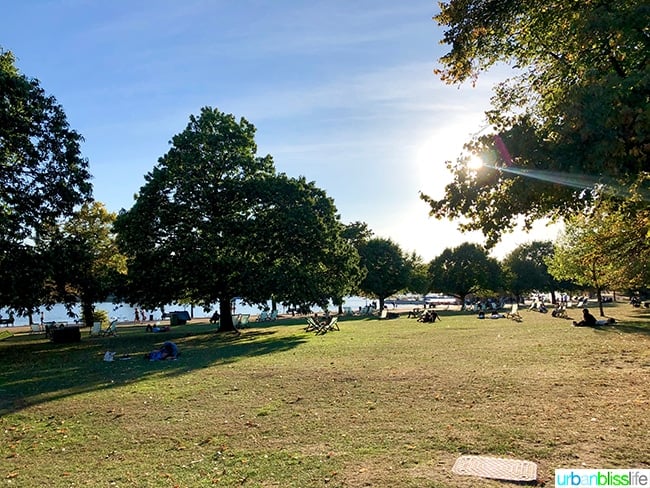 Hyde Park and Green Park are both part of the consortium of eight Royal Parks. Hyde Park covers 350 acres of gorgeous space right in the city. You'll find everything from quiet gardens to boating and swimming in the Serpentine to tennis and horseback riding.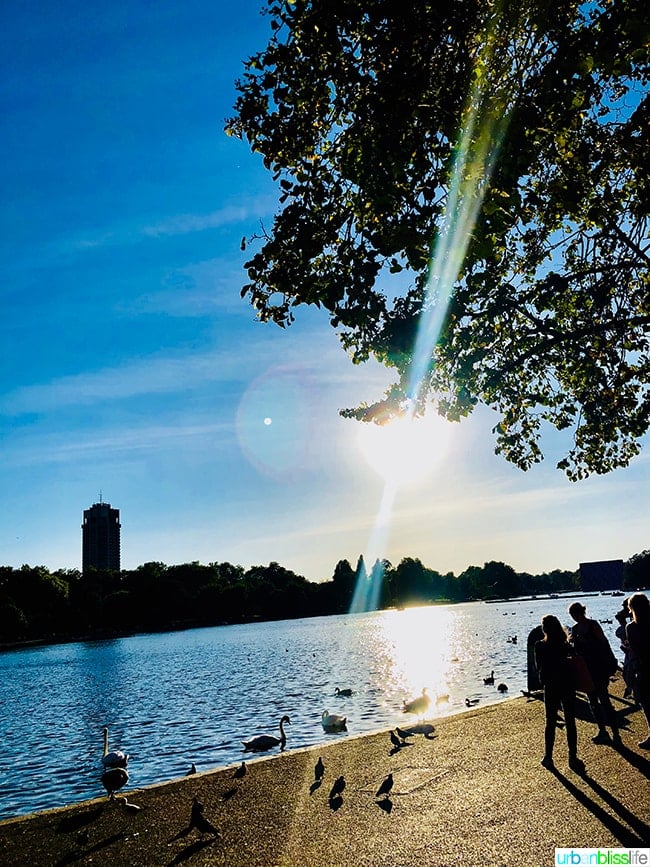 On Sundays, you can catch people from all walks of life sharing their thoughts on every topic under the sun at Speaker's Corner.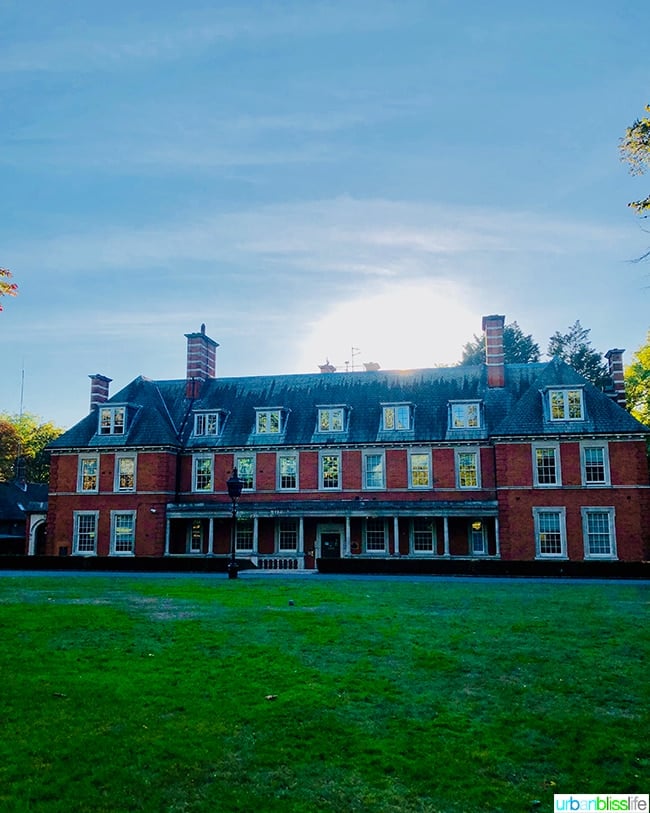 I am glad I gave myself a decent amount of time to wander through Hyde Park on my way back to Paddington Station. It's a lovely park with so much to offer, and is the spot where I thought, "Yeah. I could live in London."
The beauty of a long layover
Long layovers, whether they are six hours or overnight, are the perfect excuse to fully embrace your role as Tourist - with a capital T. Knowing I only had a few hours to spend in this amazing city gave me permission to take the silly photos without pause.
Here are a few of me playing the ultimate tourist - and not giving a damn if anyone thought less of me for it!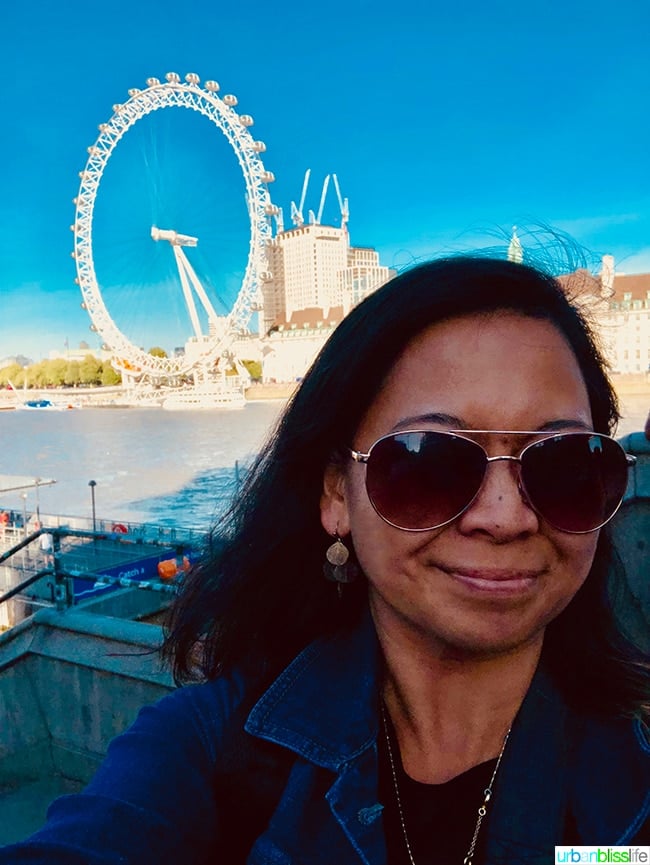 Look ma, it's me in front of the London Eye!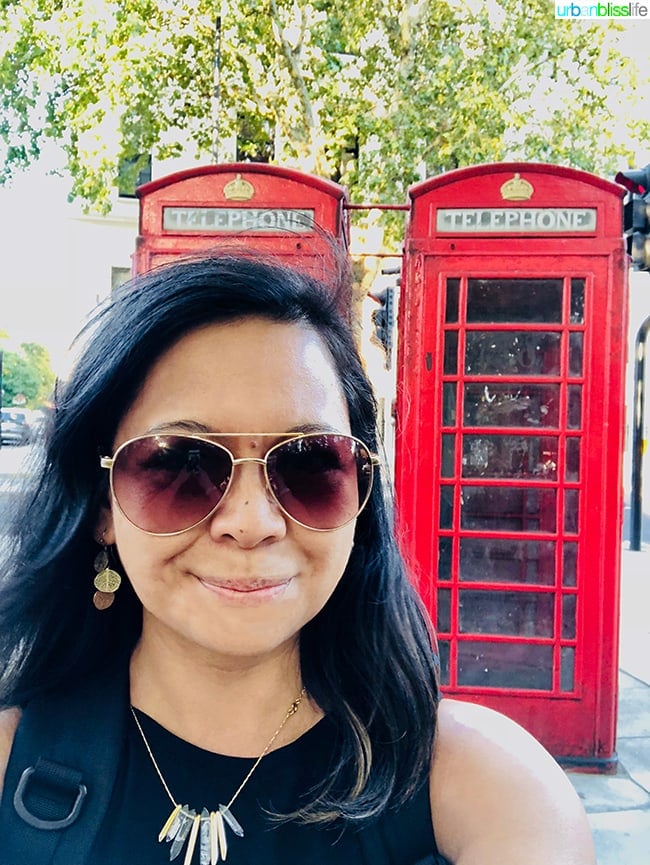 Look kids: it's the iconic red telephone booths!
Never mind that I was tired and bloated and blotchy from 12 hours of air travel and no sleep beforehand.
Honestly, I think you should take as many cheesy tourist photos you want when you travel. Never be embarrassed about it! As long as you are not disturbing a sacred site or showing disrespect to people or places. You shouldn't ever feel bad about photographing your experiences. The whole judgmental tourist vs traveler debate boggles my mind. Isn't the main point that people are actually traveling? We should encourage travel, no matter what style of travel you choose is right for you.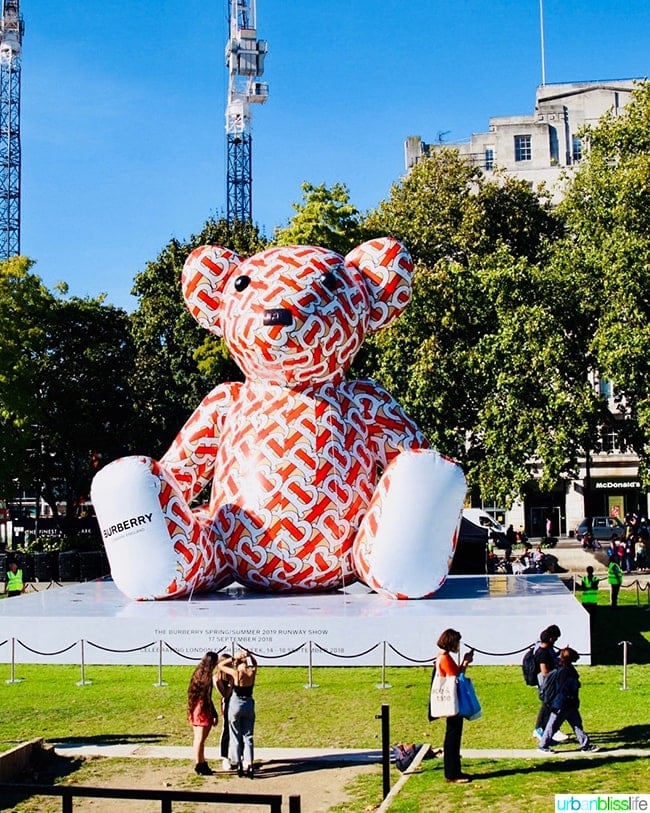 What on earth is up with this ginormous Burberry bear in Green Park? I have no idea, but it made for a fun photo to share with the kids!
Choosing to take a long layover isn't always the appropriate decision for every trip you will take. But when you have the opportunity to visit a new city, I hope you are able to take it. Even if it's just for a short period of time. And, I hope you fully embrace it, whether at slow travel speed or give-it-all-you've-got speed!
Be sure to read A Long Layover in London, Part 1!
More travel ideas
Family Travel Bliss: A Day on the Swiss Alps
What to Eat in Disneyland's Pixar Pier
Where to Eat & Drink in Amsterdam