Visiting Greece? Immerse yourself in Greek cuisine & culture by learning about traditional Karpathian dishes, including makarounes - a specialty pasta dish.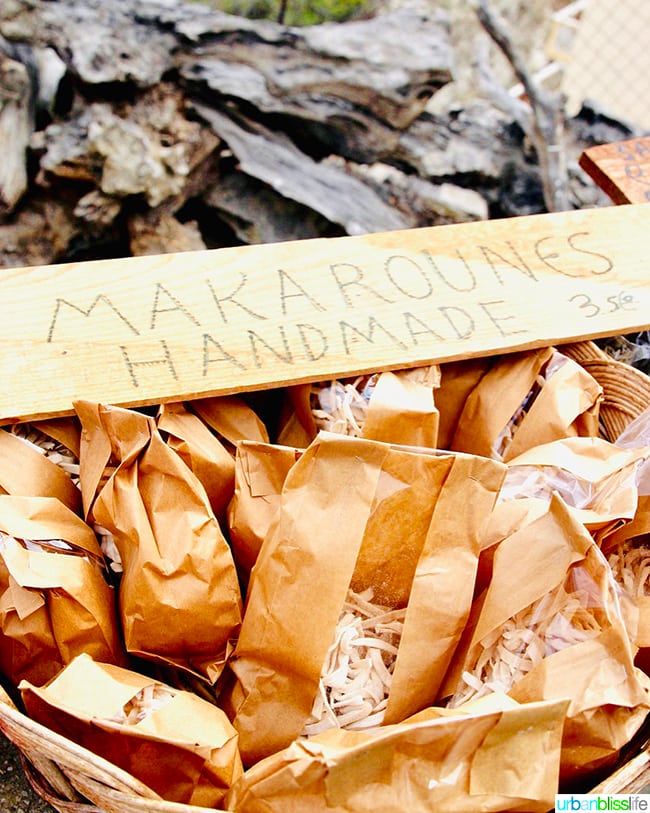 One of my favorite ways to learn about a destination's culture and history is through it food. In addition to food tours and dining at local family-owned restaurants, I love taking cooking classes while traveling.
While we visited Olympos on Karpathos island in Greece, our wonderful tour guide Evangelia of Ecotourism Karpathos treated us to a feast at her family's house. She and her mother Sophia taught us how to make traditional Karpathian makarounes.
Jump to:
🍝 Traditional Makarounes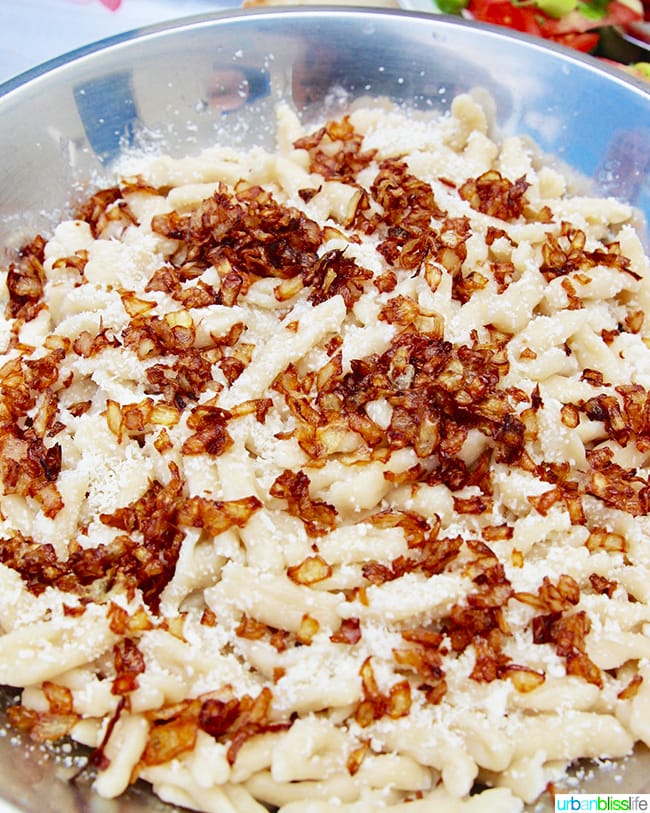 Like many islands, Karpathos has a long history of influence from various other countries. When the Italians invaded Karpathos in 1912, they brought with them their love of pastas. Makarounes is a great example of the marriage of these two cultures: handmade pasta with local cheeses.
Making Makarounes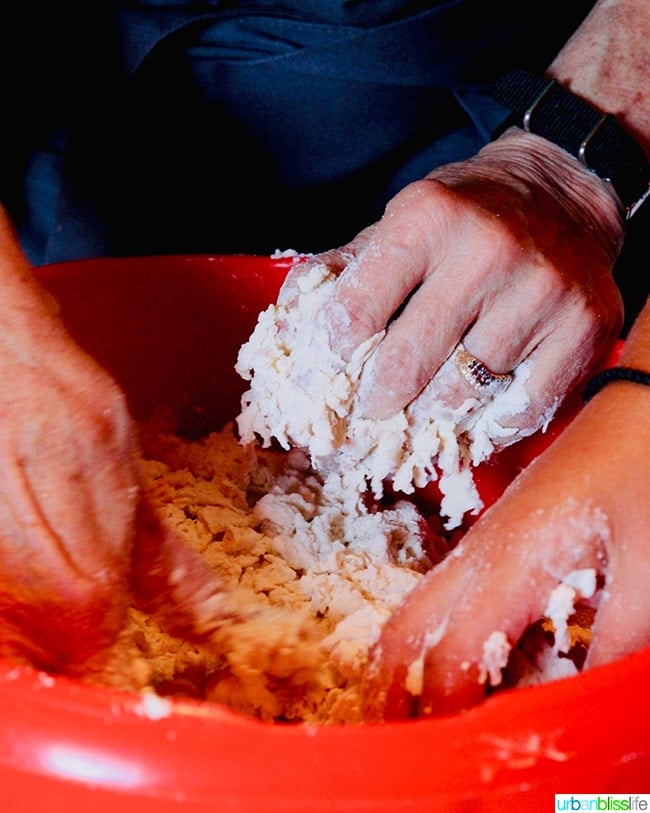 The beauty of makarounes is in its simplicity. You start by making a simple pasta dough, but unlike traditional pasta, you do not add egg. Makarounes pasta is made with only flour and water.
Karpathian families have been making makarounes for generations. Therefore, there are few written recipes that are handed down, and few strict measurements. Like much of cooking worldwide, makarounes dough is ready to roll out when you achieve a consistency that feels right to you.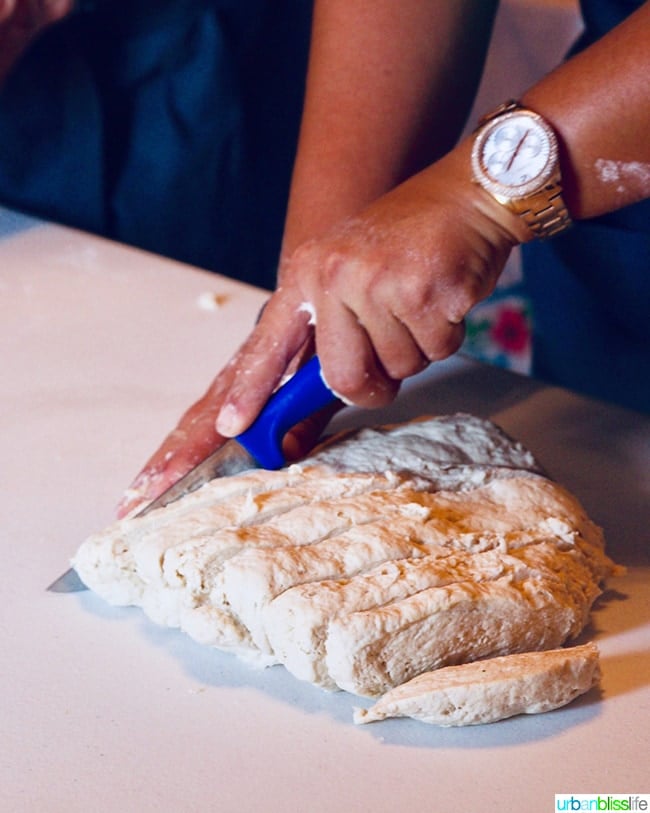 Once the dough is mixed and ready, you shape it into a disc and then cut out thin slices.
Those slices of dough are then rolled into very long, very thin strands.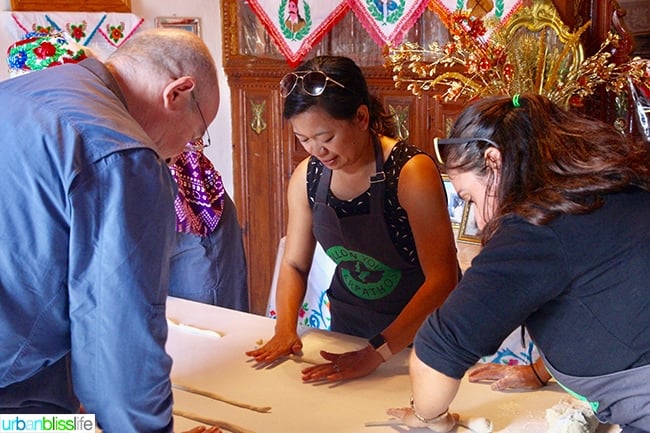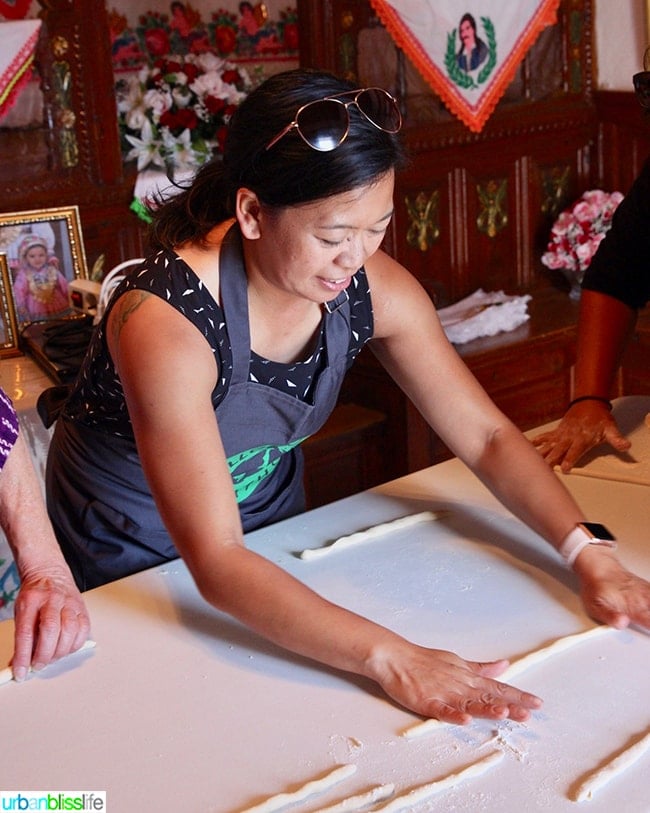 This can be the tricky part: rolling the dough thin enough to create somewhat uniform pieces, but not too thin so as to break off.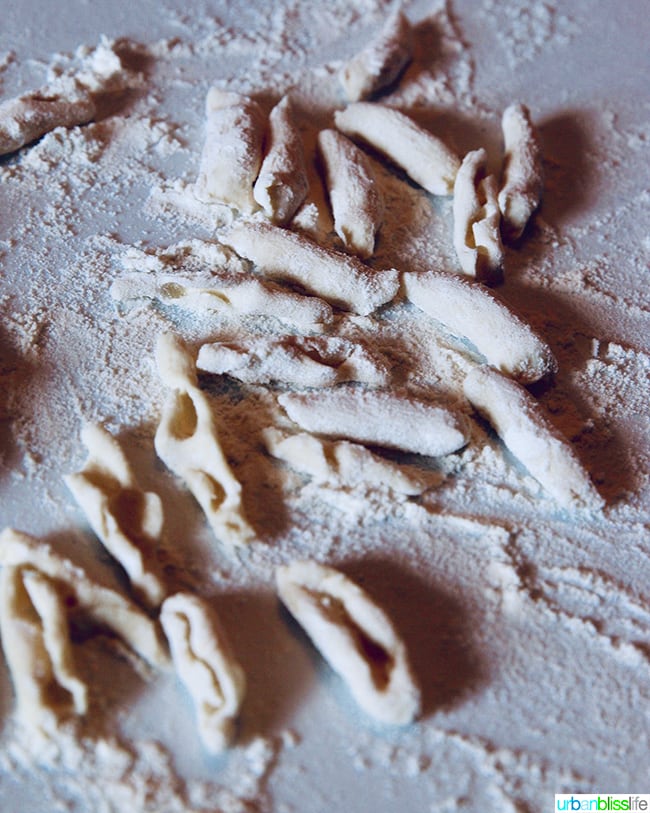 After cutting the strands into small one-inch pieces of pasta, you then use your fingers to gently create curled shapes. The makarounes shape resembles curled pasta such as cavetelli and gemelli, but is very distinct.
Once the individual shapes are formed, they are cooked in boiling water. Then, you sauté or fry up some onions in a pan. The makarounes dish is finished with Greek olive oil, onions, and topped with a generous serving of grated sheep's or goat's cheese.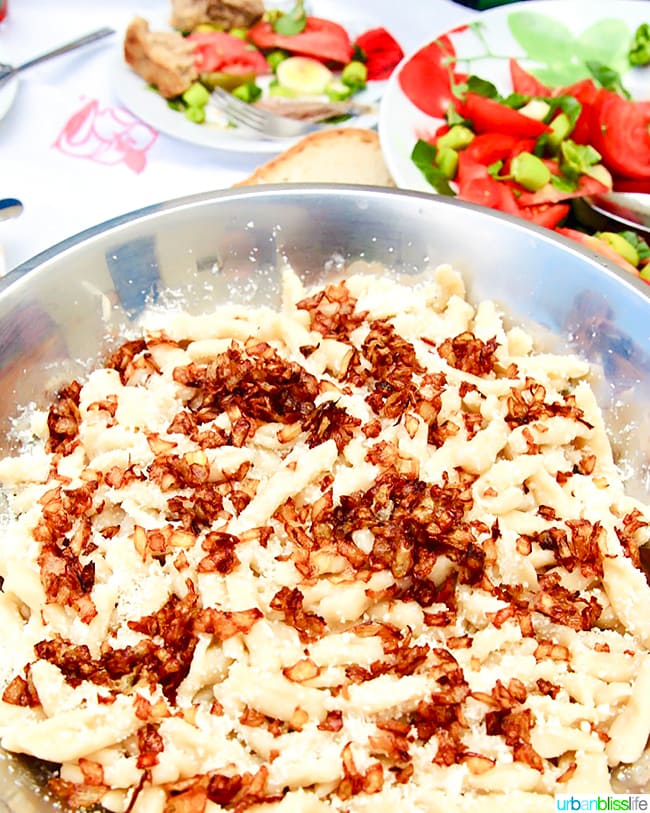 Makarounes are a quick, simple yet satisfying and delicious meal. We were told that there are even some slight variations in toppings and preparations from village to village. The makarounes we made are the basis of this traditional dish.
🍽 A Karpathian Feast
After we made the makarounes, Evangelia and Sophia treated us to a full feast of traditional Greek cuisine. Everything was fresh, homemade, and absolutely delicious!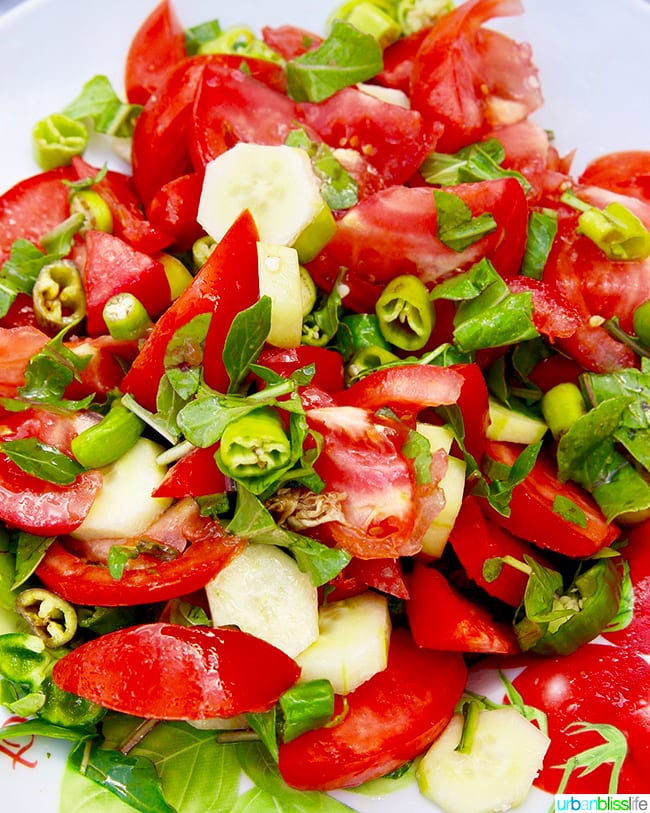 Greek salads traditionally begin with fresh cucumbers and tomatoes. Evangelia and Sophia put their spin on it with their homemade pickled peppers and some basil.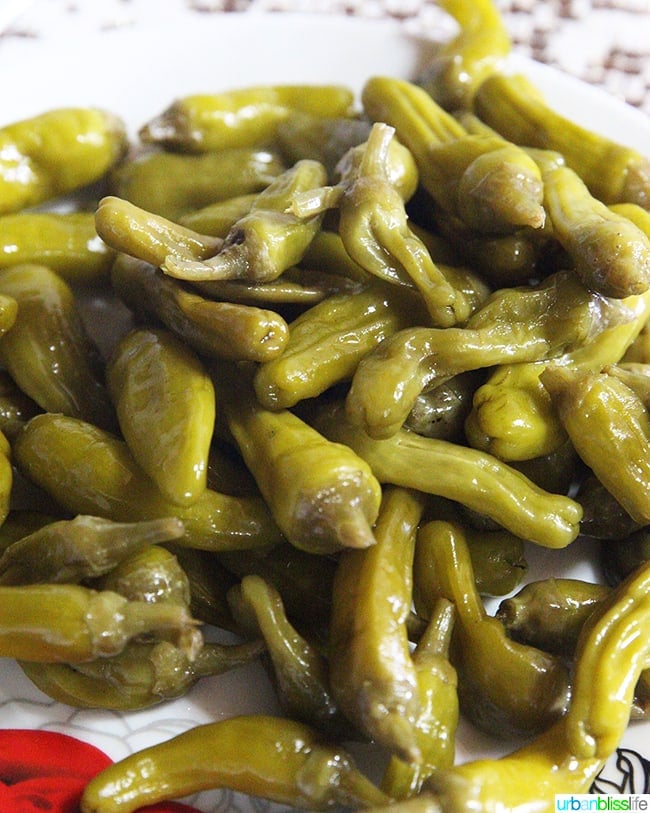 I was hesitant to try the homemade pickled peppers because I tend to shy away from spicy food. But these peppers were delightfully sweet and would make dangerously addictive snacks!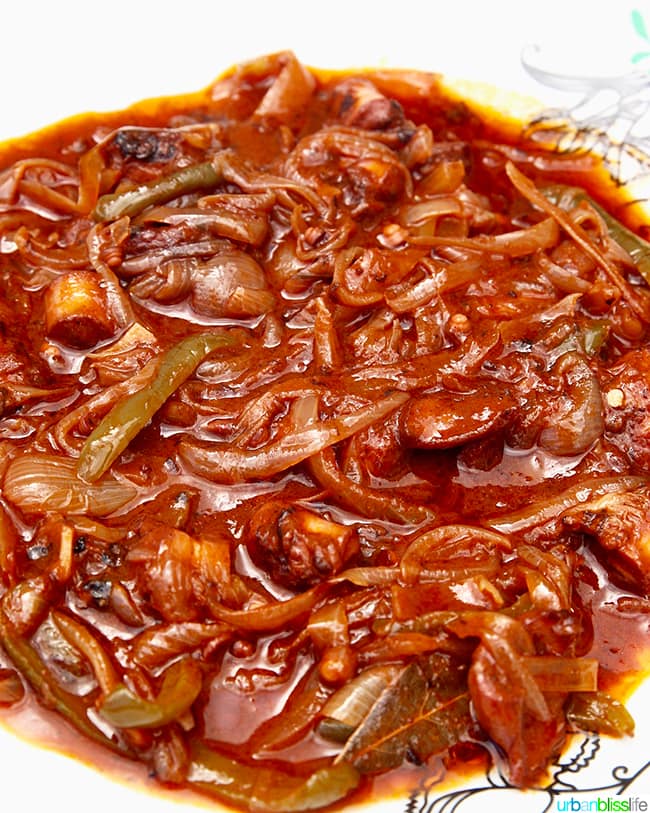 A group fave, along with the makarounes, was this vibrant octopus dish. The octopus was swimming in a delicious sea of onions, bay leaf, and mushrooms. The sauce was perfect for soaking up with the Karpathian bread. So good!
✈️ Visit Olympos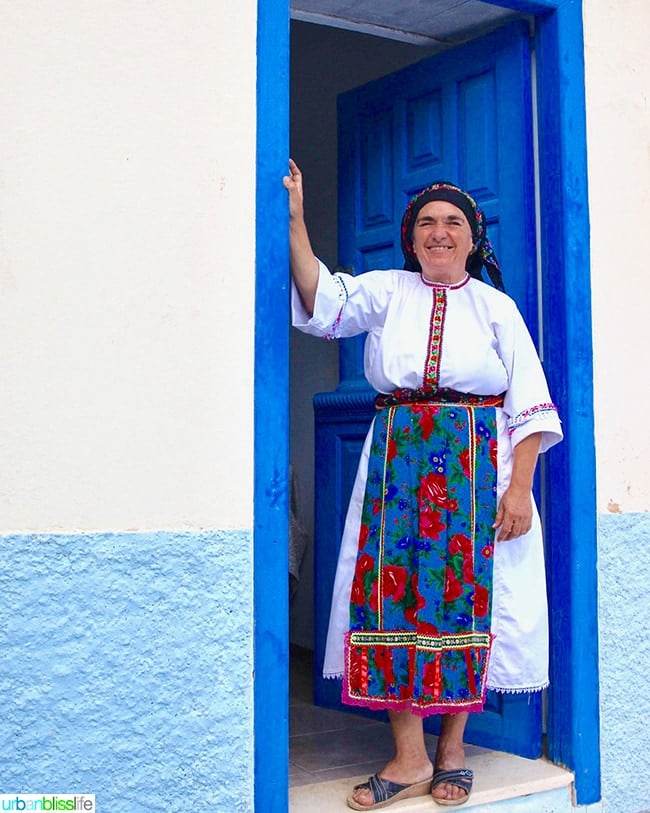 We had such a wonderful adventure visiting the village of Olympos on Karpathos island. Much of that credit truly goes to our amazing tour guide, Evangelia. I highly recommend booking a tour of Olympos with Ecotourism Karpathos. Their guides are knowledgeable, warm, friendly locals.
If you are visiting the island of Karpathos, be sure to check out Holiday World Karpathos Travel. Their talented team can help you put together an incredible itinerary. Whether you are looking to visit many of the island's best beaches, the food scene, museums, or check out some of the best kept secrets on Karpathos. This wonderful family-owned business knows the island inside and out. They do an amazing job making sure you get the most out of your travels to the Karpathos.
More Greece travel articles
Disclosure: I visited Olympos as part of a press trip, and tours and activities were complimentary thanks to Holiday World Karpathos Travel. All opinions and photos are, as always, my own.