Traveling to Athens? Consider taking an Athens food tour: it's an appetizing way to get to know more about the culture and history of the city.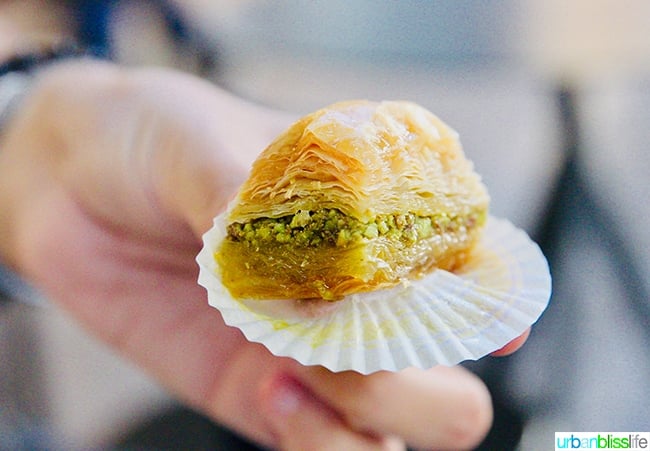 One of the best places to enjoy a culinary exploration of Greek food is in the capital city of Athens. Here, you'll discover more than the well-known souvlaki and gyros that can be found on any of the islands. Athens is filled with longstanding pastry shops and restaurants that can give you a delicious historical taste of more of Greece's un-sung classic cuisine.
In addition to taking a cooking class during travels, a fun and informative way to learn more about the culture and history of a destination is to take a food tour. Here's a look at one Athens food tour I had the pleasure of participating in during my travels.
Athens for Foodies
Upon returning to Athens from a fabulous five days on the island of Karpathos, I was excited to embark on the Athens for Foodies tour. This is a four-hour tour by the same wonderful folks who gave our group an amazing tour of Acropolis: Greeking.me. Tickets cost approximately 75 Euros per adult and 35 Euros for children ages 6-10. Children younger than age six are free.
I met my guide, Elena, at Syntagma Square. This is the heart of the city, surrounded by Parliament, the city's main shopping streets, and plenty of cafes and restaurants.
Elena described how Greeks traditionally eat breakfast between 8 and 9am. Then they go to work and, because work breaks aren't regulated, they will often have lunch between 3 to 5pm. Because of this, dinner is usually enjoyed late, between 9 and 10pm.
First Bite: Koulouri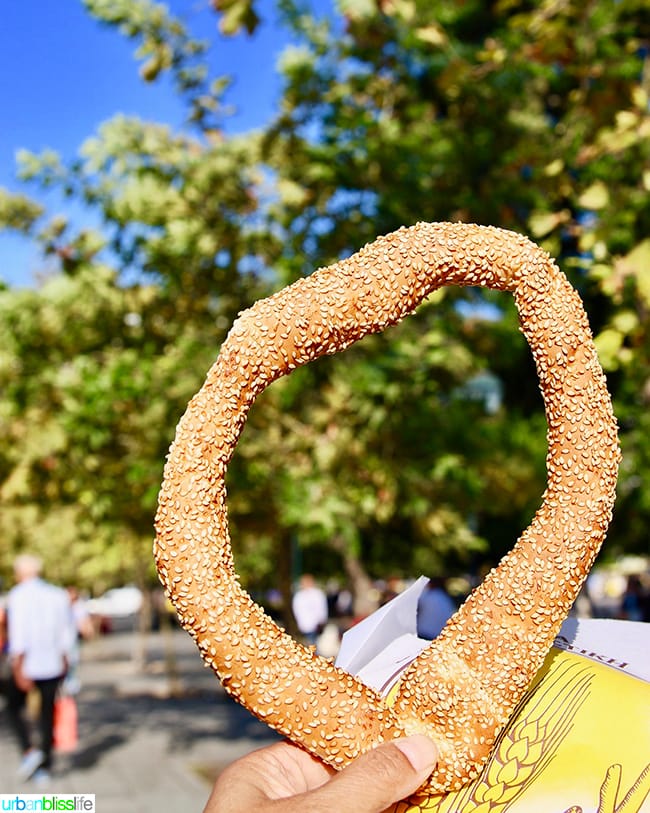 In Syntagma Square, we stopped by one of the bright yellow food carts and enjoyed out first bite of the day: koulouri. This traditional sesame round bread was reportedly first made in Istanbul 200-300 years ago, and then brought to Greece.
Today, it's the most popular Greek breakfast, with 30-40,000 koulouri made each day. The ingredients are simple: yeast, flour, sesame seeds, sugar, salt, and water. It's a great breakfast to grab on-the-go and enjoy with a coffee on one's way to work!
Second & Third Bites: Greek Baklava and Tavuk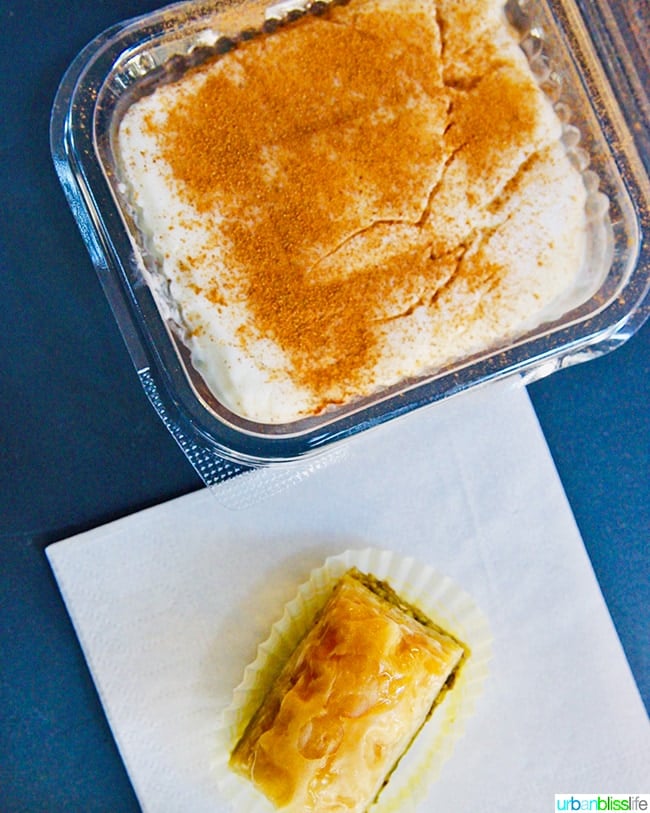 We continued on to Gulluoglu, a pastry shop established in 1949. Here, we enjoyed Greek style baklava and tavuk gogsu.
What makes Greek baklava different? Greek baklava has more layers of puff pastry crust, more pistachios, hazelnuts, and/or walnuts in the middle or on the bottom.
Tavuk Gogsu is rice pudding with buffalo milk, arborio rice, lemon or orange, rice flour, rose water, and cinnamon. Traditional versions will have shredded chicken inside the custard-like treat. It's often enjoyed as a sweet snack between breakfast and lunch.
Fourth Bite: Kuru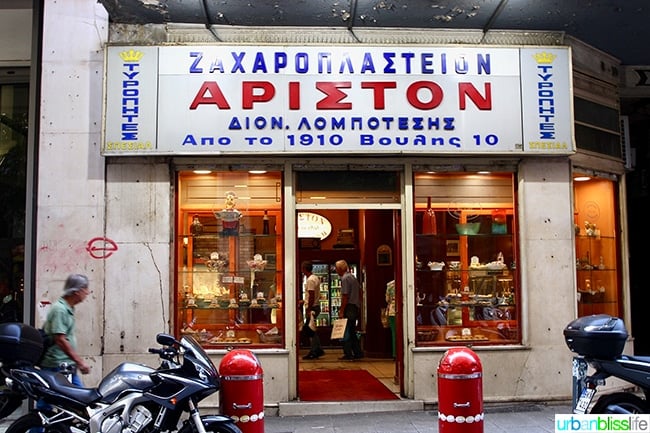 Our next stop was at another nearby pastry shop, Ariston, which has been in Athens since 1910.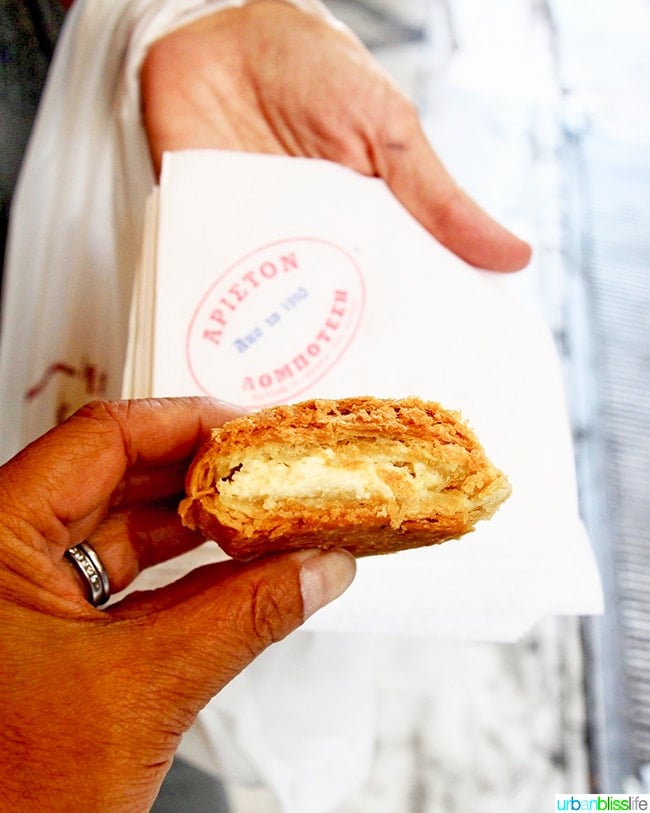 Here, I got to taste kuru. This is a cheese pie usually stuffed with Florina bell peppers, made with or without feta cheese. There are reportedly 170 or more versions of these Greek pies.
Church of Panagia Kapnikarea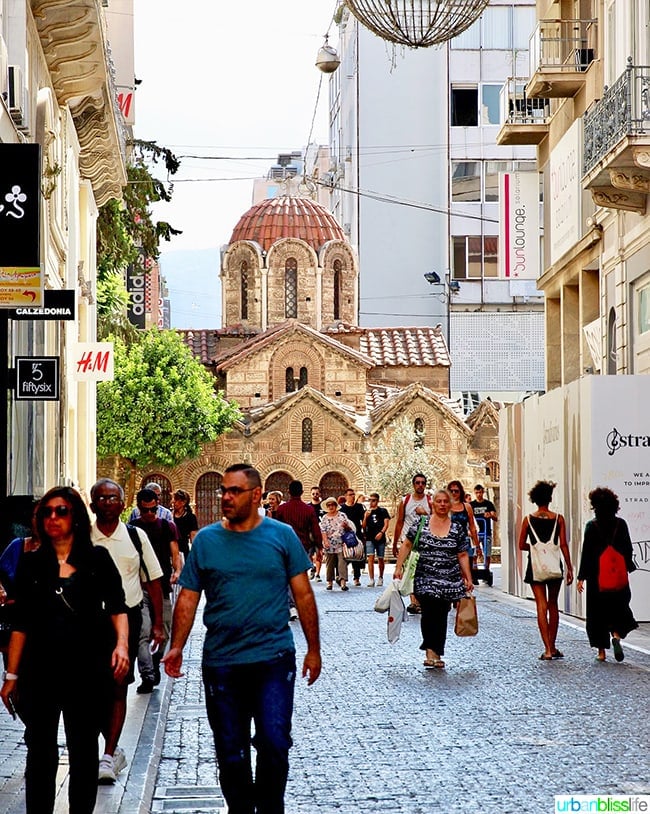 As we walked more into the bustling shopping area, we came across the Church of Panagia Kapnikarea. This is one of the oldest Byzantine churches in Europe. The Greeks built the busy city center around this structure which no longer holds church services but stands as a beautiful reminder that Athens is a complex and rich blend of old and new.
Fifth and Sixth Bites: Loukoumades and Greek Coffee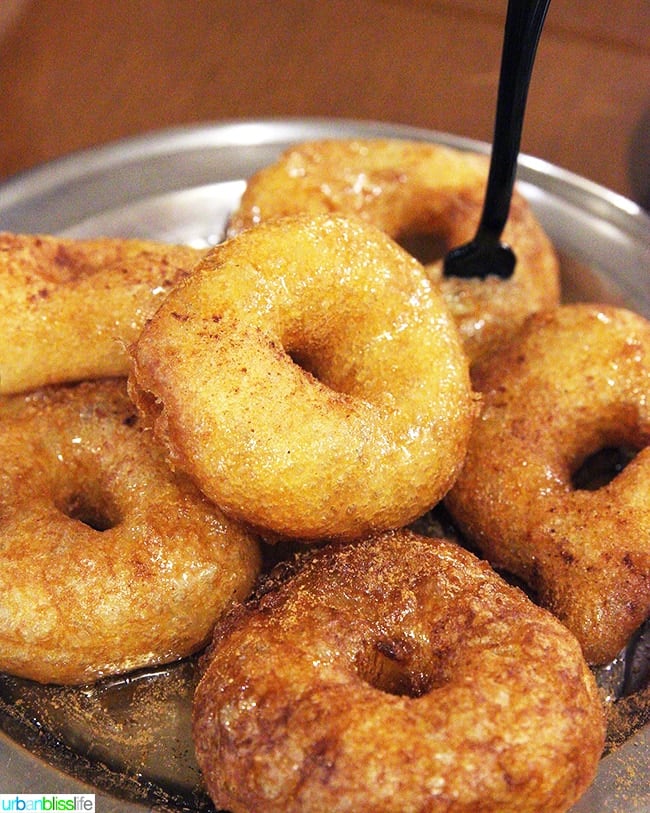 Next on my Athens food tour, we popped into the always busy Krinos. The building first served as a pharmacy in 1855, and then turned into a pastry shop in 1923. It's larger than the other shops and is a popular tourist destination.
Here, I thoroughly enjoyed the sweet treat known as loukoumades. These Greek donuts are deep-fried, and drizzled with honey & cinnamon. And, just like Americans do back home, Greeks also enjoy their donuts with a hot cup of coffee.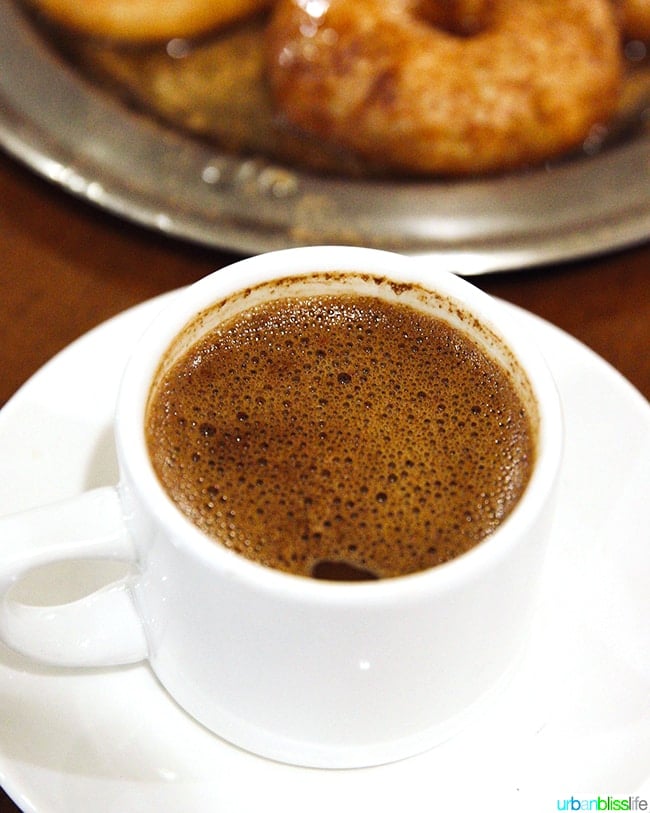 What makes Greek coffee different? The coffee is made with a very finely ground coffee. It's brewed strong, and served with coffee grounds at the bottom of the demitasse cup.
And speaking of coffee...
Stou Mimakou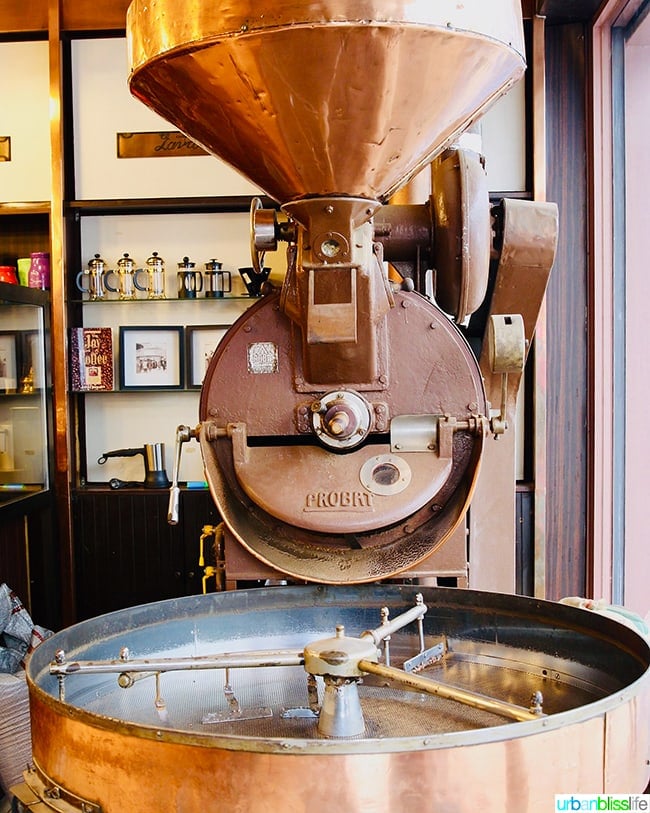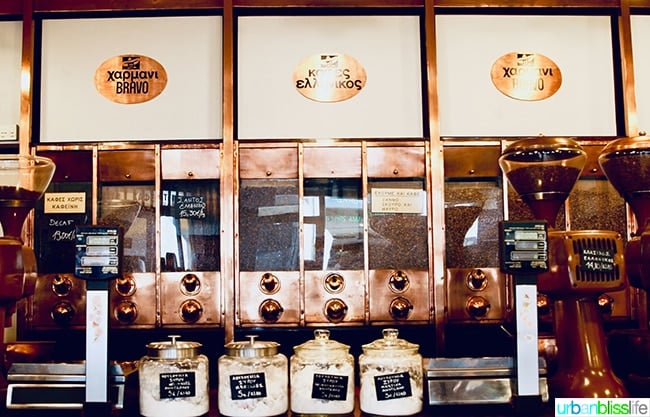 We stopped by Stou Mimakou, a coffee shop that's been running since 1924. They use an old fashioned coffee machine that's been in operation since 1939. It's a great shop to pick up some freshly ground coffee for your stay in Athens.
Athens Meat Market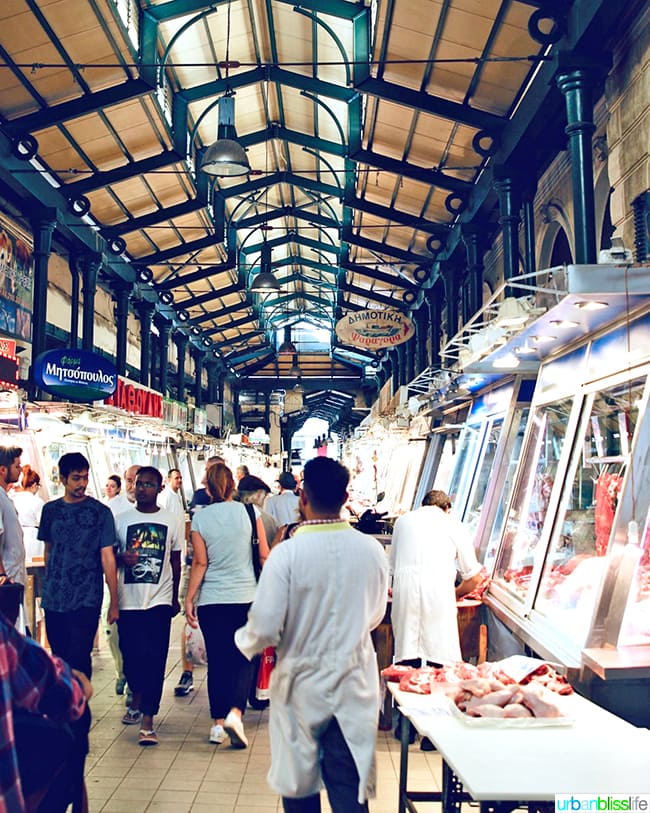 Our food tour then continued through the Varvakeios meat market, located between Monastiraki and Omonoia metro stations on Athinas street. This is a true, traditional market that has been active since 1886.
You'll find almost ANY kind of meat you can imagine here, as well as seafood, fruits, and veggies. Locals love this market because you can find reasonable prices.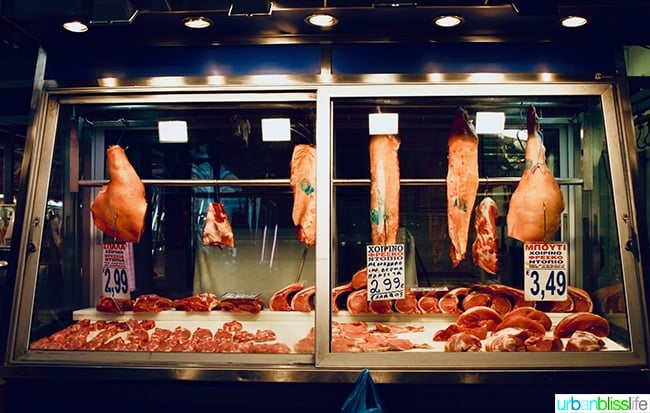 Inside the meat market are four restaurants. We sat down inside one of them for a feast.
Bites #7, 8, and 9: Epirus Tavern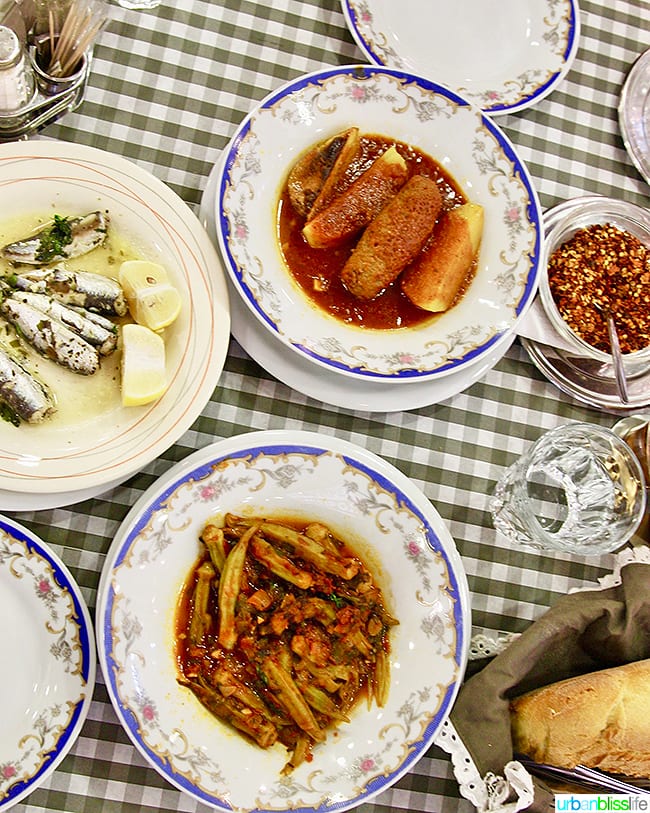 Award-winning Greek chef Jimmy Karatzenis established Epirus Tavern in 2001. When he passed away in 2012, his daughter Rania took charge of the restaurant.
The space is tight, but somehow easily accommodates tour groups. There was another tour with 5-6 people seated when we arrived.
At Epirus Tavern, I got to try bamies. This is a Greek-style okra dish in tomato sauce. I'm not normally a fan of okra, but they were marinated beautifully and the spices were so flavorful.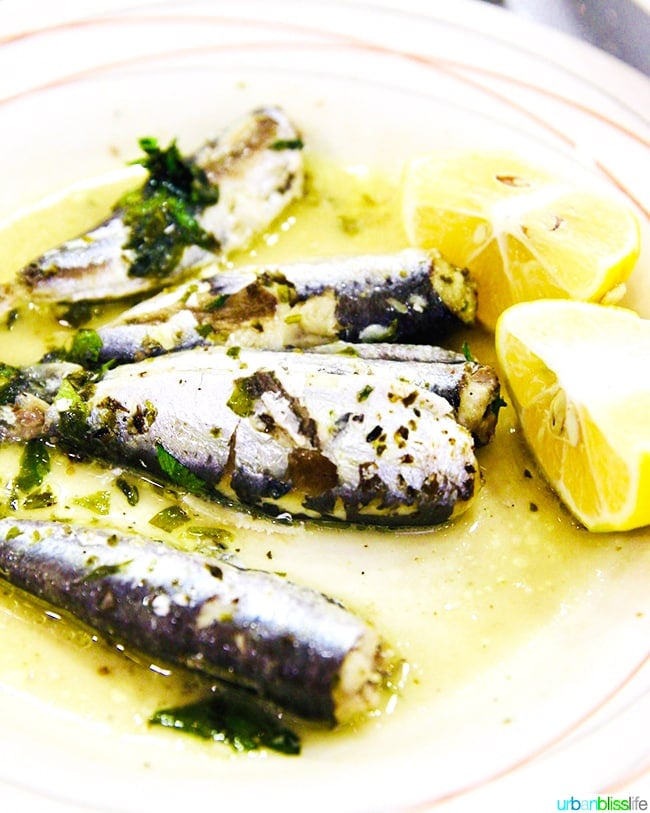 I also enjoyed traditional marinated grilled sardines with lemon. Greeks truly make the best sardines I've ever tasted.
Finally, I tried sutzukakia. This is a dish consisting of beef meatballs usually served with rice, potatoes, or Greek pasta.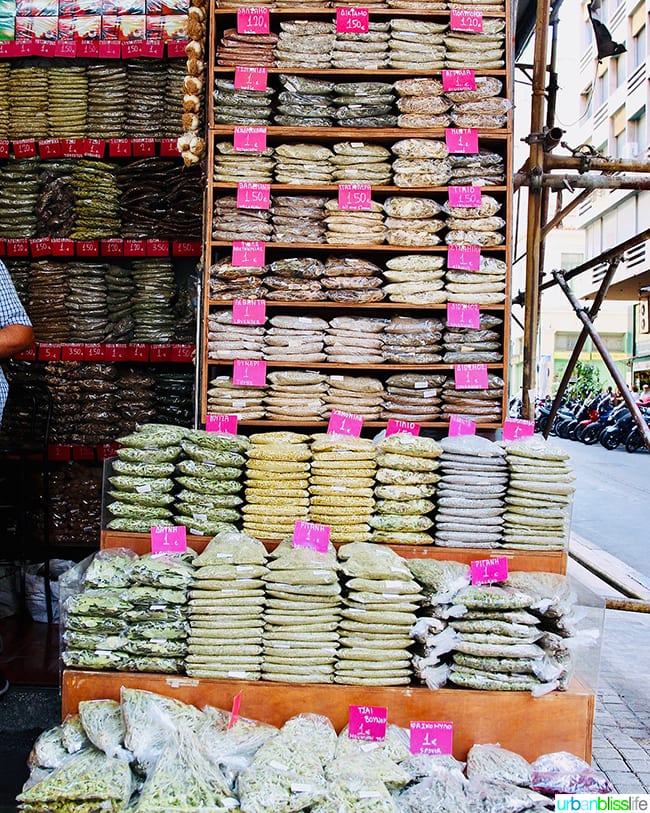 After the filling feast at Epirus Tavern, I was happy to walk a bit more outside. We walked past what seemed like an entire street of spice shops. Greek dishes are truly elevated because of the way they masterfully use their spices. I happily purchased some to bring back home!
Bites #10 - 20: Miran Deli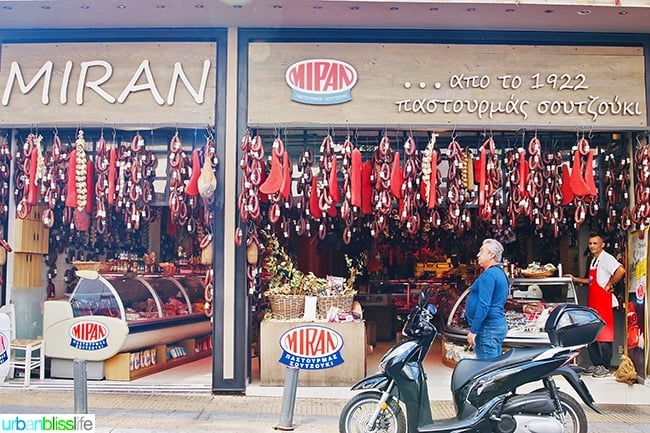 For the last stop on my Athens food tour, we walked into Miran deli. Established in Athens in 1922, this large deli specializes in house-smoked meats, cheeses, and more Greek specialty food items. It's a great place to grab a snack to go.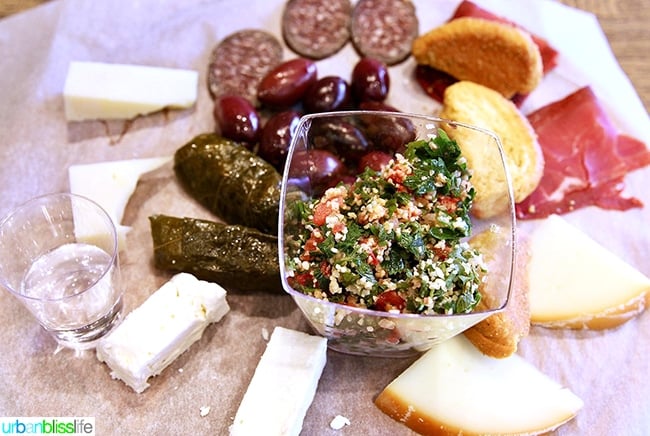 At Miran deli, I was able to sample a wide variety of Greek food. That included
beef pasturma
sutzuki salami
smoked goat cheese
graviera cheese from Naxos
Greek croutons infused with extra virgin olive oil and oregano from Crete
feta cheese from Dodoni
dolmadakia yalanji (a vegetarian Greek dolma)
Greek style tabbouleh salad, and
Kalamata olives.
And, to wash it all down? A shot of Greek raki. Raki is distilled alcohol that is at least 39% alcohol (usually around 45%). If you see tsipouro on a menu in Greece, it's essentially the same thing as raki.
Normally, my Athens food tour would have continued on to include a few more stops and bites. They also usually take you on a walk through a section of the city with vibrant city art and wall murals (definitely Instagram-worthy!). However, since I had to catch a plane back home, my tour ended here.
I was absolutely full - not just of delicious Greek food, but with so much new knowledge about this amazing city.
How to Make the Most of a Food Tour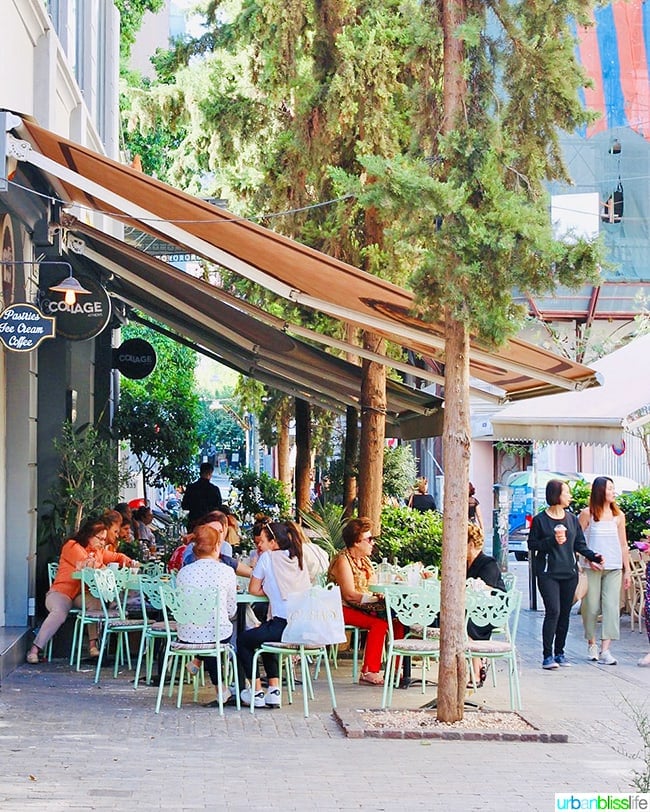 Every food tour I've taken is different, but there are a few things most have in common. Most involve quite a bit of walking, and most are lead by not just foodies, but locals who are also passionate about the history of their city. Here are some tips for you to make the most of your next food tour during your travels:
Wear comfortable shoes. You WILL be walking a lot.
Wear comfortable clothes and dress in layers. You'll be on the move, and also expanding your waistline. All of my travel clothes are what I call feast-friendly: stretchy, breathable, wrinkle-resistant material. Since you may be going from cold air-conditioned spaces to sweltering outdoor heat, dressing in layers that you can easily take off and put back on will help you stay comfortable.
Inform your tour company of any food allergies or sensitivities well ahead of time. When you book your tour, it helps everyone to make sure you will be able to enjoy most of the food. And if you can't eat some of the pre-planned food items, the guide needs time to plan for a possible substitution.
Eat a light snack but not a full meal before your tour. The Athens Foodie Tour that I went on definitely included many more bites to eat than other tours I've been on. But you want to make sure you've got room for all of the delicious bites!
Ask questions - not just about the food, but about the city. Ask about local favorites, local traditions, events, and history. Tour guides do what they do because they love the city in which they live, and most are eager to share the details of their city with you!
Tip your guide. If you had an informed, friendly, attentive guide who did an amazing job, please do tip them accordingly.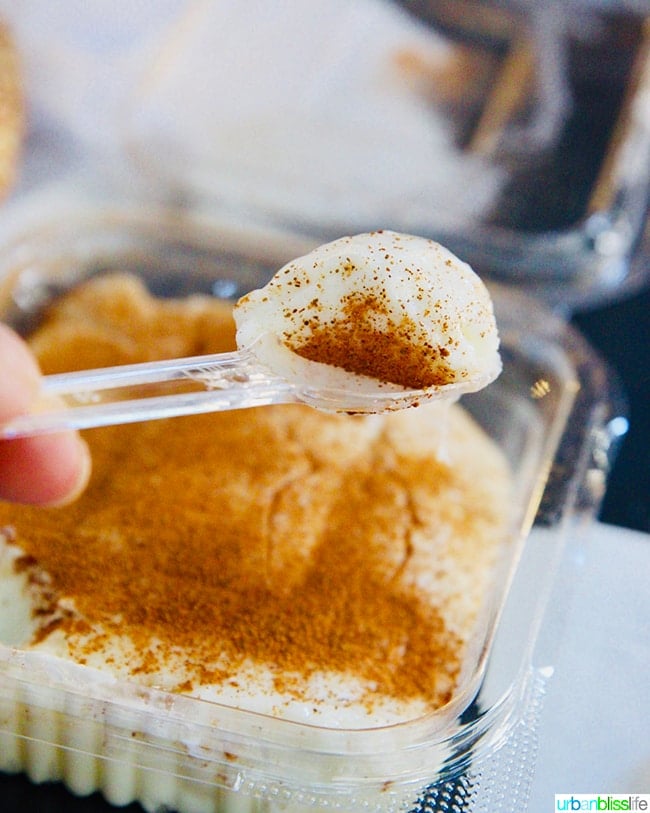 PIN IT: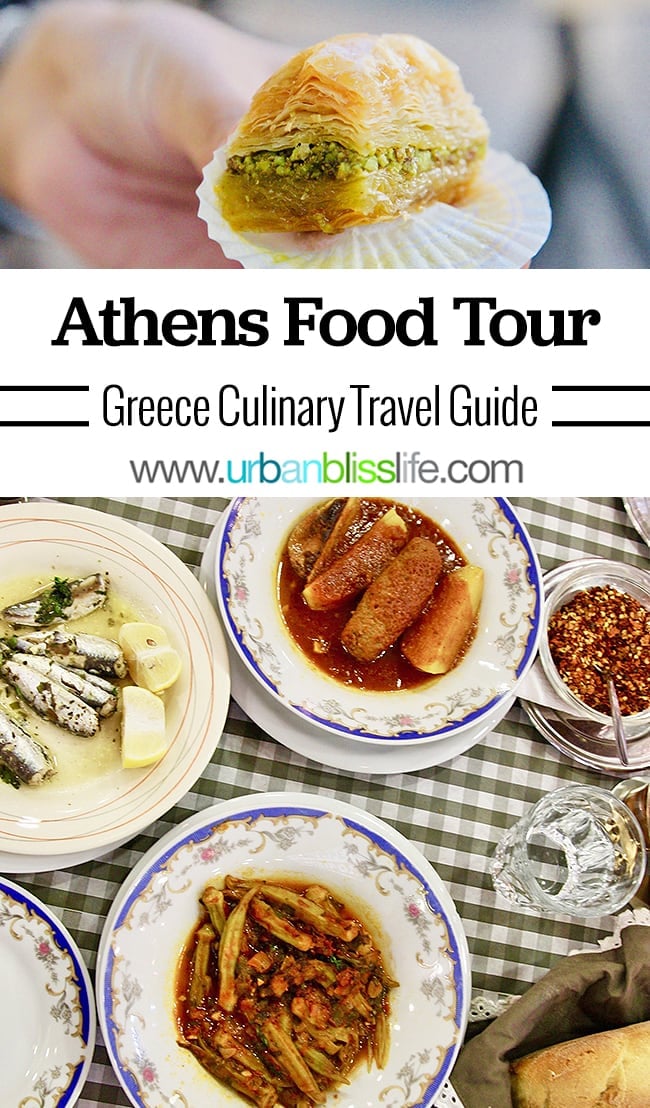 More Greece Travel Bliss: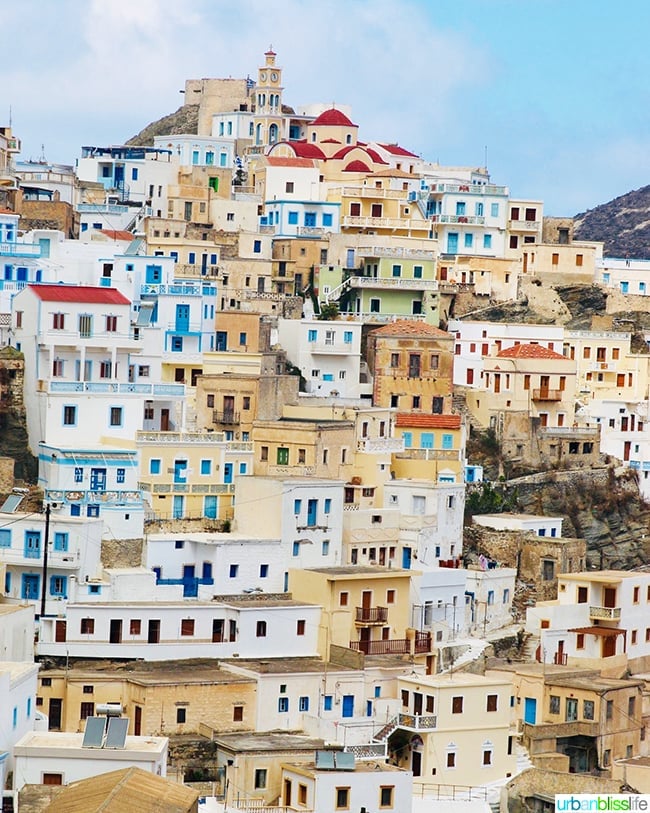 Greece Travel Guide: Olympos Village in Karpathos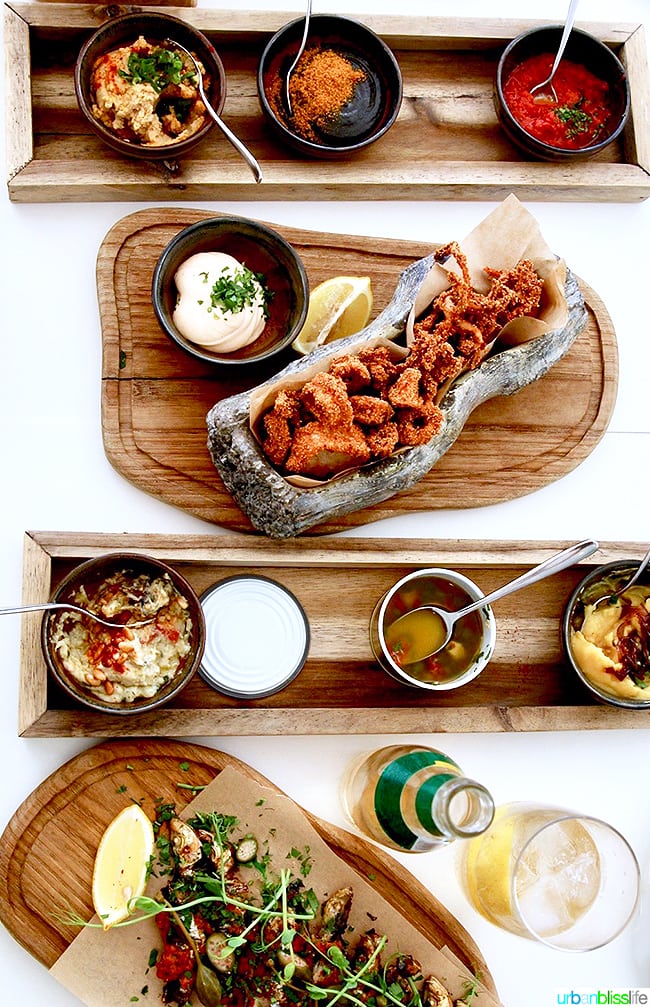 Where to Stay in Athens: Hilton Athens