This shop has been compensated by Collective Bias, Inc. and its advertiser. All opinions are mine alone. This content is intended for readers who are 21 and over. ​

---
Plan a fun night IN with good friends. Here's your ultimate game night game plan full of party planning, wine, and menu tips!

How often do you get together with your girlfriends?
If you follow my Instagram stories and if you've followed this blog over the years, you know how important it is for me to spend time with my girlfriends. Between mom friends, blogger friends, gym friends, college friends, and Bunco friends, I treasure all of my groups of girlfriends and value our time together.
And, recent research actually shows that spending time with good friends twice a week is good for your health. Cheers to that!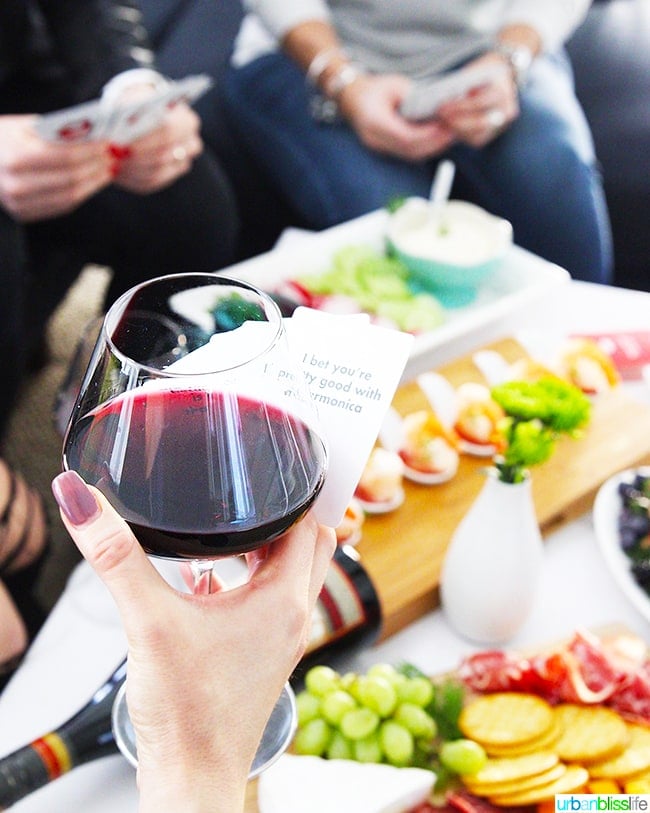 So gather your besties and get ready to host a super fun, rockin' girls' night in. I've gathered my years of party hosting tips and condensed them into this Ultimate Game Night Game Plan!
The Ultimate Game Night Game Plan
First, plan the basics of your party: location, date, time. Four hours is generally a good time frame to plan for the ultimate game night. That gives you enough time for people to wander in, chat, get food, settle in, and play a game or two.
Then, plan your guest list. You'll want a small enough group to have good, quality conversations. Yet you want to be sure to have enough friends to play the games.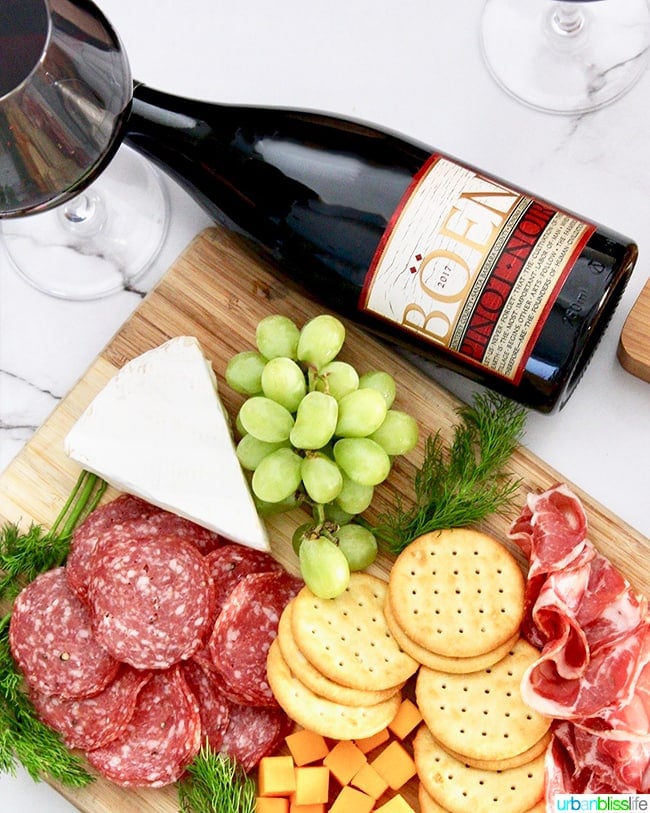 Next, create the ultimate game night menu. Focus on finger foods that are small and easy for guests to nibble on while playing the games. Stay away from sticky finger foods since nobody wants sticky sauce all over game cards.
Ultimate Game Night Menu
I'm a big fan of keeping girls' night menus simple. For a group of four to 10 guests, a good rule of thumb is to serve one main dish, 3-5 appetizers, and 1-2 dessert options.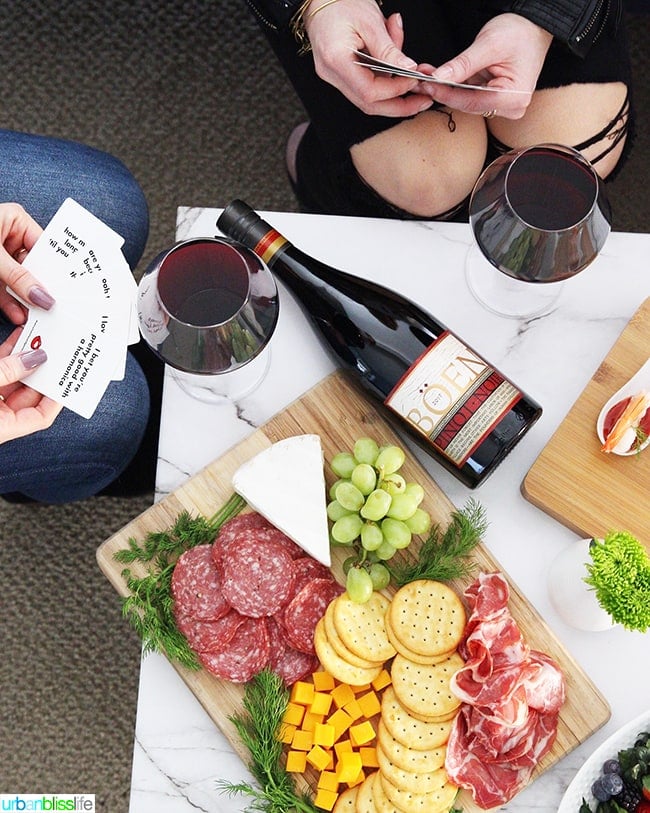 Main dish ideas:
Appetizer ideas: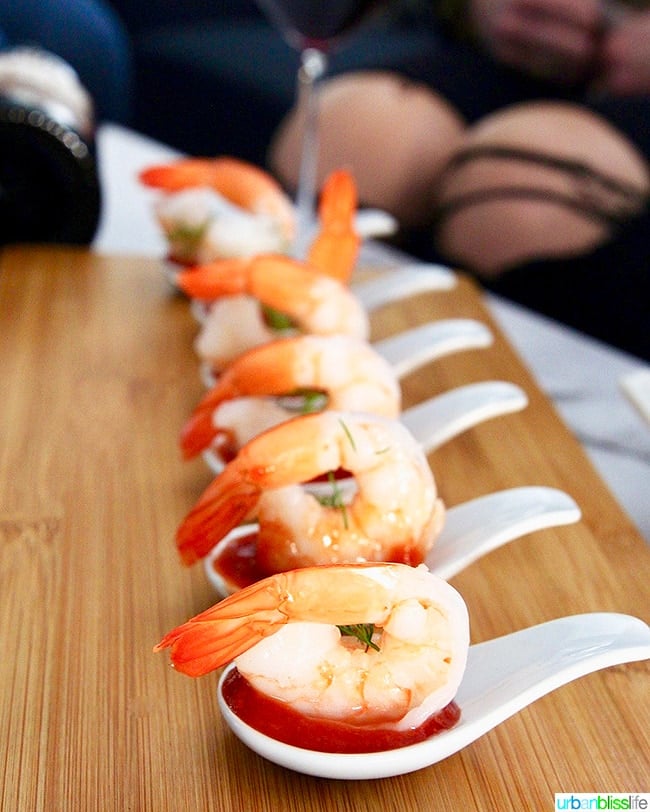 Dessert ideas:
Game Night Wine Pick: Pinot Noir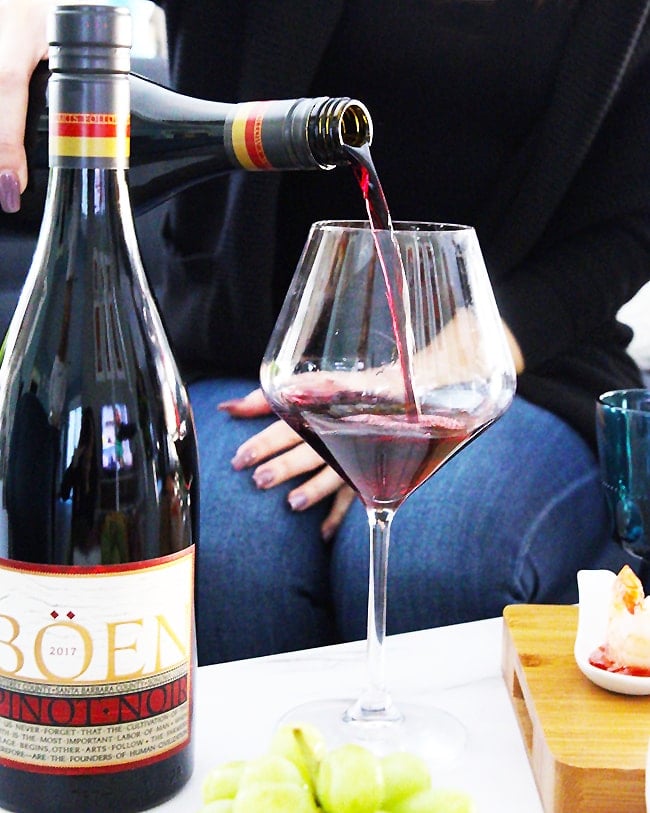 Being from the West Coast, y'all know I love a good Pinot Noir. This medium-bodied California red wine is an ideal wine to serve at game night. It goes well with so many different foods, and is a nice even keel, crowd-pleasing wine.
For our game night, I served Böen Pinot Noir.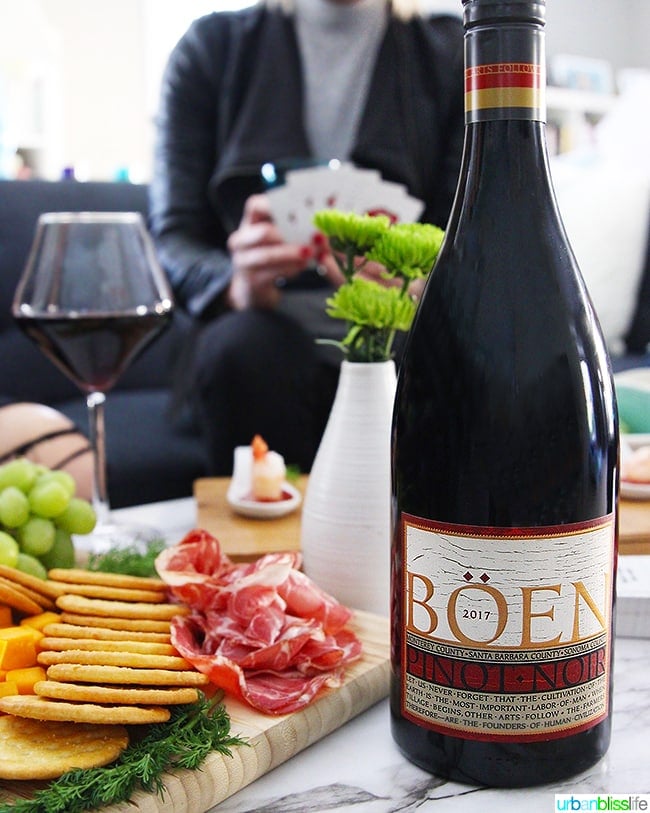 Sourced from various vineyards throughout selected regions, the Böen Pinot Noir is smooth and well-balanced. Richer and bolder than many lighter Pinot Noirs, this wine is the purest expression of winemaker Joe Wagner's signature wine style. Wagner is a 5th generation winemaker who has been working closely with some of California's top winegrowers for over nearly two decades. His Böen wines are beautiful reflections of the land from which the grapes are grown, which all us wine lovers can appreciate.
The Böen Pinot Noir is an amazing wine for girls' nights and game nights, at just around $20 per bottle, and readily available at retailers near you!
What can I bring?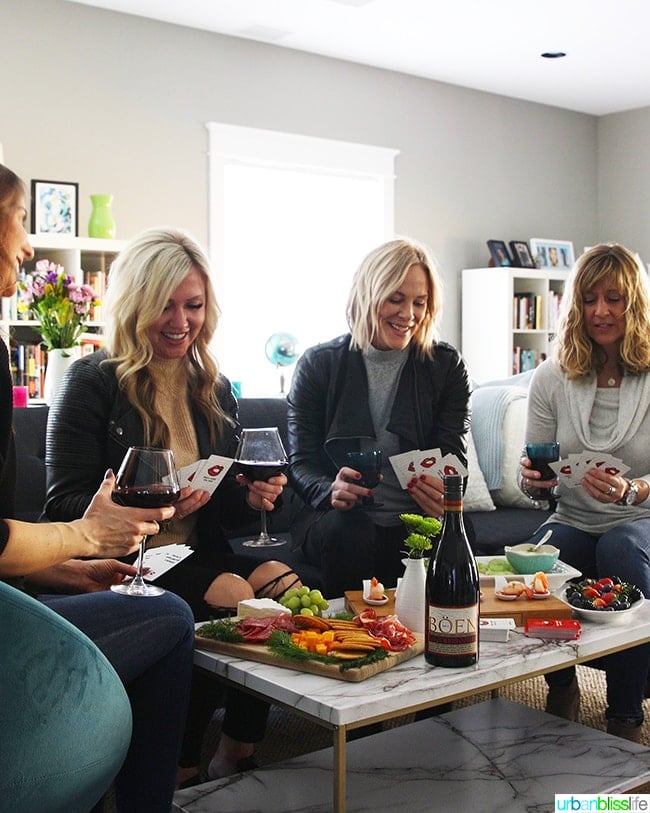 Guests often ask what they can bring to the girls' night in. A bottle of wine is always a good idea. But so is food to supplement and complement your game night menu. Think chips and guacamole/salsa, pita crisps and hummus, cookies or other finger food desserts.
When they ask, feel free to tell friends what you plan to serve, and what others are already planning to bring as well. This way you'll avoid duplicate dishes.
Game nights are ALL about the fun, so don't sweat the small stuff. Focus on inviting fun friends, buy or make a few yummy dishes, serve a delicious wine (such as Böen​), and have fun!
More party planning guides
PIN IT: