Looking for a super fun party appetizer that's easy to make and will wow your guests? These Charcuterie Cones are beautiful individual appetizers that are perfect to serve for any special occasion.
Charcuterie boards are such a great way to start off any party, event, or gathering. They're so popular and versatile!
We love to make brunch boards, and savory holiday-themed charcuterie boards like Christmas charcuterie boards and Thanksgiving charcuterie boards. You can also make sweet charcuterie boards like 4th of July dessert boards and Valentine's Day dessert boards.
DIY charcuterie cones are an innovative and visually stunning way to serve charcuterie boards. They offer a fun and unique alternative to traditional charcuterie boards.
In this blog post, we'll take a look at what charcuterie cones are, why they're a great option for serving charcuterie, and how to make these adorable hand-held cones for yourself.
Jump to:
What are charcuterie cones?
Charcuterie cones are essentially a handheld version of a charcuterie board. They're a beautiful treat and easy to make with your favorite ingredients.
They consist of an edible cone or vessel that is filled with an array of cured meats, cheeses, fruits, nuts, and other tasty treats. The idea is to create a portable and visually appealing way to serve charcuterie that is both fun and convenient for guests.
Why make charcuterie cones?
Charcuterie cones offer several benefits over traditional charcuterie boards.
First, they're an interactive and fun way to serve guests. Guests can easily pick up an individual serving and walk around while snacking. This makes them ideal for parties and events where people are mingling.
Second, they're incredibly versatile and can be customized to suit a wide variety of dietary requirements and preferences. You can create vegetarian, gluten-free, dairy-free, or even vegan charcuterie cones by simply swapping out some of the ingredients.
Finally, charcuterie cones are visually stunning. They can make a gorgeous centerpiece for any party or special event!
🛒 Ingredient notes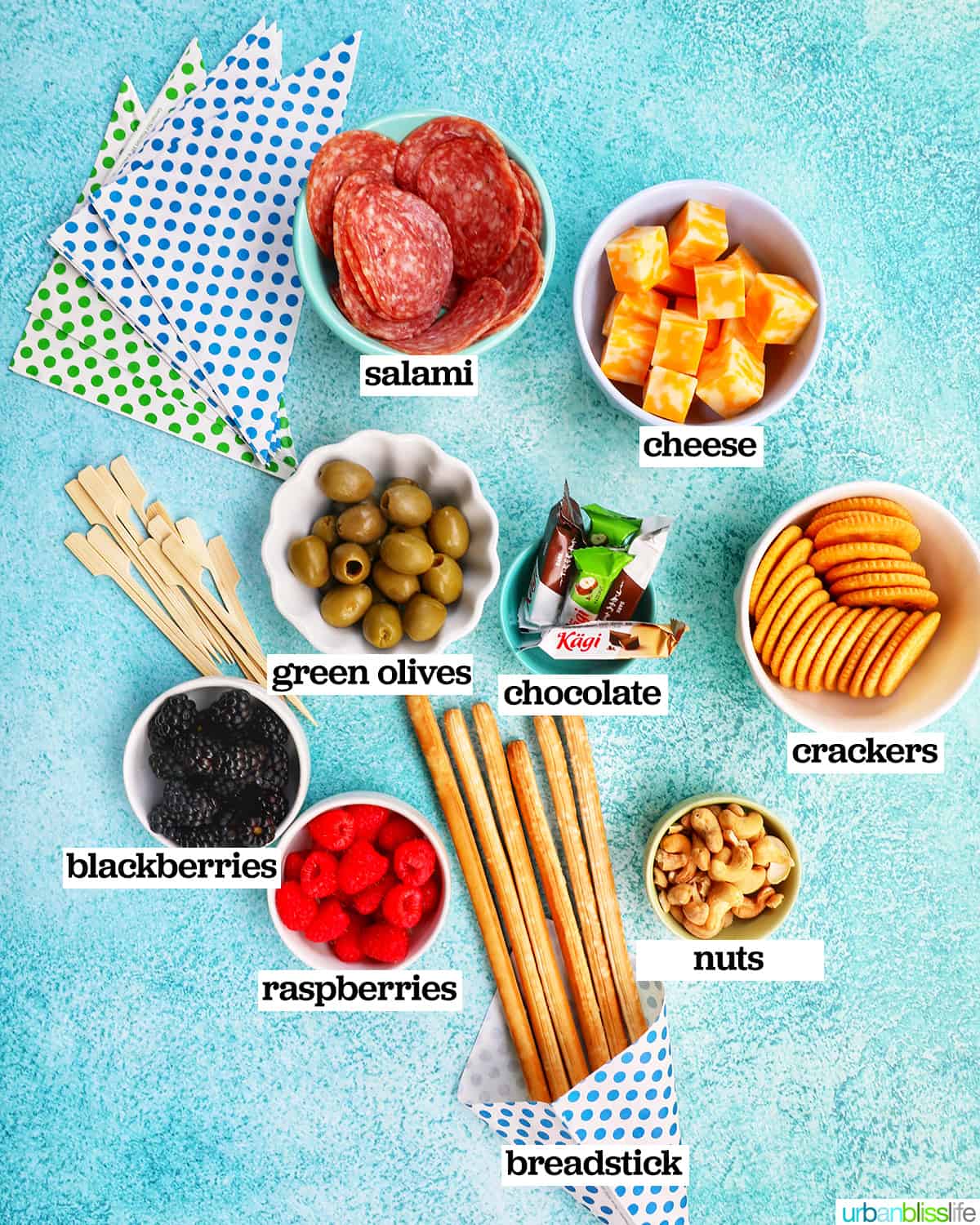 To create a beautiful charcuterie cone, choose a variety of cured meats, cheeses, fruits, nuts, and other tasty treats. Be sure to consider any dietary restrictions or preferences that your guests may have.
Cured meats (such as prosciutto, salami, pepperoni, or chorizo - choose 2-4 of your favorite meats)
Cheeses (such as brie, cheddar, goat cheese, or gouda - choose 2-4 of your favorite cheeses)
Fresh fruit (such as grapes, strawberries, or kiwi -- choose 2-4 seasonal fruits)
Dried fruits (such as apricots, figs, or raisins)
Nuts (such as almonds, cashews, or walnuts)
Olives (such as Kalamata or green olives)
Crackers or breadsticks
Vegetables (such as cherry tomatoes, baby carrots, or cucumber slices)
Hummus or other dips
Pesto or other spreads
Roasted garlic
Honey or jam
Mustard
Pickles or pickled vegetables
Marinated artichokes
Grilled or roasted vegetables (such as eggplant or zucchini)
Smoked salmon
Shrimp or other seafood
Hard-boiled eggs
Sun-dried tomatoes
Marinated mushrooms
Fresh herbs (such as basil, parsley, or a sprig of rosemary)
Crostini or bruschetta
Chocolate or other sweets
Edible flowers (such as nasturtiums or pansies)
✅ How to make charcuterie cones
Making charcuterie cones is relatively simple and straightforward. Here's a step-by-step guide to help you get started:
1: Choose your cone. The first step is to choose the type of cone you want to use. Waffle cones and tortilla cones are both great options, but I like to use paper cones. You can find them online, at restaurant supply stores, or in the party section of big box stores. Begin by placing a layer of cheese, crackers, and/or nuts at the bottom of the cone.
2: Skewer savory food. Using a food pick, cocktail pick, or mini food bamboo skewers helps keep like foods together, and also makes this appetizer easier to eat.
3. Skewer sweet food. Then skewer your fruit to keep the sweet components together.
4: Fill the cone. Place 2-4 small skewers of food into the cone. Then add some fruits and nuts, sweets, and continue layering until the cone is full. Be sure to leave some space at the top of the cone so that guests can easily pick it up and eat it.
5: Add some garnishes. Finally, add some garnishes to the top of the cone to give it a finished look. You can use herbs like a spring of rosemary to each cone, or edible flowers to add some extra flair.
👩🏻‍🍳 Recipe FAQs
How do I keep charcuterie cones upright?
If your food is placed in pointed cones, you can place single cones in an ice cream cone holder, cone stands, or in a thin narrow serving box.
Can I make charcuterie cones in advance?
You can skewer food and store the skewers in the refrigerator a few hours before the event. Assemble the cones just before serving.
What are some options for DIY cones?
Make your own cones out of parchment paper or other food safe paper. Cut into squares, then roll the sides to meet and create a cone shape. Secure with tape. You can also go beyond the cone shape and use small glasses, mason jars, or even a wine glass to create charcuterie cups.
🍽 Serving ideas
When serving charcuterie cones, you can get creative with additional items to enhance the overall experience. Here are some creative serving ideas to accompany your charcuterie cones:
Dipping Sauces: Offer a variety of dipping sauces to accompany the charcuterie cones. Consider options like honey mustard, garlic aioli, balsamic reduction, or spicy mayo.
Miniature Cheese Fondue: Set up a mini cheese fondue station or cheese board ;pwhere guests can dip their charcuterie cones into a warm, melted cheese mixture. Provide a selection of cheese flavors like Swiss, Gruyère, or cheddar.
Stuffed Mini Peppers: Stuff mini sweet peppers with cream cheese, goat cheese, or flavored spreads. The vibrant colors and burst of flavors will add an exciting element to the charcuterie experience.
Gourmet Condiments: Offer unique and gourmet condiments like truffle oil, fig spread, or onion jam. These luxurious additions will elevate the flavors and add an element of sophistication.
Mini Quiches or Tartlets: Serve bite-sized quiches or tartlets with various fillings like spinach and feta, bacon and onion, or mushroom and gruyère. These savory treats make for a delightful addition to the charcuterie cones.
For non-alcoholic beverage ideas, create a refreshing drink station with infused sparkling water. Offer options like cucumber and mint, strawberry and basil, or lemon and rosemary. These infused waters provide a palate cleanser and enhance the overall experience.
Remember, the key is to provide a variety of flavors, textures, and options that complement the charcuterie cones while allowing guests to customize their experience.
🍷 🥂 Wine pairings
Charcuterie cones are usually served at the beginning of a meal or party. So pair these appetizers with welcoming glasses of Champagne or sparkling wine. They're especially fabulous with Brut Rosé.
More party recipes
Did you make this recipe? Don't forget to leave a 5-Star 🌟🌟🌟🌟🌟 rating in the recipe card, and if you really loved it, please leave a comment further down on the page. Thank you!
Charcuterie Cones
These charcuterie cones are a fun way to serve individual appetizers at any party!
PRINT
PIN
RATE
Equipment
30 food picks

10 food-safe paper cones
Ingredients
20

thin breadstick crackers

1

sleeve of round crackers

1

cup

blackberries

1

cup

raspberries

3

ounces

(about 20 individual) salami slices

1

package

(8-ounce) block of Colby, cheddar, or mix of cheeses

10

green olives

10

rosemary sprigs

1

cup

nuts (cashews, almonds, or walnuts)

10

pieces of chocolate
Instructions
Place 2 of the breadstick crackers and about 4 of the round crackers in each cone. Place one cheese cube in the center on top of the crackers.

Thread one salami slice, olive, and cheese square onto 15 food picks, the gently press into the cheese cube inside each cone. This helps the food picks stay up and not fall down into the cone.

Thread berries through 15 food picks, and gently stick into the cheese square in each cone.

Fill in the cones with some nuts, and a piece of chocolate or several small chocolates.
Notes
Makes 10 charcuterie cones.
You may have a few of each ingredient leftover. You can keep making as many cones as you want or need. Simply store any remaining ingredients back in containers in the pantry or refrigerator.
Make ahead: you can assemble the food picks with berries and the food picks with savory items up to one day ahead of time. Simply store in an airtight container in the refrigerator until you are ready to assemble the charcuterie cones.
Tried this recipe?
Please leave a star rating and comment! Then snap a pic of your dish and share it on social media. Tag @UrbanBlissLife and #UrbanBlissLife!
Nutrition
Calories:
85
kcal
|
Carbohydrates:
7
g
|
Protein:
3
g
|
Fat:
5
g
|
Saturated Fat:
1
g
|
Polyunsaturated Fat:
1
g
|
Monounsaturated Fat:
2
g
|
Trans Fat:
0.1
g
|
Cholesterol:
7
mg
|
Sodium:
311
mg
|
Potassium:
84
mg
|
Fiber:
2
g
|
Sugar:
2
g
|
Vitamin A:
55
IU
|
Vitamin C:
6
mg
|
Calcium:
22
mg
|
Iron:
1
mg
Nutrition information is a general estimate. Actual nutrition details may vary depending on the exact foods & brands you use to make this recipe. It does not take into account any substitutions, toppings, or optional ingredients.