Ireland is a country full of historical and cultural treasures, and the easiest way to get to many of them is by car. Here's what you need to know about renting a car and driving in Ireland as a tourist.
We just came back from a glorious 7-day stay in Ireland. And we did a lot of driving. I mean, a lot! It's one of the best ways to get around and really see all the sites on your own schedule.
In all we made stops in 5 cities: Dublin, Galway, Killarney, Dingle, and Kilkenny. We'll have in-depth posts soon with tips on what to see, where to stay, and best places to eat in each of these spots.
This post will focus on what you need to know about driving in Ireland as a tourist, from renting a car to navigating all the roundabouts, and much more in between. Spoiler: there are a lot of roundabouts.
Let's get started!
Jump to:
Renting a car in Ireland
Unless you have a generous friend who's willing to lend you their car for the duration of your stay, chances are you'll need to rent a car when you get to Ireland. And it's not exactly a straightforward process.
I'll break down all the key steps to help you avoid some of the bumps — and mistakes — that we made.
Rental car insurance in Ireland
We decided to book our car through a third-party provider rather than through the rental car agency itself, which is perfectly ok. But we also opted to buy car insurance for about $75 through the same third-party, which was a mistake.
Here's why:
Collision Damage Waiver
Rental car companies in Ireland require that you purchase a collision damage waiver or CDW. Why? Because many of the roads are very narrow and it's incredibly easy to ding your vehicle while there. So CDW covers you from most liability in the case of a crash or accident. When we bought it through the third-party, we assumed we were good to go. Not the case.
Before we committed to picking a car, we looked through all the reviews of the major rental companies and decided to go with Sixt. When we got to the Sixt counter at Dublin airport, they let us know that they couldn't honor the third-party CDW insurance we purchased.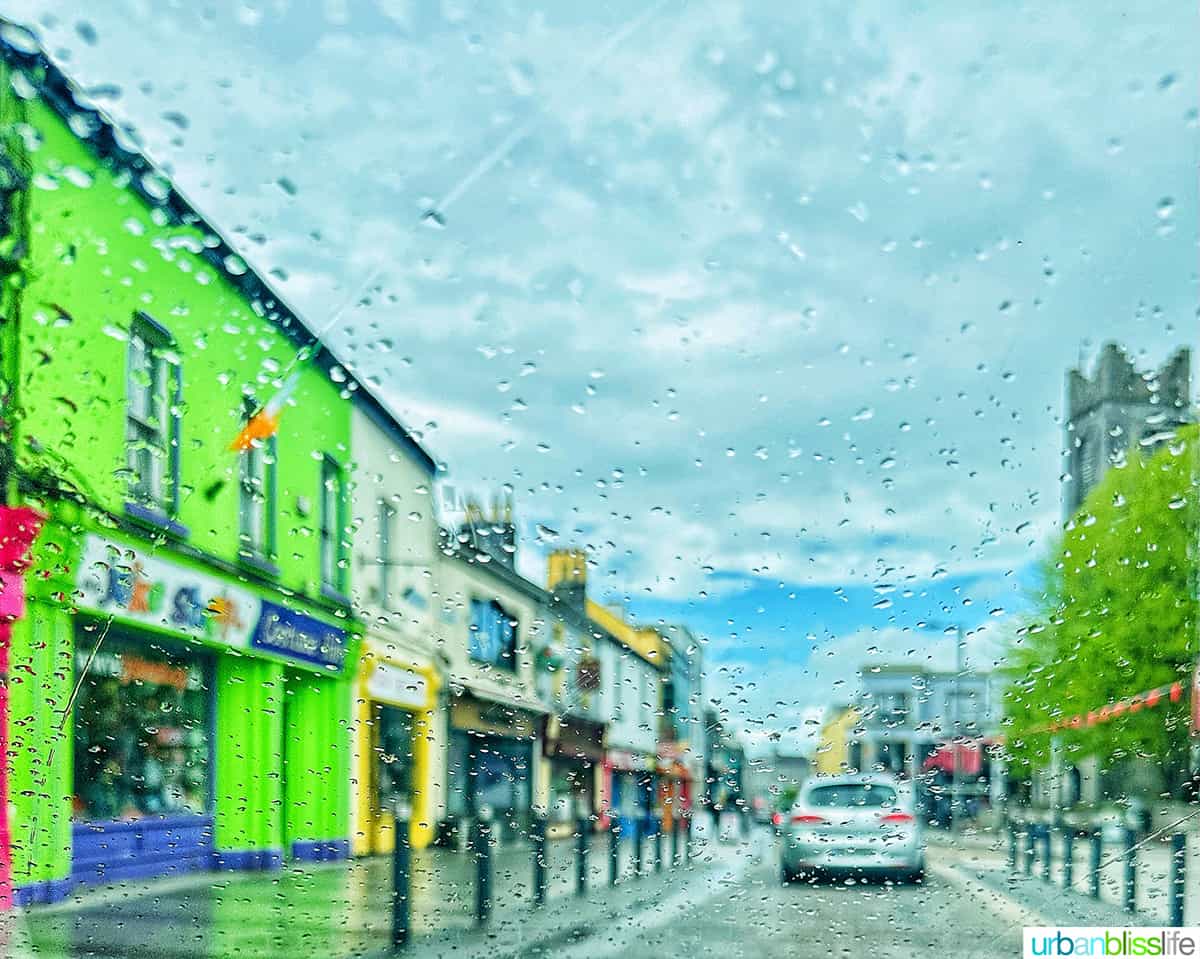 They let us know we needed to purchase a separate policy from them directly, or they would need to place a €5,000 hold on our credit card to cover any possible damages. While it would be refunded if we brought the car back without damage, it could take up to a month for the hold to be released. This turned out to be the case with pretty much all the major rental firms.
Similarly, the original third-party insurance would still cover us, but we'd need to file any claim with them, and get reimbursed by them, in the event of any damage, which could also take weeks or months.
After a bit of back and forth, we opted to buy the extra CDW through Sixt, along with a loss damage waiver with theft protection. That would cover us in case the car was stolen. The cost for everything for the 5 days we had the car was roughly an extra €180. It was a drag, but worth the peace of mind of not having to worry if anything happened to the car during our trip.
👉🏼 The moral: skip the third-party insurance and just buy it once you get to Ireland.
The other main charge was a cleaning/security deposit of €300, refundable after you return the car.
They'll also try to sell you on a GPS package, but skip that as well. Your smartphone map apps will work just fine.
Driving license in Ireland
You do not need a special license to rent a car in Ireland. So don't worry about getting an international driver's license or something similar. You just need the license from your home country, your passport, and a credit card.
Get a small car, but not too small
Have you ever arrived at the car rental counter and they surprise you with a free upgrade to a bigger car? Great feeling, right? Usually, except in Ireland!
We specifically booked the smallest car we could find because we did a lot of reading about those narrow roads beforehand. So when our agent let us know he was upgrading ours to a larger model, we weren't exactly thrilled. But we decided to go with it, because, hey — free!
We ended up with a blue Volkswagen Taigo — a midsize cross-over that we actually ended up liking. It wasn't too big to the point that it made driving seem unwieldy. But it was also big enough to carry all the luggage we had. And to store it hidden away safely in the hatchback.
So while it's still a good idea to get a smaller car over there, you don't need to downsize to a Smart Car in order to navigate those tiny backroads with ease.
Find a rental car in Ireland
Get an automatic
If you're unfamiliar with driving on the left side of the road, you may consider opting for an automatic instead of a manual transmission. We did this, and while it cost more (about €250 more in the end), it made it much easier to get used to driving both on the opposite side of the road and getting through crowded city streets.
Plus, you don't want to stall on a small Irish rural backroad and suddenly see a large tourist coming your way. And let me tell you, those buses don't slow down!
Take video or pictures of the car before you leave the lot
We read a few horror stories of people being taken advantage of by their rental car agencies for phantom damages after they brought their cars back. So take video or pics of the car before you drive off, and again when you return it. That way, you have documentation in case any of those mystery charges show up.
Returning the rental car
We returned our car back where we got it, at Dublin airport. They have good signage on the freeways leading to the drop-off point so it was pretty easy to find. You simply drive up and drop it off with the attendant.
Also, don't forget to take video or pics of the car.
In order to avoid any surcharges, try to fill up the gas tank as close to the drop-off point as you can. And if you have time, clean out the car as much as possible. Even clear off the footwell carpets if they have dirt and debris. You want to make sure you get your €300 cleaning deposit back.
Soon after we dropped the car off, we received an email confirmation that it was in good shape. It noted that nothing further was owed. And it included a final list of charges. The cleaning deposit hold was also removed from our card within a day.
Ireland rules of the road
As we've already mentioned, they drive on the left side of the road in Ireland. This can take a bit of getting used to. A mural and flyer from the car rental agency provided some helpful tips:
How to navigate roundabouts
Leave plenty of room between cars
Aim for the center line of the road (closest to the driver's side). This is helpful when on roads like freeways so you don't drive too closely to cars in the lane to your left.
Ireland roads
Freeway driving is pretty easy in Ireland. The lanes are fairly wide and the freeway signs are well-marked. Freeways are denoted by an "M," which stands for motorway, so M6 and M50 for example are motorways. Smaller highways, called national roads, begin with an "N," like N71.
That term, "national road," can be a bit misleading. Because those highways can quickly narrow into winding rural roadways. So as you map out your route, if those types of roads concern you, you may want to pick directions that keep you mostly on freeways if possible. That said, many of the major sites are accessible only by those smaller backroads, so they're unavoidable in some cases.
You may also encounter a few obstacles along the way, including:
Tractors
Pedestrians
Sheep
Tall hedges right on the edge of the road
Stone walls that randomly jut into the road
Cars randomly parked in your lane (mostly in small towns)
Large tour buses that seem to fly by, even on tiny roads
In terms of speed limits, they'll be posted in kilometers per hour, as will the distance on road signs. So if it feels like those 50 miles just flew by, that's because you really went 50 km instead (or about 31 miles).
And locals tend to drive fast, so it's not uncommon to suddenly see someone tailing you on a rural road. Don't panic. Just turn off when you can and let them pass so you can continue leisurely on your way.
It's also a good idea to keep your running lights on during the day for safety, as a lot of the roads have blind curves and crests.
City driving in Ireland
Major cities like Dublin and Galway have a lot of car traffic, especially during rush hour, but also throughout the day. And just like the streets can be narrow in the countryside, it's not different in urban areas. So you'll want to pay extra attention, especially when entering roundabouts or when navigating areas with a lot of foot traffic, as pedestrians may not always heed walk signals at intersections.
We ended up driving into Galway during our stay as it was the beginning of our trip, but decided to opt for the valet parking at the hotel. That turned out to be a good call, as the hotel parking wasn't exactly right next door to the hotel itself. (We would later learn that this is not uncommon, as you can read in the parking section below).
In Dublin, you don't really need a car to get around since most of the attractions are centrally located and close to each other. So if your trip will be mostly spent in the capital city, skipping a rental car may be your best option.
💡 Tip: Return your car early if you can. We planned our trip to end with a couple of days in Dublin after our road trip around the country. Since we knew we wouldn't be using the car there, when we reached the outskirts of the city, we drove to the airport first to return our rental car. Then we took a cab to our hotel in the city. Not only did that save us from worrying about driving in Dublin traffic and having to find parking, it also saved us a couple of hundred Euros in rental costs.
Roundabouts in Ireland
If you've done any research into driving in Ireland, you've likely come across the term "roundabout." These little treasures of the road deserve their own section in this post because they are literally everywhere!
Entering a town: roundabouts. Leaving a freeway: roundabouts. Randomly driving through farm country: roundabouts. Intersections where a stoplight would be a good idea: roundabouts. You get the message.
If you take away one thing from this roundabout write up its this: enter them on the left and stay left.
Many of them will have two lanes. Officially, this is so those taking the first exit can keep left, and those in the right lanes can keep moving and exit soon after. But nearly no one follows this rule. Keeping left will help make sure you don't get boxed in and miss your exit when it comes around. Just be sure to signal left when you plan to exit.
Road tolls in Ireland
Some freeways in Ireland will have tolls which cost about €2-€3 per car. Your rental company may cover some of them, and they'll tell you that at the counter so you don't pay unnecessarily. Others you will have to pay yourself.
You can avoid toll roads by telling your GPS to take routes without tolls. But it can significantly increase drive time and take you along routes on those windy back roads. So, it comes down to your personal preference.
Pumping gas in Ireland
Unlike in the States, where you mostly can pay for the gas at the pump with your credit card, it's different in Ireland. At every gas station where we stopped, we first pumped the gas. Then we had to go inside to pay with the cashier by letting them know which pump we used.
Not a big deal, but a bit confusing the first time we had to fill up. It's also important to know that unleaded gas pumps are colored green and diesel ones are black. Fortunately, most rental cars have a sticker above the gas tank describing which kind of fuel it takes.
Also, gas prices in Ireland are listed by the liter, not the gallon. On our rental car shuttle ride from the airport to pick up our car, we heard another couple say how cheap the gas was when they saw a sign listing it as €1.50. That works out to about €6 a gallon, or $6.50. So be prepared for some sticker shock.
That said, gas stations are plentiful across Ireland, so you shouldn't run the risk of running empty during your road trip.
Parking
If you're staying at hotels as you drive around Ireland, you may find that hotel parking can be scarce or non-existent.
Some offer valet parking with a drop-off area out front, as did The Hardiman, where we stayed in Galway. But many hotels don't, and they also don't have their own designated parking.
So you may need to use surface parking lots or street parking, which can be hard to find in cities and hard to squeeze into. It's a good idea to look into parking situations as you book your accommodations. On average, parking meters charge about 1 euro per hour.
Driving in Ireland takeaways
We loved our road trip around the Emerald Isle. Public transportation isn't as available as in some other European countries, so by renting a car, we were able to see all of the sites we wanted to visit.
Here are the key takeaways for us.
Make it easy on yourself
If you're unfamiliar with driving on the left, consider getting an automatic. Why worry about stalling out on a narrow country road as a bus barrels toward you?
Also, get a car on the smaller side that still has enough room for your luggage. Bigger cars may be more luxurious, but they also have more surface area that you can accidentally scratch or dent on those same small roadways. Who wants to deal with a car damage claim while on vacation?
Take it slow at first
Familiarize yourself with your car and the instruments. Your driver's seat will be on the other side of the car, so things may seem a bit out of sorts to begin with.
Once you get on the road, let yourself get comfortable with what it's like to drive on the left. It may take a day or two, but it's better to be safe than sorry.
Map it out
Research your routes ahead of time, so you can map out which roads you want to take, how long it may take you, and any stops you may want to make. For example, if you're really uncomfortable with back roads, map out a route that features more freeways.
If there are specific sites you want to take in, map out how to get there beforehand so you have at least an idea of the route. This is helpful in case your internet connection drops out along the way in the backcountry. That isn't common, but it did happen to us a couple of times.
Make time for some stops
Build in some time to make a few planned and unplanned stops along the way. Most of the major sites are located fairly close to main freeways or roadways, so they're easily accessible. And you may stumble upon some gems that you hadn't expected, like a charming seaside beach or secluded castle free of crowds.
After all, you're on vacation. Slow down and enjoy the journey!
Book your next Ireland vacation
Ready to book your next Ireland vacation? Use the form below to find the best hotel for your trip.
More Ireland inspiration
Check out more of our Ireland travel content and learn about some beautiful places to visit on the Emerald Isle. Tap the posts below.
If you visit, please be sure to let them know that you read about it on Urban Bliss Life! And if you snap some pics, tag us @UrbanBlissLife and #UrbanBlissLife on Instagram, TikTok, Twitter, and Facebook.