Visiting the Bay Coast area of Ireland? Check out these Top 12 Things to Do Along Ireland's Wild Atlantic Way!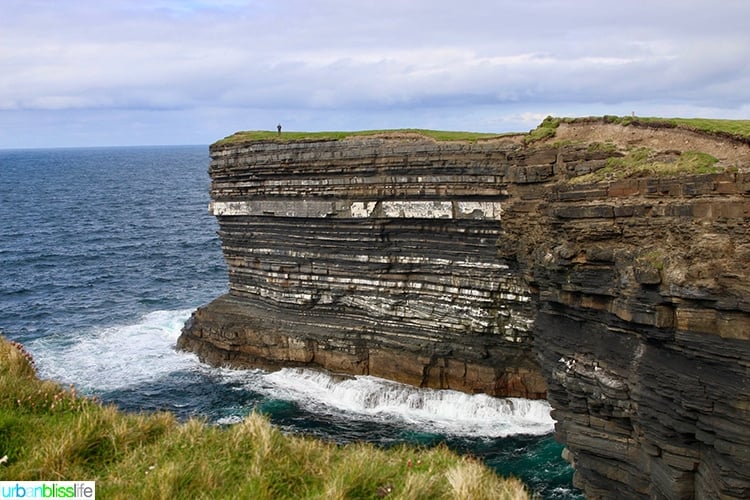 The west coast of Ireland is everything you imagine it would be: a stunning coastline of vivid green meadows, steep cliffs, and rich blue waters. Lovely towns and majestic castles. Friendly people and incredibly fresh Irish food.
Ireland is all this - and SO much more.
I had the pleasure of exploring the northwestern half of this amazing Irish coastline known as Ireland's Wild Atlantic Way. Our amazing tour guide, Darran, from Vagabond Tours, made the trip extra special by sharing his knowledge of the land and its history as we traveled from one town to the next.
There's a LOT to see and do along the Wild Atlantic Way. I've tried to break it down to some highlights that I think most of you would love to include on your travels to this magical part of the world.
Here are the top 12 things to do along the Wild Atlantic Way.
Explore the City of Galway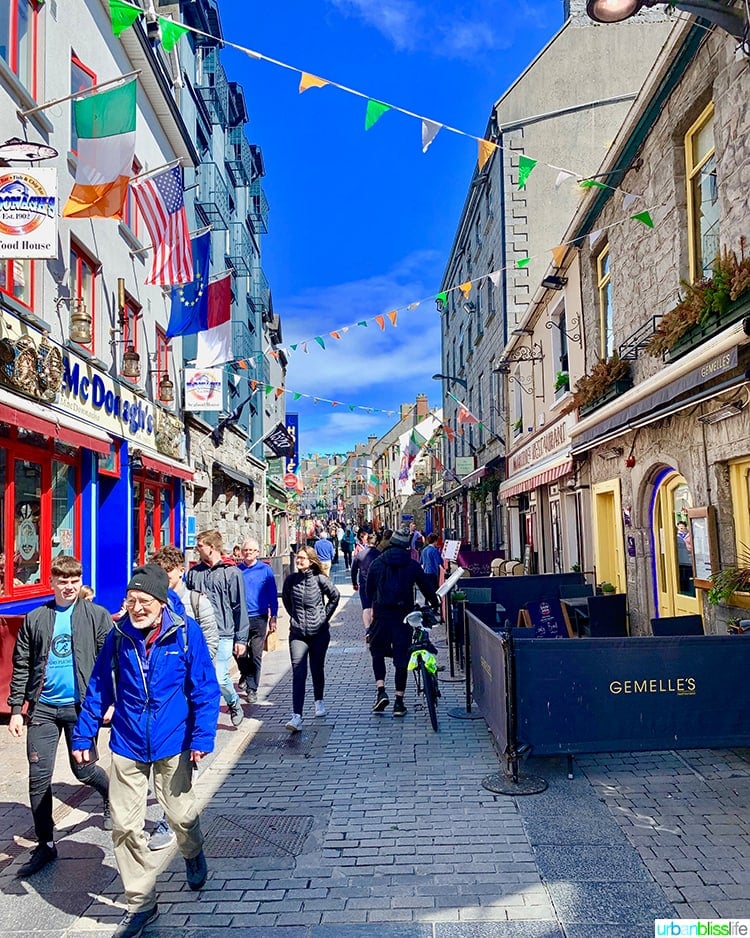 One of the cutest cities I visited in Ireland is the city of Galway. Located in West Ireland, it's the halfway point along the Wild Atlantic Way. It served as our group's starting point to visit the northwestern half of The Wild Atlantic Way.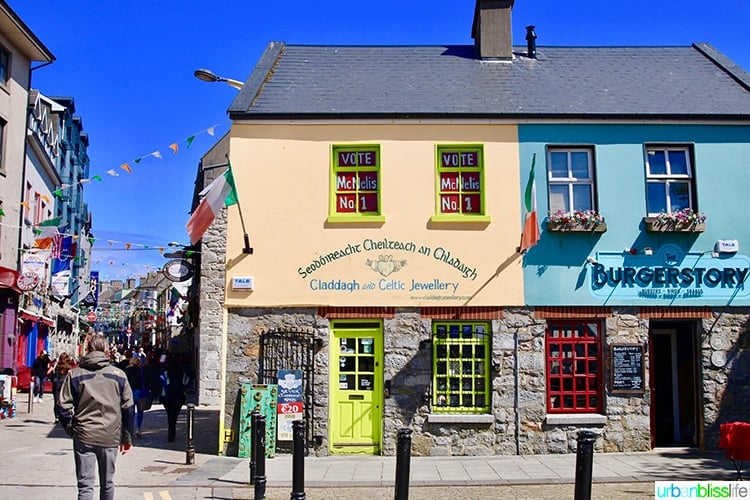 Galway is a bustling tourist town full of adorable shops, pubs, art, live music, and fantastic restaurants. We had the pleasure of dining at Michelin recognized Ard Bia Nimmo's restaurant. Many of us (all food & travel writers) declared their fish cakes to be among the best we have ever tasted!
One great way to check out the Galway food and beverage scene is to book a Galway Food & Drink Walking Tour. I'm a huge fan of food tours when traveling to new cities!
Soak up the Scenery of Killary Fjord & Doolough Valley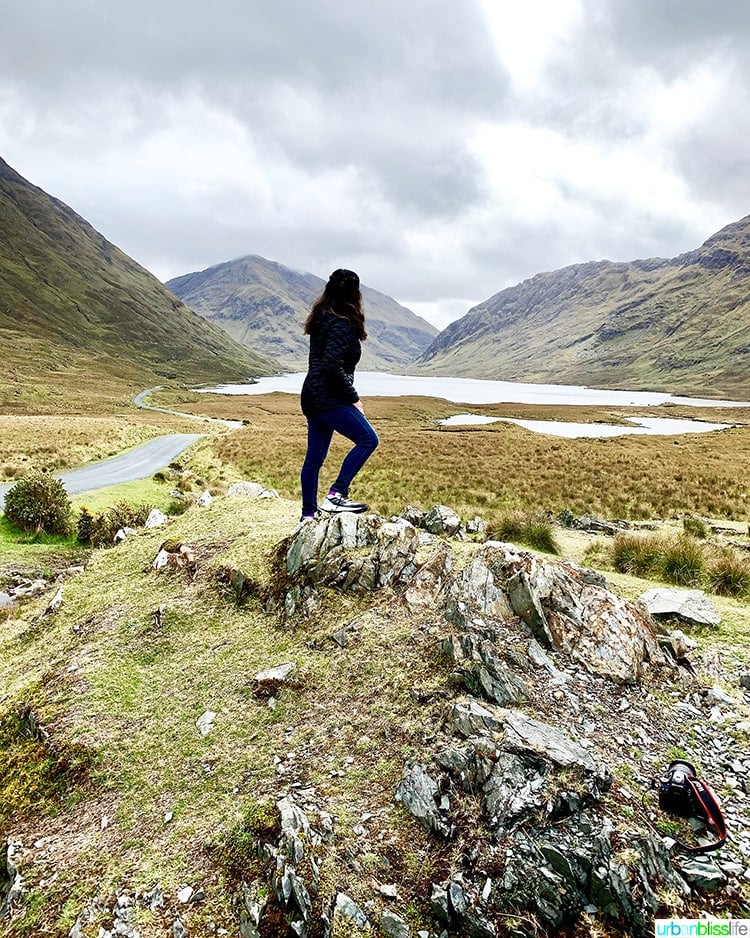 Between Galway and Mayo counties, you'll find picturesque Killary Harbour, one of three glacial fjords in Ireland. It is not just a stunning visual beauty - the fjord also produces some of the most delicious fresh mussels I tasted while visiting Ireland.
You can book a boat tour around Killary Fjord, during which you can sit back and enjoy the stunning mountains and hillsides of Connemara.
A short drive away, make a stop at the Doolough Valley. This beautiful valley has a somber past. At the foot of the Mweelrea Mountain and the Sheeffry Hills, a marker commemorates the Doolough Tragedy in which more than 400 people reportedly died in the Doolough Valley while attempting to reach food during the Great Famine in 1849.
Marvel at the Dún Briste at Downpatrick Head
Perhaps one of the most well-known visual stops along this part of Ireland's Wild Atlantic Way is the sea stack at Downpatrick Head. Located in County Mayo, you'll find miles of fluffy tufts of green grass stretching out until the cliffs meet the sea. Broken off from the cliffs is a sea-stack known as Dún Briste (which means broken fort).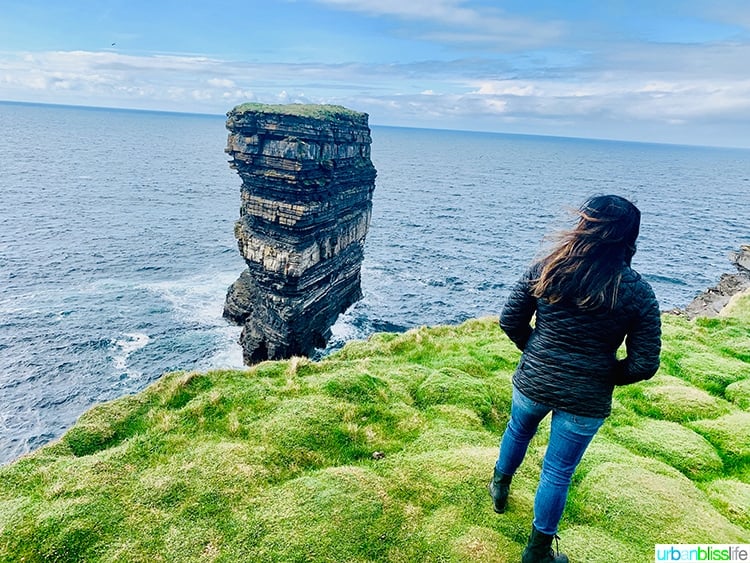 Irish legend says that when a pagan chieftain refused to convert to Christianity, St. Patrick struck the ground and split a chunk of the cliff off into the ocean, with the chieftain on top.
Whether you believe that legend or not, it's an incredible sight and a great place to stretch your legs while taking in the fresh sea air.
Cycle the Great Western Greenway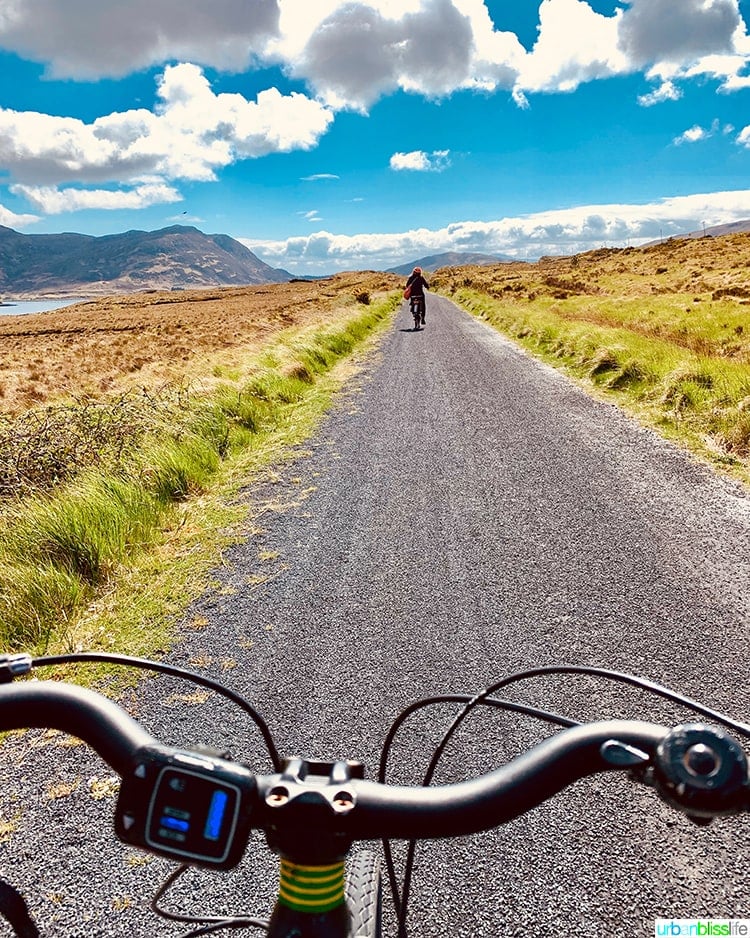 If you've followed my travels for the past 15 years, you know that one of the best ways to experience a new destination is by bike. Bike tours are amazing, but so are self-guided biking excursions.
If you're looking to take in the sights of Ireland's Wild Atlantic Way via bike, the Great Western Greenway is the perfect route. Spanning from the towns of Westport to Achill Island, the Great Western Greenway offers 27 miles of safe, mostly car-free path through adorable towns and the beautiful Irish countryside.
Rent bikes from Clew Bay Bike Hire. They have standard and electric bikes, helmets, and all the gear you need to go off on your Great Western Greenway adventure!
Get Lost in The Lost Valley
Adventure lovers and history buffs alike will not want to miss the walking tour of The Lost Valley.
For more than a century, the Bourke family has farmed and owned this vast land in Louisburgh, Ireland along The Wild Atlantic Way. Now they are mostly sheep farmers, and offer 3-hour walking tours of their beautiful Lost Valley.
If you really want to understand the history of this area, including details of The Great Famine, a tour of the Lost Valley is a must. You can still see the potato ridges that had to be abandoned when families were evicted during The Great Famine.
GlenKeen Farm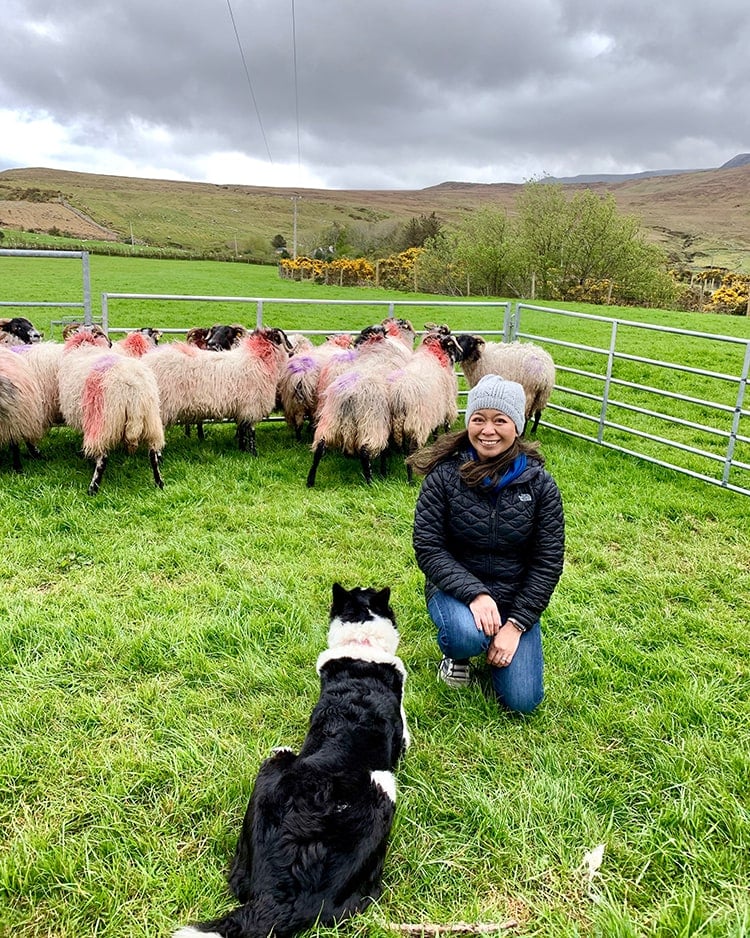 Just six miles away from Louisburgh and spanning more than 5,500 acres, Glen Keen Farm is one of Ireland's largest single family-owned working farms. It was one of my favorite stops along The Wild Atlantic Way! It is especially fantastic for family travel.
Here, you can witness a sheep herding demonstration, learn about the history of turf cutting (and try your hand at it!), Irish music lessons, wool spinning, and more. There's a wonderful gift shop with restaurant on premises. The people here are absolutely lovely and the land is beautifully maintained. I think you'll love a stop here, too!
Learn more about visiting Glen Keen Farm.
Adventure at Delphi Mountain Resort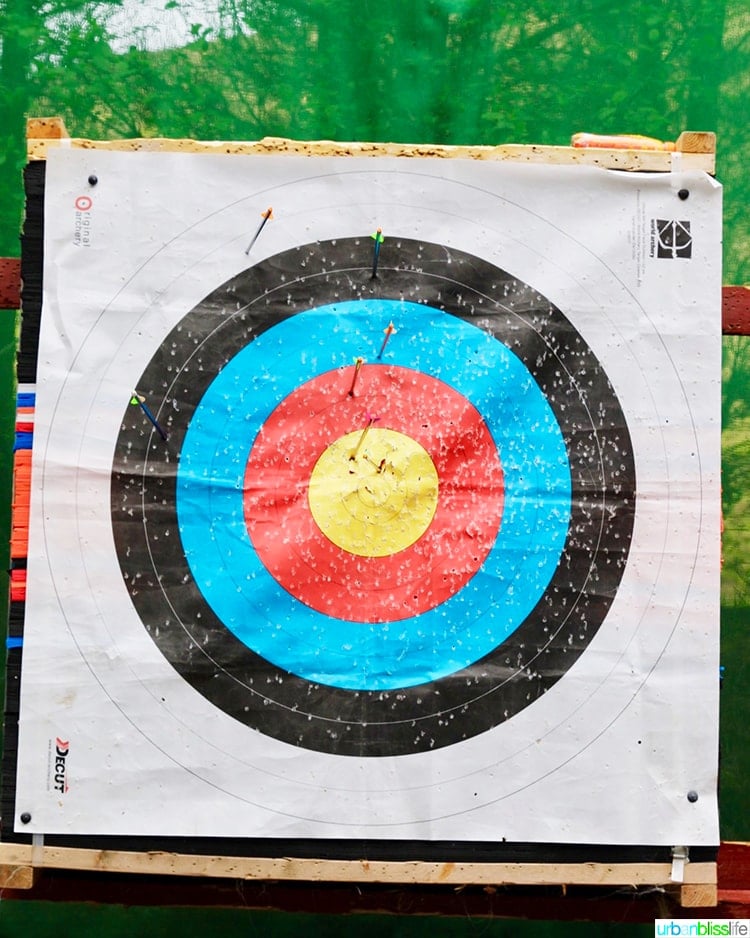 If outdoor adventure is really your thing, then you need to plan a stay at Delphi Mountain Resort.
During our one-night stay here, we were able to go zip lining and try our hand at archery. There is also an aerial trek, bog obstacle course, high ropes, climbing, and plenty of hiking and biking trails.
If you'd rather relax, Delphi Resort also has you covered with their amazing spa services and fantastic restaurant and bar. Learn more about Delphi Mountain Resort and Spa online.
Go Sea Kayaking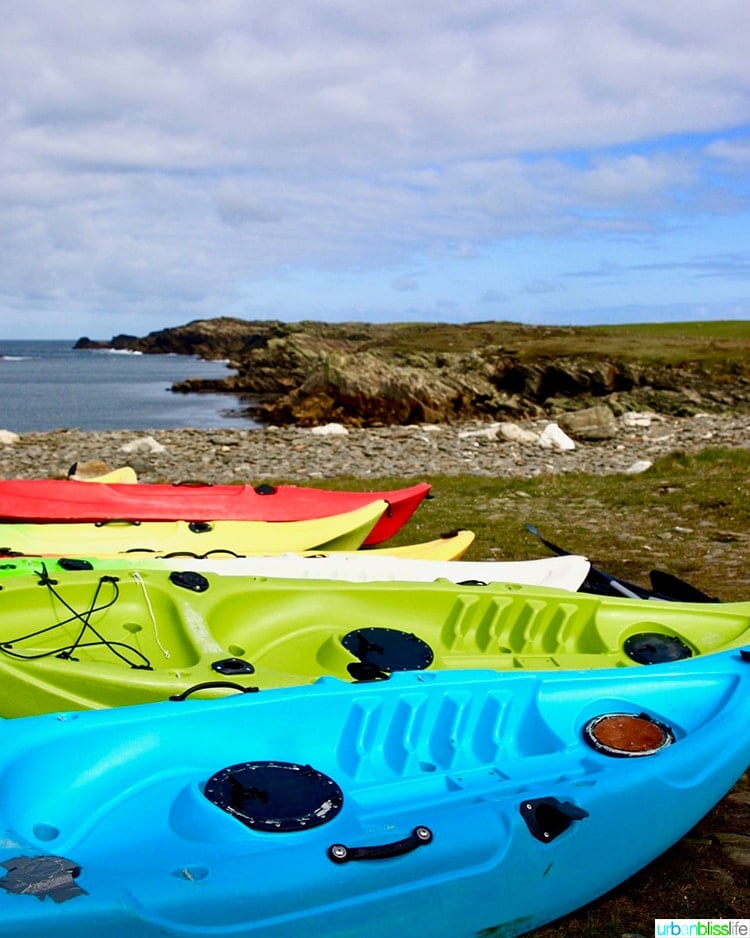 As you can imagine, The Wild Atlantic Way offers water lovers a wide range of water activities to enjoy along the coastline. We had the pleasure of going kayaking with Wavesweeper Sea Adventures.
The exact location changes and can be customized per group, but David and his team provide wetsuits, kayaks, helmets, and expert guides for your kayaking adventures. Even though it was windy and chilly, the suits kept us warm and it was a wonderful way to continue with our Wild Atlantic Way experience.
Visit the charming towns of Westport and Belmullet
The Wild Atlantic Way is peppered with adorable towns whose brightly colored houses and businesses pop happily against the backdrop of the vibrant Irish green land.
In addition to Galway, I also recommend visiting the smaller towns of Westport and Belmullet.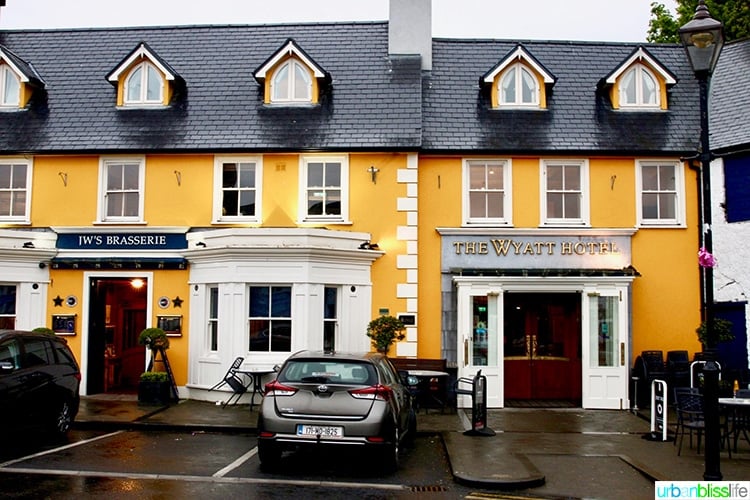 Though we didn't stay long in these towns, I wish we had more time to explore each area. While in Westport, we enjoyed a creative, beautiful dinner at Cian's on Bridge Street.
We also ended up enjoying a pint (or three) at Matt Molloy's pub (owned and named after The Chieftains band member) -- and meeting Matt Molloy himself!
For lodging in Westport, check out the beautifully decorated The Wyatt Hotel.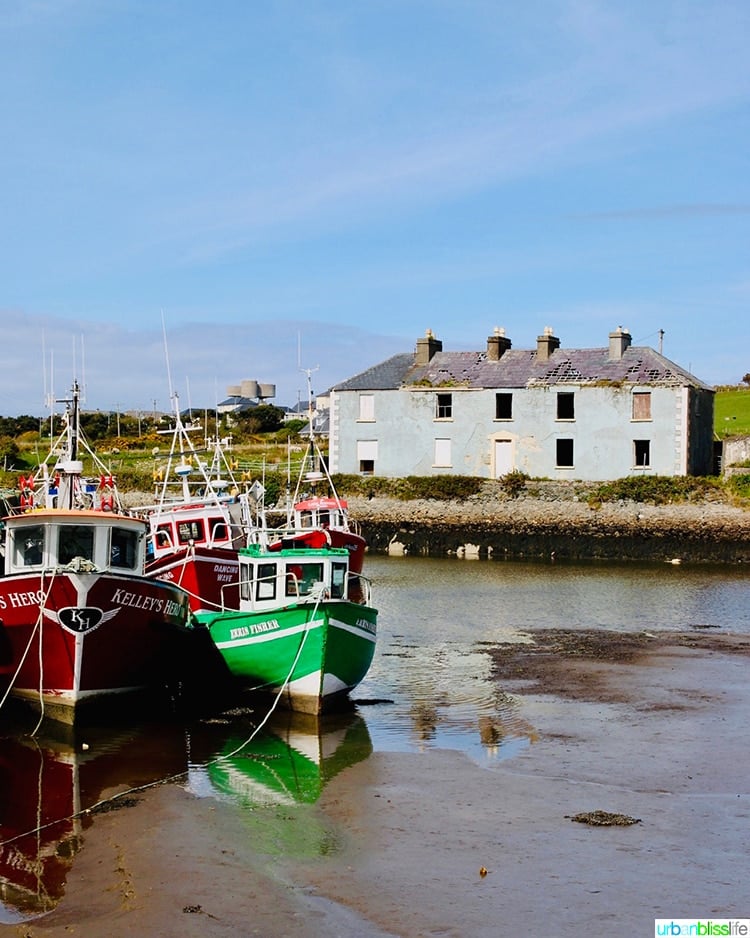 Another fabulous coastal town to visit during your trip to The Wild Atlantic Way: Belmullet.
This coastal town has approximately 1,000 residents, and was named the Best Place to Go Wild in Ireland by the Irish Times newspaper a few years ago. Its rugged beauty affords adventure lovers plenty of opportunities for fishing, hiking, cycling, and more.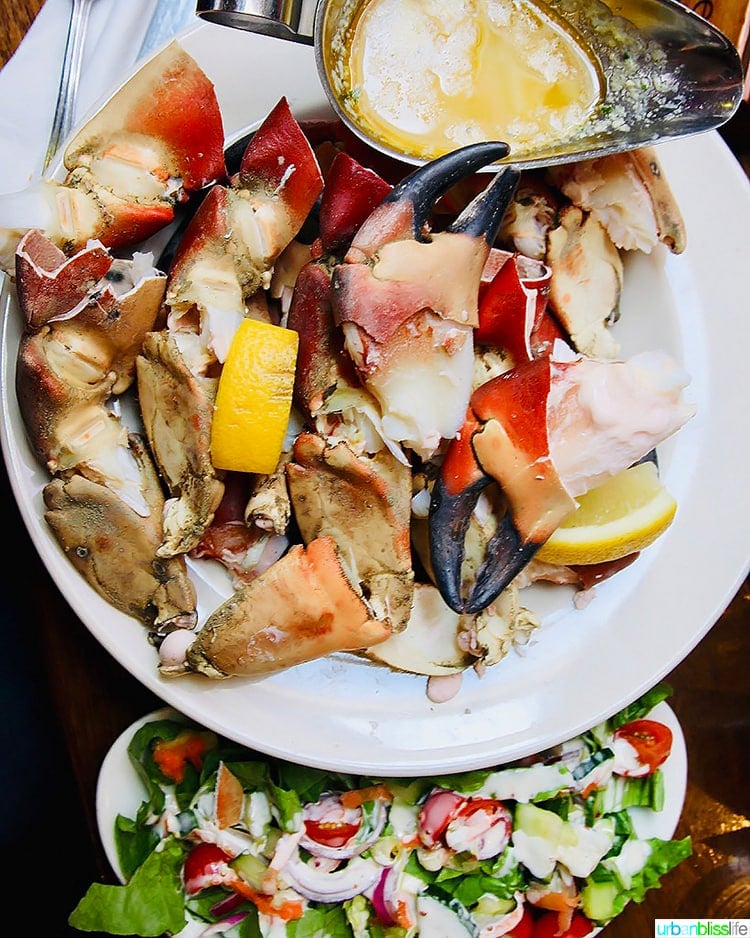 During our short time in Belmullet, we enjoyed lunch at The Talbot Hotel bar. Here, I almost ate my weight in fresh crab legs. So good!
Visit Aughnanure Castle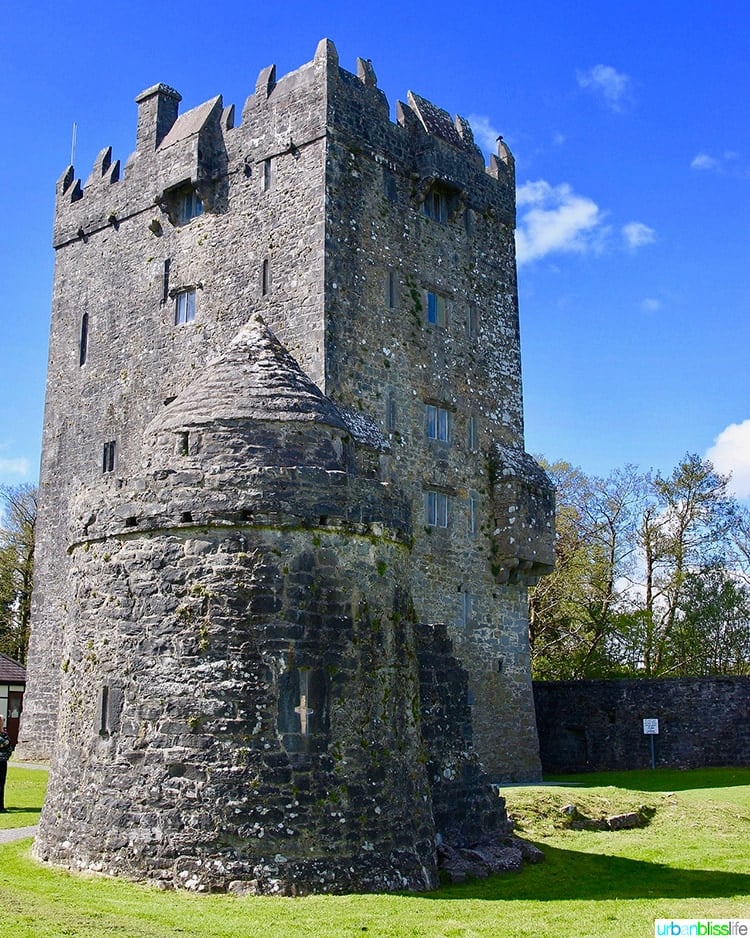 The Aughnanure Castle is a classic example of a well-preserved Irish tower house. Sign up for the short tour, and learn about how the tower house was built in ways to give its inhabitants the advantage in battle. This can be a quick stop on your way from Galway to the coastline.
Ballycroy National Park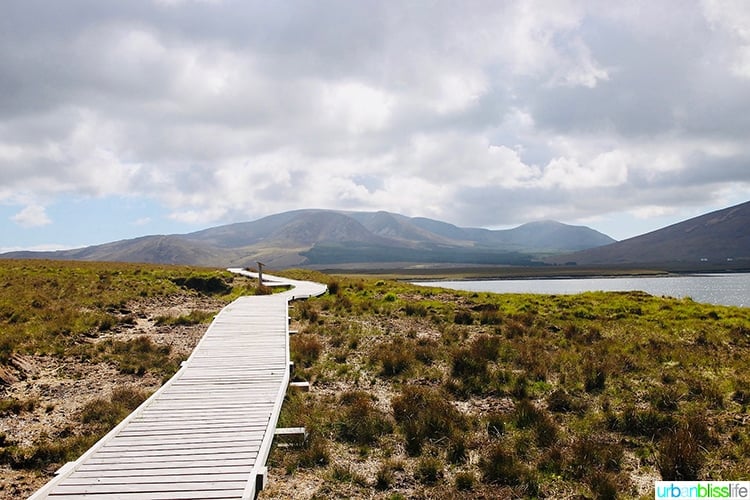 For a peaceful visit with nature, stop by Ballycroy National Park. Ireland's sixth National Park established in November 1998 and located on the Western seaboard in Northwest Mayo. It comprises of 11,000 hectares of Atlantic blanket bog and mountainous terrain, covering a vast uninhabited and pristine wilderness among the Nephin Beg mountain range -
Indulge at Mount Falcon Estate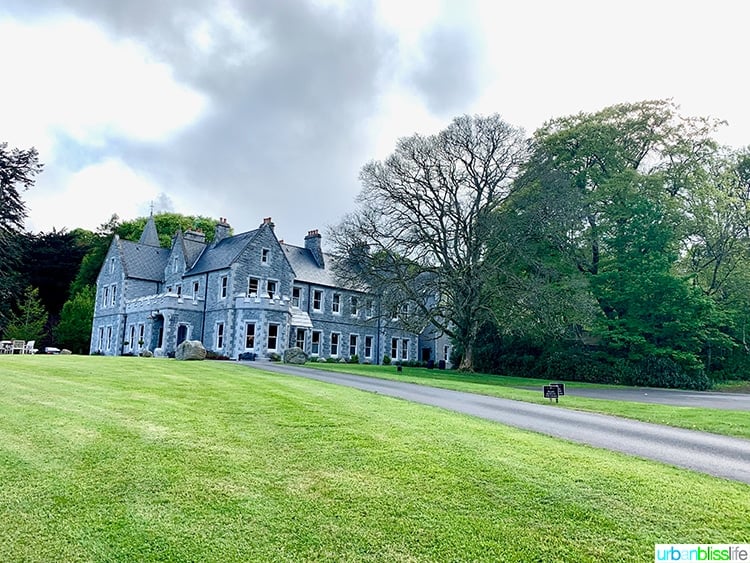 We ended our trip along the Wild Atlantic Way at the elegant Mount Falcon Estate in Ballina.
This 100 acre estate offers luxurious accommodations, including several individual cabins perfect for families and groups traveling together. Fish on the estate lake, play a few rounds of golf on the well manicured grounds, indulge in a spa day, and explore the grounds via the estates many walking trails.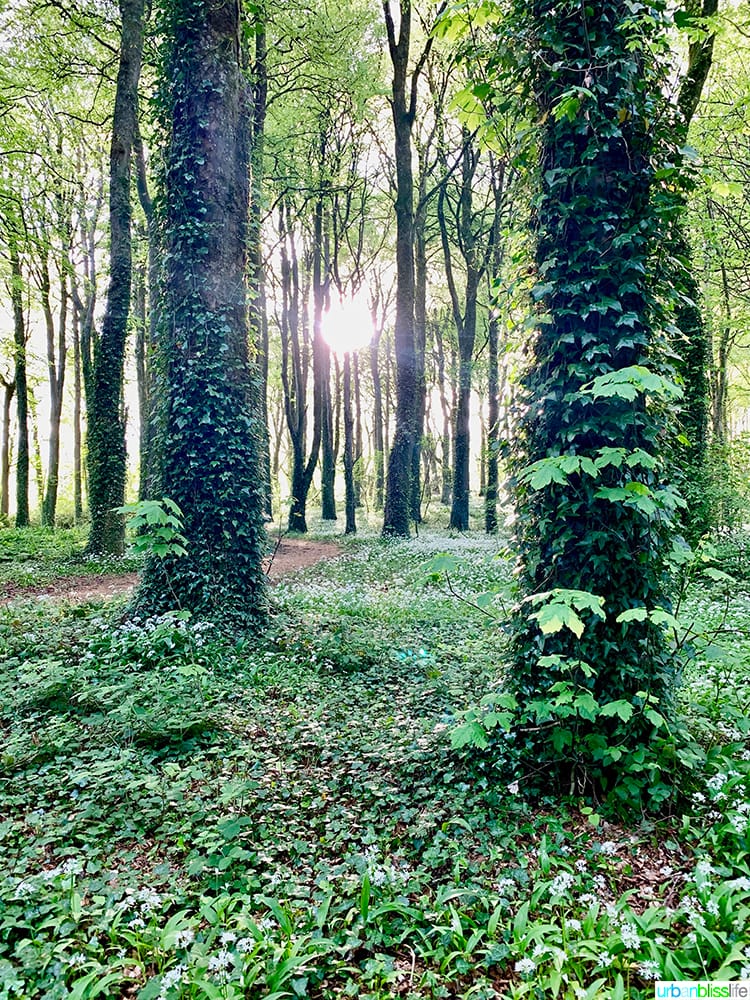 Visit Ireland's Wild Atlantic Way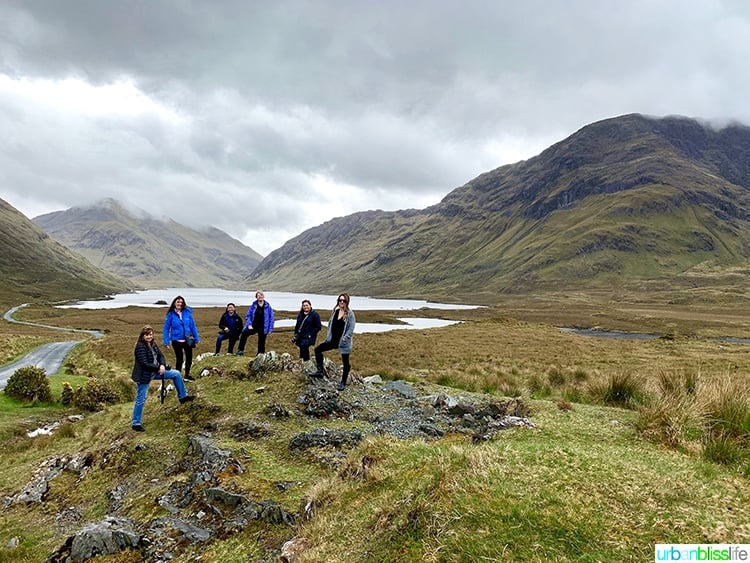 These are my picks for the Top 12 Things to Do in Ireland's Wild Atlantic Way. And this just covers the northwestern portion of the coastline, from Galway up to Erris! There's much more in the southern coastline as well. For more info, be sure to visit the Wild Atlantic Way website.
Which of these places/activities do you think you'd most likely add to your Ireland travel itinerary?
PIN IT: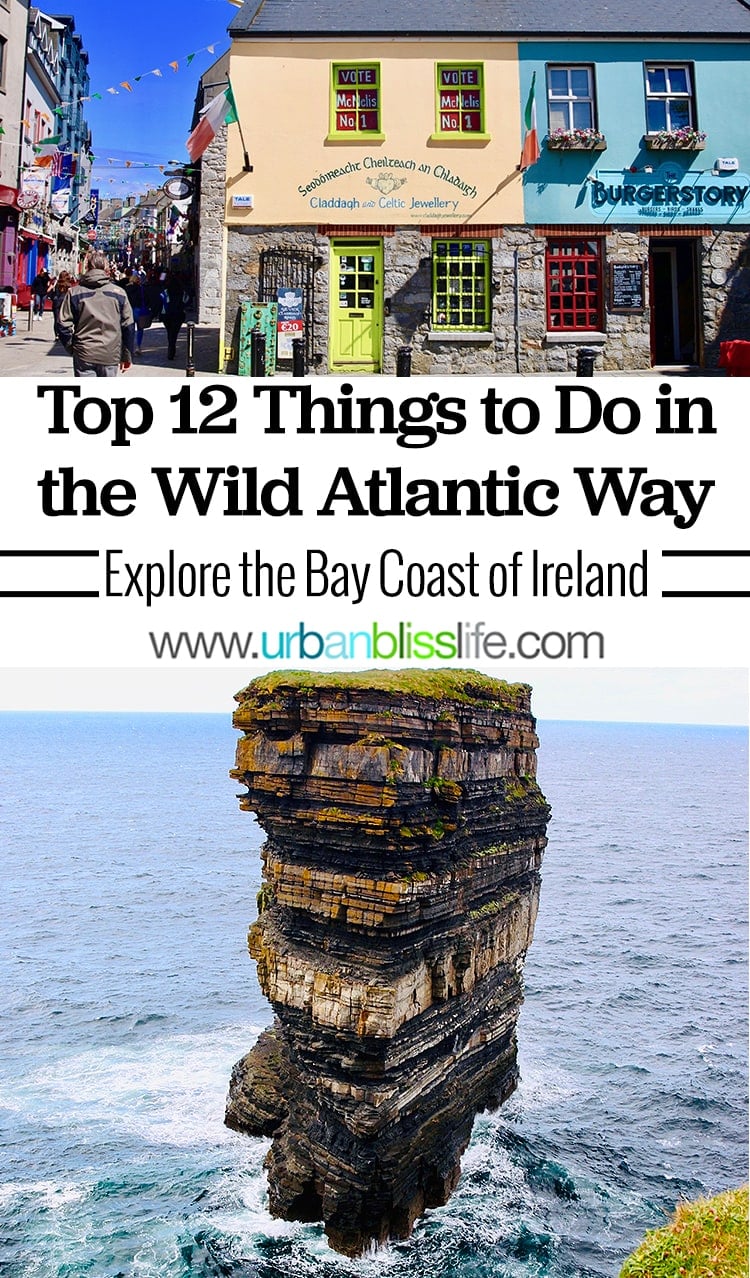 Thanks to Tourism Ireland, the Wild Atlantic Way, and Steller Stories for including me in this press trip, which covered the majority of lodging, activities, and meals. As always, all opinions and photos are my own; if I don't love it, I won't write about it :). I LOVED visiting the Wild Atlantic Way and cannot wait to go back and explore more!