Celebrate your fellow mom pals with these great Moms Night Out ideas!
Tonight, I find myself in complete awe of my fellow mamas. And, I feel the need to celebrate them, one and all!
Whenever I can, I like to gather my mama friends and enjoy Moms Night Out. How often do you enjoy a night out with your mom friends?
If you're looking for some fun moms night out ideas, I have a lot of them on the blog. These are all parties that I have thrown for my own personal mom gang!
Moms night out doesn't have to be expensive. It doesn't have to be over-planned or a big deal. It can be as casual or as theme-oriented as you want it to be. The whole point is just to be able to relax and laugh it up with your fellow moms.
Moms Night Out Ideas
Some ideas to get your creative party planning juices flowing:
Moms Tea Time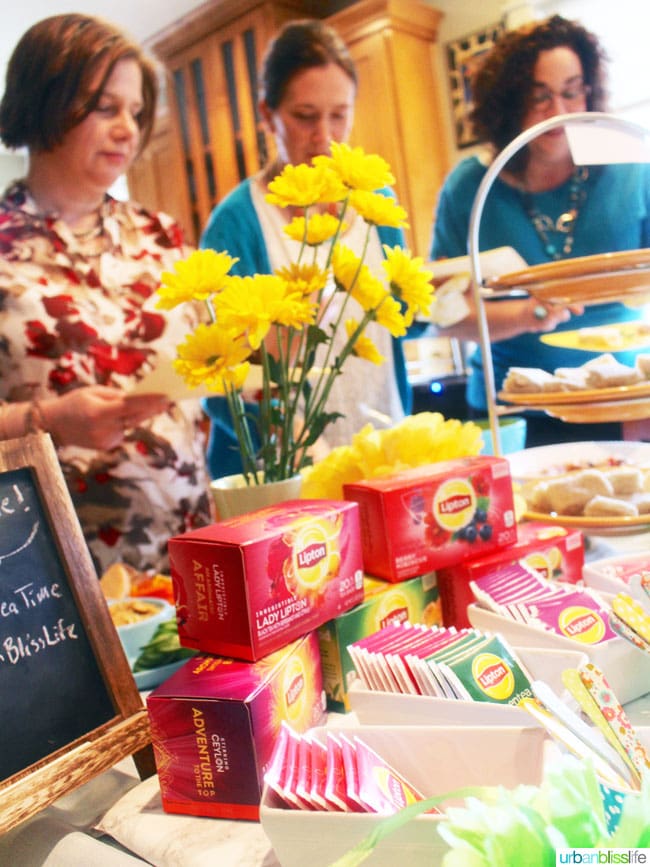 Moms Tea Time can be held during the day or at night! Things you'll need:
Be sure to read more about tips for hosting a Moms Tea Time.
Moms Coffee Break
Most moms I know (myself included) are fueled by coffee. Throwing a Moms Coffee Break makes the most sense in the morning, after the kiddos are at school. But you can also host a playdate after school and throw a Moms Coffee Break then too!
What you need for this Moms Night Out idea:
Variety of coffees. You can serve up just one kind, but it's fun to serve a few varieties in different pots.
Coffee cups and saucers
Cream, including dairy-free alternatives like coconut milk, almondmilk, or soy milk
Sugar
Coffee-friendly snacks, like this Banana Crumb Coffee Cake or these
For more ideas and recipes, be sure to check out my full post about throwing a Moms Coffee Break.
Wine Pairing Party
What's a Moms Night Out without wine? A PTO meeting! Ha!
Just kidding: we had wine at our PTO meetings ;)
If your mama crew enjoys wine tasting like mind does, a wine pairing party is a perfect Moms Night Out idea! Here are some things you'll need to make this wine tasting party a success:
4-6 bottles of wine. Select a couple of whites, a couple of reds, and then maybe one sparkling or rosé wine and one dessert wine.
Enough wine glasses for everyone. Wines really do taste differently depending on the glass you serve them in.
3-6 dishes that pair well, one that pairs with each wine
Notepads for wine notes.
For more tips on throwing a wine pairing party, be sure to visit my post about How to Host the Ultimate Wine Pairing Party.
Pie Making Party
I personally LOVE cooking and baking with my mom friends. Hosting a pie making party is especially awesome when the weather is cooler. It's so comforting to get together with mom friends and bake up batches of pies together.
Then at the end, each person has some pies to take home and enjoy!
Here are some things you'll need to host a Pie Making Party:
Ingredients to make pie crust from scratch OR store-bought pie crusts
Ingredients for 2-3 different types of pie fillings
Mason jars if you are making mini pies in jars
Pie plates if you are making full pies
Wine, beer, and some non-alcoholic beverages to enjoy while baking the pies
Light snacks
Recipes for pies!
Be sure to read my full post on how to host a pie making party, and get some recipes for my favorite pies in jars!
Game Night Party
We enjoy having Game Night parties with couple friends, but it's also super fun to throw a game night as a Moms Night Out idea!
What you'll need for a Game Night:
Choose 1-2 games that everybody can play. A few that my friends love: Cards Against Humanity, That's What She Said, and What Do You Meme?
1-3 bottles of wine
A simple charcuterie board or grazing table
For more party planning tips, be sure to check out my full post on How to Host the Ultimate Game Night.
This post was originally published on December 22, 2005. It was update with new content and photos on January 30, 2020.