Pies-in-a-jar. They are so adorable, I can't stand it. Thankfully, they are also the tastiest. They make excellent holiday gifts, and they are also a fun dessert to serve at dinner parties.
Yesterday, I shared tips for how to host your own mini pies-in-a-jar pie-making party.
Today, I am excited to share the recipes that we used to make three different kinds of pies-in-a-jar:
Mini Apple Crumb Pies-in-a-Jar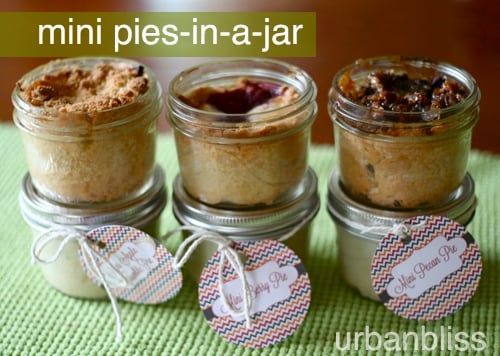 While theoretically you can take any pie recipe and adapt it to a mini pies-in-a-jar recipe, the one type of pie I would advise against if your intention is to freeze the pies, is pumpkin. Pumpkin pies typically do not do well frozen in these mini jars and then baked. Rumor has it, the filling just doesn't hold. You can try it with a frozen pumpkin cheesecake or pumpkin mousse recipe and see if that would work. If you do, come back and let me know!
You will need Adobe PDF Acrobat to download and open the printable recipe cards. You can download Adobe Acrobat for free online.
Mini Pecan Pies-in-a-Jar
I love pecan pie because it can so easily be adjusted for any occasion. I frequently make mini pecan tartlets for the holidays, since full pies tend to be so heavy. These pecan pies-in-a-jar are just the perfect size! You don't need to chop the pecans too much, just a coarse chopping will do.
The pecan pies-in-a-jar filling is fast and easy to put together. These pies do not need a crust topping, as the sugar caramelizes beautifully with the pecans for a delicious topping of sorts.
Mini Berry Pies-in-a-Jar
You can truly use whatever berries you have on hand, whether fresh or frozen. We have many bags of frozen blueberries and raspberries from our berry picking adventures at local farms over the summer, so that's what we used and what I listed in the recipe. However, feel free to add or sub strawberries, blackberries, Marionberries, you name it.

Mini Apple Crumb Pies-in-a-Jar
While I am normally a fan of experimenting and substituting ingredients, you will not want to sub the Granny Smith apples for any other kind of apple here. I'm pretty insistent that is the only apple that will hold up well in this recipe.
However, you can feel free to mix up the crumb topping. You can omit the oats or add more oats, or even add more holiday spices if you wish.
These mini pies-in-a-jar are truly perfect for gift-giving! Just freeze until you are ready to give, then instruct the recipients to freeze until they are ready to bake their pies, or they can refrigerate and bake them within a few days. You should place the jars onto a baking sheet and then place into a 375 degree oven for approximately 50-60 minutes; if you are concerned about placing the frozen jars directly into a preheated oven, you can always place them into a cold oven and then turn the heat to 375 degrees (this is what I listed on the recipe cards).
If you are giving these as gifts, you can easily dress these up with labels, gift tags, pretty ribbon, or even place a square of fabric over the pie before covering with the lid.
For my first ever holiday pie-making party, I would call this one a success. It was so much fun, it gave me much needed time with friends, and we ended up with about 6 delicious pies each to enjoy or give away for others to enjoy.
Will you host a pie making party? What kinds of pies would you make or do you make regularly for the holidays?
Get the mini jars that I used for this mini pie making party online.
More dessert recipes