Looking for a quick and easy sweet treat? These Chewy Peanut Butter Cookies with chocolate drizzle are the perfect afternoon or late night snack!
Hey hey everyone! I just got back from another amazing press trip, this one a 3-day intensive exploration of the Dundee Hills Wine AVA (see my Instagram feed & the Dundee Hills Highlights reel for details!). Now I'm immersed in a sea of work deadlines AND non stop end-of-year school activities. You, too? Or are your kiddos already out on summer break? I took an Instagram poll and it seems like most of the kids on the West Coast are still in school, while the rest of the country (lucky ducks!) are already out for the summer.
The last couple of months, the kids and I have been hard-pressed for time to make any fancy desserts, but who needs fancy for everyday yumminess, right? You all know we love EASY and delicious in my house, and I know many of you do, too, so I think you're going to LOVE today's recipe.
Chewy Peanut Butter Cookies with Chocolate Drizzle
Today happens to be National Peanut Butter Cookie Day, so I thought I would share this chewy peanut butter cookies recipe, one of my family's favorites. We love it and make it all the time, and I hope you will try it and fall in love with it, too!
If you've never made homemade peanut butter cookie recipes before, but you like peanut butter cookies, I think now is the perfect time to start. Trust me: after you make these once, you will make them again and again!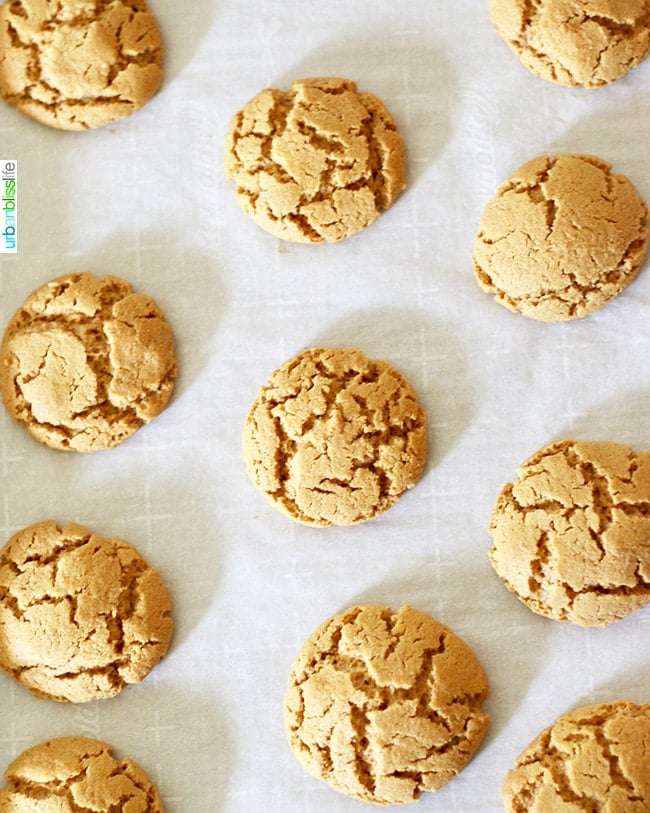 I use a basic peanut butter cookie recipe that calls for just three ingredients:
1 cup creamy peanut butter
1 cup granulated sugar
1 egg
That's it! It's the most basic, easiest to remember recipe (1-1-1 ratio of ingredients - simple!), and it totally gets the job done.
I also skip the fancy fork tine design. Because you know what? That's easier said than done; the dough is often too soft to create a design with the fork.
However, we DO take it up just a notch by adding chocolate drizzle on top.

Chocolate drizzle is actually easier and takes less time (in our experience) than creating the super traditional criss-cross pattern on peanut butter cookies. Simple microwave some chocolate chips with coconut oil, and voila! Note: you can also use regular or almond milk instead of coconut oil, if you prefer.
We adore the chocolate and peanut butter flavor combo in our house. This way, each cookie gets a soft, salty peanut butter cookie with a little hit of sweet chocolate decadence on top. It's a well-balanced dessert that will satisfy your cookie cravings.
Easy Peanut Butter Cookies: Jazzing it up!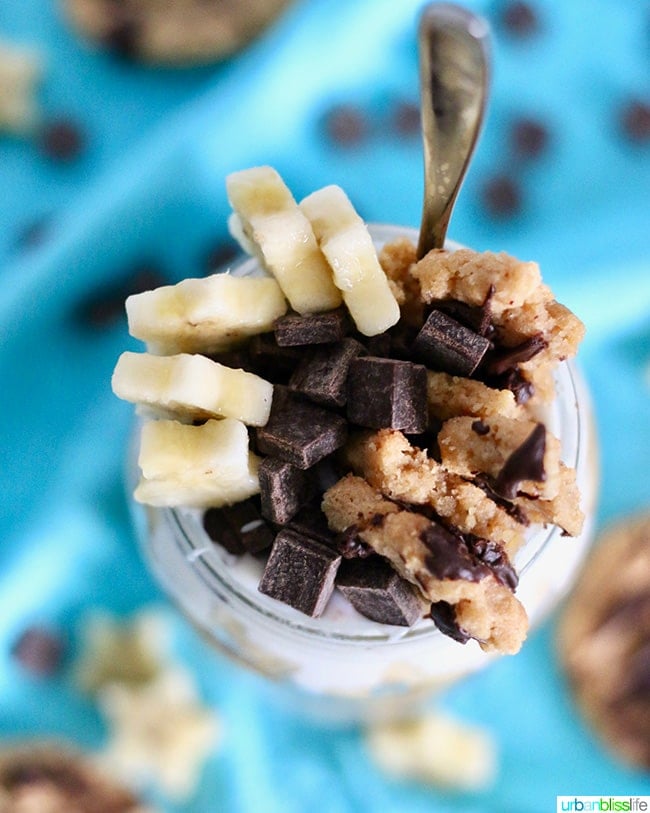 Once these chewy peanut butter cookies are made, they do go quickly. We've actually made them twice in one week before in our house because they were gobbled up so fast! However, I like to set some aside to add some pizazz to other dishes once in a while.
Recently, I crumbled up a few cookies and topped off my breakfast of peanut butter, banana, chia seed overnight oats. Oh my word, this was a decadent breakfast! I mean, really, let's call it what it was: dessert for breakfast. If you want a fancier dessert-for-breakfast, I'll be sharing this recipe soon!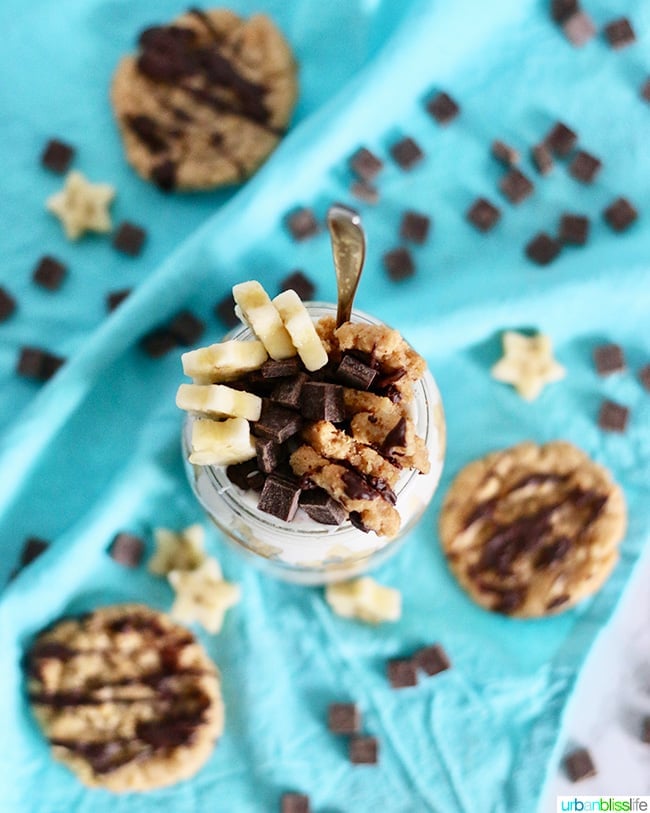 Some other ways to use these easy peanut butter cookies with chocolate drizzle:
spoon ice cream between two cookies to make ice cream sandwiches
crumble up the cookies and add to a fresh batch of vanilla ice cream during the last 5 minutes of churning. It tastes like cookie dough ice cream!
crumble up and layer with greek yogurt, chocolate syrup, and fruits for a parfait
Chewy Peanut Butter Cookies with Chocolate Drizzle Recipe
Chewy Peanut Butter Cookies with Chocolate Drizzle
These cookies are made with just 3 ingredients, then topped with chocolate, and taste amazing!
PRINT
PIN
RATE
Instructions
Preheat oven to 350 degrees.

In a large bowl, mix together peanut butter, sugar, and egg.

Form the dough into small balls and place on cookie sheets prepared with parchment paper, about 1-2 inches apart.

Bake at 350 degrees for about 15-20 minutes. Remove and set out to cool at room temperature for about 3-5 minutes.

Make the chocolate drizzle by microwaving the chocolate chips with coconut oil in a microwave safe container in 30-second intervals, stirring between each one, until completely melted.

Using a spoon, drizzle the melted chocolate over the peanut butter cookies and allow to set and cool at room temperature, or you can place in the refrigerator for a few minutes to set the chocolate.
Notes
Makes about 4-5 dozen, depending on the size of your cookies. These keep well in an airtight container at room temperature for up to 2 weeks, but see if they last that long without being gobbled up!
Tried this recipe?
Please leave a star rating and comment! Then snap a pic of your dish and share it on social media. Tag @UrbanBlissLife and #UrbanBlissLife!
Nutrition information is a general estimate. Actual nutrition details may vary depending on the exact foods & brands you use to make this recipe. It does not take into account any substitutions, toppings, or optional ingredients.
IF YOU MAKE THIS RECIPE, SHARE IT ON INSTAGRAM WITH
#URBANBLISSLIFE

AND TAG @URBANBLISSLIFE. I'D LOVE TO SEE WHAT YOU MAKE! AND IF YOU LIKE THIS RECIPE, PLEASE DO ME A HUGE FAVOR AND LEAVE A STAR RATING. THANK YOU, SWEET FRIENDS!
PIN IT:
Do you love peanut butter cookies? How about the peanut butter + chocolate flavor combo? What other flavors do you love with peanut butter?