Traveling from Portland, Oregon to Seattle, Washington? Go by train! Here are some tips for taking Amtrak with kids.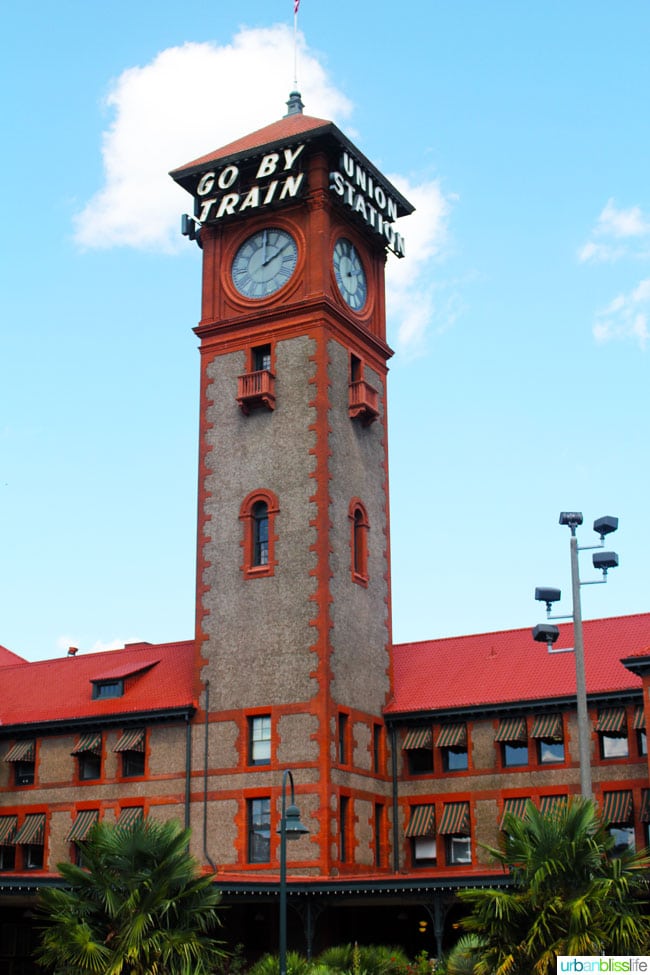 Both of my children (ages five and eight) love traveling. They love car rides, ferries, buses, European train trips. They especially love long flights on planes.
The one mode of transportation we had yet to embark upon was actually a treasure so close to home. I have somehow overlooked it all these years: our local railway.
So when my friend Krista hatched a plan to travel from Portland to Seattle by train, I was delighted. And the bonus was that we would be traveling with our daughters!
Mother-Daughter travel from Portland to Seattle
My five-year-old daughter and I joined blogger friends Krista (Mostly Mommyhood) and Tina (Mad Hatter Mom), and their daughters for this trip. We embarked on a wonderful adventure from Portland, Oregon to Seattle, Washington. Our mission: to visit the closest American Girl store.
We took Amtrak Cascades, a railway that runs from Eugene, Oregon up to Vancouver, BC. Growing up in Portland, I had many friends who would take the train on weekends to Seattle. Currently, I have friends who commute once a month or more on Amtrak Cascades for business. It has been suggested to my husband and I many times since we became parents that the train was actually a fantastic way to travel to Seattle with kids instead of driving.
Amtrak with kids
Train schedules and cost
The Amtrak Cascades trains depart from Portland about five times a day (see the latest schedule for departure times). Tickets for Portland to Seattle trips via Amtrak Cascades are relatively inexpensive. Depending on your time of departure, if traveling from Portland to Seattle, one adult ticket one-way will cost between $30 and $50, and one child ticket (ages 2-15; children younger than age two can ride for free) between $15 and $25.
Seating on Amtrak Cascades

If you are traveling with a group of four or more, I highly suggest shooting for seats in the Reserved Group section in Coach class. This is what we rode on the way from Portland to Seattle.
There are four seats, each facing inward toward a community table. It's great for kids to have that table where they can rest their books, dolls, food, electronics, etc. The seats offer a decent amount of legroom and do recline. You have ample area above each seat to store extra bags and coats.
On the way back from Seattle to Portland, we rode Business Class. I would suggest paying a little extra for these seats if you are traveling solo, as a couple, with a group of just girlfriends (no kids), or with just one kid. Business class offers ample legroom, nice plush seats, priority boarding, and $3 off coupons for any menu item in the train's Bistro. Speaking of...
Food on Amtrak Cascades
Amtrak Cascades includes a Bistro train that is located about two cars down from Business Class. In my opinion, the menu offers a fantastic array of options for kids and adults alike.
There are alcoholic beverage options for those who wish to partake, as well as small snacks, and entree options, all fairly reasonably priced considering you are traveling.
On the ride to Seattle, my daughter and I shared the Gourmet Mac & Cheese, Ivar's Clam Chowder, an apple, apple juice, and a cheeseburger, which came out to just a little over $20.
Sit back and enjoy the view
One of the main reasons to take the train instead of driving to and from Seattle is the pure luxury of having three and a half hours (the time it takes one-way) of relaxation.
You can get work done using the train's free WiFi. You can read a book, listen to music, and just enjoy the view.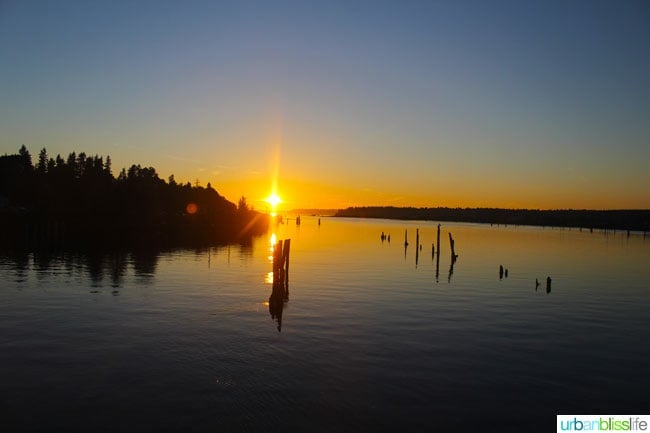 We get so spoiled living in the Pacific Northwest, don't you think? Sometimes I forget just how lovely and diverse this part of the world is. It's nice to be forced to sit back and soak it all in... Without the stress of driving, facing almost inevitable traffic, and weather issues.
Travel in Seattle with Kids
Once you arrive in Seattle, it's easy to take the light rail to different parts of downtown. We stayed at the Mayflower Park Hotel. It's just a mile away from the train station. But with three little girls and luggage, we opted for the light rail. It cost less than $3 (kids ages 5 and younger ride for free), and was fast, clean, and efficient.
Important point: I recommend taking Amtrak with kids mainly if you plan to stick around downtown Seattle during your trip. We learned the hard way: finding inexpensive, reliable transportation from downtown Seattle to the suburbs (where the American Girl store is located) is not easy.
If you are staying downtown, however, the train is perfect. Most of Seattle's attractions, restaurants, museums, and hotels are within walking distance, short taxi ride, or via light rail or bus.
Final thoughts on taking Amtrak with kids
My daughter and I ended up leaving a day earlier than the other girls. So we took a taxi back to the train station from the hotel. This cost just $8 including tip. We rode Amtrak Cascades in Business class on the way back to Portland, and loved every minute of it.
One final transportation travel adventure note. I inadvertently left my iGo charger and iPhone charger in the outlet next to our seats. This was on the way back to Portland. I called Amtrak within an hour of realizing the loss at home. They placed a notice out on it with their lost & found.
Amtrak's policy is to call all people who have reported items missing within 24 hours of their report being filed. This is regardless of whether the item is found or not. The next morning, I received a very cheerful message. They had found my chargers and were holding them at the Portland Union Station lost & found. Easy peasy.
Amtrak was wonderful to work with! I can't believe I waited so long to discover these travel adventures available right in my backyard.
More Family Travel Tips
Disclosure: we were given complimentary round-trip train travel on Amtrak Cascades for the adults on this trip; we paid for our daughters' travel by train and for all other transportation during our stay. As always, opinions stated here are all my own.