Our Travel Tuesday Seattle American Girl Adventure begins!
After taking Amtrak from Portland to Seattle we checked in for our stay at the Mayflower Park Hotel. Everyone was so excited for our trip to the American Girl store in Lynnwood, Washington.
Mayflower Park Hotel
When looking to stay in Seattle, there are so many wonderful options. Since Krista, Tina, and I took the train from Portland to Seattle, we wanted to make sure we stayed in a hotel that was centrally located, as well as kid-friendly. The Mayflower Park Hotel is situated right in the heart of the city: adjacent to the monorail, Westlake Center, many large department stores, and a short walk from buses, the train station, and Pike Place Market.
Built in 1927, the historic Mayflower Park Hotel offers 160 classically styled, non-smoking guest rooms including 29 luxury hotel suites. The front desk staff were kind and helpful. There is an adjacent restaurant as well as a bar, but neither are open for lunch. At first, I thought this might be a family-friendly strike against the hotel, but then we learned that there was actually a connection between the Mayflower Park Hotel and Westlake Center. Bonus! We were able to walk right into the mall and have lunch at the food court without having to go outside in the rain! It was just right for the kiddos, and the food court offers a wide variety of cuisine, which was nice.
The room my daughter and I stayed was a lovely two Queen bed room with large windows. The furnishings are classic, rooms are clean, and the bathroom amenities were nice and modern. You can stay at the Mayflower Park Hotel for anywhere from $150 - $360 depending on room type and season.
American Girl Store
Traveling to the American Girl store from downtown Seattle requires solid transportation planning, as we learned the hard way. It is only about 15 miles outside of downtown Seattle but can take anywhere from 30-40 minutes each way depending on traffic. I think the next time we head up to Seattle for an American Girls store trip (and I am fairly certain we will!), we will definitely drive there instead of taking the train.
Once we got to the American Girl store, oh how my world changed. I mean, my daughter's world did, for sure, but as a mom who is not fond of dolls and their messaging to my daughter, I was honestly blown away by the American Girl experience. If you're not familiar with the American Girl dolls yet, know this: when your friends tell you that it's much more than just a doll, it is. It really, really is.
Instantly we were greeted by a sea of smiling faces, colorful shelves, and whirl of activity. Even at 7pm on a Friday night, the store was packed. We got to meet the 2013 American Girl, Saige, and have a photo opp:
We were given a tour by Miss Mary, whom I would like to nominate as Employee of the Year (are you listening, American Girl? Whatever you need to do to keep this lovely woman on staff, do it. She MADE the experience for me and my daughter).
Miss Mary was sweet, smiling, kind, very attentive, and extremely GOOD at her job: knowing all of the details about every product, every doll. Most importantly, she made my little girl feel like a truly special princess in a magical castle, and that was priceless.
We learned about the hair salon where you can bring your dolls to have their hair done, the beauty salon where you can choose from a nice menu of spa services for your doll, and the t-shirt factory where your daughter can create matching t-shirts for her and her doll:
We also learned that the store hosts several events and activities for local families year-round. I wish we had an American Girl store in Portland when my daughter was younger: what a fabulous resource to have locally!
American Girl Bistro
After our tour we were treated to dinner at the American Girl Bistro, which is another experience unto itself. They have booster seats for the American Girl dolls so that the dolls can sit with the girls. If you don't have a doll, never fear: they have some you can borrow for your meal. My daughter named her mealtime pal "Katie." She drew pictures for Katie, pretended to feed her with the dining playset each of our girls got for the dolls, and had a great time singing and talking to her during dinner. It was ADORABLE.
The food at the American Girl Bistro was delicious. I highly recommend the strawberry smoothies. That perked my tired daughter right up! She loved it!
I ordered the chicken penna pasta dish, and was pleasantly surprised to find the sauce light and full of vegetables. The portions were large and service was wonderful.
Picking out American Girl dolls
After dinner, the moment my daughter had been waiting for: she got to pick out her very first American Girl doll. Miss Mary showed the girls the dolls they could choose from. All were numbered and had corresponding sheets with descriptions such as "medium skin, brown eyes, medium straight hair."
Cate chose three dolls to look at, and Miss Mary retrieved them from various parts of the store. My daughter then got to hold the dolls, play with their hair, hang out with them for a bit; the girls were told they could take as much time as they needed to make their decisions. It didn't take long for my daughter to choose hers: she had long, straight brownish black hair and bangs, brown hair, and a sweet smile - just like my daughter. They were twins, and my daughter's smile when Miss Mary brought out her doll was priceless.
Cate decided to name her doll Isabella. Interestingly, Isabella was one of the top names my husband and I had considered when naming Cate. She held her the whole shuttle ride back to the hotel, and spent the next 24 hours changing her, talking and singing to her, playing with her, and taking very good care of her.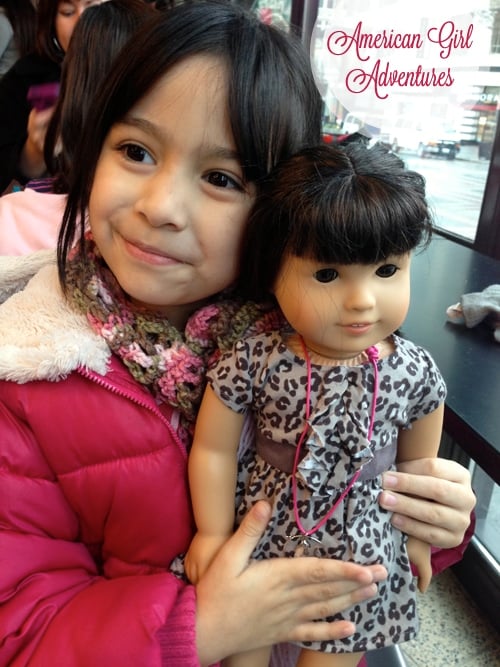 Pike Place Market
Krista, Tina, and I had a fantastic time on our Seattle4Kids trip. I left a little bit earlier than the others to head back home with Cate, but we were able to check out Pike Place Market before we left. It was so great to be able to walk there from the Mayflower Park Hotel! Our girls brought their American Girl dolls with them, of course.
Now Cate cares for Isabella every day, and they have matching outfits. We talk about the different American Girl dolls and their stories. We talk about how she can make a difference, her goals for her future, and the everyday important traits that an American Girl would have. I get it now, moms: I totally get the whole American Girl experience. It's fantastic, and we can't wait to go back!
More Seattle articles