Fluffy Homemade Marshmallows are easier to make than you might think, and much more delicious than store-bought marshmallows! Make a batch for your summer campfire today!
Confession time: I've never been a huge fan of s'mores. They're messy, hard to eat, and have an odd combo of textures and flavors.
You don't want to see me eating traditional s'mores. Graham crackers crumble under the pressure of my hunger-powered fingers. It's just not pretty.
That said, I do like the idea of making s'mores with sturdier, chocolate-chip and chocolate coated cookies, like my friends at Franz Bakery did this year.
I created this recipe for Franz Bakery to go along with their brand new S'more cookies release. Their new cookies are perfect to enjoy with marshmallows, a la s'more style! You can see the three different flavors of s'more cookies in the photos here.
❤️

Why you'll love this recipe

Making these Fluffy Homemade Marshmallows were surprisingly easy - much easier than I thought they would be!

And, they are 100% tastier than anything you will buy from a store in a plastic bag.

Plus: if you do use traditional graham crackers and melted chocolate bars with your s'mores, these homemade marshmallows are just the right size to help your ooey gooey yummy creation stay together better.
It's really as simple as starting by heating and dissolving the sugar with gelatin and water.
Then, you combine all ingredients in either a stand mixer or a mixing bowl using a hand mixer. Or, if your biceps need a tough workout, simply use your mighty prowess and a whisk (you go, Muscles!).
Mix until the mixture fluffs up - about 10-15 minutes using a mixer; a lot longer if you want to Popeye it and mix by hand. Once it's fluffed up to almost twice the size of the original liquid mix, you pour the marshmallow mixture into a parchment-paper topped baking pan and allow it to sit serenely for a few hours until it becomes the consistency of marshmallows.
Resist the urge to poke and prod it while it's setting. This is where your Yoda training comes into play. Patience, young marshmallow-making Padawans!
I've learned this takes at least four hours, and sometimes up to eight. The temperature and humidity in your house will also determine how long it will take for the marshmallow mixture to finish setting.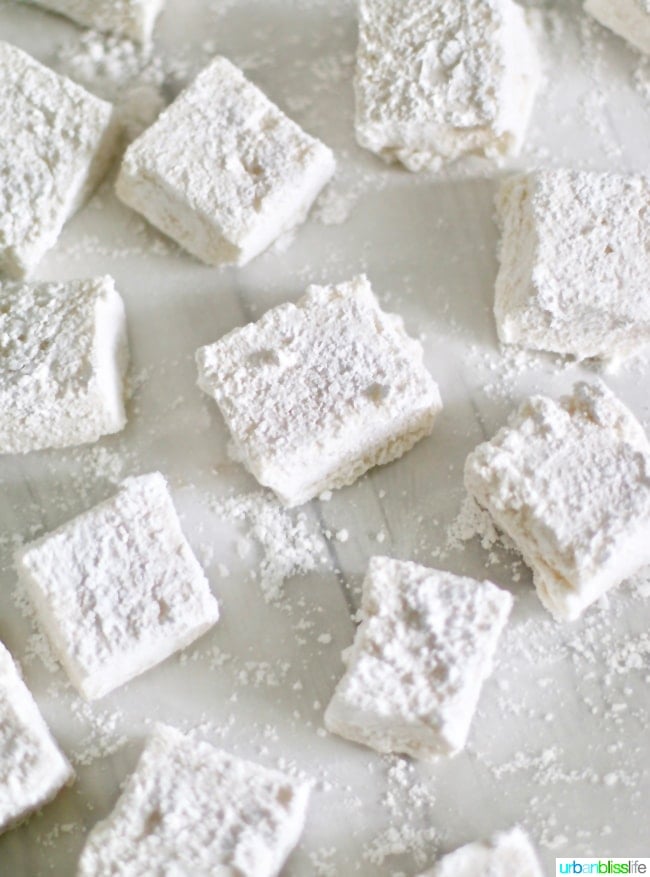 One your marshmallow mixture has reached a maximum marshmallow fluffiness to firmness ration (which only you and your personal preference can judge), slice into squares.
Then gently coat each square with powdered sugar.
These fluffy homemade marshmallows nestle in nicely between two s'more cookies. YUM! Now THIS is a s'more I will never pass up!
Of course, you can always use traditional graham crackers and chocolate bars with these marshmallows to create your s'mores. No judgment here. But if you can find the new Franz Bakery s'mores cookies in your local grocery store, I highly recommend giving it a go! They're made for each other!
Did you make this recipe? Don't forget to leave a 5-Star 🌟🌟🌟🌟🌟 rating in the recipe card, and if you really loved it, please leave a comment further down on the page. Thank you!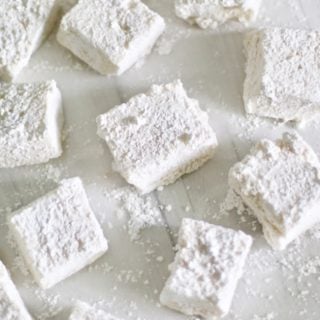 Fluffy Homemade Marshmallows
These fluffy homemade marshmallows are easy to make and perfect for s'mores!
PRINT
PIN
RATE
🤍 SAVE
Saved!
Ingredients
• About ½ cup powdered sugar

• 2 packets of gelatin

2 Tablespoons

• ½ cup cold water

• 2 cups granulated sugar

• ½ cup cold water

• ¼ teaspoon salt

• 2 teaspoons vanilla extract
Instructions
• Lightly grease the bottom and sides of an 8-inch or 9-inch square pan with butter.

• Dust powdered sugar over the pan, moving the pan around to ensure the entire bottom and sides are well covered. Shake off excess powdered sugar back into the bowl of powdered sugar. Set aside both the prepared pan and the reserve powdered sugar.

• In a medium bowl, add first ½ cup of cold water and gelatin powder. Stir once, gently, then set aside.

• Add granulated sugar and the second ½ cup of cold water to a large heavy saucepan over medium heat. Stir until the sugar is dissolved. Add the gelatin mixture to the pan and bring to a low boil.

• Remove from heat and allow to cool slightly at room temperature for a few minutes.

• Pour into a stand mixer (or large bowl, then use a hand mixer), and add the salt and vanilla extract. Beat at low-medium speed for about 10-15 minutes, until the mixture has become soft and slightly fluffy, and until it has almost doubled in size.

• Pour the marshmallow mixture into the prepared square baking pan.

• Allow the marshmallow mixture to cool in the pan at room temperature for at least 4 hours. It will be ready when you can touch the marshmallow and it won't stick to your fingers. This can take anywhere from 4-8 hours, depending on the temperature and humidity in your home.

• Once set, cut the marshmallow block into 1" to 1½" squares. Roll squares gently into the reserve powdered sugar, covering all sides of the marshmallow squares. Add more powdered sugar as needed.

• Serve immediately, or store in an airtight container. Marshmallows should keep at room temperature for up to 3 days.
Notes
Makes 18 large marshmallows, or 24-30 small marshmallows
Tried this recipe?
Please leave a star rating and comment! Then snap a pic of your dish and share it on social media. Tag @UrbanBlissLife and #UrbanBlissLife!
Nutrition information is a general estimate. Actual nutrition details may vary depending on the exact foods & brands you use to make this recipe. It does not take into account any substitutions, toppings, or optional ingredients.
How do YOU feel about s'mores? Love 'em? Hate 'em? How do you customize your s'mores?
More Summer Food Bliss
Nutty S'more Cones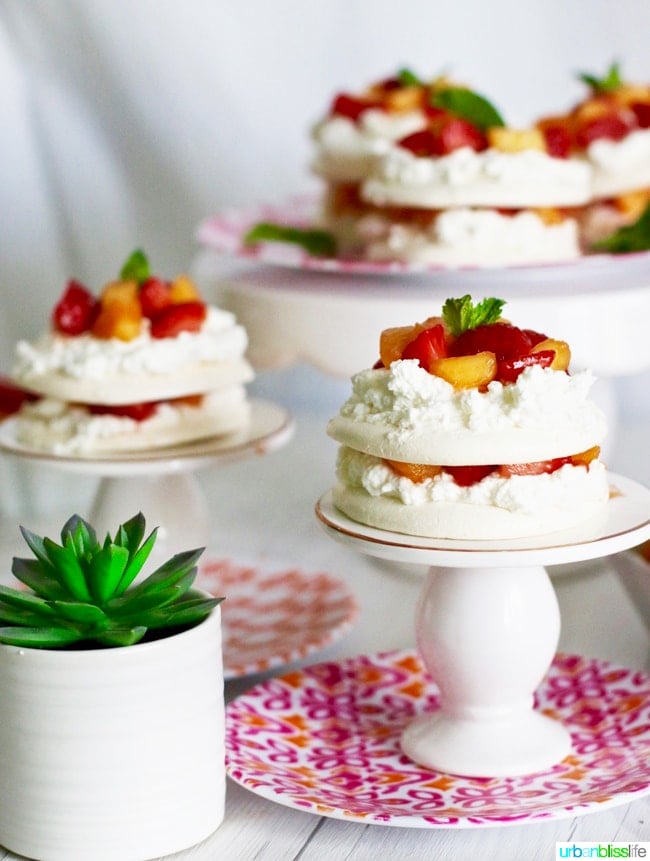 Mini Pavlova Cakes with Strawberries, Peaches, and Cream
Summer Corn & Quinoa Caprese Salad
Melon & Prosciutto Caprese Salad
This recipe was developed for Franz Bakery, who is a client of mine. As always, all opinions and photos are my own.