Mom/work life can be stressful. Invite your friends over for a mid-day tea party while the kids are in school! Here's a peek at a recent moms' brunch that I hosted, along with some of my top tea party ideas!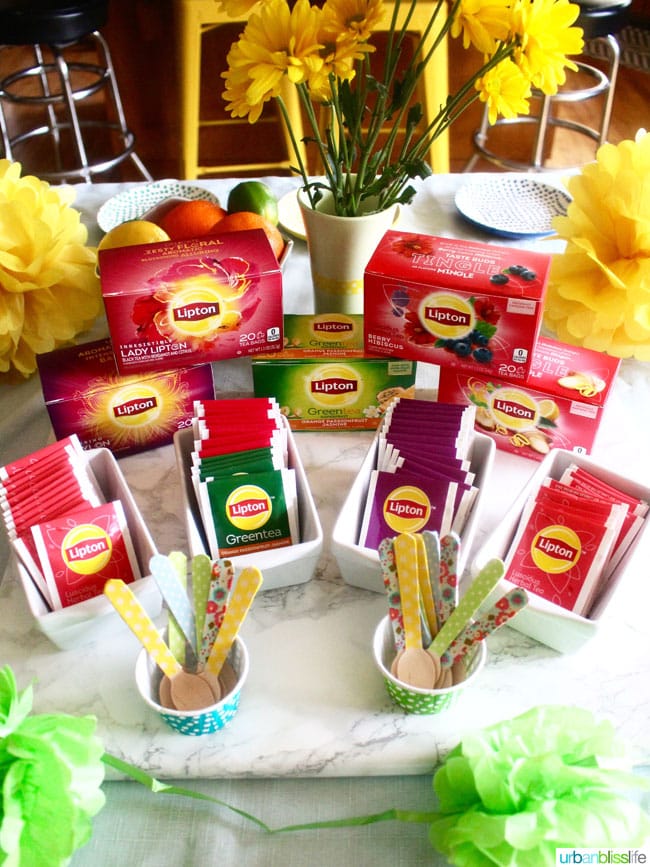 I'm lucky enough to have some pretty amazing mom friends who also happen to love food and drink as much as I do. We get together once a month for what we call "research group" meetings: researching different restaurants in the area. Really, it's just an excuse for us to gather, vent, celebrate, de-stress, and just enjoy a couple of kid-free, work-free, house-free hours while trying new restaurants.
This school year, we've slacked a bit. Many of us now have kids in elementary school and middle school, and many have changed jobs or gone back to work full-time. We also recently lost one of our dear friends to brain cancer...so it's been a tough school year. But, perhaps more than ever, I think we all knew it was time to get our research group back on track.
So when Lipton Tea was introducing new and improved lines of its tea, I saw it as the perfect opportunity to get the gang back together - not for a restaurant research meeting, but I wanted to treat these wonderful women to a fun, let's-pretend-it's-spring, stress-free house party.
Jump to:
Tea party ideas: the food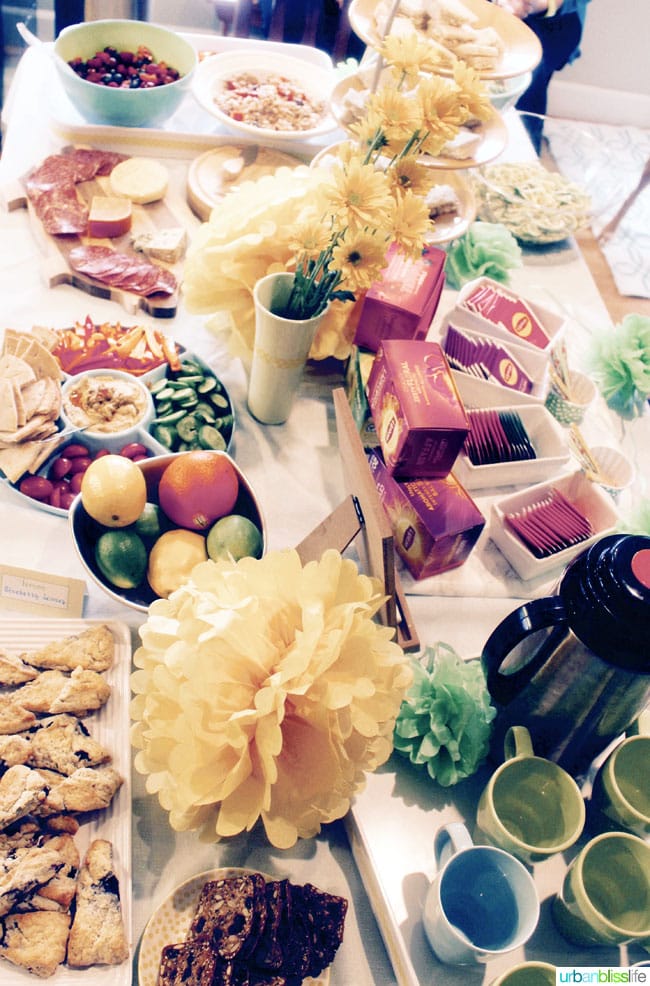 A mid-day tea party can be as simple or elaborate as you want it to be. Personally, I like to serve a mix of homemade and store-bought food.
Try any of these delicious tea party recipe ideas:
Some friends brought crackers, fruits, veggies, and a delicious zucchini noodle salad.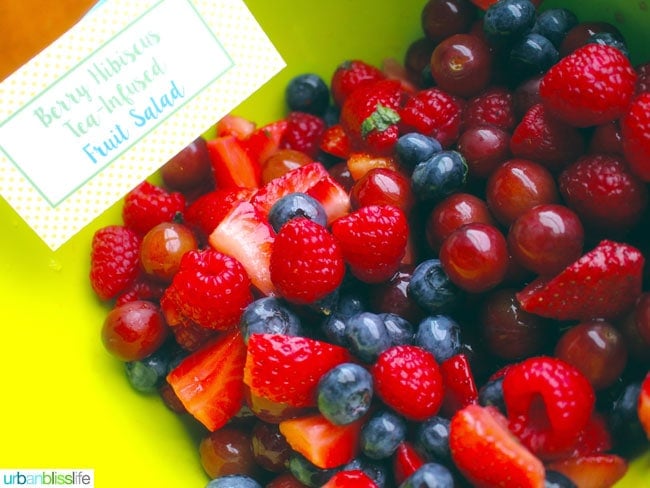 I also mad an easy and refreshing Simple Fruit Salad, infused with berry hibiscus tea. It's so easy to make if you make it the night before, and it's absolutely delicious!
The recipe is posted at the bottom of this post.
For sweets, I served store-bought madeleine cookies, Lindt chocolates, and one of my friends brought these beautiful chocolates from Trader Joe's. Aren't they gorgeous?! They tasted delicious as well.
Tea party ideas: beverages
No surprise here, but for a mid-day tea party, I suggest you serve... tea!
Boil several pots of hot water about an hour before the party starts, and then pour into insulated carafes to keep them hot. This way, your guests can serve themselves by choosing their tea and then pouring the hot water over it.
Growing up, my great-grandmother (who lived with us and helped raise me) always had a box of Lipton Tea in the cupboards. I watched her drink this tea religiously, so it has a special sentimental value to me. And now, I always have a box of Lipton Tea in my own home.
My great-grandmother would be SO surprised at how many different flavors of Lipton Tea she could try now!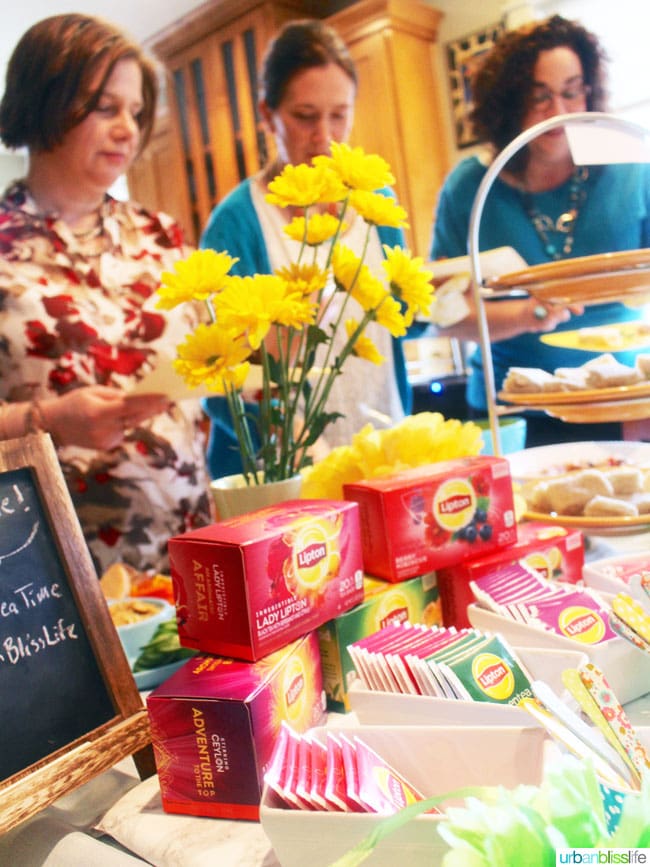 Lipton has a whole line of new black and herbal tea varieties and improved green teas that level up the whole tea experience.
For my tea party, I served:
Orange Passionfruit Jasmine

Stirring Ceylon
Irresistible Lady Lipton
Lemon Ginger
Berry Hibiscus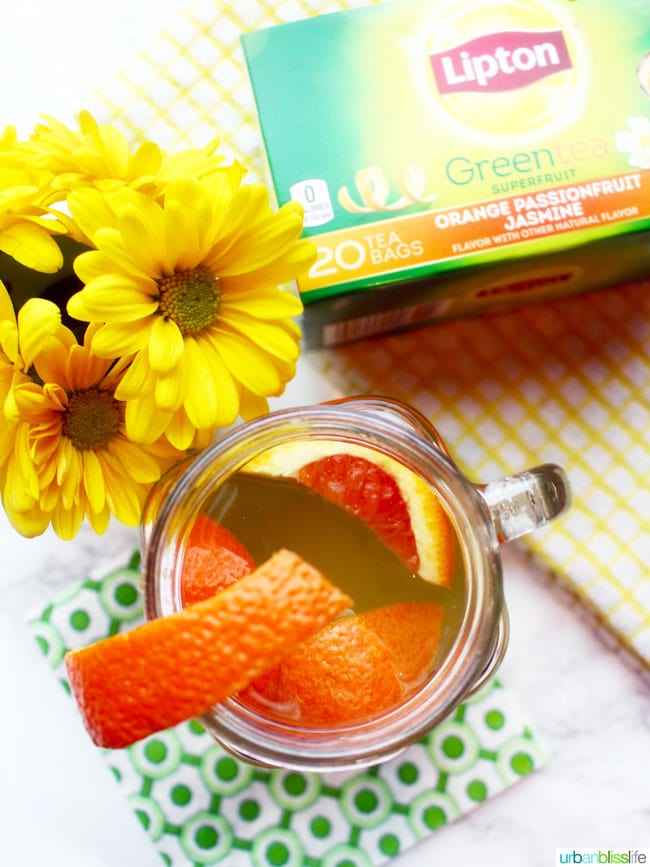 I offered packets of all five tea flavors for guests to drink as hot tea. Then I also chose to make a big batch of the Orange Passionfruit Jasmine to serve as an iced tea. It had a light, fresh taste with beautiful color and smelled heavenly. I'm totally making big batches of these as sun iced teas during the summer!
The Lemon Ginger and Berry Hibiscus were popular choices among my friends. And the Lady Lipton was one that was much talked about. My personal preference is to cook with the Lemon Ginger. Have you ever cooked with tea before? It's such a great way to infuse flavors into your meal! And I love to drink the Berry Hibiscus and the Orange Passionfruit Jasmine teas.
Sweet decor ideas for your tea party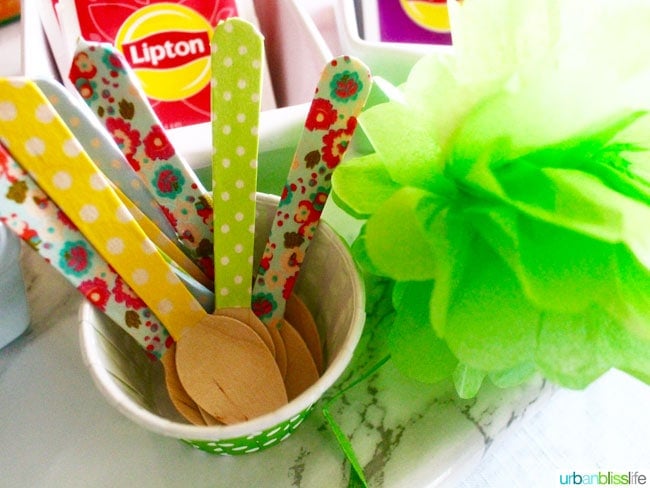 Whenever I throw a party, I like to coordinate the theme via colors and patterns throughout. It really is the little touches, I believe, that make a difference. Here are some ways you can easily coordinate everyday items to tie your party theme together:
Flowers: I chose yellow daisies and white hydrangeas to match the decor.
Paper decorations - I found yellow tissue paper flowers and small spring green tissue paper flower garlands at the Dollar store. But I've also made these from scratch and although they take some time, they're relatively easy to make. If you don't have time or have no interest in being crafty, get thee to the nearest dollar store!
Washi tape - If you have followed this blog for a while, you know I am totally mildly obsessed with washi tape. I use it to help tie anything and everything together for a party. For this one, I used yellow polka dot washi tape on the flower vases, water vases, and the food trays. I also used various spring patterns to dress up the tea stirrers (pictured above).
Plates and cups - First take stock of what you already have, and then fill in the blanks as needed. I already had a set of green and blue mugs, which coordinated perfectly with this party.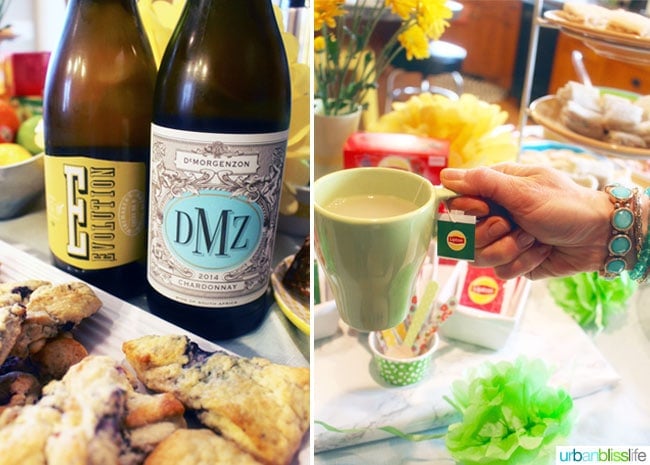 Tea party favors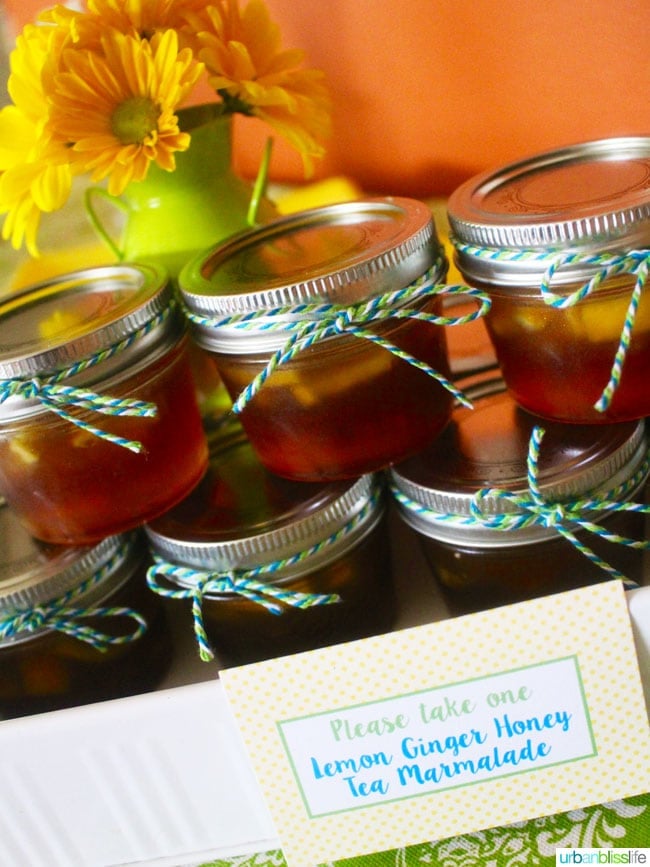 Our monthly gatherings are not always this elaborate. Since it was a special gathering, I wanted each person to walk away with a little something. I like to give favors that I know guests can use. So in keeping with the tea theme, I made my Lemon Ginger Honey Marmalade.
I used my regular recipe, but then added a teaspoon of Lipton's Lemon Ginger Herbal Tea to each. It was pretty easy to make a big batch. Then place into mini mason jars, and tie with baker's twine in coordinating colors.
Cheers to good friends
I hope you found these party tips helpful! And, I hope this gives you the nudge to gather your girlfriends for a tea, brunch, lunch, happy hour, or weekend hike! This was the nudge our group needed to jumpstart our monthly lunches again. We already have our research group lunch scheduled for this month!
One of the life lessons I hope I am passing on to my daughter and son is the massive importance of good friends in life. We all have friends for different reasons. Friends that will always make us laugh. Friends that immediately go to action in times of crisis. And those that we can always count on to just be there and listen. The ones to tell us that we're being ridiculous, ones who are always the voice of reason.
I'm grateful to have such a diverse group of women friends from all parts of my life. And I love opportunities like this where we can get together and just be.
So cheers to good friends!
More party ideas
Did you make this recipe? Don't forget to leave a 5-Star 🌟🌟🌟🌟🌟 rating in the recipe card, and if you really loved it, please leave a comment further down on the page. Thank you!
Berry Hibiscus Tea-Infused Fruit Salad
This berry tea-infused fruit salad is perfect for serving at breakfast or brunch to a large crowd!
PRINT
PIN
RATE
🤍 SAVE
Saved!
Ingredients
1

pound

strawberries

hulled and cut into quarters

½

pound

blueberries

½

pound

raspberries

1

pound

red grapes

¼

cup

brewed Lipton Berry Hibiscus Herbal Tea

cooled to room temperature

3

tablespoons

granulated sugar

8-10

fresh mint leaves

torn or chopped into small pieces
Instructions
Combine all ingredients in a large bowl.

Cover and refrigerate for at least four hours, preferably overnight.

Stir before serving.
Tried this recipe?
Please leave a star rating and comment! Then snap a pic of your dish and share it on social media. Tag @UrbanBlissLife and #UrbanBlissLife!
Nutrition information is a general estimate. Actual nutrition details may vary depending on the exact foods & brands you use to make this recipe. It does not take into account any substitutions, toppings, or optional ingredients.