Keep a batch of this natural cold and sore throat soother in your fridge during cold and flu season!
Brrr . . . it is chilly outside! I returned from a few days basking in the hot desert sunshine during a fun girls' trip to Las Vegas, to near freezing temperatures, dangerous high winds, and the possibility of snow in tomorrow's forecast.
Winter is here early in the Pacific Northwest, and that means so is cold season!
Natural Cold and Sore Throat Soother
Last night, I whipped up one of my favorite cold and sore throat soothers, and stocked our refrigerator. I don't have time to be sick, and I am pretty sure neither do you! So today I am sharing the quick and easy recipe for my Ginger Lemon Honey Marmalade.
Ingredients that help fight colds and soothe sore throats
This all-natural cold and sore throat soother contains three ingredients:
GINGER - I love ginger as a flavor in so many dishes, and its antiseptic and anti-inflammatory properties help boost immune systems. It also helps stimulate perspiration to cleanse the system and bring down body temperature.
HONEY - My parents have always sworn by honey as a healing ingredient, and use it for everything. Honey has antibacterial properties, which can help speed healing. It also helps draw water out of inflamed tissue, which reduces swelling and discomfort associated with sore throats.
LEMON - High in vitamin C, lemons help support the immune system. Lemon juice also has anti-inflammatory qualities that soothe sore throats and irritated membranes. Lemons also are said to have antiseptic action that helps directly fight off colds.
Easy, all-natural recipe
This is one of those recipes where measurements are truly eyeball measurements. Put as much lemon, ginger, and honey as you want! Can't go wrong with more, and if you want a tamer flavor, simply use less.
To make: you just slice lemon wedges and place to fill the bottom of a jar (I love these wide mouth mason jars), grate ginger over it, then fill in with honey. I prefer to use local organic honey, such as Glorybee Honey from Eugene, Oregon.
Stick the jars in the refrigerator overnight and the mixture will form into a jelly-like, marmalade texture. I use a tablespoon of this ginger, lemon, honey marmalade either with a cup of green tea or even a mug of hot water.
Great DIY holiday gifts
Giving the gift of good health is always in style, and always appreciated. I like to make batches of this ginger, lemon, honey marmalade recipe divided into individual small, 8-ounce wide mouth mason jars, dress them up with cute cupcake wrappers, washi tape, and ribbon around the lids, and give them as gifts throughout the holidays.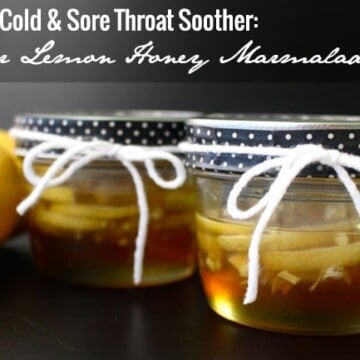 Natural Cold & Sore Throat Soother: Ginger Lemon Honey Marmalade
Servings:
4
8-ounce wide-mouth mason jars
PRINT
PIN
RATE
Ingredients
2

lemons

thinly sliced

1

chunk of fresh ginger

approx. 2-inches
Instructions
Place sliced lemons at the bottom of each mini mason jar (use about half of a lemon per jar).

Grate ginger (as much or as little as you prefer) over lemon.

Pour honey over the lemon and ginger and fill almost to the top of each jar, leaving about ½ of room to the top.

Cover with the mason jar lid and refrigerate overnight before using.
Notes
Keep refrigerated. Each jar will stay fresh in the refrigerator for up to 3 weeks.
Tried this recipe?
Please leave a star rating and comment! Then snap a pic of your dish and share it on social media. Tag @UrbanBlissLife and #UrbanBlissLife!
Nutrition information is a general estimate. Actual nutrition details may vary depending on the exact foods & brands you use to make this recipe. It does not take into account any substitutions, toppings, or optional ingredients.
This post contains affiliate links. By clicking on these links, you help support this blog and allow me to provide fresh, original content on a regular basis. Thank you!