The Summer Shandy Cocktail is a refreshing drink that combines your favorite beer with iced tea and lemon juice. The perfect spring or summer sipper!
Cocktails can get as fancy and complicated as you want, or be as simple as you like.
Personally, I tend to lean toward the simple side when mixing up cocktails.
You may know this iced tea and beer cocktail by one of two different names, depending on where you live. And frankly, it depends on what you prefer to call it.
Some may call it a Summer Shandy, while others call it a Radler. Both are cocktails that combine beer and iced tea or beer and lemonade.
Radlers are traditionally made with beer plus lemonade. They're SO good. Have you tried one?
Summer Shandy Cocktail is made with beer plus iced tea.
Summer Shandy Cocktail
I attend quite a few different food and beverage events throughout the year, and sometimes I discover products and places that require a while to sink in with me... I need just the right moment to share them with you all. Today's Mixology Monday post is just the right time to share with you two products I have discovered in the last few months, combined in one gloriously refreshing cocktail: the Summer Shandy.
The Iced Tea
Recently, while taste-testing various artisan food & drink with some local food friends, I discovered The Owl's Brew. The Owl's Brew is the first reported tea crafted specifically for cocktails. There are currently six flavors: The Classic, White and Vine, the Famous Mint Tea, Wicked Green, Pink and Black, and Coco-Lada.
For this Summer Shandy, I used The Classic: a blend of English Breakfast with lemon peel and lemon and lime juice.
The Beer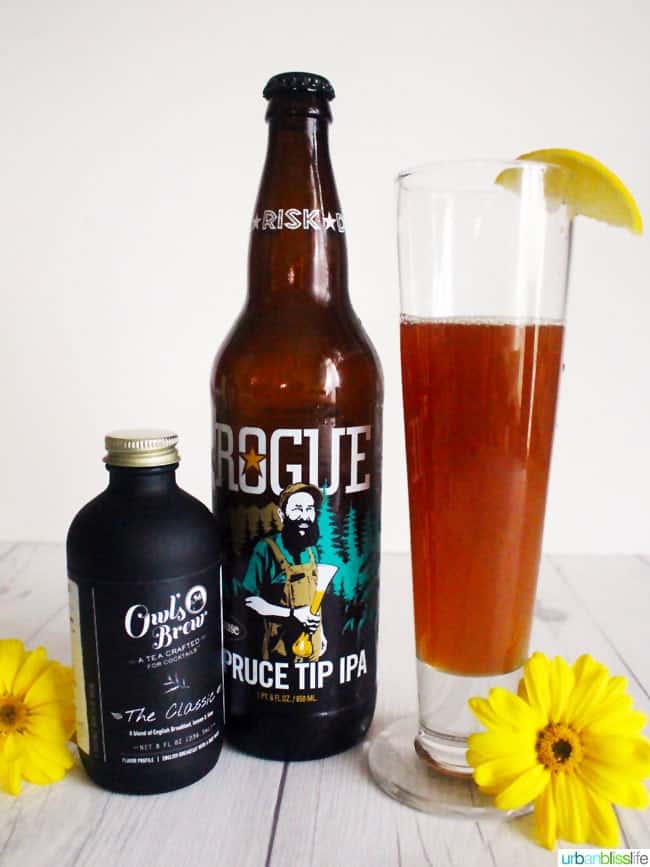 You can use any IPA-style beer you like, but I used the relatively new Rogue Ales/Yard House Spruce Tip IPA. This beer is a special collaboration that was introduced in December 2015. I was fortunate enough to attend the media launch event for this Rogue Ales/Yardhouse beer, and have been trying ever since then to think of different cocktails that would do this beer justice. The Summer Shandy is it!
Spruce Tip IPA is brewed in Oregon and, for my beer loving readers, consists of Rogue Garms Dare & Risk, Weyerman Pils, Fawcett Maris Otter Pale, Weyerman CaraRed, and Dextrapils Malts, along with Liberty and Alluvial Hops, Sitka Spruce tips, water, and yeast. It's got some nice hop up front and a slightly sweet finish, making it an awesome beer to pour for this Tea Shandy.
The Lemon Juice
It's just juice squeezed from an ordinary lemon. From the grocery store. You can pick one from your fancy Meyer Lemon tree or from your backyard lemon orchard, but I find that any old lemon will do for this cocktail.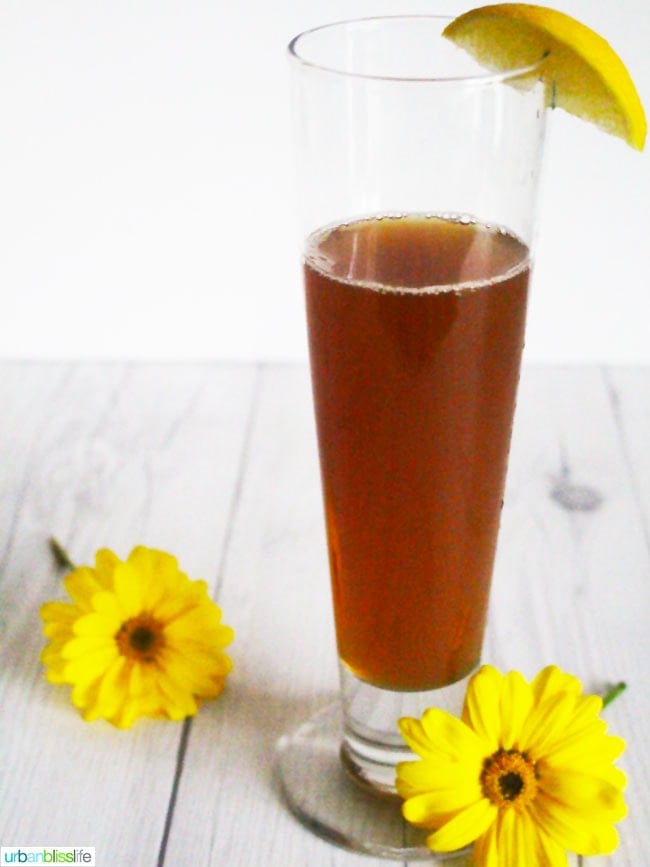 Summer Shandy
This Summer Shandy combines a deliciously refined sweetness of iced tea with the hoppy freshness of beer. Add some lemon, and you have the perfect afternoon spring or summer sipper!
PRINT
PIN
RATE
Ingredients
2

parts iced tea

1

part beer

Squeeze of fresh lemon

Garnish with lemon wedge
Instructions
Pour iced tea and beer into a tall beer glass. Squeeze fresh lemon juice into the glass. Garnish with lemon wedge.

I really enjoy this summer shandy. It's SO easy to whip up and you probably already have beer and tea somewhere in your home.
If you're enjoying this on a hot summer day, I recommend using chilled tea. And make sure your beer is sufficiently chilled.
Have you ever had a Summer Shandy or Radler, or any other cocktail with tea?