Gearing up for the Big Game? Throw the best tailgating party ever with these Football Party Finger Food recipes!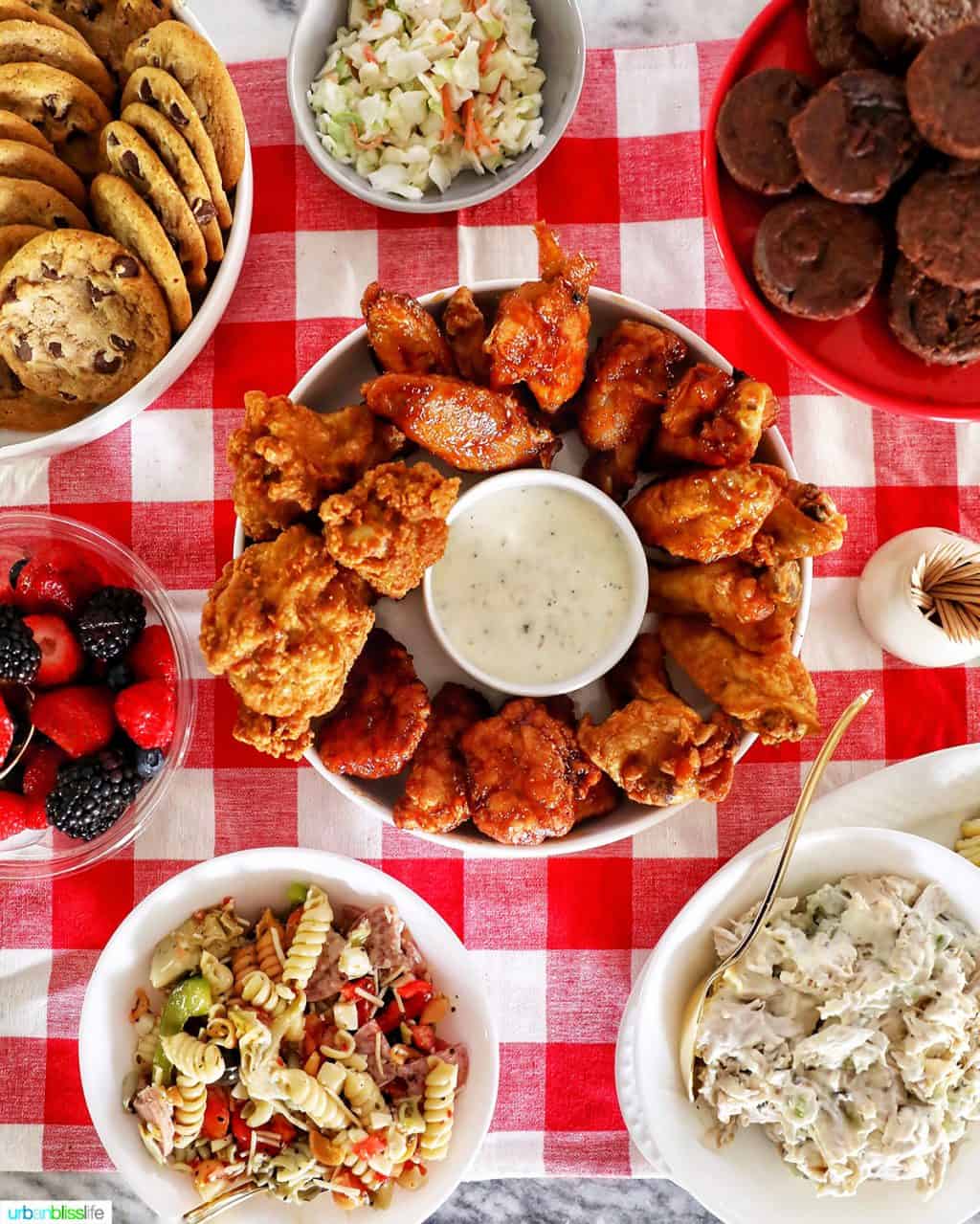 The Big Game is coming up and I cannot wait!
Oh, not because I'm a huge football fan. I enjoy watching the game, and it's fun to have an excuse to yell nonsensical randomness at the television.
But really, I'm most excited about The Big Game because it means Football Party Finger Food!
Best Game Day Recipes
What do you like to serve when you're feeding a crowd?
I have to admit: I love classic tailgating food. Give me a table full of salty pretzels, messy wings, indulgent dips, and of course, some decadent desserts and drinks, too.
Here is a recipe collection of tasty finger food recipes including some of my fave from fellow food bloggers. Any of these would be perfect for you to serve for the Big Game.
You will love these recipes because
They are all easy to make, even for the novice home cook!

All of these football party finger foods are easy to eat with your hands.

Most of these recipes can be made with 10 ingredients or less, and many are 5 ingredients or less.

Each of these fast recipes can be whipped up in 30 minutes or less!
Game Day Appetizers
Best Game Day Appetizers
These appetizers are all easy to make and easy to eat while you cheer on your favorite team on Game Day! No forks required :)
Best Game Day Dips
Best Game Day Dips
Chips and dips are a must for Game Day! But dips are also a great way to get kids (and adults!) to eat their veggies, getting some balance on that tailgating table. Here are a few yummy dips you can make ahead of time, perfect for the football party finger foods listed here.
Game Day Desserts
Game Day Desserts
Don't forget dessert! These sweet treats are delicious Game Day snacks to enjoy while cheering in your favorite team.
Game Day Cocktails
Game Day Drinks
Beer is fine, but these cocktails made with beer, cider, or whiskey are even better! Enjoy these tasty Game Day cocktails in moderation while cheering on your team during the big game.
Kitchen tools and party decor for the big game
This post was first published on January 27, 2017 and was updated January 20, 2022 with new recipe links.
Which of these Football Party Finger Food recipes would you like to make to feed your hungry crowd watching the Big Game?