These cinnamon sugar Disneyland churros are easy to make at home!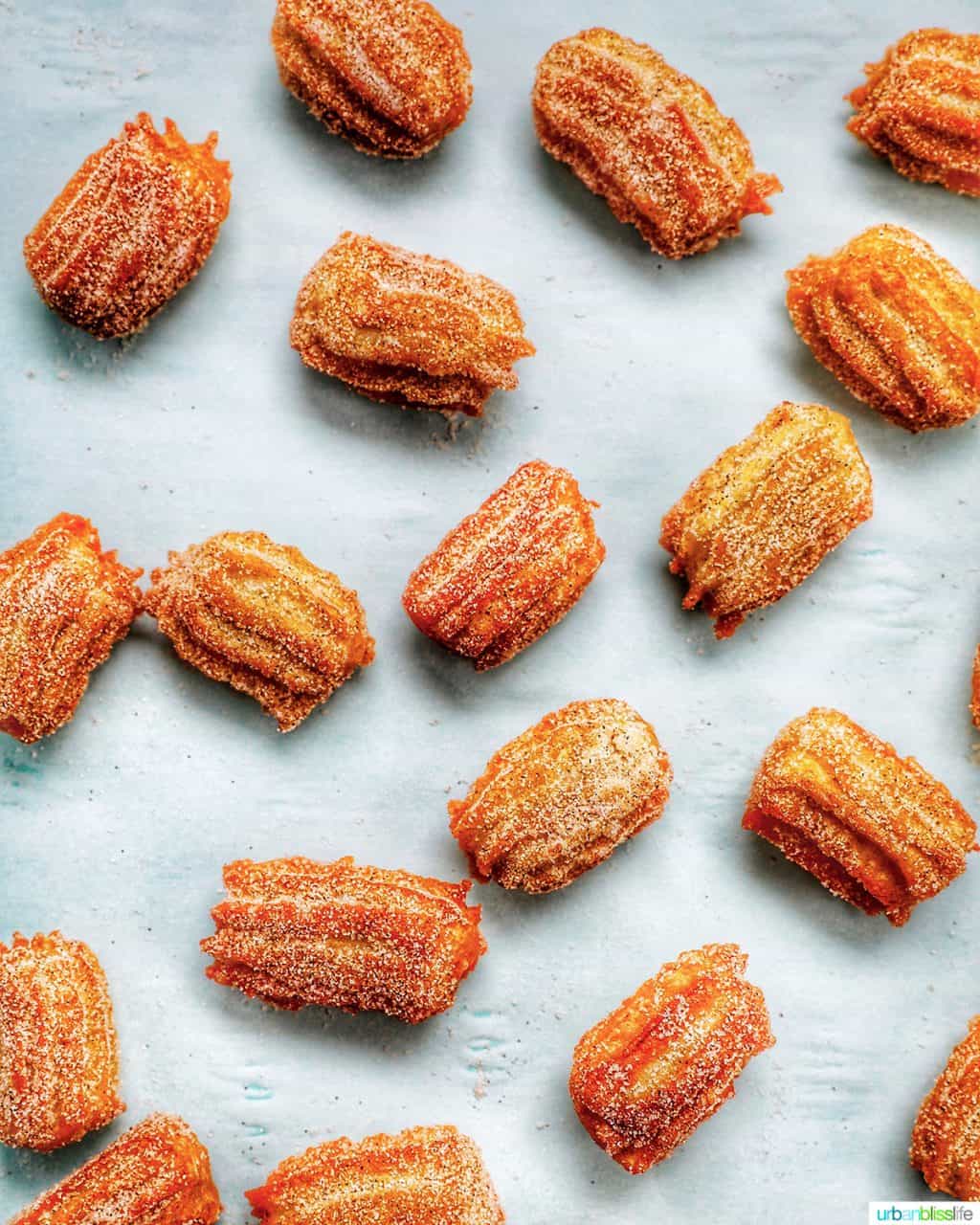 I've always LOVED churros.
When 180 Xurros opened up in Portland, I was - and my churro-loving kids were - in heaven!!
And when I was sent to cover the opening of Pixar Pier in Disneyland, of course I HAD to try the Cinnamon Sugar Galaxy Churro at the new Señor Buzz Churro stand!
So when my kids ask to make them at home? The answer is always yes. A no-hesitation, drop-everything, wide-eyed-exclamatory YES!
What are churros?
If you're not familiar with churros, I have no doubt you will LOVE them once you try them!
Churros are originally from Spain and Portugal. They are fried dough pastries coated with cinnamon sugar. These tasty sugary treats are often served with parchment paper wrapped around one end so your hands won't get sticky from the cinnamon sugar while you eat it.
Nowadays, you can find churros on many menus across America. From food trucks to fancy restaurants to the Happiest Place on Earth!
Make Disneyland churros at home
Recently, Disney released their churros recipe so that we could all make them at home.
I've used their recipe as a base recipe, which is almost identical to most basic churros recipes you'll find, and made some minor adjustments.
What are the ingredients for churros?
The ingredients to make churros are very simple. You most likely have all or at least the majority of ingredients at home in your pantry!
To make these churro bites, you'll need:
cinnamon
sugar
butter
water
salt
flour
vegetable oil
eggs
How do you make churros from scratch?
You start making churros by combining granulated sugar and ground cinnamon to create cinnamon sugar. If you follow this blog, you might already have made up a mason jar of cinnamon sugar with your spices because you know how often this magic combo gets used in baking!
Place the cinnamon sugar in a shallow bowl and set aside for later.
Set the bowl of cinnamon sugar aside, then start making the dough. Melt the butter, water, salt, and cinnamon together in a pan.
Once that mixture has melted, you gradually add the flour. Stir the flour gently in until it forms a dough ball.
Let the dough rest for a few minutes. Then add the eggs and stir until combined.
Spoon the dough into a pastry bag fitted with a star tip.
Heat oil over a deep skillet and then gently push through dough in about 2-inch churro bite forms and use a butter knife to cut each dough piece off and gently into the oil.
Fry churros until golden brown, turning over once during the process to evenly cook all sides. Use a spider to strain out the cooked churros. Place warm churros into the bowl of cinnamon sugar and coat all sides. Let rest on a plate and repeat the process until you have cooked all of the churro bites.
Exact measurements of ingredients and instructions are in the printable recipe card toward the bottom of this post. Here are some helpful tips to guide you as you make this recipe.
Tips for making churros at home
Don't overfill the pastry bag. This can lead to a big mess of dough coming out of the top, and give you less control of the dough you're trying to form into churros.
Make sure you push the dough down as far as possible in the pastry bag before twisting it at the top to control the pressure.
Be sure not to overcrowd the pan when frying the churro bites. I try to leave a couple of inches between each churro while they're frying. This helps them cook up evenly and more quickly, and also ensures they don't melt into other nearby pieces.
Watch the first batch carefully and notice how quickly or slowly the batter takes to cook completely. Then adjust your heat accordingly to ensure even cooking.
How do you serve churros?
My favorite way of enjoying homemade churros is to dip them in melted chocolate.
You could also dip them in salted caramel, a dulce de leche sauce, or a sauce made of fresh berries.
Churros are also absolutely delicious on their own, without any dips or sauces!
How long do homemade churros stay fresh?
If your family is like mine, there will be NO churros leftovers. Ever.
However, if you're making a batch for yourself or for you and a friend, you may have some leftovers. In that case, place any leftover churros into an airtight container. Churros will stay fresh for up to two days.
You should be aware, however, that churros start to lose their crispiness soon after they cool down after cooking. This is why they are best eaten the day that you cook them, within an hour or two if possible.
More yummy dessert recipes
Disneyland Churros
This easy churros recipe brings a bit of Disney at home! Easy to make and fun to eat, these churros are sweet, sugary snacks the whole family will love.
PRINT
PIN
RATE
🤍 SAVE
Saved!
Ingredients
Cinnamon Sugar
½

cup

sugar

½

teaspoon

ground cinnamon
Instructions
In a small bowl, mix together the sugar and ½ teaspoon cinnamon until well mixed. Set aside.

Add water, butter, salt, and ¼ teaspoon cinnamon to a medium saucepan over medium heat. Stir to combine while the water comes to a boil. Once it starts boiling, reduce heat to low.

Add flour and work quickly to stir flour into the mixture until it forms a ball. Remove from heat and let rest for 5-7 minutes.

Then add the eggs one at a time and stir until combined. Set aside.

Heat oil in a medium skillet over medium heat, or until temperature reaches 350°F.

While the oil is heating up, spoon dough into a piping bag fitted with a large star tip. Once the oil has heated up, carefully pipe 1-inch to 2-inch strips of dough over the saucepan and cut with a knife, letting the dough gently drop into the hot oil. Repeat until churro bites fill the saucepan without overlapping.

Fry churros until golden brown, turning over once to brown all sides. Remove with a spider or slotted spoon and place onto a bowl covered with paper towells to drain.

While the churros are still warm, gently toss them into the bowl of cinnamon sugar mix until all sides are coated. Place onto a serving plate and serve with chocolate dipping sauce.
Notes
This recipe makes between 40-45 churro bites, depending on the size you cut the churro dough.
If you have any leftover, you can store in an airtight container at room temperature for up to three days.
Tried this recipe?
Please leave a star rating and comment! Then snap a pic of your dish and share it on social media. Tag @UrbanBlissLife and #UrbanBlissLife!
Nutrition information is a general estimate. Actual nutrition details may vary depending on the exact foods & brands you use to make this recipe. It does not take into account any substitutions, toppings, or optional ingredients.
recipe adapted from Disney
PIN IT: