The new Disneyland's Pixar Pier brings your Pixar characters to life as you walk down a whimsical pier full of family-friendly adventure!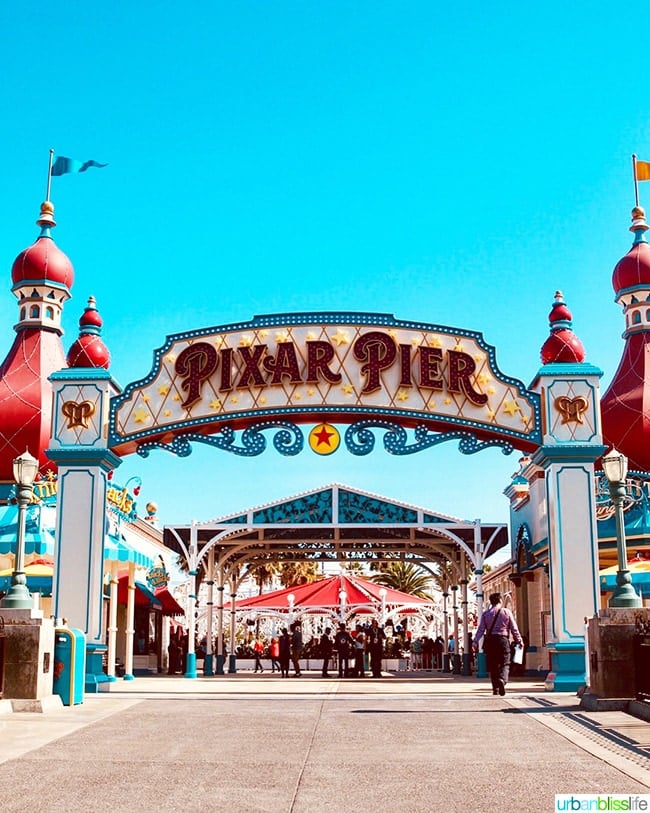 Disney fans, this post is for you!
Immediately after my trip to Albuquerque, New Mexico, I jetted over to Los Angeles, California for Disneland's Pixar Pier opening.
Jump to: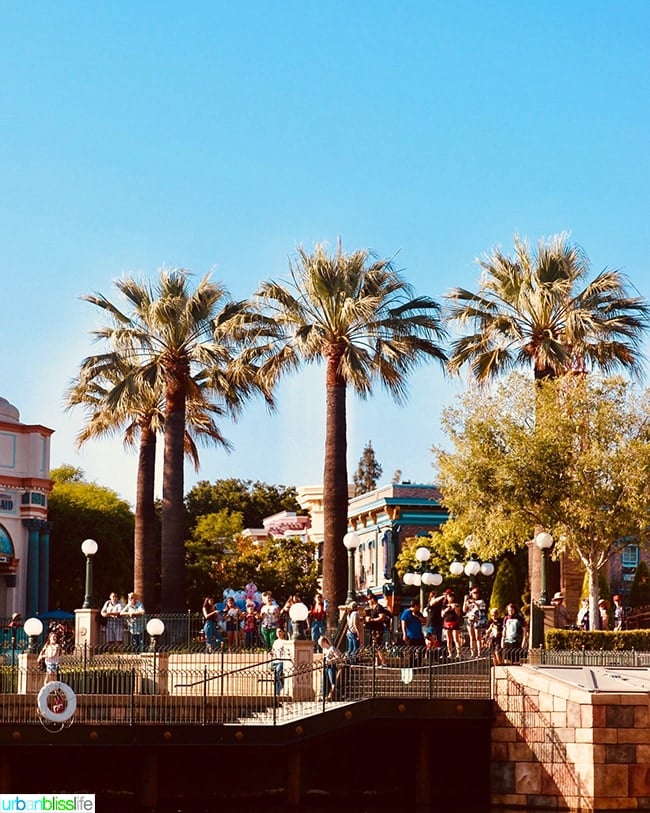 The grand opening of Pixar Pier at Disney California Adventure park this summer was just one of many Pixar-focused new features and events that launched in 2018. Essentially, Pixar Pier retains the layout, structure, and boardwalk look and feel of the former park attractions that were here, but now features Pixar characters and Pixar-themed attractions, rides, and food options.
Disneyland Pixar Pier
The super sparkly Pixar Pier marquee in the first picture above greets you as you step onto the updated boardwalk. Here, you'll find Pixar Pier divided into four whimsical neighborhoods.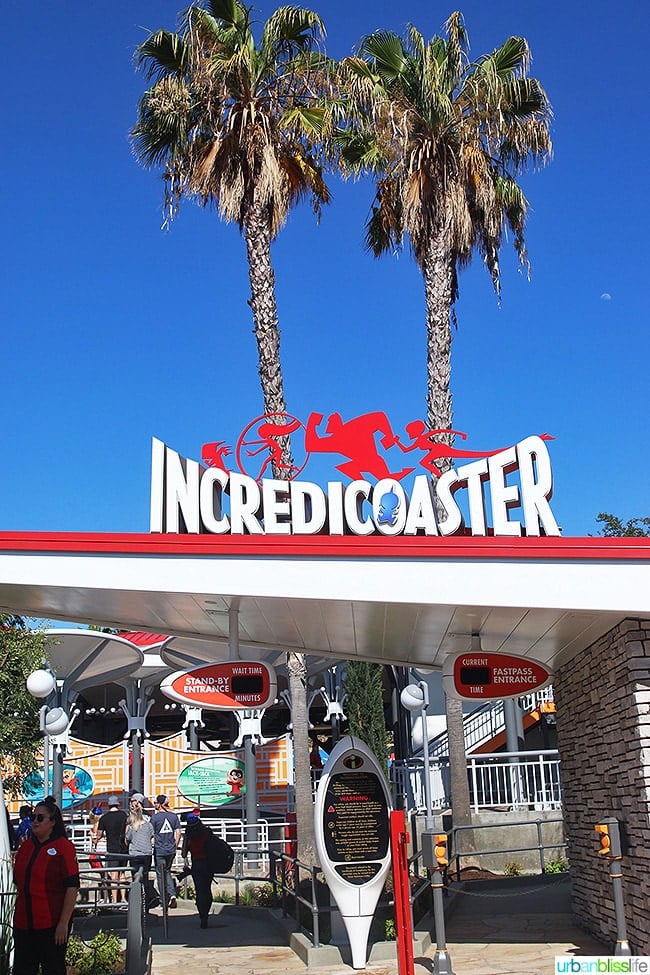 The first themed neighborhood is Incredibles Park, inspired by Disney-Pixar's "The Incredibles" movies.
Have you seen The Incredibles yet? If not, stop right now and go rent it on Netflix or OnDemand. I'll wait. Then come back and read the rest of this, because it's such a great movie franchise! Edna is my favorite.
In Incredibles Park, the main attraction is the Incredicoaster.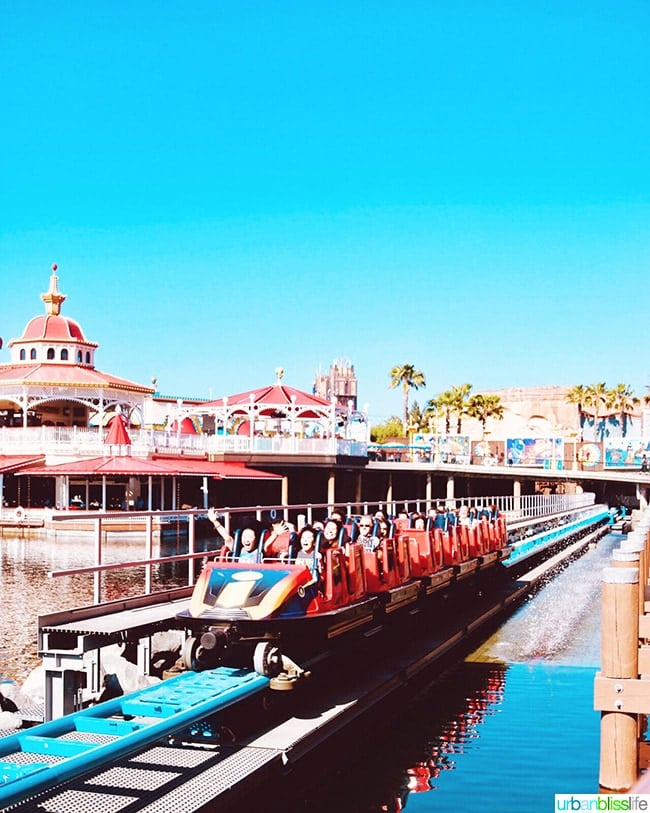 The Incredicoaster is the fastest attraction at Disneyland Resort.
With high speeds, cool special effects, and lots of loud music and fun lighting to thrill you throughout the ride, the Incredicoaster takes you on an adventure chasing the ever-elusive baby Jack-Jack. The ride follows a storyline that connects with the Incredibles 2 movie. (Again, go see these movies!)
Next to Incredibles Park, you'll find Toy Story Boardwalk. This neighborhood retains the popular Toy Story Mania! attraction and its 4D carnival games.
And of course, in Disney fashion, you'll never know who you might run into while meandering through the neighborhood...
It's Jessie! My favorite character from the Toy Story movies! She's pretty excited, because she knows that Jessie's Critter Carousel is getting set to open in her neighborhood soon, sometime in 2019.
Next to Toy Story Boardwalk is Pixar Promenade, which celebrates a collection of favorite Pixar stories.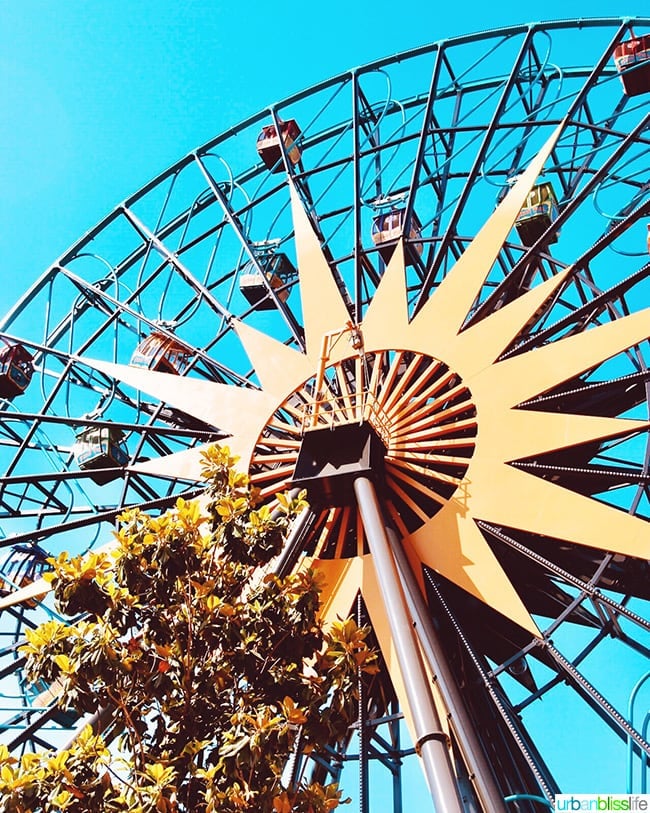 Here, you've got the Pixar Pal-A-Round ride. Formerly known as Mickey's Fun Wheel, this large ferris wheel is adorned with Pixar characters but still features Mickey's smiling face prominently in the center.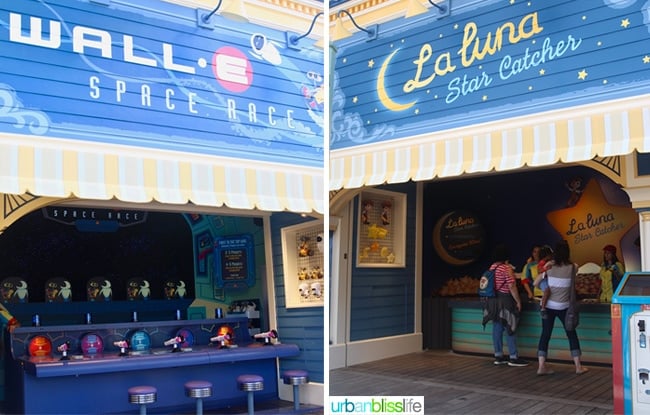 Pixar Promenade also features the Games of Pixar Pier, with games like La Luna Star Catcher, Heimlich's Candy Corn Toss, WALL•E Space Race and Bullseye Stallion Stampede. Bing Bong's Sweet Stuff is also in Pixar Promenade, offering super sugar-coated confections.
The final Pixar Pier new neighborhood is the Inside Out Headquarters, which is scheduled to have the Inside Out Emotional Whirlwind spinning ride open in 2019.
The Food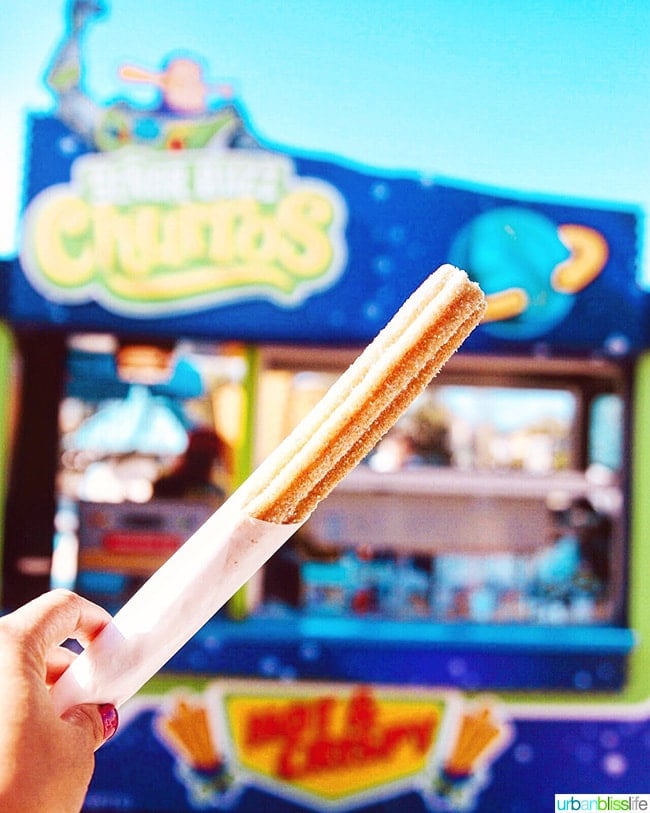 Throughout the neighborhoods, you'll find plenty of food and beverage options to keep you and your little ones happy and fed. There are so many great options, that I am going to feature them all in a separate Disney Pixar Pier Dining Guide soon!
Pixar Pier Parade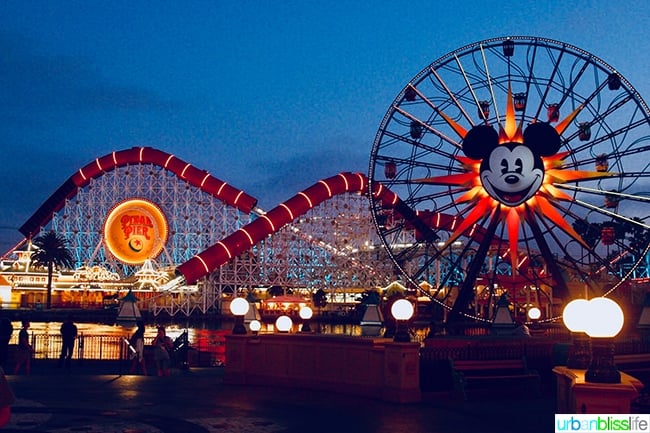 And when the sun goes down, that's when magic hits moonlight for a night cap that only Disney can pull off. That's when park guests line up at least an hour ahead of time to secure a good viewing spot for fan-favorite: the Paint the Night Parade.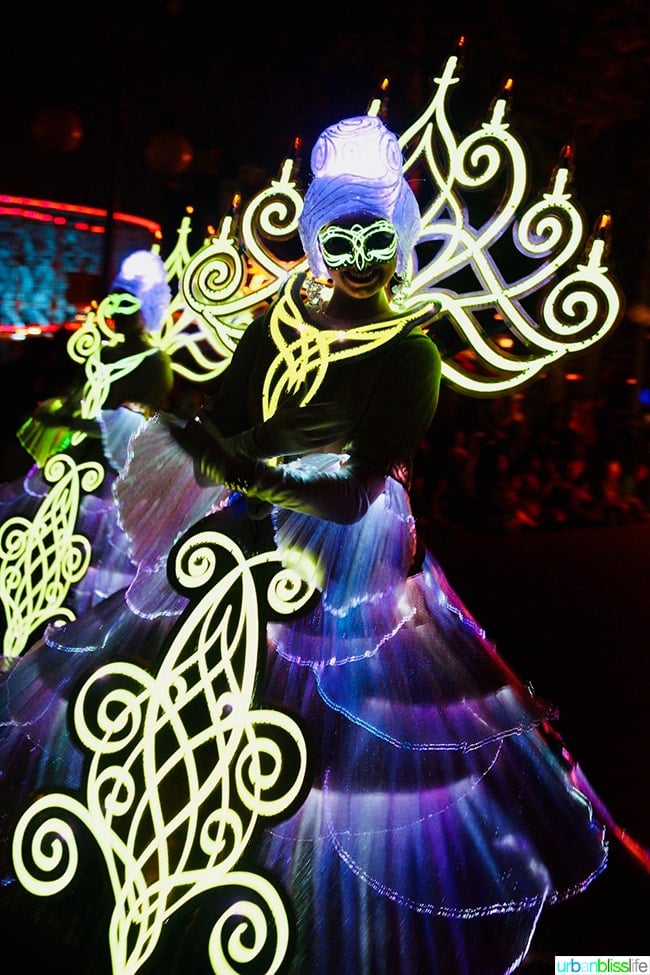 This parade does not take place in Pixar Pier, it takes place across from Pixar Pier, so it's cool to watch with the whole Pixar Pier boardwalk lit up in the background. But I had to include it because it was a spectacular show, and if you're here visiting Disneyland's Pixar Pier, you really should stay for the Paint the Night parade.
With more than one million sources of light and some pretty cool visual effects, floats, and characters, even this normally parade-phobic (and crowd-phobic) gal loved it.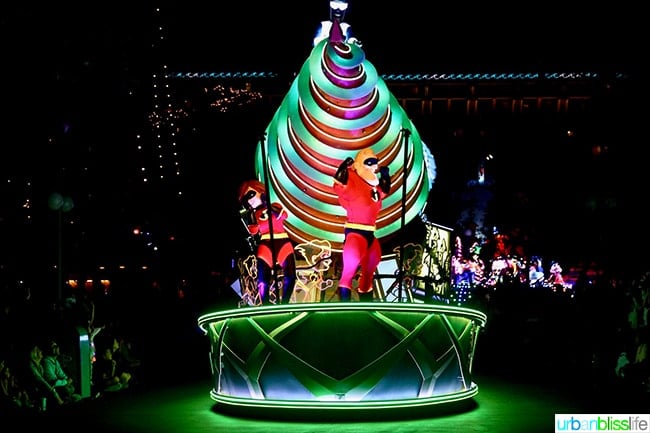 I feel super thrilled that I got to be there for the introduction of the new Incredibles float in the Paint the Night parade. It was beautifully done, and I adored watching all of the kids (and adults) faces light up when they saw the Parr family characters appear.
What a treat! I took a ton of video, which is in the queue to be made into a short video that I'll share here and on Instagram, Facebook, Twitter, and Pinterest too.
Visit Pixar Pier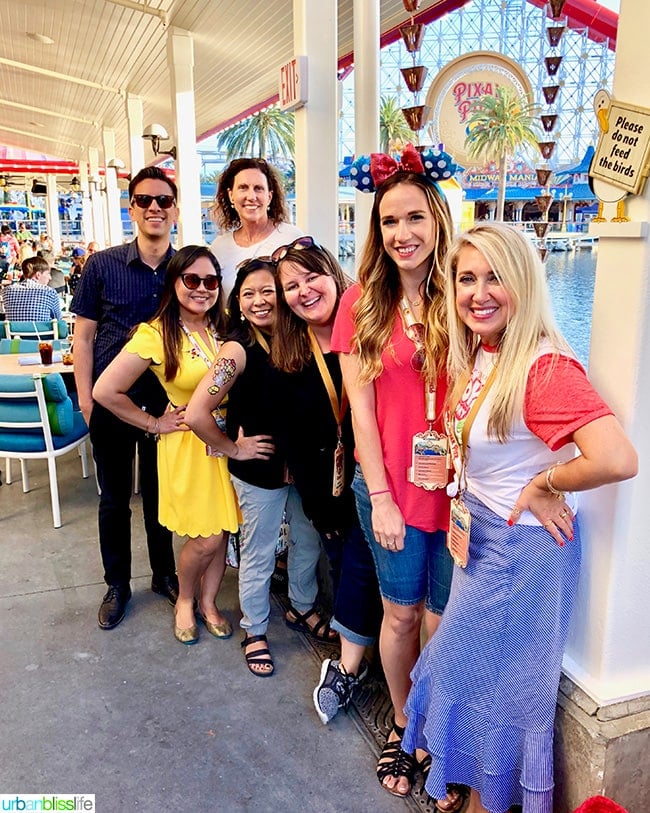 As many of you die-hard Disney fans know, there are so many options for making the most out of your Disneyland park experience. I'm not going to tell you which one you should go for here, because that's a whole HUGE other world and there are entire other blogs dedicated to that. I met so many amazing Disney fans, bloggers, YouTubers, and Instagram influencers during my visit to Disneyland's Pixar Pier opening. I learned a lot!
Disclosure: Disneyland hosted me at the Pixar Fest opening for the purposes of this coverage. As always, all opinions, experiences, and photos are my own.