When it comes to Dundee, Oregon restaurants, Tina's is legendary. Located in the heart of Oregon's Willamette Valley, Tina's Restaurant serves fresh wine country flavors in a warm, intimate setting.
In late 1999, my then-boyfriend whisked me away for a romantic wine country weekend in Oregon's relatively new, blossoming wine country. Back then, there were just a few wineries in the Willamette Valley that had tasting rooms regularly open to the public. There were only a handful of restaurants in the area.
He proposed to me that weekend. Of course, I said yes!
With glittery new engagement ring on, we went wine tasting at Rex Hill Vineyards and Erath Winery - two of our original favorite Willamette Valley wineries. We also dined at three of the OG Dundee, Oregon restaurants: Red Hills Dining, Dundee Bistro, and Tina's.
Recently, I had the opportunity to revisit Tina's during a media day with Angela Estate. I had only been back a few times since that blissful, fateful weekend. It was just as wonderful as I remembered.
Tina's Restaurant in Dundee, Oregon
Tina's restaurant opened in 1991, establishing itself as one of the very first fine dining restaurants in Oregon's Willamette Valley wine country.
Located right on Highway 99, it's a wonderful destination dinner if you are in the area wine tasting at nearby wineries.
The interior is cozy, with warm tones and a casual, Oregon wine country vibe.
As expected, the wine list at Tina's is outstanding. The food is just as well matched for the area's fine wines.
Food at Tina's
Tina's is open for dinner each night from 5 to 9 pm. You'll find a small, nicely curated menu full of Pacific Northwest flavors.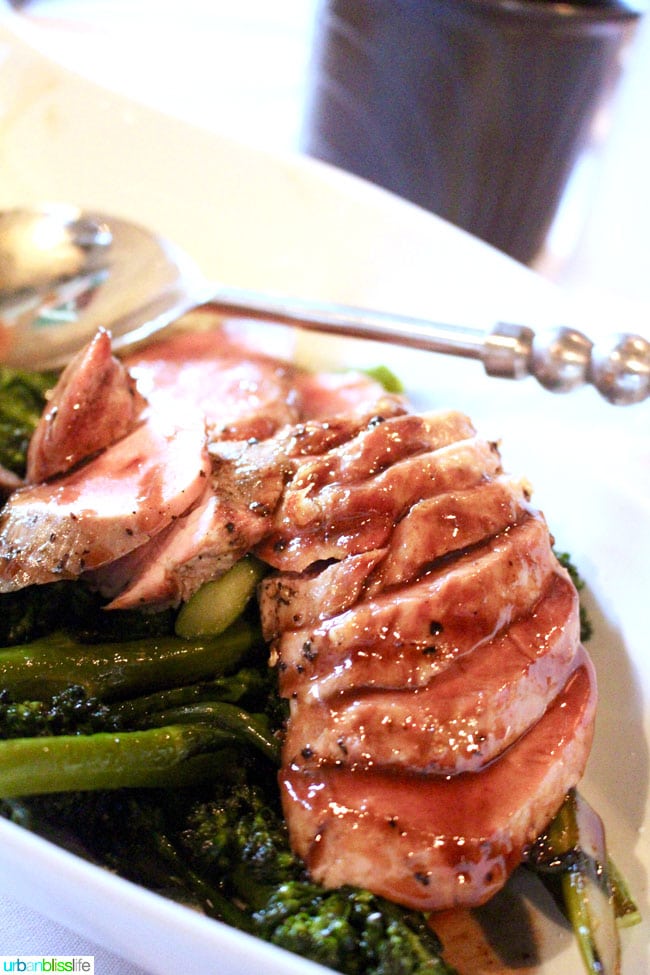 For our main entree during our media day, we enjoyed an amazingly tender and flavorful pork tenderloin with broccoli rabe.
While the entree pictured above is not on the current menu, you might want to try the Duck Breast ($34), which is seared & roasted, served with a pomegranate-pinot noir demi-glace, caramelized onions risotto. Or try the Seared Scuna Bay Salmon ($33), served with a kaffir lime-chili marinade, purple potato hash with oyster mushrooms, and baby spinach.
For dessert, we enjoyed a seasonal ginger cake. In addition to the creme brulee, Tina's also offers daily specials of fruit, sorbet, and a chocolate dessert of the day. All desserts currently go for $10 each.
Wrap up
In a wine region that is bursting at the seams with growth and spinning in popularity with each global award or article of recognition, it's nice to dine somewhere that reminds you about Oregon wine country's roots.
Tina's casual, cozy, friendly atmosphere is intimate enough for a romantic date night but also a great place to dine with friends and dissect your day of wine tasting. Older children might feel comfortable here, and some younger kids too, but personally, I'd save this restaurant for an adults-only dining experience.
You can dress up or dress down here, although I personally would change out of daytime casual t-shirts and shorts into at least nicer jeans and a blouse.
Definitely make reservations in advance for weekends, and I recommend them for weeknights.
Visit
760 HIGHWAY 99W
Dundee, Oregon 97115
503.538.8880
TinasInDundee@gmail.com
TinasDundee.com
More Oregon wine country travel ideas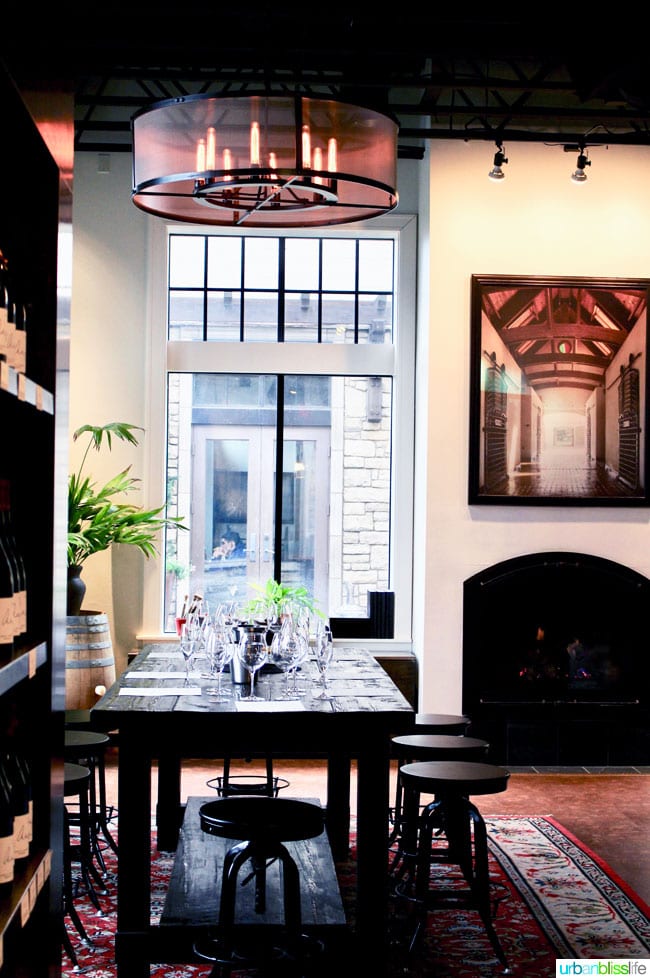 Food Bliss: Where to Eat in Wine Country: The Barlow Room
---
Do you enjoy going wine tasting? Have you been to a more established wine country restaurant like Tina's where you live?
---
The meal shown here was part of a complimentary meal during our Angela Estate media day. I have dined at Tina's on my own dime in the past and can definitely recommend it! As always, all opinions and photos are my own.