This restaurant is unfortunately now closed. If you are interested in more Portland restaurants, please visit our
Portland, Oregon Restaurant Guide.
Update: Park Kitchen has closed.
***
Park Kitchen is a One House, gratuity-free restaurant in Portland, Oregon, offering diners inspired farm-to-table meals featuring Pacific Northwest cuisine with a subtle Southern thumbprint.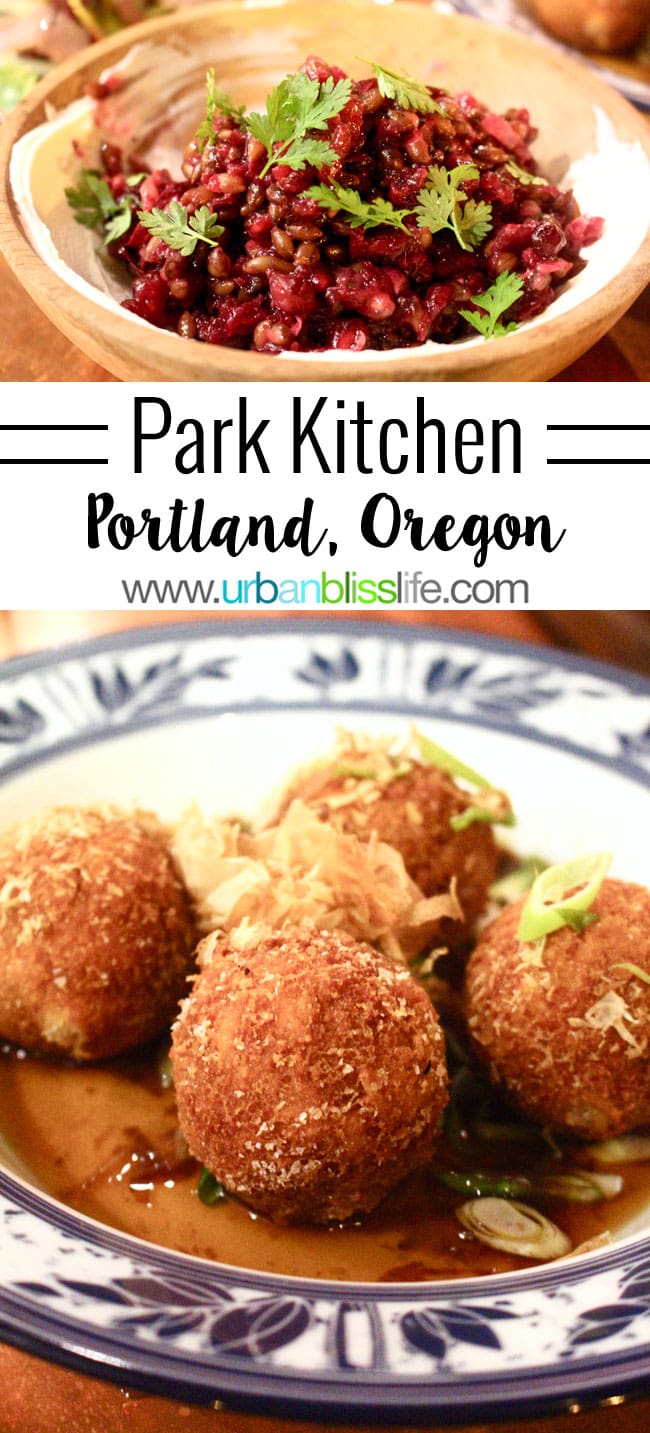 In May 2003, the Pearl District of Portland, Oregon was in the middle of its awakening. I was working in one of the anchor businesses of the fancy new Brewery Blocks development, and remember very well when Park Kitchen first opened.
Park Kitchen
Nestled along the Park Blocks near the corner of NW 8th and Glisan, Park Kitchen boasts of being a One House restaurant. That means the kitchen staff are trained as both cooks and servers with rotating responsibilities. So the person reciting your dinner specials that night may be the one also preparing it for you.
At the helm of Park Kitchen: Owner Scott Dolich (pictured above, left) and Chef David Sapp (pictured above, right). Dolich sharpened his culinary chops at Portland restaurant favorites such as Zefiro, Wildwood, and Higgins before opening Park Kitchen in 2003. Sapp honed his skills at Clarklewis, the Ace Hotel, and worked as a chef instructor at Sur La Table before working as the Chef de Cuisine at Park Kitchen; he took over as Chef in 2014.
Gratuity Free Restaurant
Park Kitchen is also one of a handful of Portland restaurants that does not accept gratuity. No tips here, folks!
It's their goal to have staff working full-time, earn a dependable revenue stream with full-time benefits and work in a sustainable, team-focused environment. Meanwhile, you are meant to focus on your dining experience without worrying about figuring out the tip.
Park Kitchen is open for dinner every night from 5 to 9 pm. You can choose from an a la carte menu comprised of small hot plates, small cold plates, and large plates. The restaurant also offers a Chef's Supper option at $70 per person, in which he will select a variety of dishes for you served family style for the table.
Happy Hour
Recently, the restaurant has expanded its happy hour menu, which is offered from 5 to 6pm.
Here's a look at some of the snacks and small plates you can enjoy.
My favorite dish on Park Kitchen's happy hour menu is the vibrant Lonesome Whistle barley with smoked beet, pomegranate, and chevre ($9). It's such a wonderful blend of textures and flavors.
If you pair the barley dish with the charred brussels sprouts, fried wild rice, soft egg, and young ginger ($8), I think you'd have the makings of a full meal!
But wait, there's more...
Pictured above is the Sheldon's beets, lamb pastrami, pumpernickel, celery, sour cream ($11).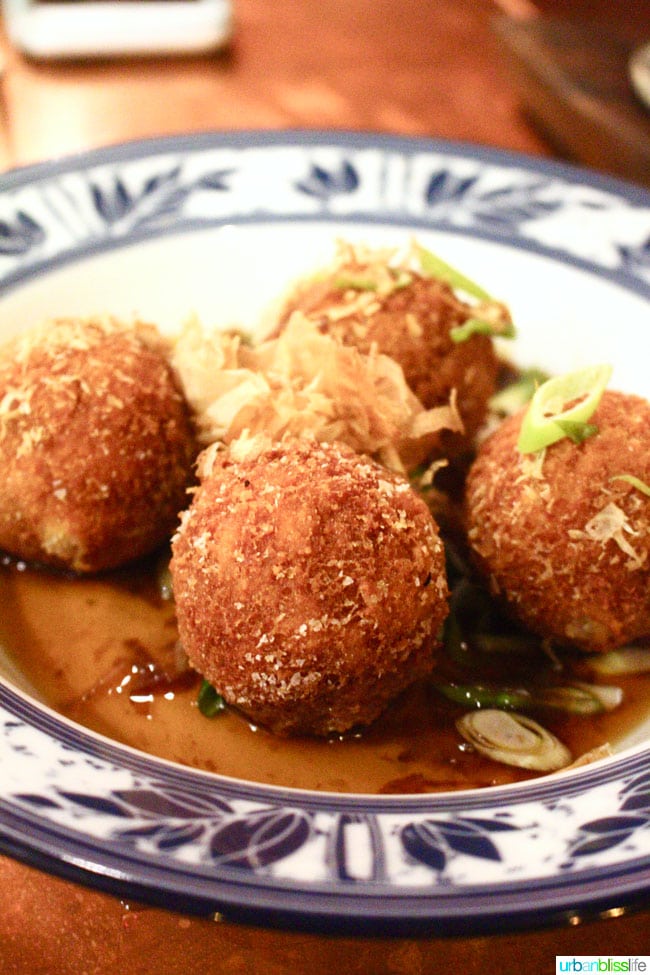 The salt cod fritters served agedashi style ($11) were delightfully crispy and salty on the outside. You'll often see the term "agedashi" used in reference to tofu. "Age" means to fry, and "dashi" refers to a delicious, savory stock commonly used in Japanese cooking that is often flavored with kombu and dried bonito flakes. I feel like serving the salt cod fritters agedashi style is a masterful decision because the dashi complements the salty crispy fritters so well.
You can also enjoy a fabulous grilled pork terrine slider for just $5 each.
Finally, if you dine at Park Kitchen, I insist you try the Smokey Sundae Morning. We're talking about a whiskey ice cream, smoked porter caramel, barley malt whipped cream and beer nut granola. Oh my HEAVEN. I first had this at OMGSMOKED! at Feast Portland last fall, and even though I have a dairy intolerance, I will gladly pop my enzymes and take my chances for one (or two or three!) of these absolutely delicious desserts.
Final Thoughts
Park Kitchen is an awesome neighborhood restaurant, but unlike many other Pearl District spots, you can usually find street parking fairly easily within a block of this restaurant. That's a huge plus for those of us commuting in from outside of Portland proper. I love the vibe: low key and casual, but then you're served this beautiful meal that consists of layers upon layers of interesting flavor and texture combinations and fresh ingredients. As a big advocate for small businesses, I love the One House restaurant concept, and am curious to see if more local restaurants will follow suit, as they have with the No Gratuity concept.
If you're looking for a spot for after-work drinks and happy hour plates, or a nice low-key intimate date night dinner, check out Park Kitchen.
Visit Park Kitchen
422 SW Park
Portland, Oregon
HOURS:
Happy Hour 5:00 – 6:00 p.m.
Dinner 5:00 – 9:00 p.m.
Reservations: Accepted by phone (503) 223-7275, website, and OpenTable
Many thanks to Park Kitchen for the complimentary meal enjoyed for the purpose of this restaurant review. As always, all opinions and photos are my own,