Zesta Cucina is the place to go for casual fine dining when visiting the budding craft beverage and wine area of Yakima, Washington.
As part of the Yakima Craft Beverage Tour, I had the pleasure of dining with our media group at Zesta Cucina. It was our last meal of the tour, and an amazing way to cap off a fantastic weekend!
If you're not familiar with Yakima, Washington, you can check out my posts about Bale Breaker Brewery, Hotel Maison, Cowiche Canyon restaurant, Gilbert Cellars, and Antolin Cellars.
Zesta Cucina
Zesta Cucina is a large restaurant, with plenty of intimate 2-person tables and group seating options. It's a casual all-occasion restaurant that's perfect for business meetings, lunches with friends, and it's family-friendly.
Here's a look at a few of the delicious drinks and dishes we enjoyed, to give you a taste of what Zesta Cucina has to offer. Please keep in mind that the portions you see below are not necessarily indicative of the full meal portion sizes. We dined as a large group and enjoyed individual sample portions of each of the dishes below.
Drinks
Zesta Cucina has an excellent cocktail, beer, and wine list. We sipped on refreshing cocktails to kick off our epic meal.
If you're visiting from out of town and want to get a good taste of local wines, Zesta Cucina has a wonderful selection. Their wine list focuses heavily on the wines of Eastern Washington.
The Owen Roe Winery Sharecropper's Pinot Noir was excellent, and is one of my favorite wines under $25 to pick up at our local grocery store.
Starters
My favorite starter that we tried during our lunch was the Coconut Prawns ($9.99). Large white prawns are coated in a coconut tempura and panko breading, then set on a bed of cilantro-jasmine rice and pineapple salsa. The prawns are served with a tasty sweet chili aioli.
Stuffed Mushrooms ($10.49)
The portion above is a sample serving of the starter dish, which is a great one to share with your fellow diners. Oven-roasted mushrooms are filled with Italian sausage, asiago cheese, and garlic-herb aioli, then served in a spicy herbed cream sauce and topped with parmesan cheese. Delicious!
Grilled Steak Salad ($21.99 dinner)
Grilled CAB petite tender steak is grilled and sliced over tossed mixed greens, creamy Italian dressing, bleu cheese crumbles, candied walnuts, tomatoes, tobacco onions, and balsamic glaze. This is an incredible steak salad!
Vodka Cappellini ($11.49)
Nicely al dente cappellini is topped with a delicious spicy pink vodka sauce, asparagus, and tomatoes. We enjoyed this with prawns (add for $5); you can also choose to add sautéed chicken for $3.
Seared Scallops (23.99)
I love seared scallops. If they are ever on a menu, I HAVE to order them. The scallops at Zesta Cucina were seared perfectly with a nice buttery crisp coating, topped with bacon relish and pear, then served on wild mushroom risotto and sautéed green beans.
Entrees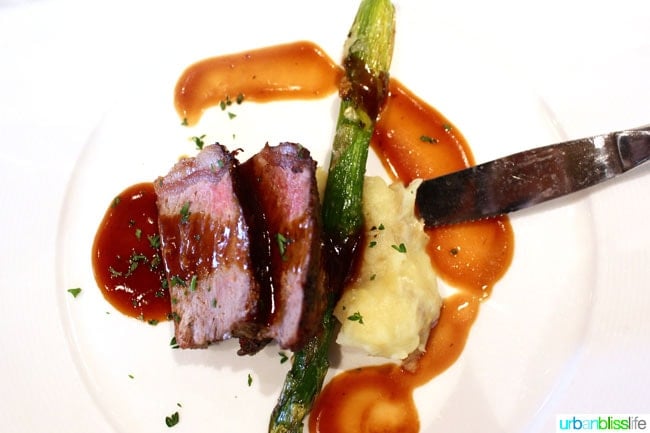 Filet Mignon ($38.99)
Again, please keep in mind that the photo above shows a taster portion of the normal 8 oz filet mignon. Cooked to a nice medium rare, the filet mignon is served with a port wine pomegranate demi sauce, whipped potatoes, and oven-roasted asparagus.
Desserts
Dessert changes regularly at Zesta Cucina, and on this day we enjoyed a delicious cheesecake with vanilla creme and raspberries. A refreshing dish to end an amazing meal!
Of the dishes pictured above, which dish would you most like to try first?
Visit
5110 Tieton Drive
Yakima, WA
509-972-2000
http://zestacucina.com/
HOURS
LUNCH & DINNER
Monday-Thursday: 11am-9pm lunch & dinner
Friday & Saturday: 11am-10pm
HAPPY HOUR
Monday - Friday 3-6pm
Closed on Sundays
Many thanks to Zesta Cucina for this complimentary meal as part of the Yakima Craft Beverage Tour. As always, all opinions and photos are my own. If you're in Yakima, Washington, I highly recommend dining at Zesta Cucina!
More Yakima travel ideas
Beer Bliss: Bale Breaker Brewery
Travel Bliss: Hotel Maison
Food Bliss: Cowiche Canyon restaurant
Wine Bliss: Gilbert Cellars
Wine Bliss: Antolin Cellars