One of the few oceanfront Cannon Beach restaurants, the Wayfarer offers Oregon coast travelers a sophisticated, family-friendly atmosphere with delicious local seafood and a beautiful view.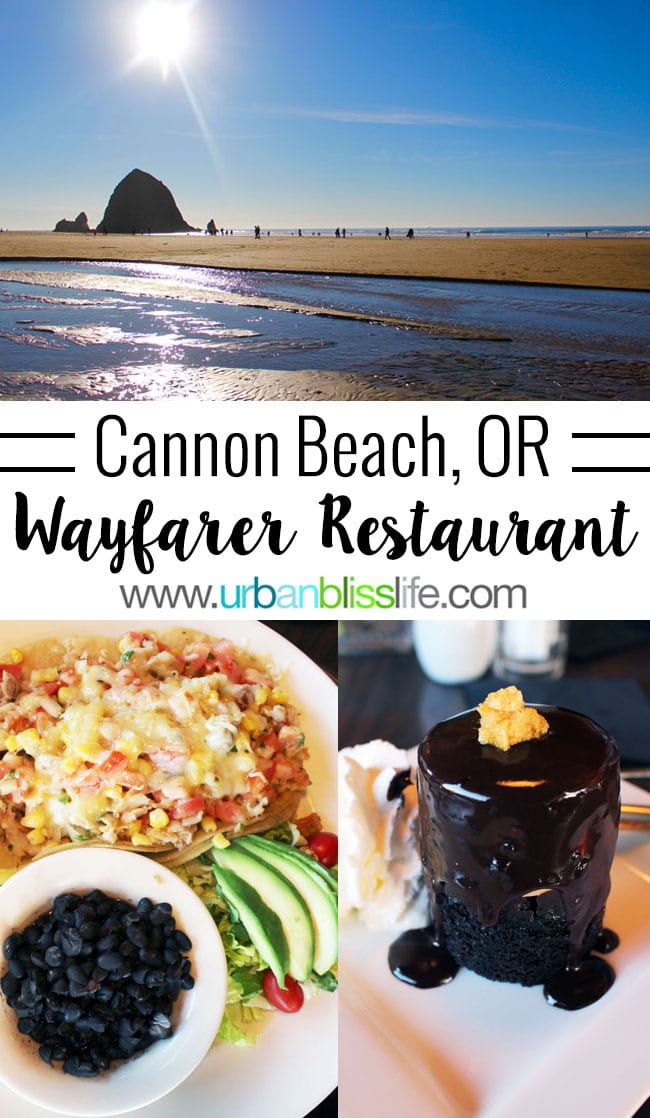 Cannon Beach, Oregon has long been one of my family favorite destinations on the Oregon Coast.
Growing up in Oregon, my parents would often take us here as kids for day trips. We'd always bring visiting friends and relatives to the Oregon Coast, eat clam chowder, and take photos in front of Cannon Beach's famous Haystack Rock.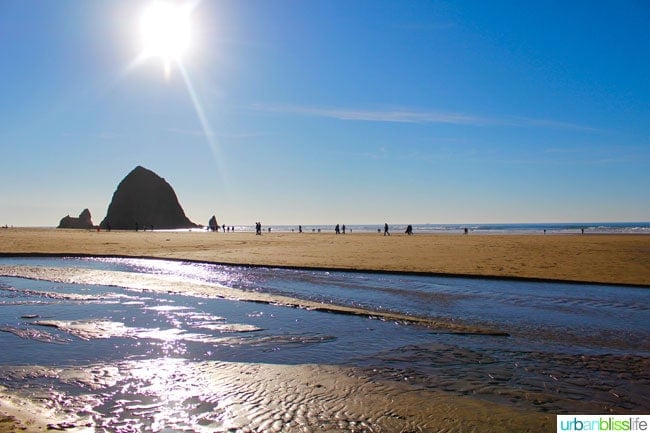 Cannon Beach is absolutely gorgeous, with wide sweeping, seemingly endless sandy beaches, rocky alcoves that are fun to explore, and of course, the stunning Pacific Ocean.
One of the only oceanfront Cannon Beach restaurants where you get the beautiful beach view you see above is the Wayfarer.
Cannon Beach Restaurants: Wayfarer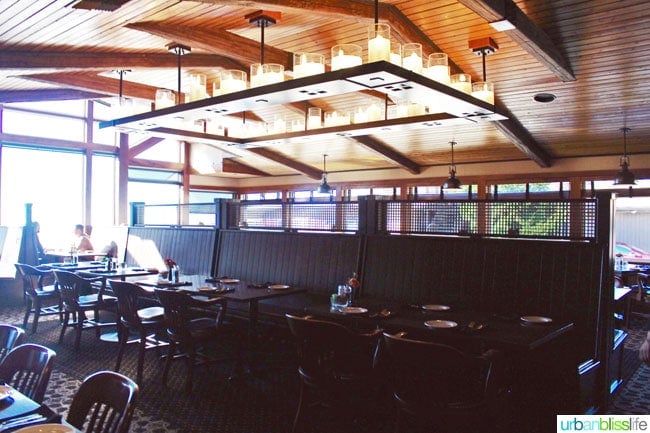 Located right next to the Surfsand Resort with perfect views of Haystack Rock, the Wayfarer Restaurant and Lounge has a large dining area with plenty of seating suitable for families, as well as a lounge area for adults.
The restaurant focuses on fresh, local, and seasonal ingredients on its menu. Produce, seafood, and meat hails from some of my own personal favorite Oregon- and Washington-based producers, such as Albeke Farms, Beecher's, Evonuk Oregon Hazelnuts, Gales Meadow Farm, Jacobsen Salt Co., Kingfisher Farms, Oregon Olive Mill, The Meadow, and Zweifel Farm's Eggs.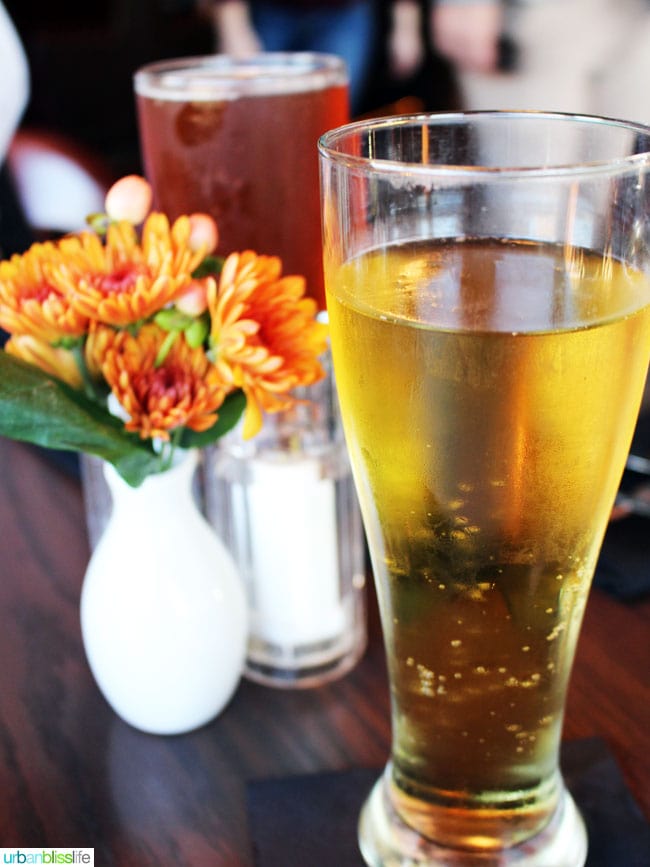 Their beverage menu is quite lengthy given the size and location of the restaurant. I can always find a favorite Pacific Northwest wine or beer on the menu.
I've dined here several dozen times over the past 41 years, and have had the pleasure of enjoying meals from their breakfast menu, lunch menu, and dinner menu.
Here's a look at some of the dishes my husband, kids, and I enjoyed on a recent visit. All of the prices listed are for the current lunch menu items; please remember that their menu and prices are subject to change and availability.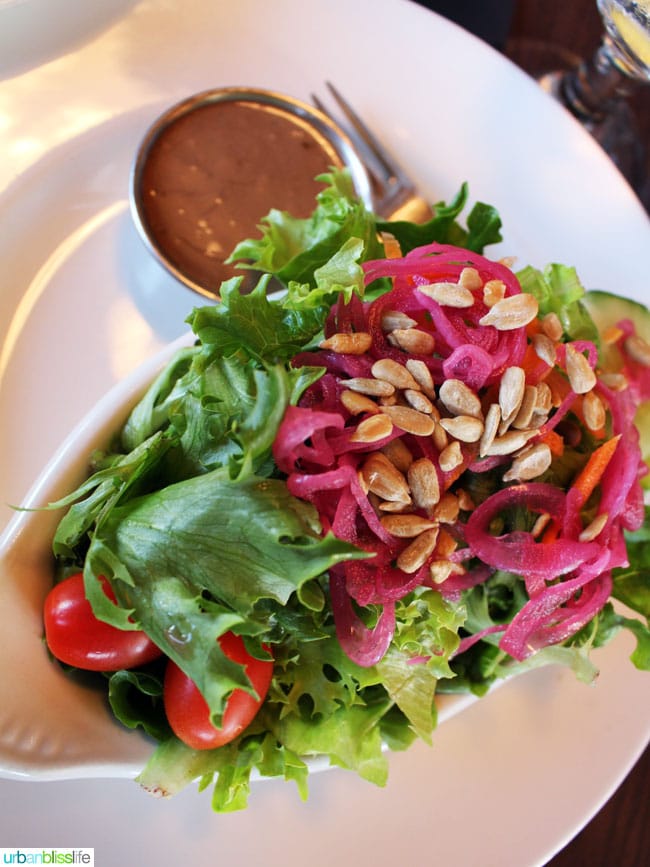 The house salad ($7.95) here is one of my favorites on the Oregon Coast, because it's more than just a plate of iceberg lettuce and shredded carrots. The greens are always fresh, topped with sunflower seeds and marinated red onions, with fresh tomatoes, cucumbers, and carrots.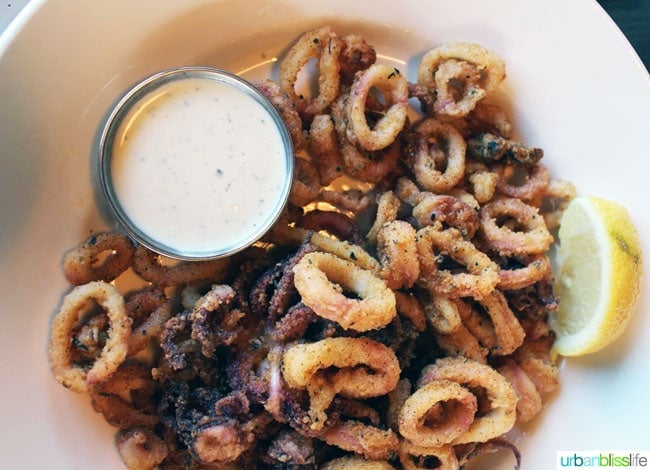 As you can imagine, being one of the oceanfront Cannon Beach restaurants, seafood is the highlight of the Wayfarer menu.
For lunch, we often enjoy an appetizer of fried calamari ($12.95), but I also recommend the garlic fries ($7.95) and I have heard amazing things about the Dungeness crab cakes ($21.95) and the Northwest Cheese Sampler ($13.95).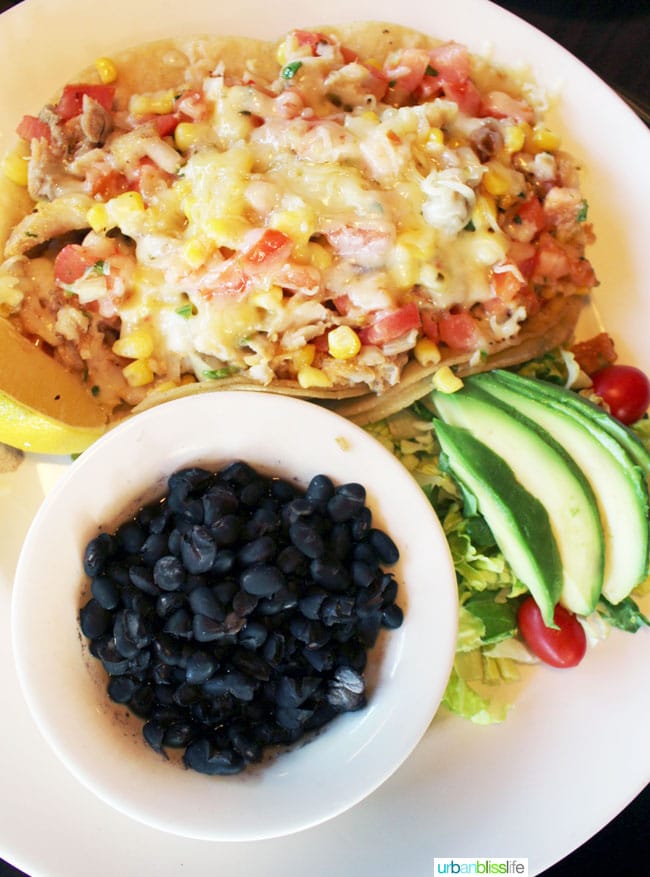 As far as entrees go, I can't remember ever having a dish I did not enjoy here. Stick with any of the seafood entrees, and you really can't go wrong. We love the Local Rockfish Tacos (pictured above, $15.95), which featureCumin-scented rockfish breaded in cornmeal, seared and folded into warm corn tortillas with pico de gallo, fresh corn, topped with pepper jack cheese. It's served with shredded lettuce, sliced avocado and black beans. So delicious!
Their Beer Battered Fish and Chips ($21.95) are made with fresh Alaskan halibut, with tender and flavorful fillets inside and fried with a perfect batter crust on the outside. If you've never enjoyed Pacific Northwest salmon before, then I recommend trying their Pinot Noir Salmon ($29.95) if it is available at the time of your visit. It's finished on a cedar plank and served with their custom house-blend rice and fresh, seasonal vegetables.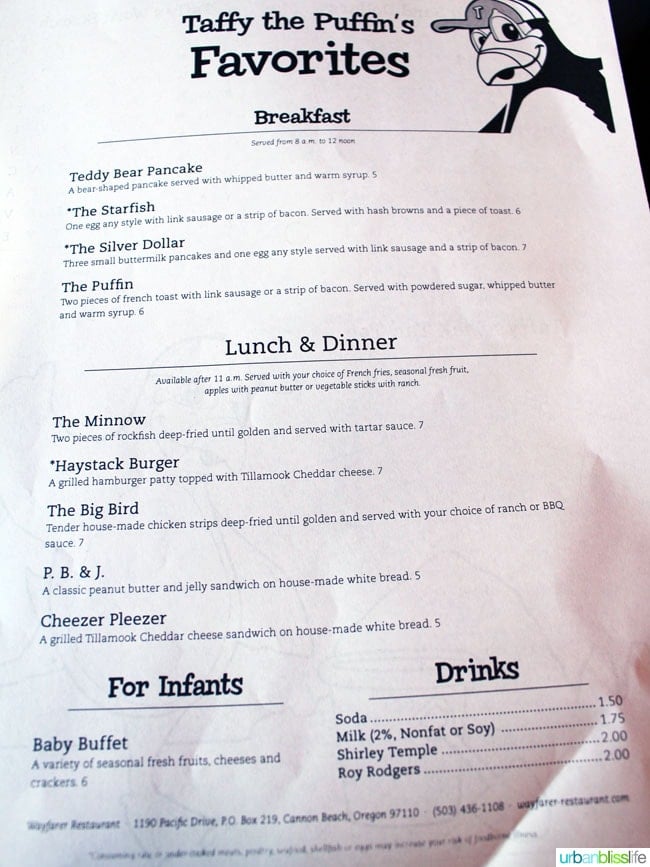 The Wayfarer Restaurant has a great kids' menu, with really delicious breakfast items (the Teddy Bear Pancake for $5 is adorable and tasty!) and a good selection of lunch items that are just the right size.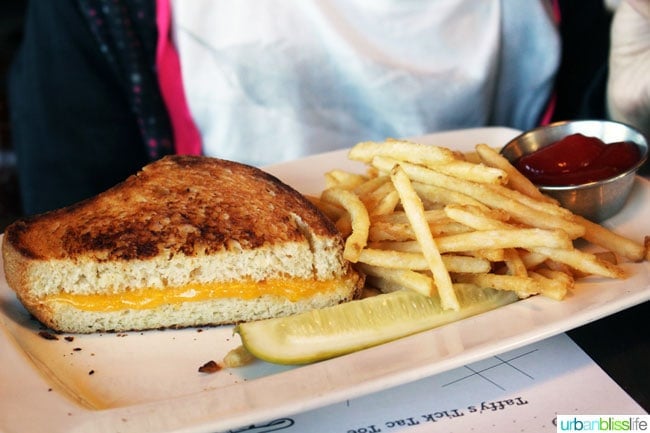 My kids usually go for the Cheezer Pleezer ($5) which is made with my whole family's favorite: Tillamook cheese, and comes with french fries that get the nod of approval from my french fry-afficianado son.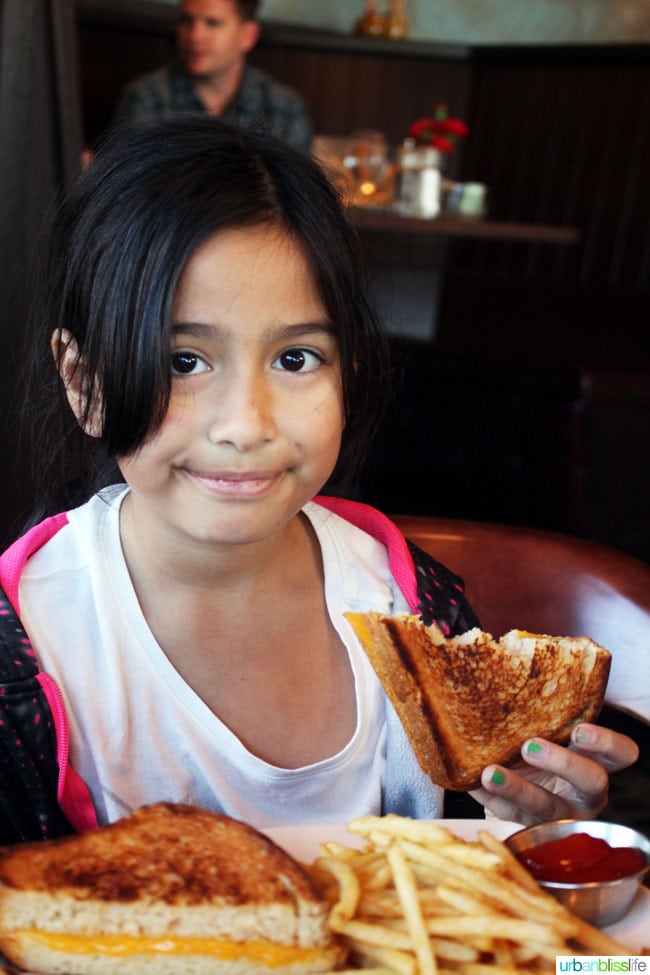 My daughter also loves it and is clearly annoyed with me in this photo because she really just wants to continue diving into her grilled cheese.
Family food blogger confession: sometimes I will pretend to keep taking photos just because I like to bug the kids.
Mom, are you done taking photos yet?
No honey, just one more... nope that didn't work, so I just need to take another one, hold on...
Mooooooommmmm!
Meanwhile, I have 3 photos that are perfectly fine and 10 subsequent photos of them looking more annoyed. Hee hee! Shh: don't tell them. I just like to mess with them sometimes because they're just so darn cute. It's the little things, folks. ;)
Anywhoo... moving on to dessert. And, you MUST have dessert when you dine at the Wayfarer.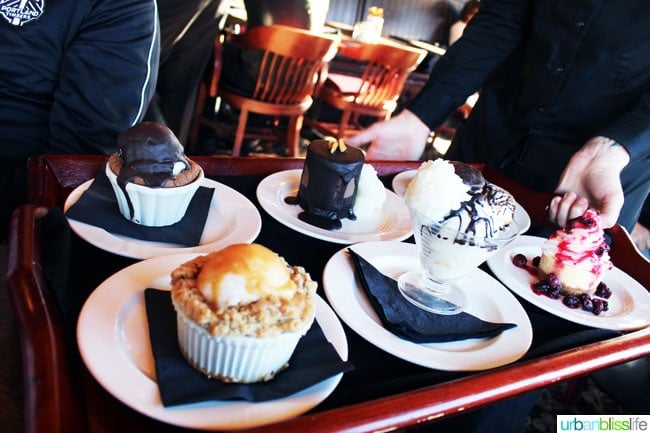 Some seasonal items change, but the chocolate cake appropriately called Heaven is, well, heavenly.
Details
PRICE & RESERVATIONS
The prices at the Wayfarer are higher than many of the local cafes but on par with similar restaurants along with coast who offer full all-day menus, a full bar, a nice kids' menu, fresh local ingredients, and quite frankly, the view cannot be beat. This is perhaps not a place you can dine for breakfast, lunch, AND dinner during your entire stay at the Oregon Coast, but I highly recommend budgeting ahead of time and making it here for at least one of your meals. I also love that they take reservations, which I highly recommend making since the restaurant can fill up quickly during busy tourist seasons.
WHAT TO WEAR
Dress is casual here. It's the Oregon Coast: you can wear your beach attire, such as t-shirts and shorts, but don't walk in here in just your swimsuit. It is a nicer establishment than many of the other restaurants so feel free to dress up a little if you're here for dinner. That said, jeans and sweaters are just fine.
FAMILY-FRIENDLY
It is kid-friendly, and the waiters and waitresses have always been so great with our kids here. We've taken them when they were itty bitty babies through now, and have always felt comfortable dining here for breakfast, lunch, and dinner with our kids. We've also dined here with large groups, and it's been great.
SERVICE
We've personally always had great service here. The staff has been friendly, attentive, and accommodating.
Wayfarer Restaurant