Here's a handy checklist of What to Pack in an Emergency Go Bag. Be prepared for any natural disaster!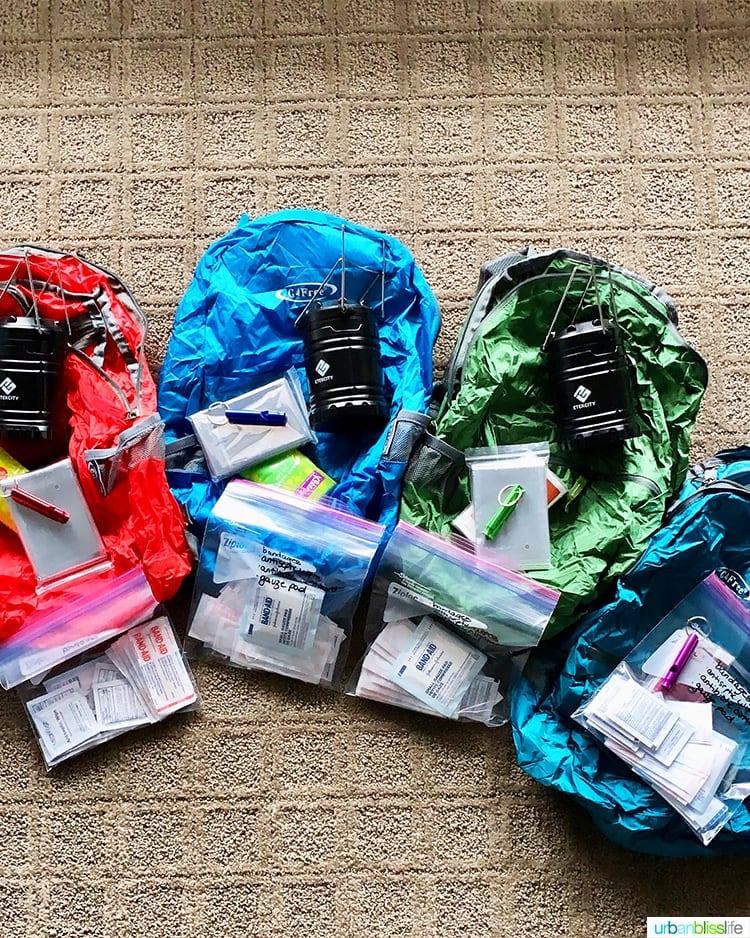 The beginning of a new year is a great time to get re-organized and start the year off on the right foot. One of the areas I've been trying to be more organized in is our emergency preparedness.
Here in the Pacific Northwest, we've been bracing for The Big Earthquake for decades. I figured it was time to at least pack each of us a Go Bag so we're somewhat prepared, for any type of emergency that would require us to immediately leave our home.
What is an Emergency Go Bag?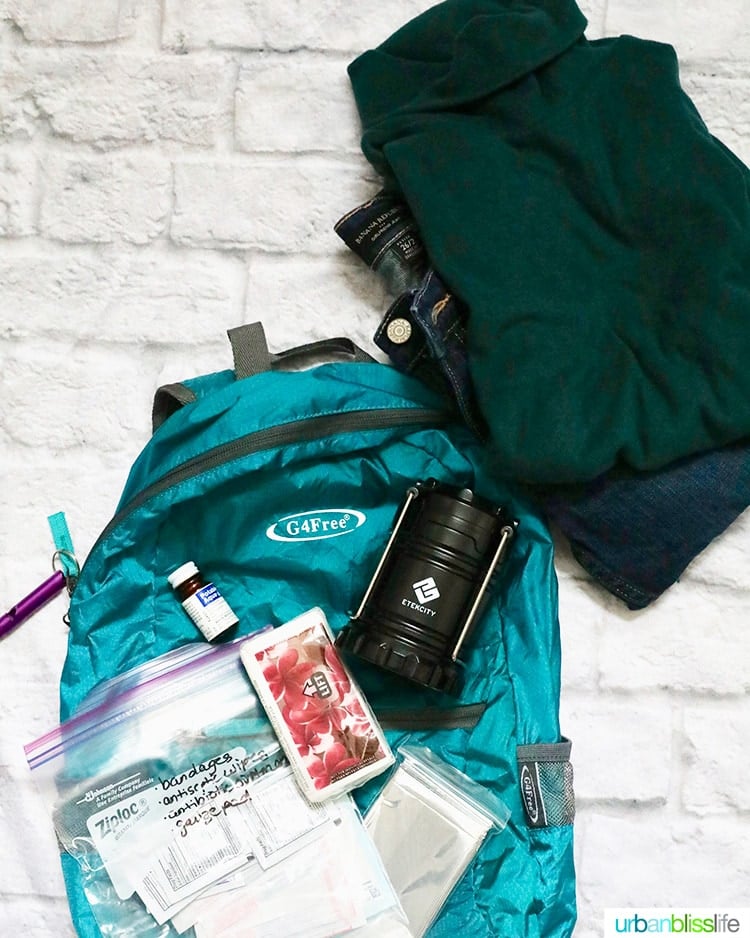 A little while back, I posted a series of Instagram stories sharing the items I pack in my family's Emergency Go bags. These are the bags that each family member can grab in the case of a natural disaster.
Each member of your household should have their own Go Bag.
Where to place Go Bags
Go Bags should be placed in easy-to-grab-and-go spots of the house. On the back of each bedroom door is a good spot that also keeps them out of the way of daily life. You can also have all of the Go Bags in a central home closet.
The main thing to remember is to make sure the bags can easily be reached by all family members (underneath beds is a good spot for little kids); make sure there's not a bunch of items blocking your access to the bags.
Best Kind of Bag to Use for Emergency Packs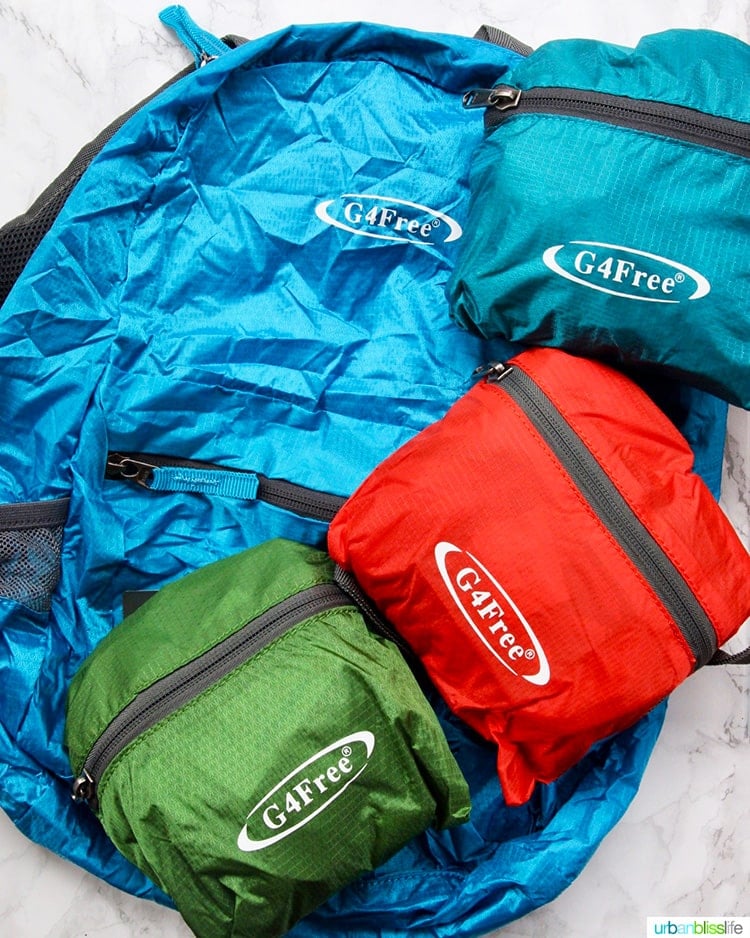 Backpacks are a great choice for Emergency Go Bags. You can run with them while keeping your arms free and body balanced.
Look for lightweight, weather-resistant backpacks that can hold a good amount of items. You don't have to spend a lot of money on them. I bought four of these lightweight travel backpacks from Amazon for around $12 each. Each family member has a different colored backpack.
What to Pack in an Emergency Go Bag
Instagram friends have been asking for a list of the items we pack. So, here it is, at long last! I've put together a FREE Printable PDF of What to Pack in an Emergency Go Bag! Read on for how to download and print the full checklist.
In the meantime, here's a brief list of some of the main items to pack in an emergency
First Aid Kit
Stock your bag with basic first aid items, such as: bandages, antiseptic wipes, antibiotic ointment, and medications.
Safety Gear
Include safety gear such as emergency thermal blankets, LED camping lanterns (pictured above), flashlights, whistles and dust masks.
Communication Gear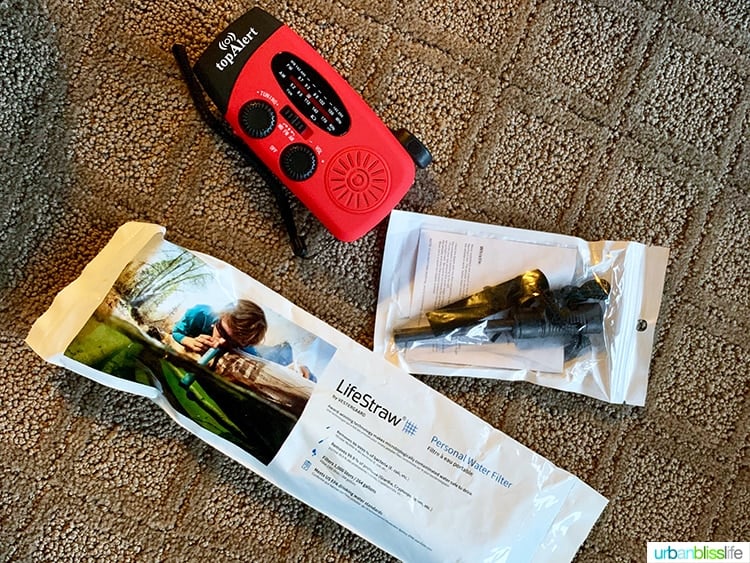 You'll want to pack ways to communicate, including a cell phone and charger. In the event that cell towers go down, definitely pack a handcrank radio.
It's also good for each person to have a laminated emergency contact info sheet in their bags.
Food and water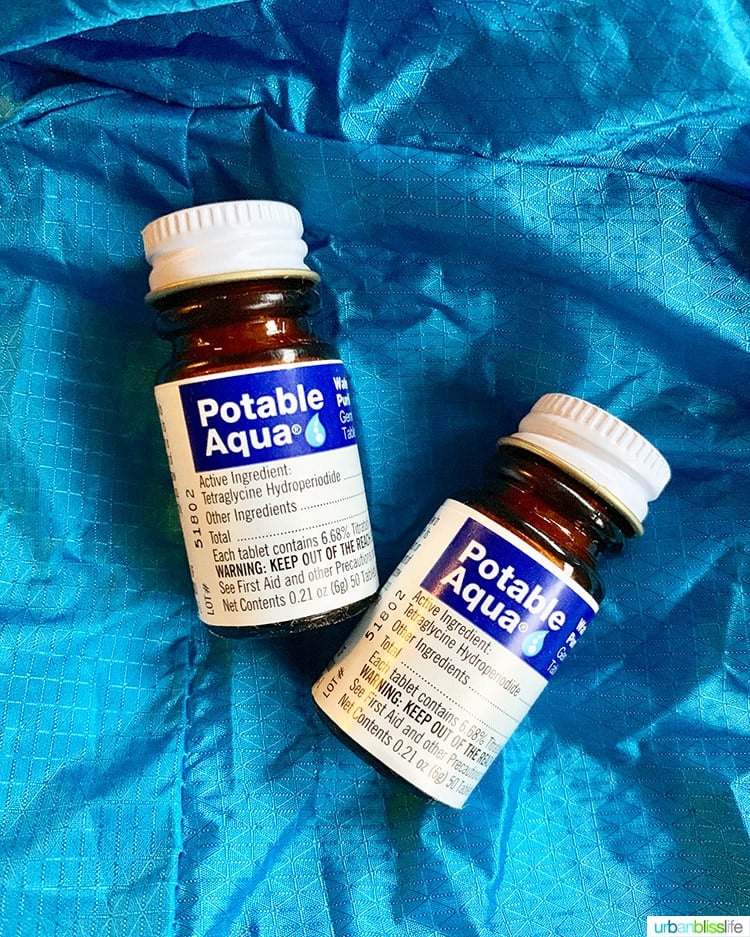 In the event of a natural disaster, you'll want water purification tablets and/or something like a Lifestraw to purify the water. Each family member should have a couple of filled water bottles in their bag, too.
You can also pack shelf stable food, a can opener, and extra utensils. Many purchase pouches of emergency food packs, which you can find at Amazon and even at Costco.
Hygiene and sanitation
Pack a small toiletry bag, similar to what you might pack for a short trip. Include daily use items such as a toothbrush, toothpaste, feminine products, bars of soap, hand sanitizer.
Clothing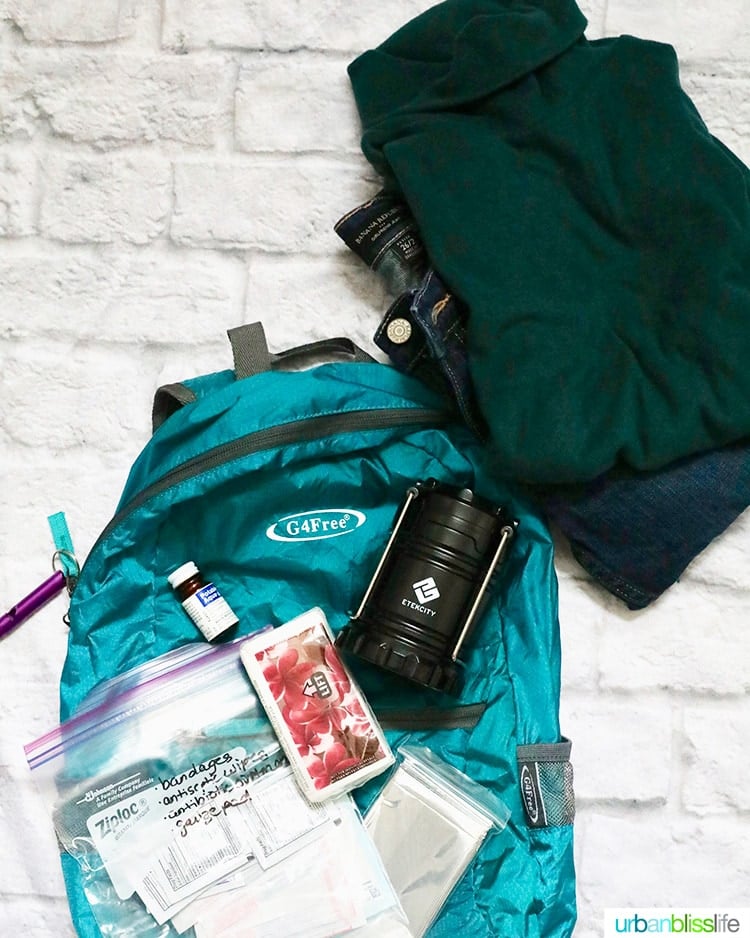 Pack at least one extra set of clothes, as well as waterproof shoes and a waterproof rain jacket. You can also purchase inexpensive ponchos with hoods.
Additional Emergency Bag Items
Other item to consider packing in your emergency go bag:
ID, insurance, and any other important personal documents in a waterproof pouch
Cash in waterproof bags/containers
Duct tape
Sharpie pens
Notebook
Sticky notepads
Ziplock bags of varying sizes
Don't forget your pets! Pack dry pet food packets + pet medications.
Emergency Go Bag Checklist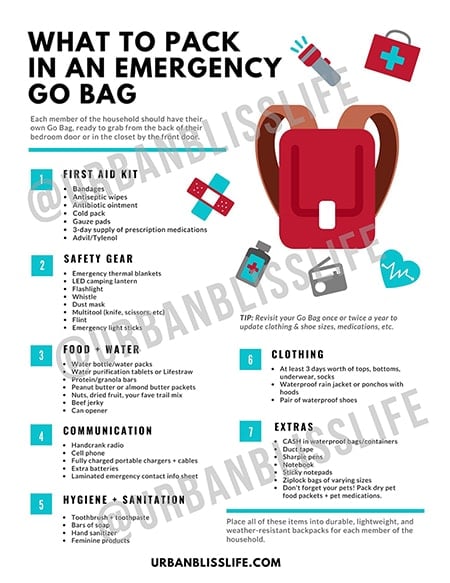 To make it SUPER easy to put your Go Bag together, I've designed a handy dandy helpful Emergency Go Bag Checklist that you can print out and reference as you gather your items.
Pin it
Do you have an emergency Go Bag already? If not, I hope this helps you get one started for each member of your family!
Of course, we all hope that we never have to actually use it. But in the event that we do, we'll be prepared.
---
Want more food, wine, and travel tips? Each week I share recipe/meal plan ideas, a wine or wine tip of the week, and travel tip of the week, sent straight to your inbox. Be sure to subscribe here so you don't miss all of the extra content!
More Travel Guides