Planning an extended vacation? Check out these Extended Stay Travel Packing Tips first!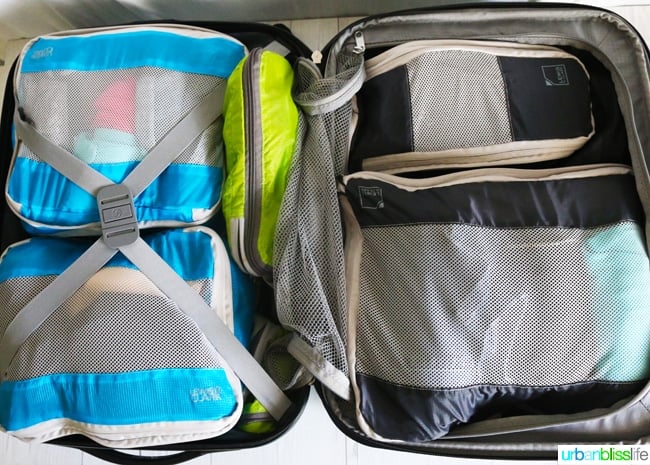 Tis the season for holiday travel! Are you and your family planning an extended stay somewhere over the holidays? We are, for the first time in my entire life, spending part of the holidays with someone's family other than my own immediate family. My husband, kids, and I are all looking forward to the adventure!
While we'll be staying with my husband's family for a week, I know many of you might be staying at extended stay hotels, such as TownePlace Suites by Marriott®. I love extended stay hotels because they help you feel more like home when you are traveling for more than just a few days.
TownePlace Suites® have hotels nationwide, and offer spacious studios, one- and two-bedroom suites. The traveling worker bee in me loves the free Wi-Fi, in-room ergonomic work space, and TowneMap® to help you find your way easily around the neighborhood; while the traveling mom (and foodie) in me loves the full sized kitchens and on-site laundry.
Jump to:
Extended Stay Packing Tips
Planning for extended travel is a little different than planning for a weekend getaway, especially if you have kids in tow. So I've put together a list of some of my top tips for staying organized when traveling for longer periods of time.
Tip 1: Stock Up on Travel Essentials

When traveling for extended stays, it's often the little things that make a big difference. At The Container Store® I found necessities like an international converter outlet, cute mini emergency kits, and travel laundry kits, as well as fun accessories like cable cord pouches and cute luggage tags. I love to choose essentials that come in fun designs and packaging--it just makes your extended stay even more enjoyable!
Tip 2: Pack Leakproof Bottles

The last thing you need when traveling is to open your suitcase or carry-on to find one of your shampoo bottles has leaked all over your clothing. Believe me, I know from experience! The last NON-Nalgene bottle I used for coconut oil on a recent trip leaked and it was NOT pretty. . .
The Container Store® sells a variety of Nalgene travel bottles that are built using the same materials as lab bottles, and are 100% leakproof. I bought this Nalgene bottle for our holiday travels to avoid any coconut oil leaks this time!
Tip 3: Keep Travel Necessities Close
When traveling by plane or train, you don't want to be that person who holds up the line rifling through your purse to find your ID, cash, or your phone for your electronic boarding pass. I love this Seat Pack that allows you to keep all travel necessities easily accessible. Looking forward to hanging this on the tray table hook on my next flight and keeping everything nice and handy!
Tip 4: Packing Cubes
Yes, you should roll up most of your clothing, but did you know that those clothing packing organizers really do help you save space, avoid wrinkles, and they can also help you keep things organized at your destination. Simply transfer the the organizers directly into your hotel drawers.
The kind folks at my local The Container Store® were so helpful in helping me select some packing organizers for our trip. I picked out two: an Eagle Creek shirt organizer and a two-pouch clothing organizer set. I fit about 7 tops (two thin sweaters and five blouses/shirts) into the first small shirt organizer pictured below.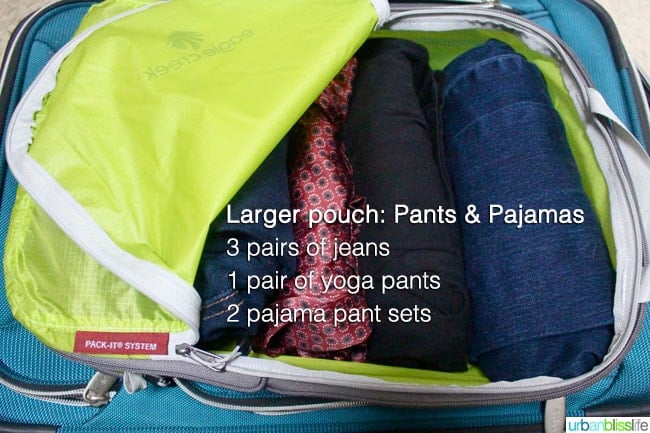 After packing enough in these organizers to last the average person a full week (or more, thanks to on-site laundry at places like TownPlace Suites®!), there is still PLENTY of room to spare for shoes and toiletries in a standard carry-on size suitcase; not to mention, the extra room you KNOW you will need for those unexpected (but inevitable) purchases.
Tip 5: Laundry Bags
When you are staying someplace for more than a few days, it's easy for the dirty clothes to pile up in one corner. . . and another corner . . . and on chairs . . and the closet floor.
This stylish houndstooth laundry bag can hold about a week's worth of clothing for one adult, and probably about two week's worth of both of my kids' clothes. It folds up neatly into a little pouch and takes up almost no space at all to bring with you.
For more travel tips, be sure to visit our full travel section!