Update 2020: this Portland restaurant, Portland Penny Diner, is now closed.
In my life BC (Before Children), I knew where all of the best happy hours were. Not because I was cool like that; merely because there were only a few good ones back in the day. I used to love getting out of work in the Pearl District and meeting up with friends for cheap (passable) beer and greasy happy hour grub. When you're in your twenties, cheap = good, right?
Thankfully, happy hour offerings have grown up since then (I'm sure some people wish they could say the same about me - ha!) and I am delighted by the variety and complexity of happy hour menus now available in Portland. Today's local happy hour menus extend beyond mere $2 beers and $3 tater tots to feature creative dishes that compete aggressively with other happy hour eats across the city. This month, a popular breakfast and lunch spot in downtown Portland has extended hours and launched a new menu to become the latest Happy Hour player in this food-loving city: enter, Portland Penny Diner.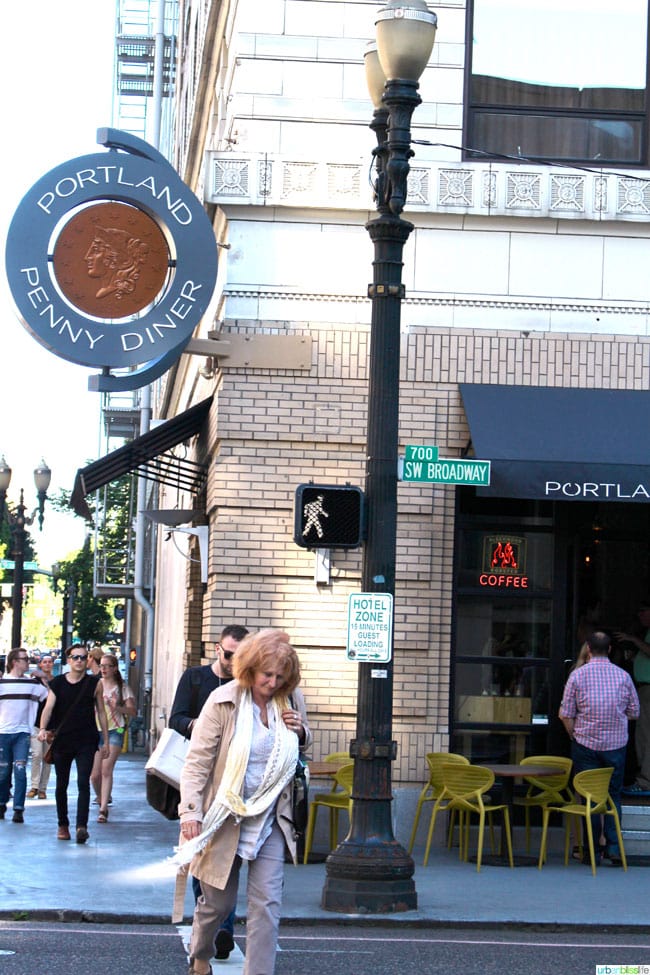 If you've been to downtown Portland, you've most likely walked or driven down Broadway and noticed the large revolving penny atop the building at the corner of Broadway and Stark. That's the Portland Penny Diner sign. Named after the historic coin toss that decided the fate of our great city's name, Portland Penny Diner has been serving up fabulous breakfast and lunch hits for the past three years.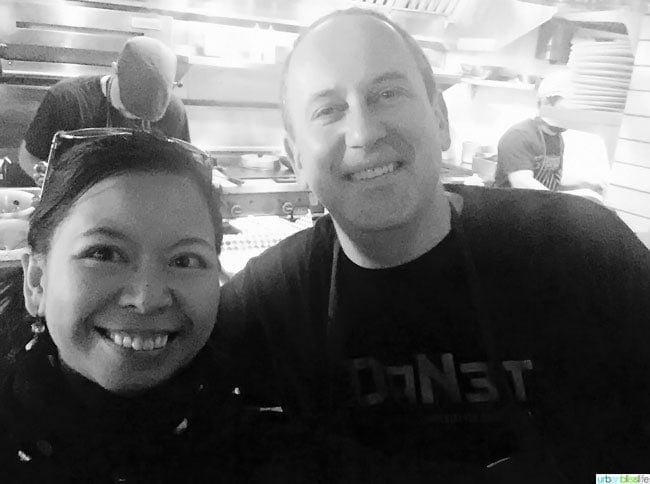 This corner diner is owned by chef restaurateur Vitaly Paley (Paley's Place, Imperial), who is arguably one of the nicest and hardest working guys in town. I had the pleasure of chatting with Chef Paley during Portland Penny Diner's happy hour menu launch. It's clear that he's proud to showcase this eatery in a new way, with dishes that further elevate Portland's happy hour scene.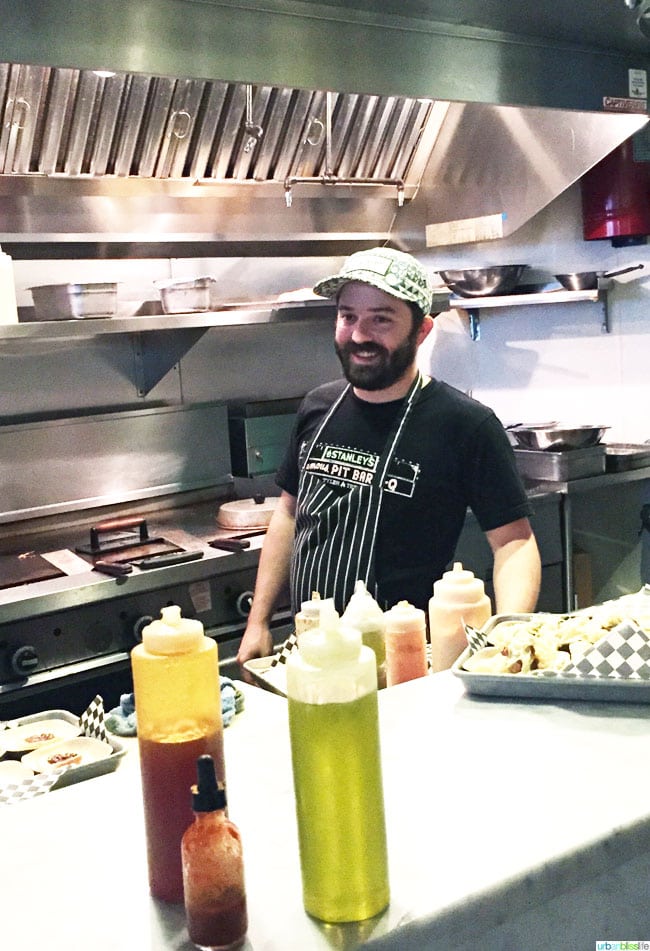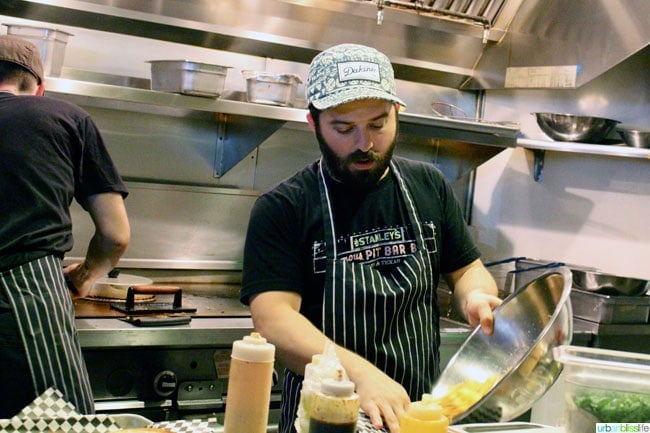 The menu, which is a delightful mashup of comfort and street food, is a collaboration between Chef Paley and Executive Chef Doug Adams. My kids might just be his biggest fans after watching him closely in every episode of the last season of Top Chef.


If you've ever eaten at Imperial next door to Portland Penny Diner, you know that one of Chef Adams' most famous dishes is Doug's Buttermilk Fried Chicken, which you most definitely must try if you haven't yet. I'm going to show you the Portland Penny Diner version in a bit.
First, let's take a seat at the bar and check out the new happy hour cocktail selection.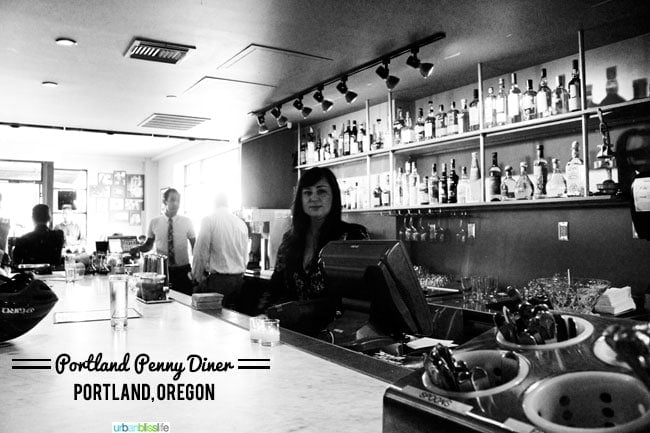 Cocktails
Portland Penny Diner's Lead Barman Tony Gurdian has created a lineup of eight classic and vintage cocktails on draught.
Yes: that's cocktails on tap. More cocktails on tap than any other bar in the city! Although, truth be told, I had no idea there were cocktails on tap anywhere else in the city. If you can name another local spot that offers this brilliant mixology magic, please let me know in the comments.

Pechluck of Pechluck's Food Adventures and Huma of PDX Cider enjoyed testing out several of the cocktails on tap, but my favorite was the Mad Hatter (pictured above). Happy hour prices for the Pennydraft Cocktails: $5 each.
Penny Old Fashioned -Brandy, rye, raw sugar, bitters, lemon peel
El Presidente - Rum, dry vermouth, orange curaçao, house grenadine
Mad Hatter - Whiskey, lemon, sugar, absinthe
Between the Sheets - Gin, cointreau, brandy, lemon
Brooklyn - Bourbon, dry vermouth, maraschino, curaçao, amaro, bitters
Rosita - Tequila, dry vermouth, sweet vermouth, campari, orange bitters
Martinez - Old Tom gin, sweet vermouth, maraschino liqueur, Boker's bitters
Chrysanthemum - Dry vermouth, benedictine, absinthe
Short Orders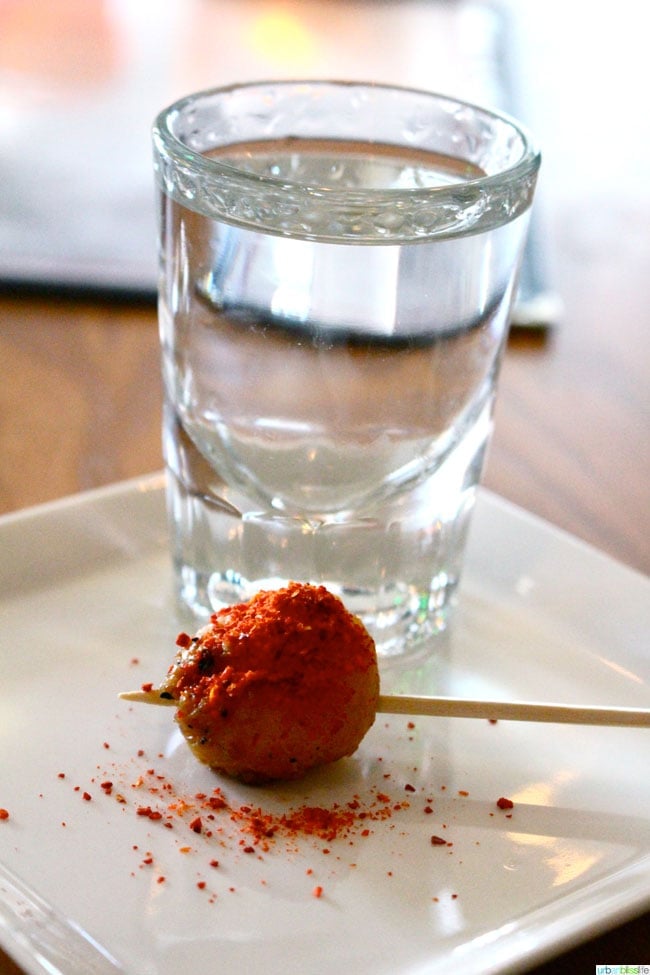 The new Portland Penny Diner happy hour menu also offers
Short Orders
: four inventive shots that are accompanied by complementary plated pairings (happy hour price: $6 each):
Whiskey & Beer Back
Tequila & Verdita
Pisco & Grilled Pineapple w/Espelette (pictured above)
Cachaça & Pickled Strawberry
Happy Hour Eats
I'm totally in love with Portland Penny Diner's happy hour menu. You can also enjoy the same dishes now for just a few dollars more per dish during the regular new night hours, but it is absolutely worth it to meet up with friends or colleagues here for happy hour. The fantastic menu features hearty, gourmet diner food - everything from soups and salads to fry bread tacos and burgers to heaping entrees.
Here's a tiny peek at some of the dishes you can enjoy:
Tomato Soup with basil & croutons ($7 HH menu) -- and keep in mind these are the adorable launch party portions. You get more with the regular happy hour portion.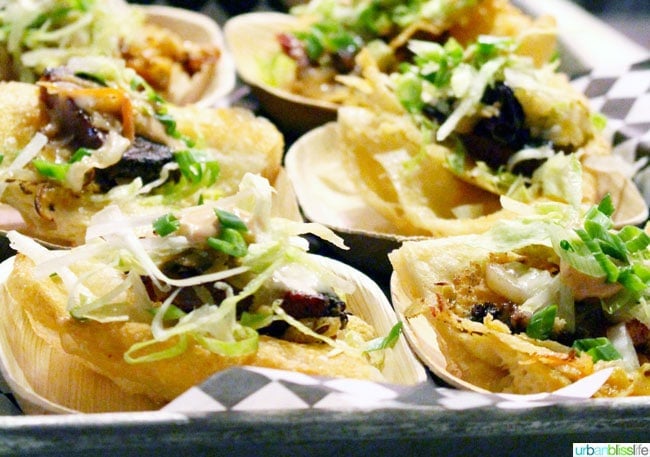 House Smoked Pastrami Taco with russian dressing, swiss cheese, sauerkraut ($6 HH menu)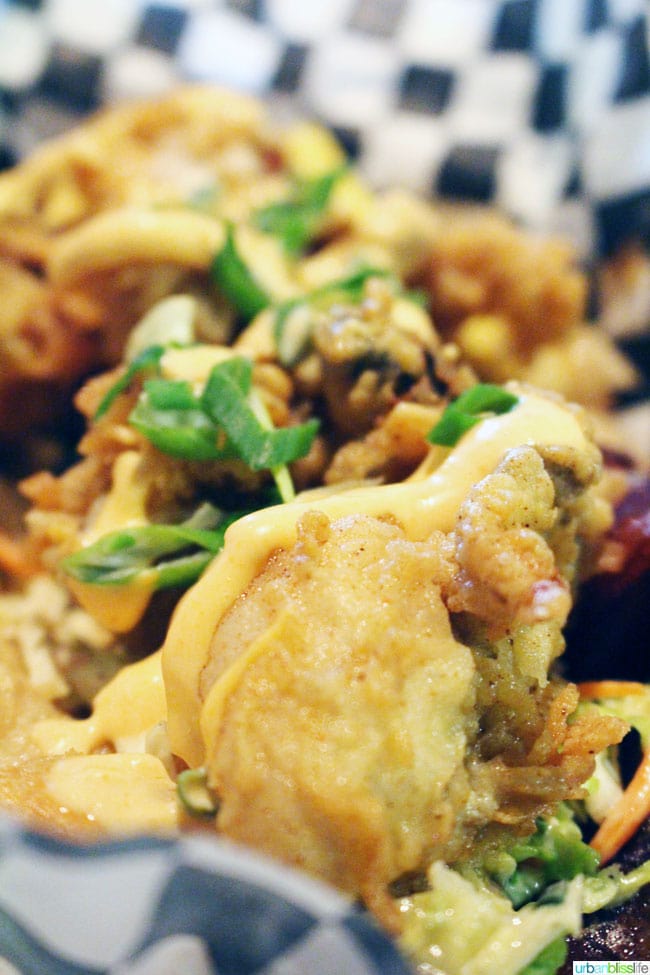 My favorite of the fry bread tacos: the Hangtown Fry Taco ($6 HH menu) with fried oysters, eggs, bacon, and spicy mayo. Normally, I find fried oysters to be a disappointment -- too chewy and rubbery from neglect in the fryer -- but these babies were fried to perfection. The added crunch of the bacon with the comforting sweetness of the egg and spicy mayo create a lively, inspiring combination of flavors. So good.
Buttermilk Fried Chicken with mashed potatoes and gravy ($13). You can never go wrong ordering this dish. The chicken is consistently tender while the batter is nice and crispy all over, like good fried chicken should be.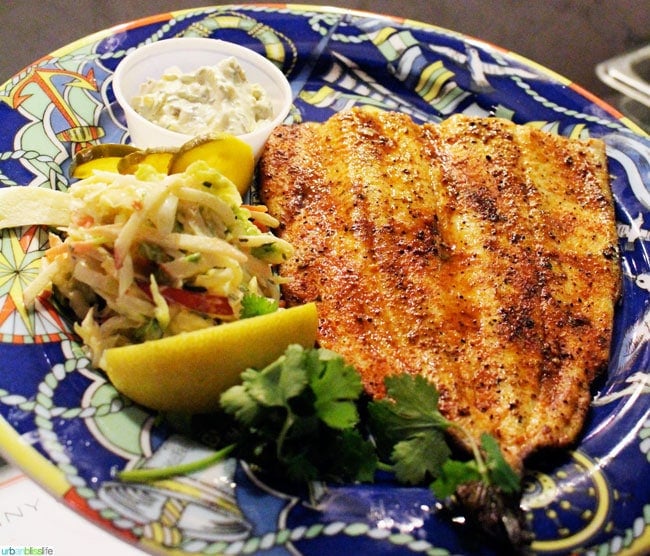 Blackened Trout with coleslaw, gribiche, lemon ($14). I only ate this dish with my eyes, but I can tell you that already I was impressed by how well seasoned the trout was and it wasn't over-seasoned as I see happen so often in blackened fish dishes.
Visit Portland Penny Diner
I'm thrilled that Portland Penny Diner is stepping out and branching from breakfast and lunch into a full dinner and happy hour spot. This is a great place to meet up with friends or colleagues after work, or to kick off date night. The atmosphere is still casual, but you won't be out of place if you're a little dressed up. While the interior is small, they've done a great job creating lots of seating space, with high top tables as well as banquette seating in the front and back of the diner. And if you're just popping in for a drink or two, there are spots right at the bar waiting for you.
Portland Penny Diner
410 SW Broadway
Portland OR 97205
503.228.7222
Monday - Thursday: 7am to 3pm; 4pm to 11pm
Friday: 7am to 3pm; 4pm to Midnight
Saturday: 4pm to Midnight
Sunday: Closed
Happy Hour: 4-6pm Monday-Saturday