Nestled in the Yamhill-Carlton AVA of Oregon's Willamette Valley, Gran Moraine Winery offers a blend of sassy and modern meets sophisticated tradition. Here you'll find delicious Oregon Pinot Noir, Chardonnay, and Sparkling Wines, along with a new Culinary Creations program.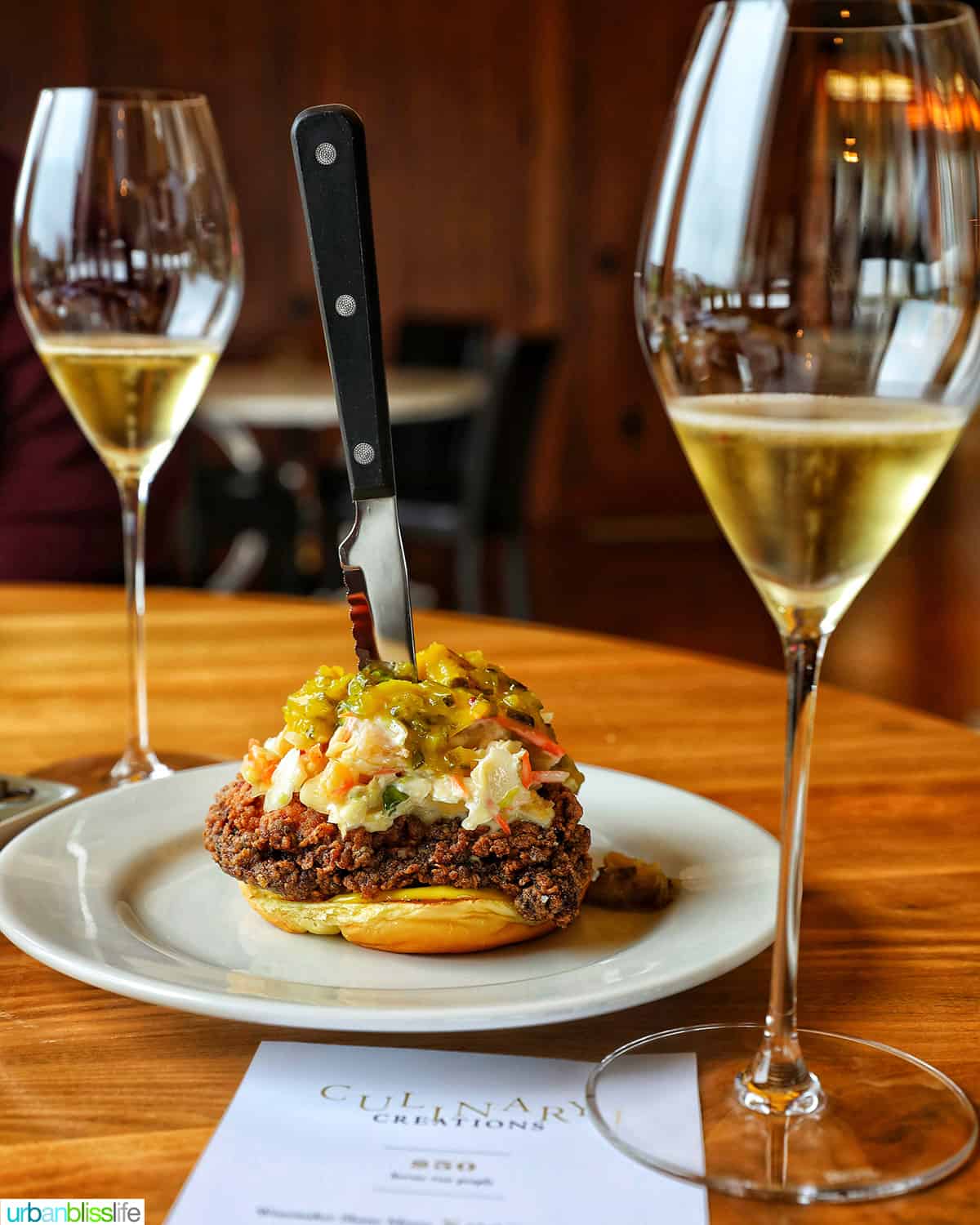 About Gran Moraine Winery
Founded in 2013, Gran Moraine Winery is located in the Yamhill-Carlton AVA within Oregon's lush and most famed wine country region, the Willamette Valley.
With a focus on Oregon Pinot Noir, Chardonnay, and Sparkling wines, Gran Moraine produces approximately 11,000 cases each year. Eugenia Keegan is the general manager and Shane Moore is the winemaker.
Stepping into Gran Moraine Winery in Yamhill, Oregon, you get an immediate sense of old world wine traditions meets a little funky experimental rock-and-roll.
And I think you'll dig it.
The furniture, wine labels, menus, and seating all exude traditional winery style - classic, elegant, sophisticated. But then there's pops of modern photography on the walls. A pink neon sign that reads "Flavorscape." Super friendly hosts who will geek out with you about wine if you want (I usually do, so this makes me happy) or simply let you sit back and enjoy the wines without too much talk.
Wine tasting at Gran Moraine Winery is a fun, lively, and lovely experience. And, they've recently added a Culinary Creations experience that you MUST try the next time you go wine tasting here (more on this food + wine experience below).
Alain and I had the best time on our recent visit, and we think you will, too. If you end up making a reservation to visit, please let them know Urban Bliss Life sent you!
Gran Moraine Wines
The very first Gran Moraine wine I ever tried was their Yamhill-Carlton Rosé, several years ago. It was a summery song of strawberries and sunshine in a bottle. The current release, their 2020 rosé, is available for $28 per bottle.
Brut Rosé
Upon entering Gran Moraine, we were promptly welcomed in by friendly (masked) faces and poured glasses of the Gran Moraine NV Yamhill-Carlton Brut Rosé ($50).
Normally a blend of Chardonnay and Pinot Noir, we were told that this release of their sparkling rosé also included a touch of Pinot Meunier along with Chardonnay and Pinot noir. The result is a very light, dry wine, with subtle hints of citrus and floral notes.
It's a fantastic introduction to the Gran Moraine sparkling program and a delicious way to start your wine tasting experience.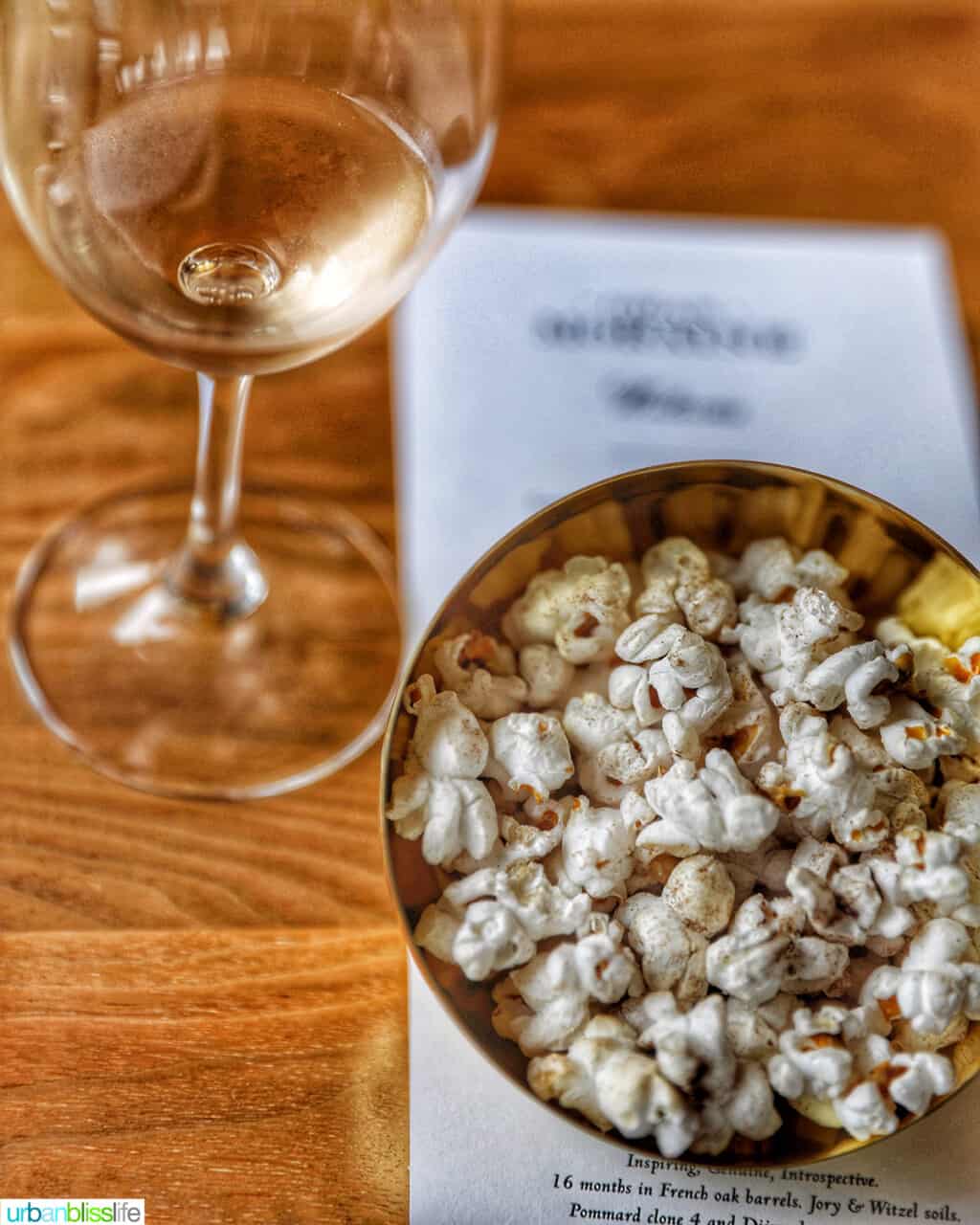 We enjoyed the brut rosé while snacking on some lightly spiced popcorn.
Blanc de Blancs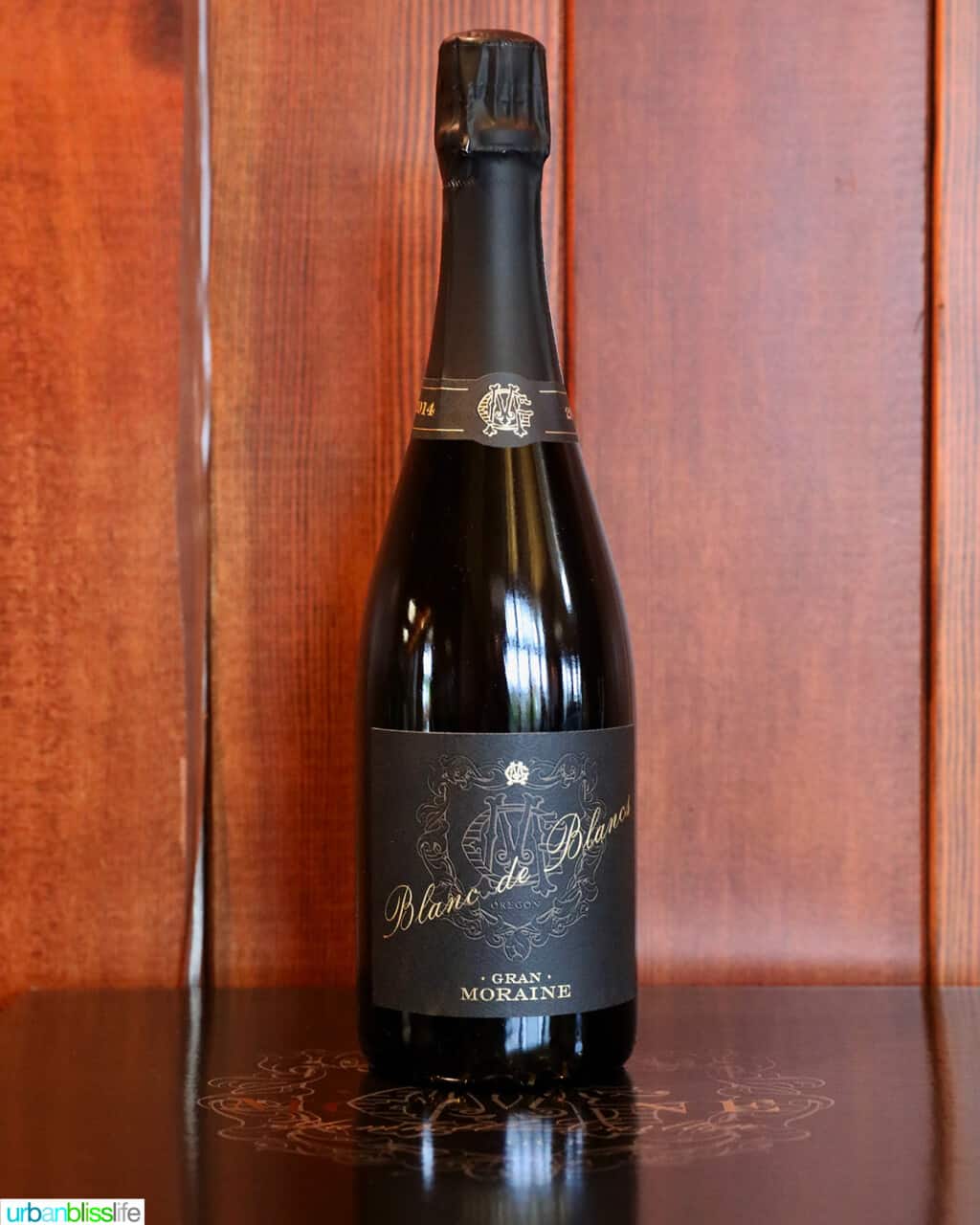 The star of the season at the winery is the inaugural release of the 2014 Blanc de Blancs ($90).
This sparkling wine is comprised of 100% estate-grown Chardonnay. It's en tirage (lies in bottle on the lees) for 5 years and 9 months.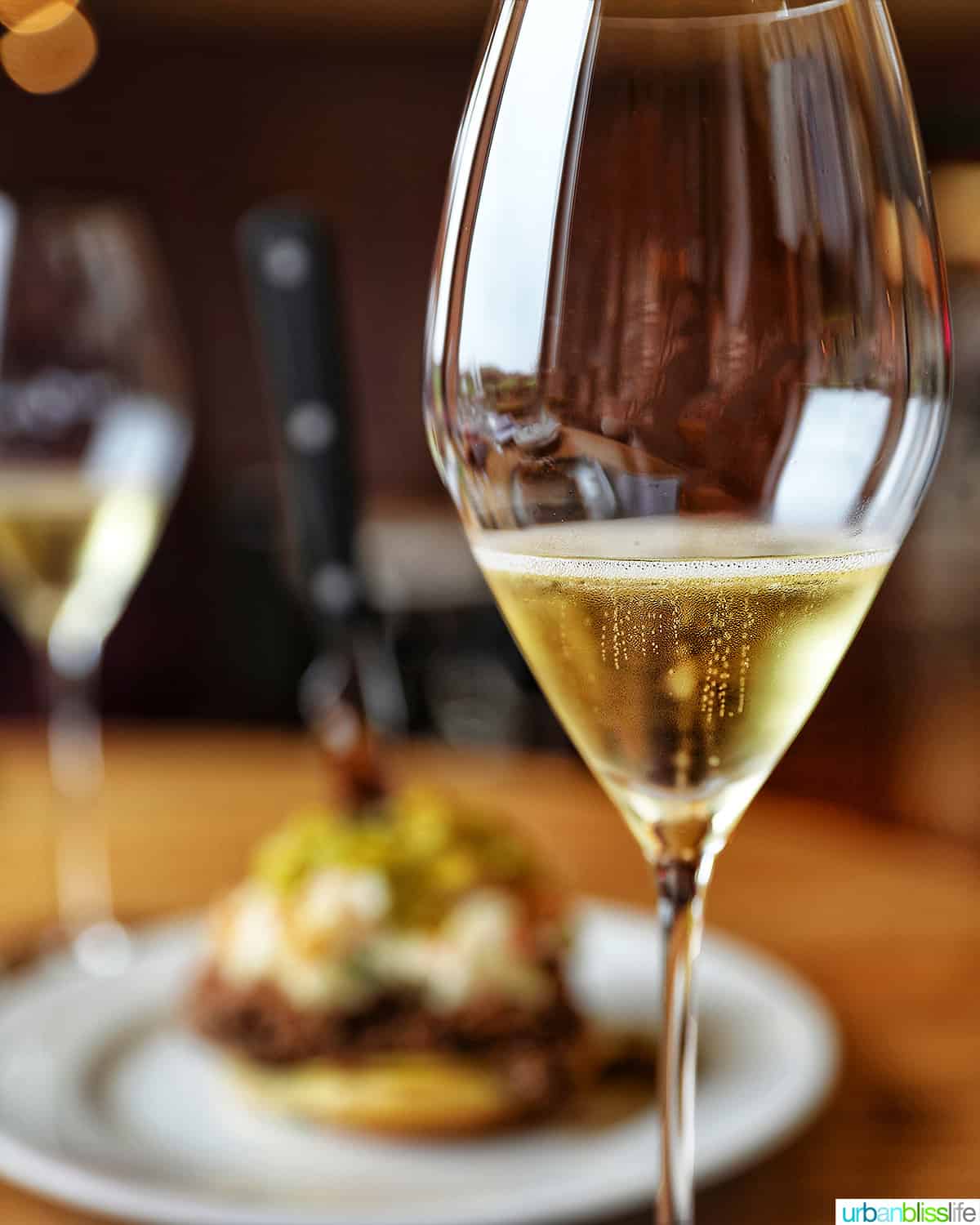 The 2014 Blanc de Blancs is a simply stunning sparkling wine. With classic light lemon and brioche flavors, and lemon, lime, and stone fruit aromas. Only 152 cases of this wine were produced, so I suggest purchasing a bottle (or half case) before it's gone!
Pinot Noir
The next wines on the current tasting menu: the 2017 Cascade Pinot Noir and the 2018 Dropstone Pinot Noir ($80).
The 2018 Dropstone Pinot Noir was both Alain's and my favorite of the two. It has ripe fruit flavors, nice acidity, and a smooth, elegant finish.
All of the Gran Moraine Winery Pinot Noir wines are only available in the tasting room. And they only make about 120 cases of each Pinot Noir. This is small batch artisan winemaking, and you can really taste the difference in the beautiful nuances with each wine.
Chardonnay
Our final Gran Moraine wine on the tasting flight was the 2017 Yamhill-Carlton Chardonnay ($80). Oh, we both fell hard for this wine. I'm particularly picky about Chardonnay and generally prefer stainless or concrete aging. But some can be too clinical and stark.
This vintage is magically done. Aged for 15 months in a combination of French oak and stainless steel tanks, it's zippy and fresh while also smooth and elegant.
We bought two bottles of the 2017 Yamhill-Carlton Chardonnay: one to drink within the year, and another to age. I can't wait to see how this wine blooms in a few years.
Zena Crown wines
In addition to Gran Moraine wines, during your tasting you will also have the opportunity to try wines from Gran Moraine's sister winery, Zena Crown.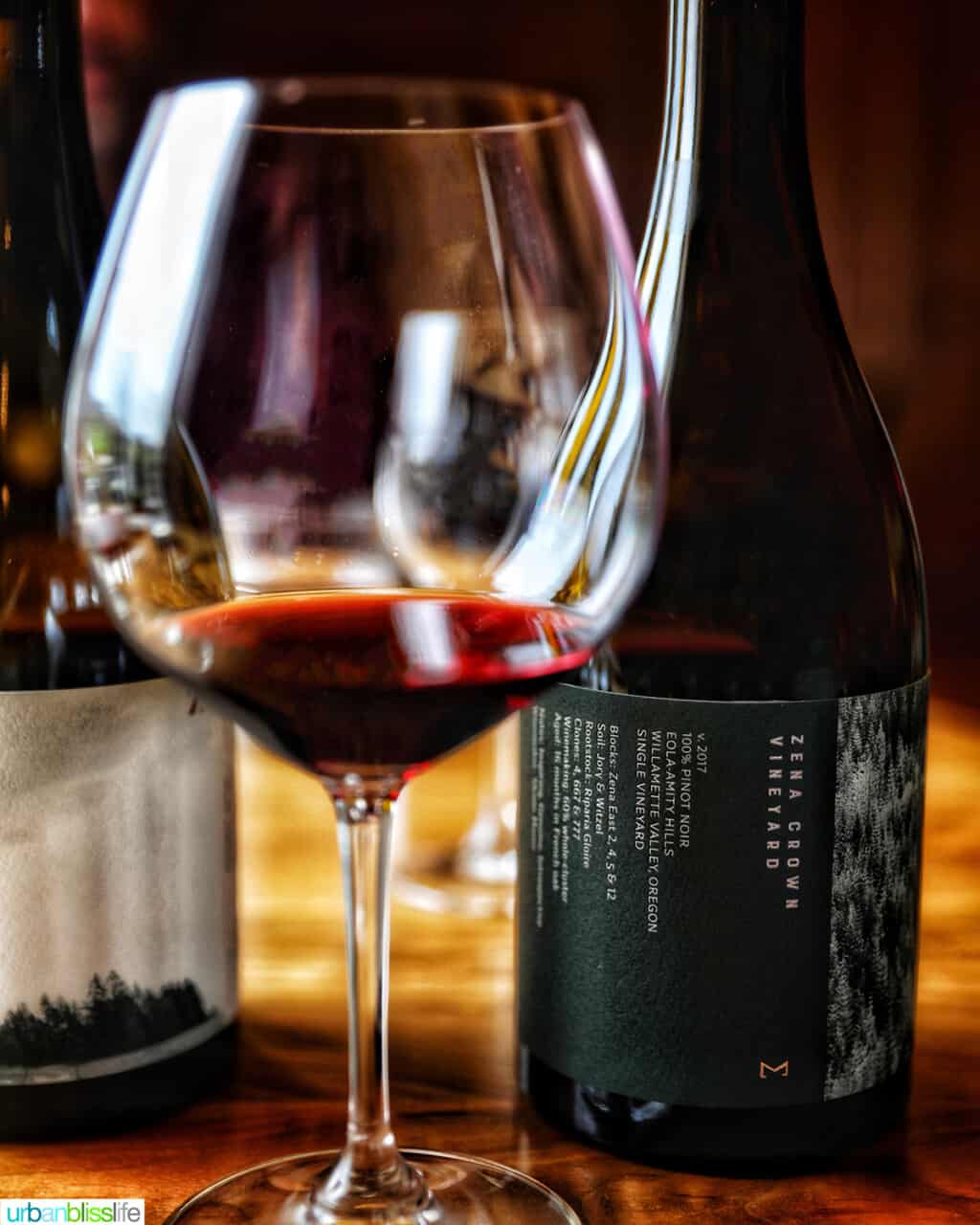 Zena Crown is an even smaller production vineyard, with only 2,000 cases of wine produced each year. It shares the same winemaker as Gran Moraine - Shane Moore - and produces four Pinot Noirs, one for each season.
Alain and I enjoyed both the 2017 Zena Crown Vineyard Slope Pinot Noir ($75) and the 2017 Zena Crown Vineyard Σ (The Sum) Pinot Noir ($75). Both were focused and refined, with rich red and black fruit aromas and flavors.
But in the end, we bought a bottle of Σ (The Sum) to take home with us. There was just something a little more mysterious, brooding, and decadent about this wine.
Culinary Creations
To complete your wine tasting experience, consider adding on Gran Moraine Winery's current Culinary Creations program. This is a $50 add-on to your wine tasting, and is available Thursday, Friday, and Saturday each week.
The experience includes three dishes conceptualized by Chef Dustin Joseph, of Biscuit & Pickles catering. Together they feed two or three people.
We were told the dishes were meant to be enjoyed with all of the wines on the tasting menu. But I've included my personal picks for the wines I found to be outstanding with each bite.
Fried Chicken + Sparkling Wine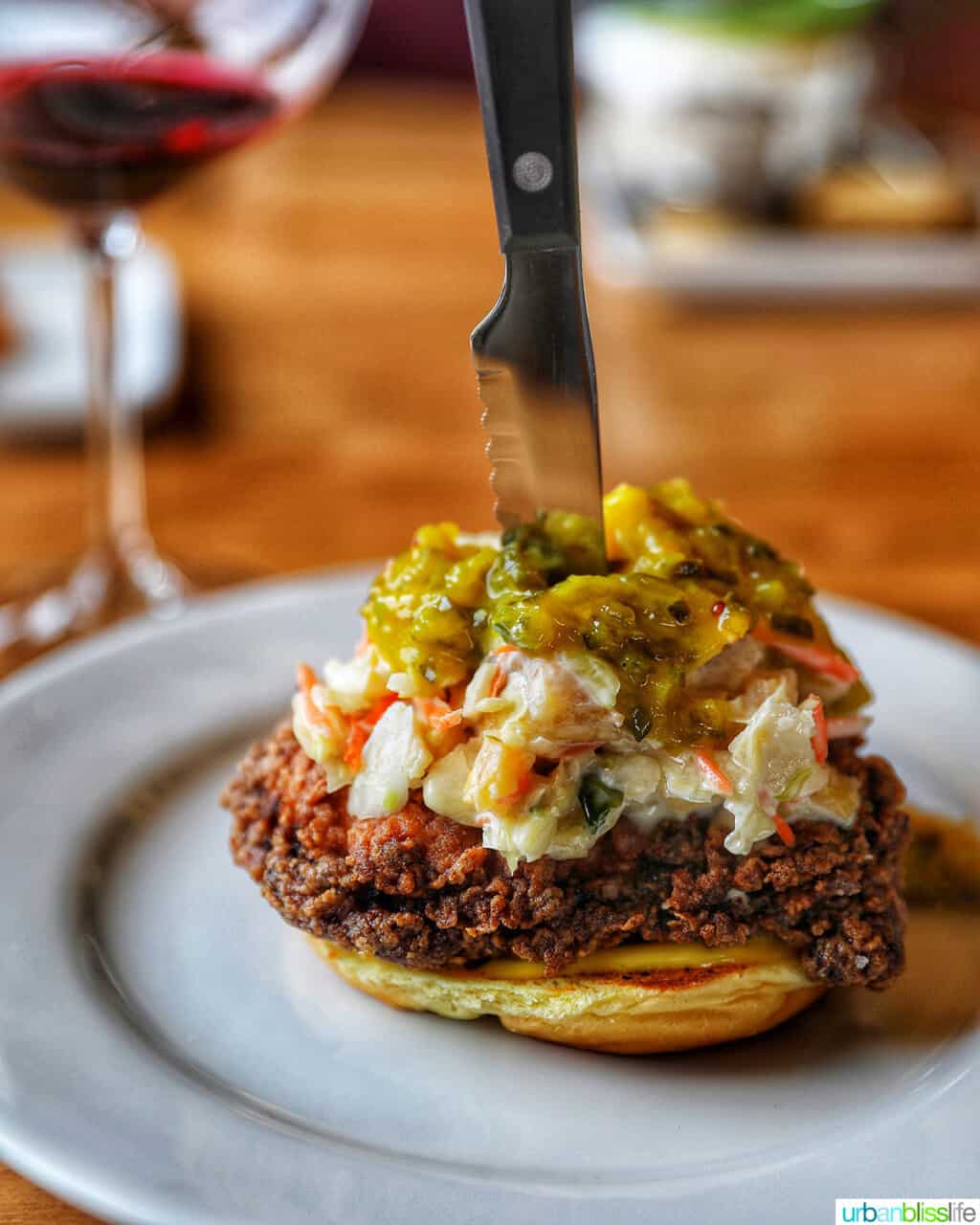 If you follow me on Instagram, you know I am a huge lover of the classic fried chicken and champagne/sparkling wine pairing. Call me basic, but I still think it's just the most delicious food and wine pairing of all time.
Chef Dustin has taken it to another level with a dish he calls "Extreme Smashability": his open-faced fried chicken sandwich. The chicken is coated generously and crisped to crunchy perfection. It's topped with sweet pickles and a super tasty champagne pineapple slaw. All of this on top of a toasted brioche bun.
Pairs well with: the 2014 Blanc de Blanc sparkling wine.
Pacific Northwest Salmon + Pinot Noir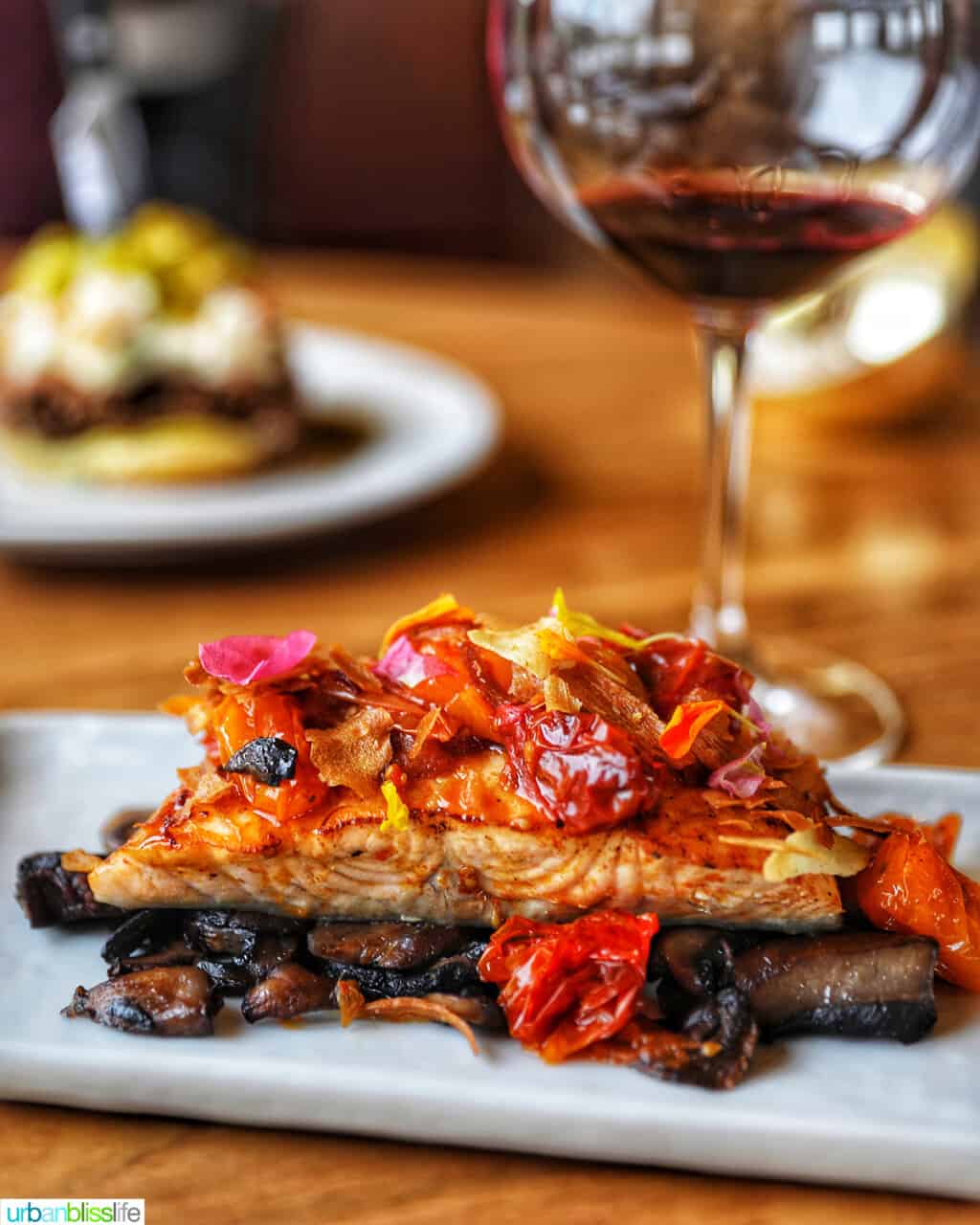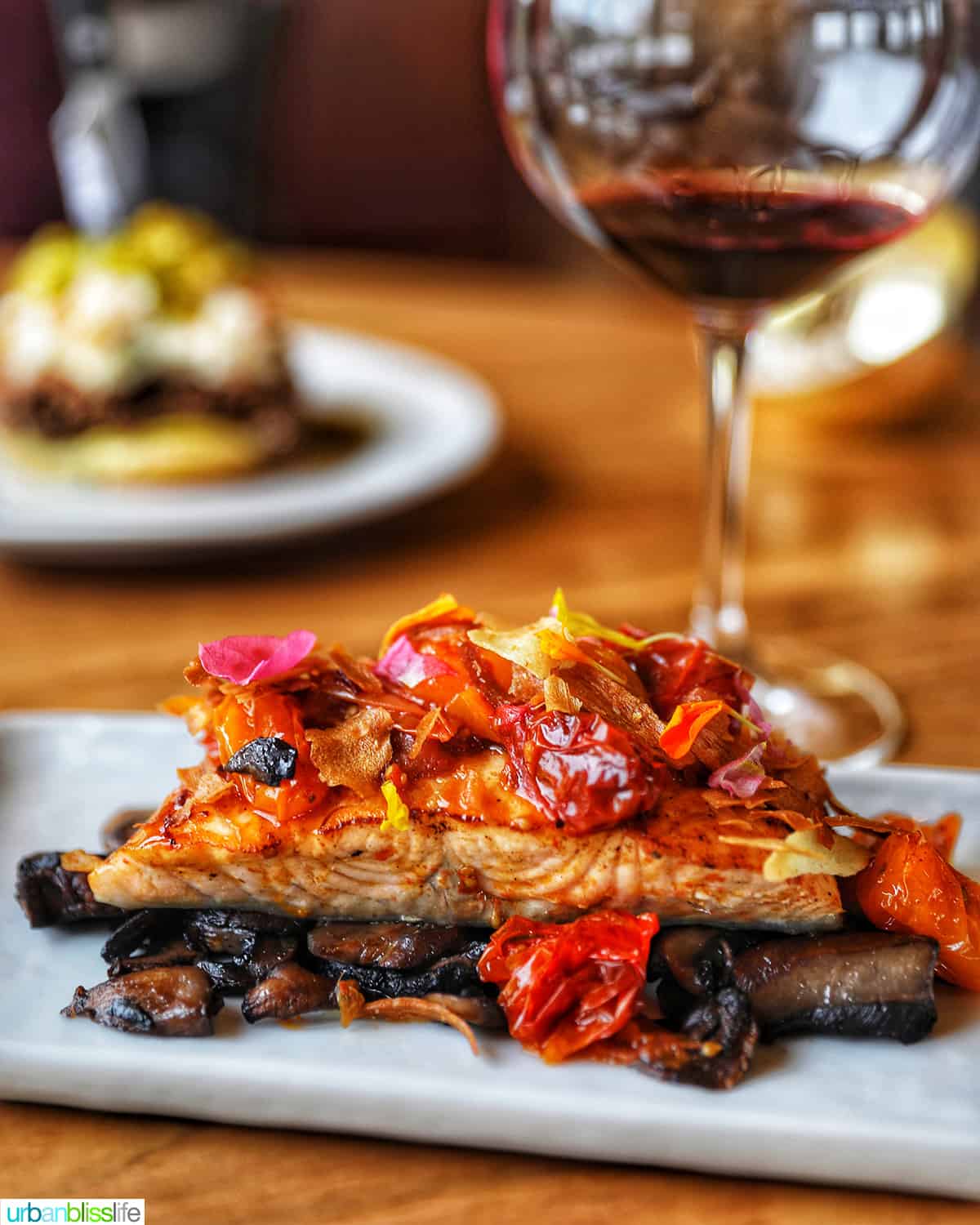 Titled "The Wild Western Edge," this dish is autumn in the Pacific Northwest on a plate. The Brown butter salmon filet is perfectly cooked. It sits on a bed of wild foraged mushrooms from the area, and topped with with heirloom tomato conserva.
Both sweet and savory, with big umami bombs, this dish is best enjoyed with any of the Pinot Noir wines on the tasting menu. However, if I had to choose one...
Pairs well with: the 2018 Dropstone Pinot Noir.
S'Mores + Chardonnay
"Can't Rush This" is a play on classic s'mores dessert. But, in my opinion, it's a million times better. Silky smooth Callebaut chocolate mousse is served in a cute mason jar and topped with toasted fresh marshmallow. The graham cracker cookies are way better than regular ol' graham crackers and taste so good dipped into the mousse.
Pairs well with: 2017 Yamhill-Carlton Chardonnay and the 2017 Zena Crown Sum Pinot Noir.
Wine Tasting at Gran Moraine Winery
Wine Tasting Experiences:
Tasting fees are $35 per person and waived for club members or with a $60 bottle purchase. Culinary Creations experience is an additional $50, and is available Thursday, Friday, and Saturday each week.
Maximum of 6 people per reservation; if you have more than 6 people in your group, please call the winery.
Outside food is not permitted.
17090 NE Woodland Loop Rd
Yamhill, Oregon 97148
503.662.5454
HOURS: Open Daily by appointment, 11:00 am to 5:00 pm

For more information or to reserve your wine tasting experience, please visit the Gran Moraine Winery website.
More Oregon Wineries to Explore