Going wine tasting in Oregon's Willamette Valley wine country? Visit Lenné Estate in the Yamhill-Carlton AVA for outstanding Oregon Pinot Noir, Chardonnay, and Rosé wines.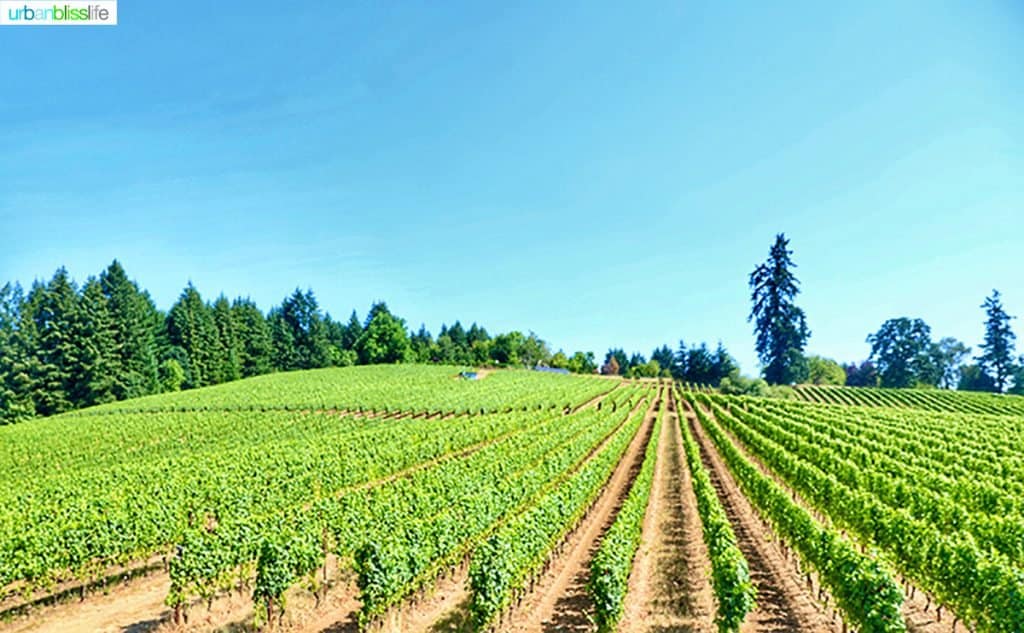 I missed the entrance.
Driving along Bald Peak Road, I was lost in wine daydreams. This area of the Yamhill-Carlton AVA is so peaceful. It holds a quiet beauty that is different from neighboring Dundee Hills AVA. There's something soft about the shadows that fall here, something more rugged about the land.
"Your destination is on the right."
Puzzled. It is? How did I miss it?
I turned to go back, and see that while I was staring at the beautiful land, I had just missed the clear sign for Lenné Estate. Driving up the gravel road, I noted the gradual increase in elevation. I waved to the cows welcoming me in on the left, and felt like I was entering a secret little paradise.
Lenné Estate
Lenné Estate sits on a small plot of land in Yamhill, Oregon. Owner Steve Lutz purchased the land in 2000, and planted the first vines in 2001.
The 21-acre estate vineyard (first photo above) is situated on a steep, south-facing slope that is ideal for grape growing. While challenging to farm for the first five years, the Peavine soil that exists in the vineyard is well-draining and low in nutrients, which is ideal for vineyards. This helps produce grapes that tend to be more concentrated, with richer, more complex characteristics right off the bat.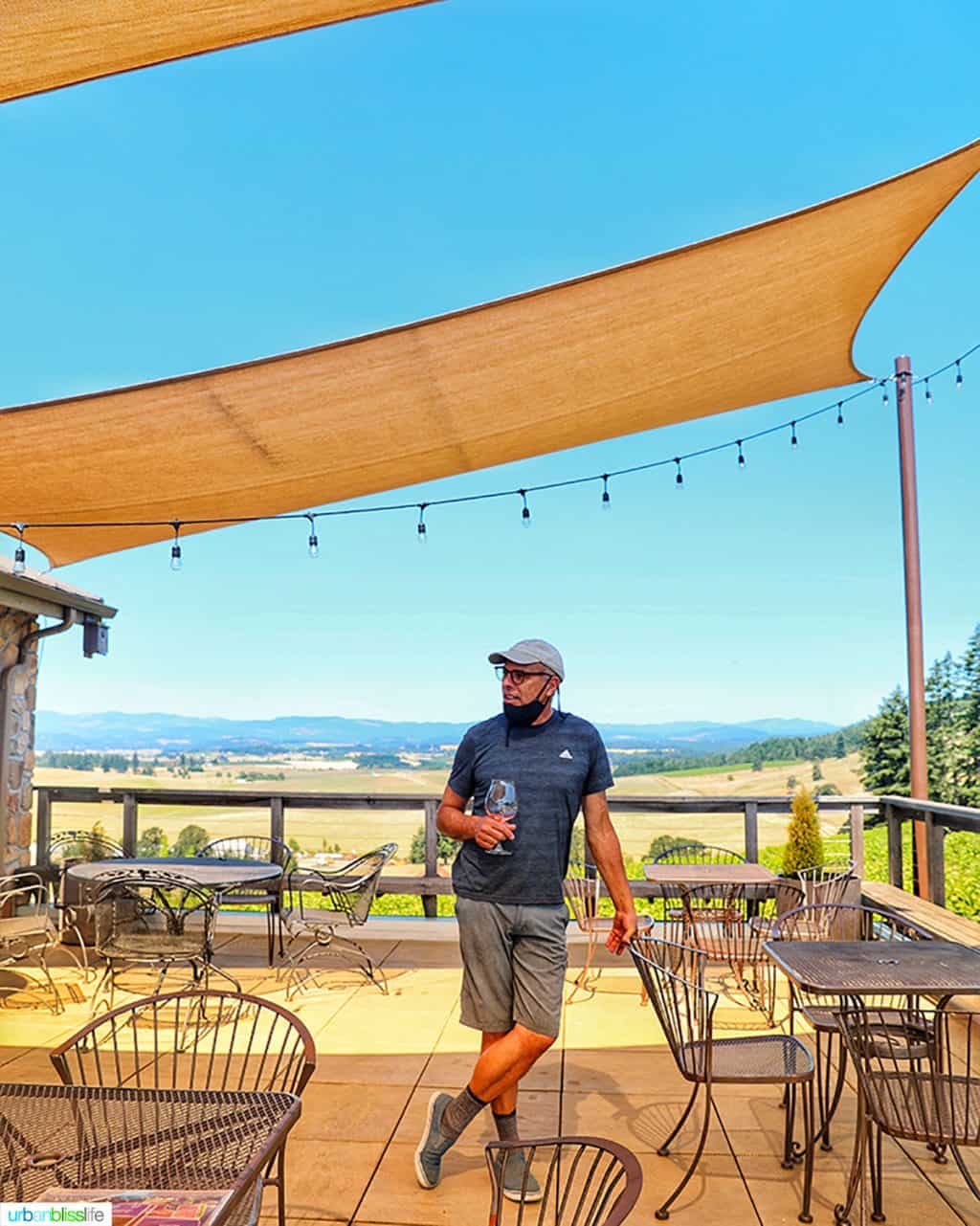 Lenné Estate operated mostly as a Direct to Consumer (DTC) winery. That means do very limited distribution, so you likely won't find their wines en masse on your local grocery store shelves.
Rather, their business relies on wine club members (approximately 700 to date) and guests who visit for wine tasting appointments. This also means that unlike other wineries who rely heavily on distribution, when COVID hit, it was almost business as usual at Lenné Estate.
Wine tasting at Lenné Estate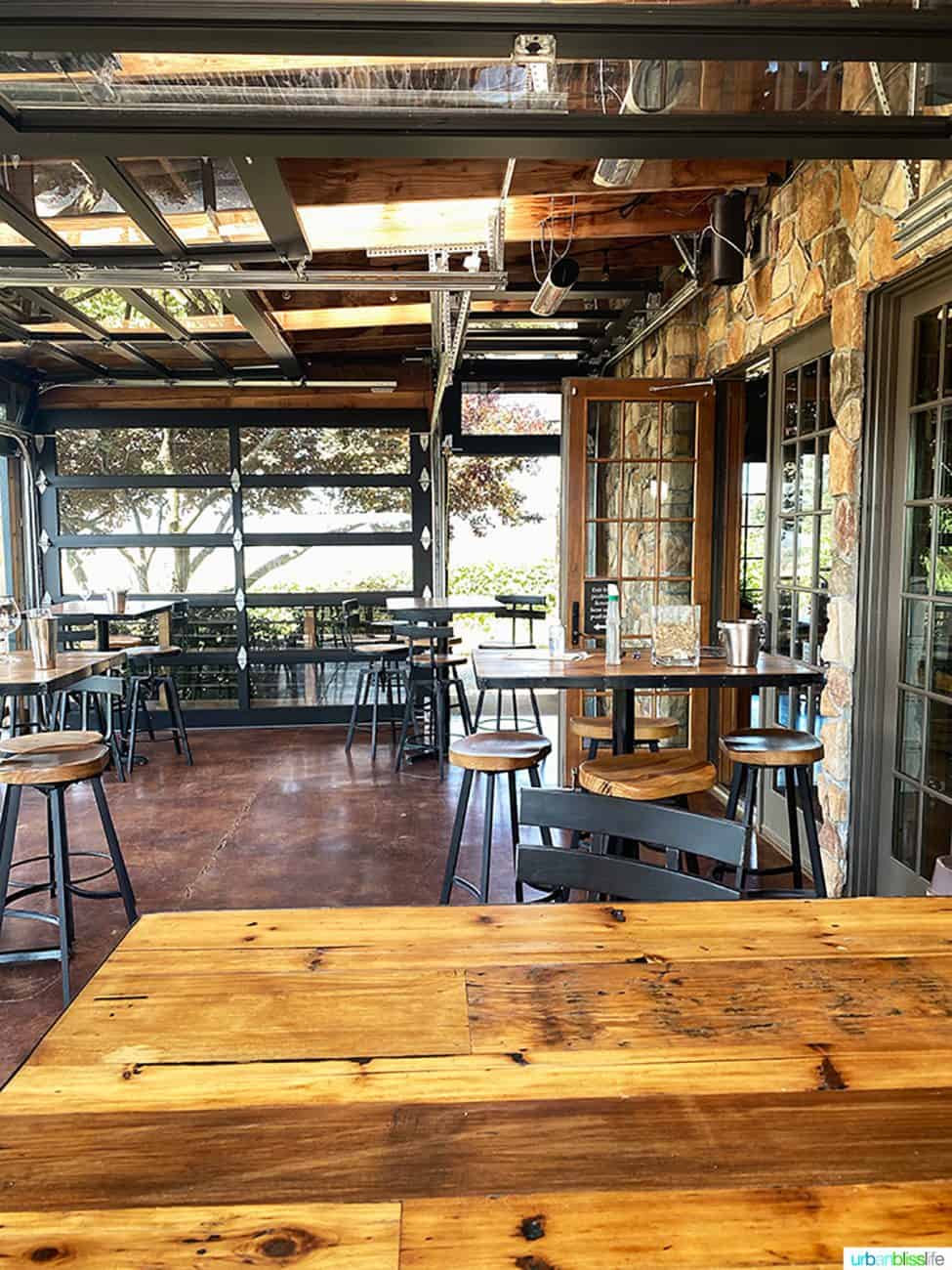 The Oregon winery did have to make some adjustments to their wine tasting experiences to meet state COVID safety standards, like all other wineries.
Reservations are required.
All tastings are conducted in the open-air seating, with beautiful vineyard views. Lenné Estate has an open-air patio adjacent to the entrance to the tasting room, as well as an upper deck terrace with views of the estate vineyard.
Staff members will wear masks at all times. Guests are required to wear masks upon entering the tasting room, and encouraged to wear face coverings when not seated for tastings.
Hand sanitizer is readily available. Surfaces and bathrooms are sanitized regularly in-between appointments.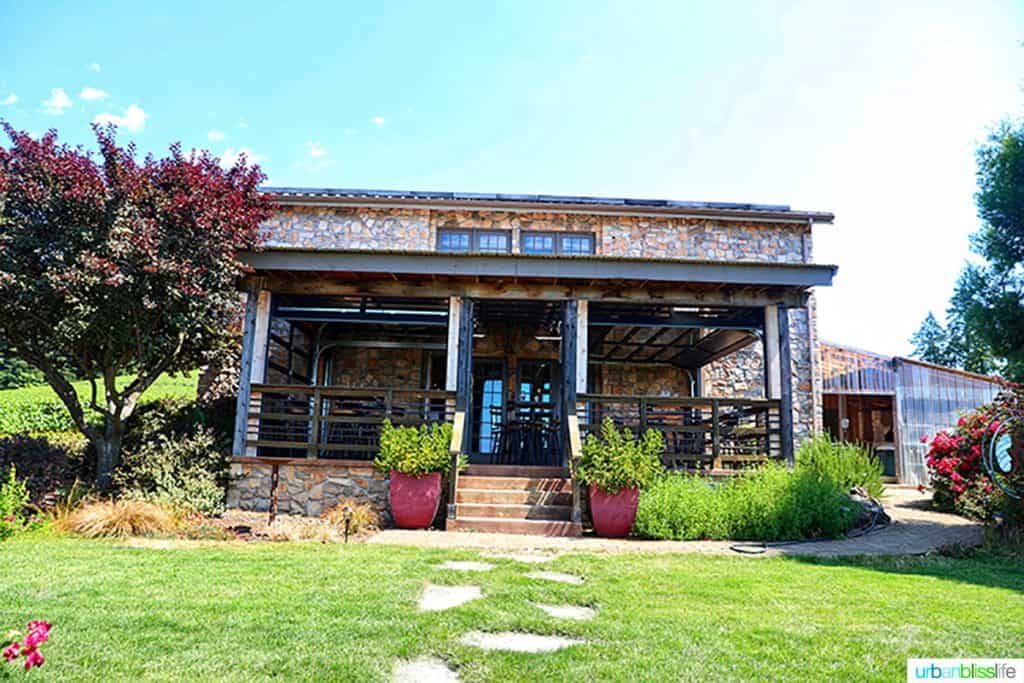 The winery's standard tasting flight consists of six wines: a rosé, chardonnay, and four pinot noirs. The cost is $20 per person which is refunded with any two bottle purchase or wine club join.
This Oregon winery is dog-friendly, and allows outside food. However, cheese and charcuterie boards are also available for purchase during your tasting.
Lenné Estate Wines
The 2019 Lenné Estate Rosé ($24) is a lovely pale pink-orange, with soft watermelon and strawberry on the nose and palate.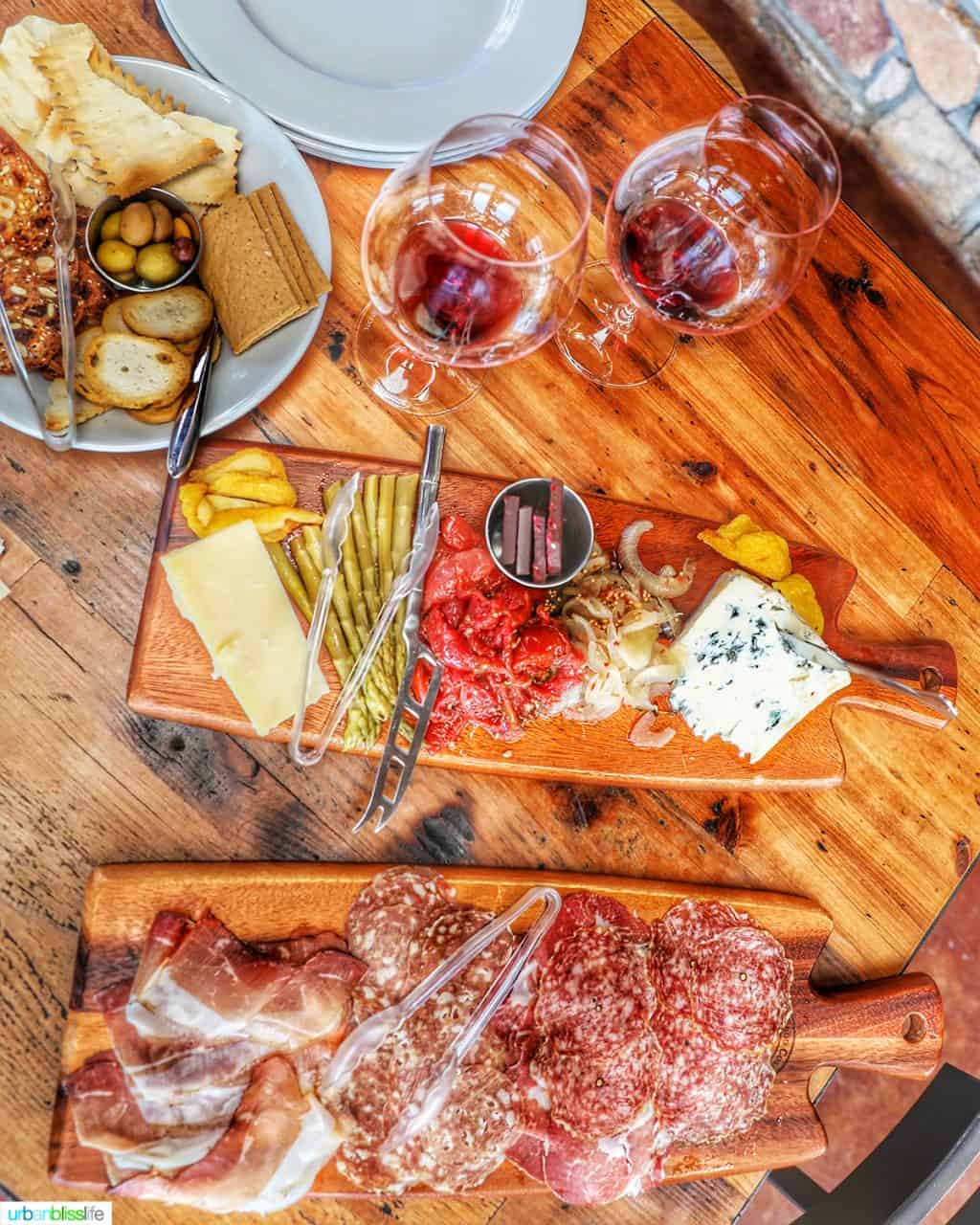 Pinot Noir is where Lenné Estate truly shines. I've enjoyed quite a lot of Oregon Pinot Noir in my years, and the wines produced here are truly something special.
The typical Oregon Pinot Noir is pale to medium ruby, light-bodied, with light to medium tannins. The Pinot Noir wines I tasted at Lenné Estate generally had more body, with slightly richer tannins. They also had luscious, more complex aroma and flavor characteristics.
There is a velvety chocolate and cherry cola flavor that I fell in love with in the 2018 Jill's 115 Pinot Noir ($55). If you try this wine, do yourself a favor and enjoy it with a bite or two of Theo's Chocolate Raspberry Dark Chocolate Bar. The two were made for one another. I bought a bottle, along with the 2016 South Slope Pinot Noir ($55), which was velvety, smooth, and beautifully balanced with a long finish. I suspect both will age very well over the next few years.
You'll also find lovely Chardonnays here. I tasted the 2017 Scarlett's Reserve Chardonnay ($55) and 2018 Lenné Chardonnay ($48). The 2017 has more tertiary characteristics of brioche and cream - it's very smooth. The 2018 Chardonnay is bright and crisp, with pear and green apple.
Visit Lenné Estate
If you do visit Lenné Estate, you might get caught up in the quiet beauty of the area, as I did. That's okay. It's understandable. Just make sure you find your way back to the entrance – there's even more beauty awaiting you behind the Lenné Estate gates.
Reservations are required for wine tastings. Please be sure to visit the Lenné Estate website for the winery's most up-to-date wine tasting information.
18760 NE Laughlin Rd
Yamhill, OR 97148
503-956-2256
HOURS:
Mon, Weds, Thurs, Fri - Tasting appointments at 12:30, 2, and 3:30.
Saturday & Sunday, tasting appointments at 11am, 12:30, 2, and 3:30.
For more information, visit lenneestate.com
Looking for a nearby stop for your Yamhill-Carlton wine tasting experience? Consider a stop at Gran Moraine Winery.
More Oregon wine articles
PIN IT: