Technology, science, and the art of wine tasting meet at the new Stoller Experience Center.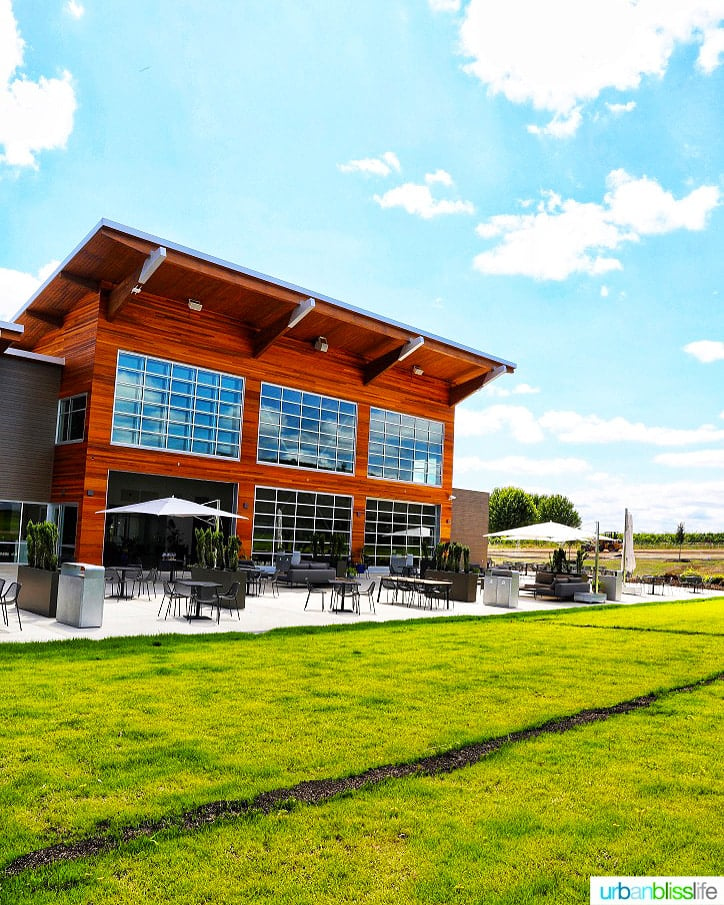 Where do you go when you have friends who are the ultimate wine geeks, friends who have never been wine tasting before, and friends who simply enjoy wine on a sunny weekend? Take them all to Stoller Family Estate in the heart of Oregon's Willamette Valley wine country.
With the addition of the new Stoller Experience Center, there is absolutely a space for everyone here.
Stoller Experience Center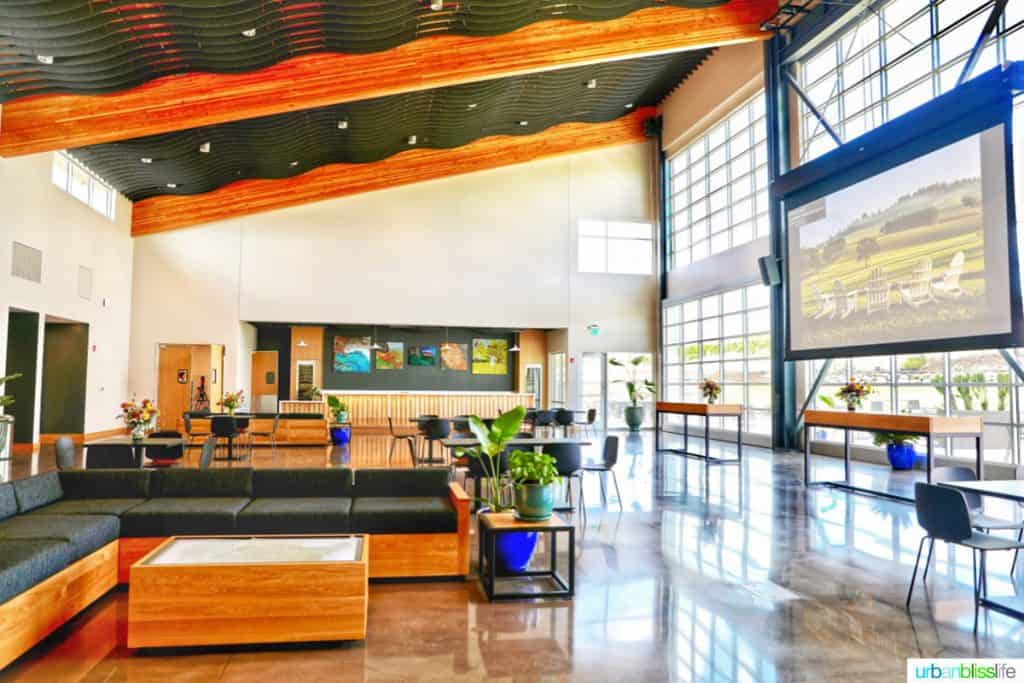 Located a short walk west of the main tasting room, just above the old grain silo, is the brand new 8,000 square foot Stoller Experience Center.
It opens to the public this Friday, July 17, 2020, but I got a special sneak peek last week. I'm so excited to share how this additional space makes learning about winemaking and the vineyard more accessible with emerging technologies. And, I'll show you the expanded wine tasting areas and event space.
This is no ordinary wine tasting building
The technology is impressively woven organically throughout the Stoller Experience Center. When you walk in, it looks like a large, regular tasting room - similar to the existing main Stoller tasting room. You are welcomed in as a winery guest here to taste Stoller wines, first and foremost.
But then, you start to notice: this is no ordinary tasting room.
High tech wine tech
To your right behind the main wine tasting bar is a massive 20-foot interactive screen that can be controlled to show a variety of multimedia displays.
Across the room, is a similar 20-foot display - this one, an art installation. What's so unique about an art installation in a winery? This one is an augmented reality installation. Each canvas has technology tucked within, and then Corvallis, Oregon artist Jonmar paints over each canvas.
You can then use one of the Stoller iPads to interact with the art. Super cool, right?
Note: the above photo shows a temporary example of how it would work. The final art installation will be revealed at the official opening.
Get ready to geek out
Many of us who love wine and study wine are eager to learn more about what we are drinking when we go wine tasting.
If this is also you, then take a seat at the Stoller Experience Center. Here, you can taste wines while learning more than you ever thought you could learn, thanks to interactive touch screen tables.
And this is where the wine geek in me becomes absolutely got GIDDY.
You can learn detailed info about Stoller vineyards from the touch screen tables - the elevation, soils, vineyard management, climate. If you want to find out what vineyards your wine came from and more about the specific vintage, just touch the screen. Information is also organized by grape varietal, and there's a host of historical information about the land and the company.
There are two interactive displays located at the low tables with the comfy indoor couches, and two at the high tables near the windows.
And the stunning wall of roll-up-windows that separates the indoor space from the outdoor wine tasting also has a hidden tech treat: a 136-foot immersive display. This would be amazing for company events and for Stoller's special events.
Later this summer, guests will be able to enjoy a virtual reality experience in the new space.
The technology is amazing, there's no doubt. But we're here to go wine tasting. Does this new space with all its bells and whistles still allow for that signature Stoller hospitality?
Indeed, it does.
Wine tasting at Stoller Experience Center: what you need to know
In addition to inside seating, the patio of the new Stoller Experience Center can hold upwards of approximately 250 people. Of course, these are social distancing times, so at both the regular tasting room and the new space, you'll find tables a wide distance from each other.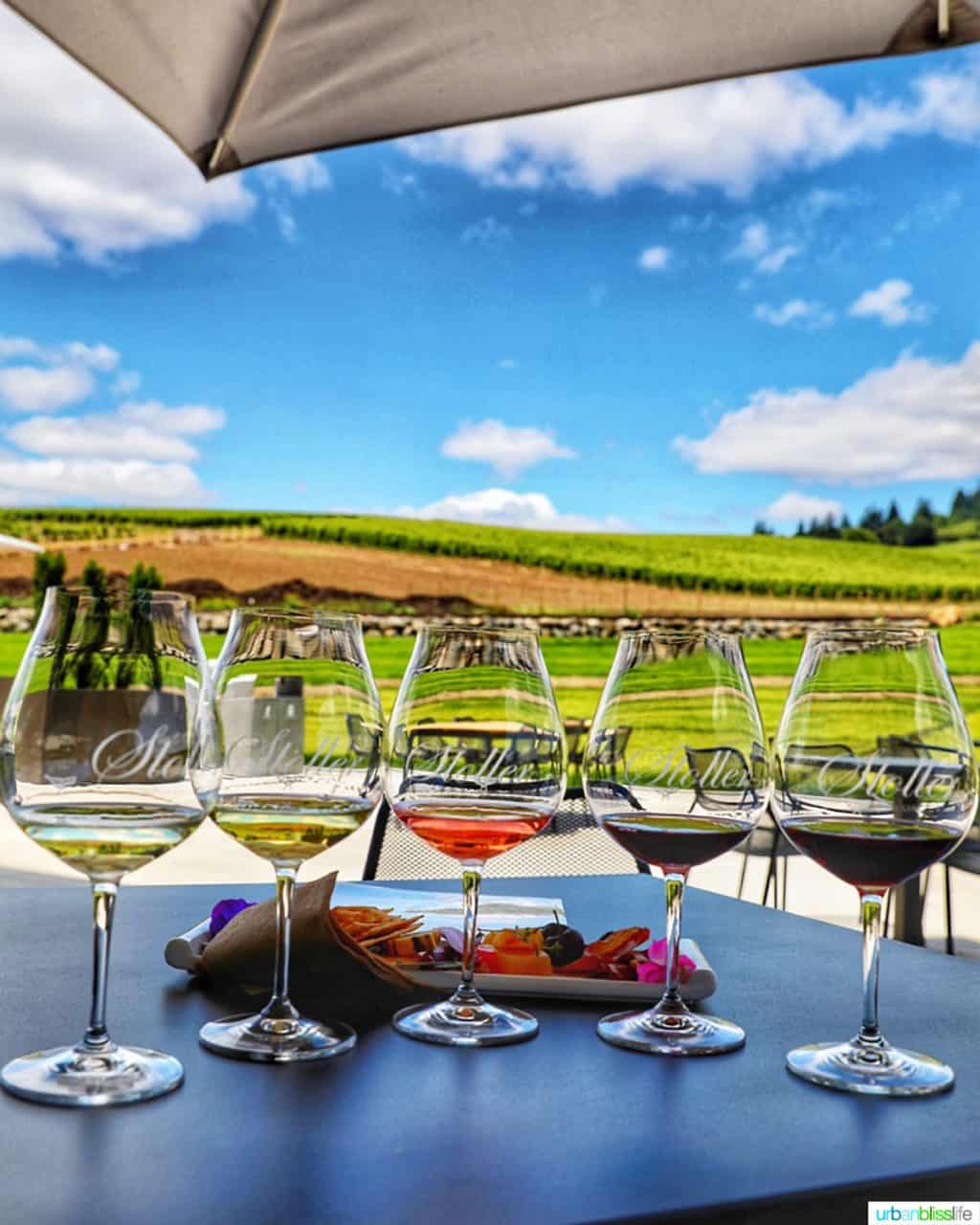 Like most wineries these days, reservations are required. You can make your reservation online right now and specify you'd like to be seated in the new Stoller Experience Center. Preference is given to club members.
Once you arrive, you'll be greeted in the driveway and directed to the center. The greeter will notify the tasting room of your arrival, and that is when your wines will be poured. Masks are required while you're up and about the tasting room and not seated.
Each reservation is for one and a half hours, which allows Stoller staff time to fully clean and disinfect the space, glasses, etc. before the next reservation.
Due to current climate safety guidelines, wine flights are poured all at once instead of one wine at a time. Each flight is $20 each and the tasting fee is waived with a two-bottle purchase; club members can still enjoy a complimentary wine tasting flight.
Wine tasting food menu
Stoller offers a nice range of food to nosh on while you are wine tasting. Choose from sandwiches ($16), cheese and charcuterie board ($30), a cheese board ($30).
Kids are welcome at Stoller, but now more than ever, they ask that parents keep a very close eye on them. You can order a Stoller Kids Snack Pack for $10 and a juice box for $2. The kids' snack packs have cheese, crackers, fresh fruit and/or vegetables, almond butter, and jam.
One of the exciting additions with the Stoller Experience Center (at least, for foodies who come to visit) is a shiny new full kitchen. Chef Becca Richards, known as Chef Bex, is Stoller's Culinary Director, and, in my opinion, one of the area's most talented winery chefs. I'm sure this kitchen will allow her to flex her culinary talents even more, and Stoller guests are sure to benefit from it.
Visit the Stoller Experience Center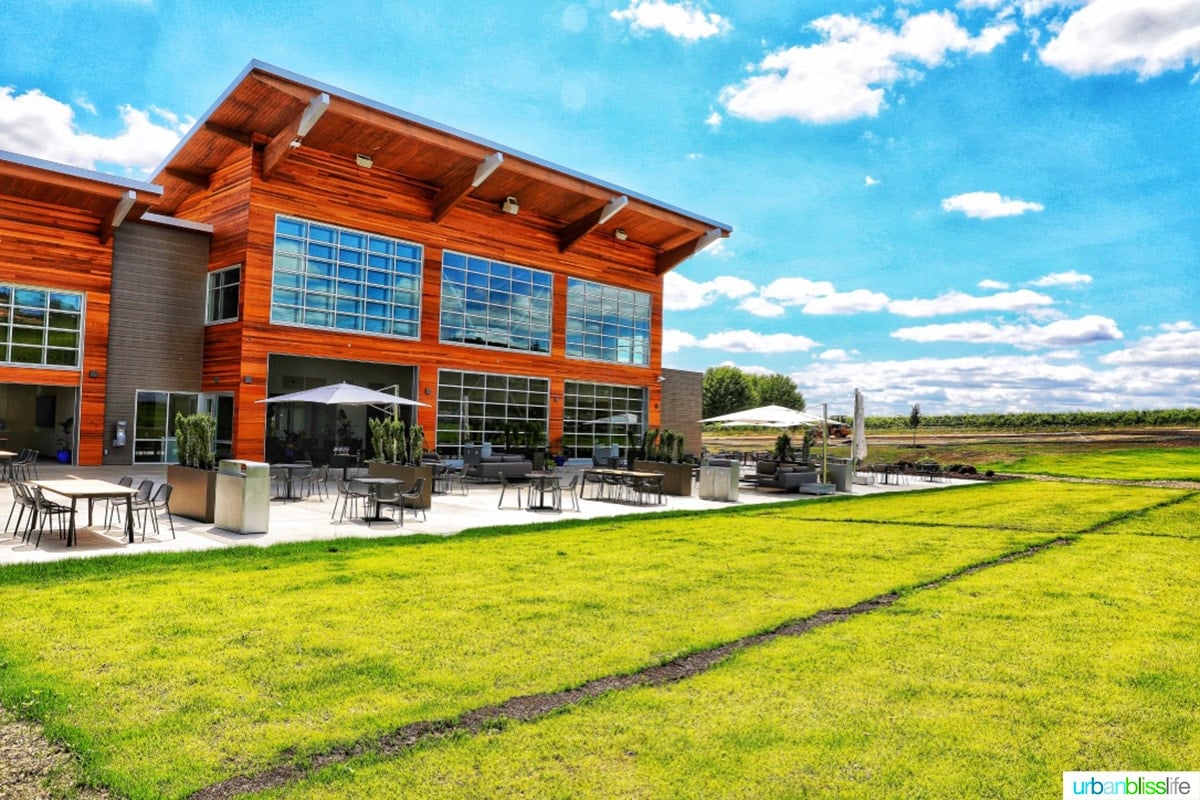 The Stoller Experience Center opens Friday, July 17, 2020.
Stoller Family Estate
16161 Northeast McDougall Road
Dayton, OR 97114
(503) 864-3404
HOURS: Open daily, 11am - 5pm
Wine tasting reservations are required in advance.
Make your wine tasting reservation online
Wine tasting flight cost: $20 per person, waived with 2-bottle purchase. Club members receive a complimentary wine tasting flight.
PIN IT