With stunning views, beautiful flowers, and delicious housemade wines and ciders, The Gorge White House is a must-visit stop while in Hood River, Oregon.
Driving along the Mount Hood Scenic Byway, Highway 35, in Oregon, you'll find a large white Dutch Colonial home amid an idyllic setting of old trees, colorful flower gardens, and blooming orchards.
This is The Gorge White House, and you absolutely cannot drive by it. I dare you to try, but I promise you that it will pull you into its little slice of paradise and you will leave happier and refreshed than you came.
The Gorge White House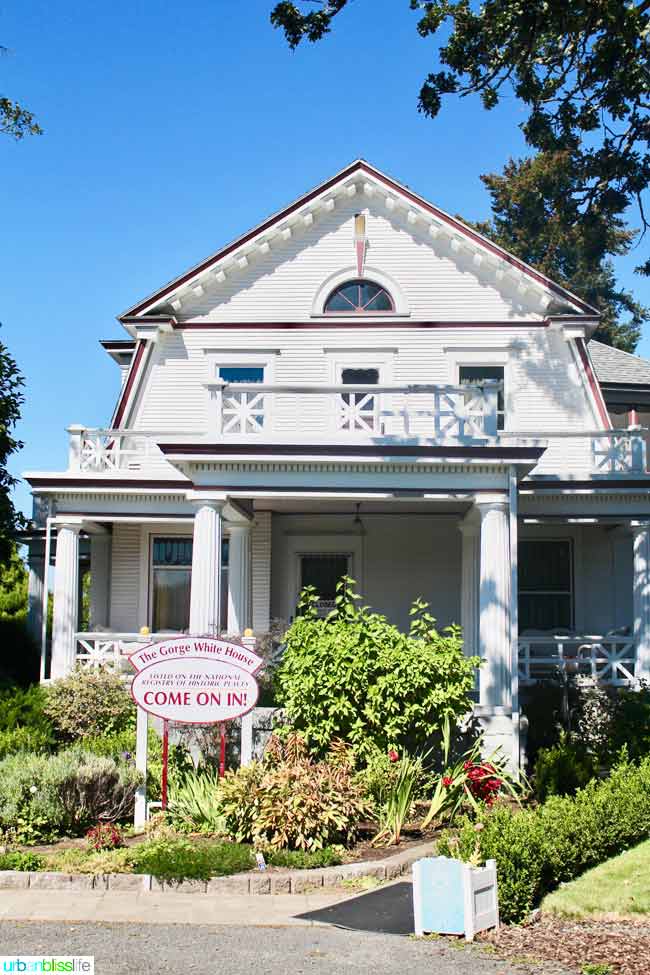 With its gambrel roof and classically styled columns, this 1908 Dutch Colonial home remains largely as it was when it was first built, with some minor renovations. The Hill family built and occupied this home and the farmland until the late 1940s, when it was sold to the Nunamaker family. The Gorge White House was then purchased by the Kennedy family in 2012; the Kennedy family has been farming in the Hood River Valley for four generations, and they continue to farm the land and run this destination hot spot.
Fruit and flowers
At The Gorge White House, you'll find an amazing array of fresh fruit available for purchase, as well as a beautiful flower cutting garden out back. Most of the fruit sold here is grown on the property, and from the family's fields. Pick up some fresh Pacific Northwest apples, pears, blueberries, raspberries, or strawberries and feast on those while enjoying the day.
The cutting garden offers gorgeous tulips, lilies, daffodils, and more. The last time I was here with my family, the kids had fun choosing a few for bouquets that brightened up our home as a great reminder of the fantastic family fun day we had out in The Gorge.
Ideal setting
With an Instagram-worthy backdrop of Mount Hood from many spots around The Gorge White House property, this is the ideal spot to stop and enjoy lunch or a road trip snack break.
There is plenty of outdoor seating, much of which is shaded by an enormous old tree, and lots of space for kids to roam about (supervised, of course).
You can pack a lunch or enjoy food from the food truck on-site, and you can't leave without trying their beer, hard cider, or wine.
Beer, Cider, and wine
With their amazing orchards, it's no surprise that The Gorge White House makes their own hard cider - and wine. At the tasting room within the 100+ year old home, you'll also find other local beers and wines available.
I highly suggest trying a taster tray of The Gorge White House's hard cider. Tastes are $1 each. You'll not find another spot in the area where you can try such a wide variety of hard ciders in one place.
The Gorge White House makes seven varieties of hard cider. Choose from Dry Newton Apple, Tart Cherry, Perry, Lemon Perry, Apple-Pear, Blueberry and Mixed Berry. You can't get these in bottles (yet!). However, you can purchase a growler or growlette to take some home with you.
I just want to mention that the taster tray above was shared between three people, and not just me. In case you were wondering.
The Gorge White House also makes a few different varieties of wine. They are known for their Heritage Pear ($23) wine. They also make a Chardonnay ($23) and a Pinot Noir ($25).
These wines are lovely sunny day sippers. They're perfect for sharing with friends over lunch under the big oak trees. Enjoy great food & wine while soaking in the gorgeous Mount Hood view.
Visit
The Gorge White House is the most amazing in Spring and Summer. That's when the sun is shining, there's a slight breeze, and you can clearly see the mountain and hillsides. While it is currently closed for the season, it will re-open in just a few weeks, sometime in April. Just in time for road trip season! If you're in the Portland, Oregon area, it's just about an hour's drive from downtown.
The Gorge White House
2265 Hwy 35
PO Box 798
Hood River, OR 97031
(541) 386-2828
Email: info@thegorgewhitehouse.com
thegorgewhitehouse.com

Have you ever been to The Gorge White House? Do you have a classic farmhouse like this where you live that you like to visit where you live?
More Oregon travel ideas
I have been to The Gorge White House many times with friends and family and highly recommend it! This visit pictured here was with Travel Oregon during a #HoodGorge press trip. All tastings were courtesy of Travel Oregon and The Gorge White House. As always, all opinions and photos are my own.