The southern Oregon coast is home to scenic landscapes, quaint towns, and great places to eat. One of the area's most charming seaside stops is Bandon. Here's our guide to the top Things to Do in Bandon, Oregon.
Summers on the Southern Oregon coast are simply magical. From the breathtaking landscapes to the fresh ocean air, a trip here will help you truly get away from it all.
It will also help you escape sweltering summer weather. If an oppressive heat wave hangs over Portland and the Willamette Valley, this part of the state remains blissfully cool.
Bandon offers one of the most predictably comfortable climates, where summer temps hover around 70° throughout July and August. That makes this spot the perfect base to explore town itself -- and all the surrounding area has to offer!
Jump to:
📍Where is Bandon, Oregon?
Bandon is about 250 miles southwest of Portland, Oregon. And it's just a couple of hours north of the California border.
The drive down from Portland will take about four hours.
🏨 Where to Stay in Bandon: Best Western Inn at Face Rock
Best Western Inn at Face Rock
3225 Beach Loop Drive SW
Bandon, Oregon 97411
(541) 347-9441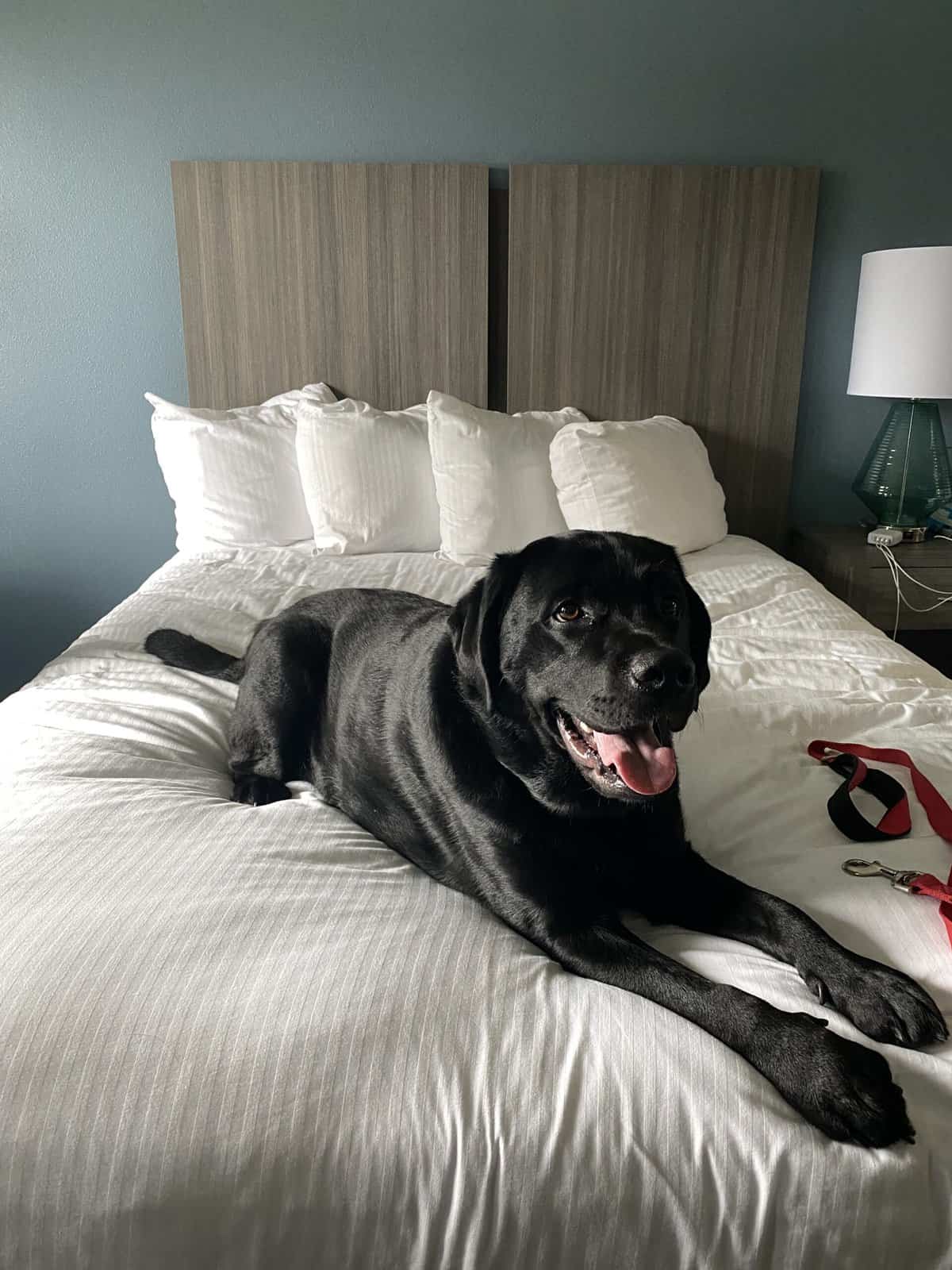 If you're looking for a quiet place to stay after you arrive in Bandon -- and one that's also right next to the beach -- check out the Best Western Inn at Face Rock. The hotel features comfy rooms, a little self service market, and free breakfast.
We stayed here with our kids and our dog Ace in a double room. And if we had to do it again, we'd probably spring for a couple of rooms so the kids had their own. But all in all, we had enough space to make it work.
🏖 The beach
Once you settle in, take the short walk to the beach through grassy sand dunes. The kids and Ace loved the trek. And the gorgeous Pacific Ocean views at the end were the perfect reward.
This part of the beach also features the majestic Face Rock, a natural monument that some say resembles a human face. According to Native American legend, the stone figure represents that of a local princess who was trapped in the ocean by an evil spirit. It truly is a breathtaking sight to behold.
🍽 Restaurants in Bandon, Oregon
Since Bandon lies right on the Pacific Ocean, seafood plays a central role in a lot of the best local restaurants. That's especially true if you're looking for some awesome fish and chips.
🐟 Bandon Fish Market
The first stop on our fish and chips foray took us to Bandon Fish Market. Situated in Old Town Bandon right on the water, this quaint restaurant was always busy whenever we passed it, which we took as a good sign. And we weren't disappointed.
Marlynn and I tried their cod fish and chips and their calamari, and our kids spring for the chicken strips. The fish was delicate and flavorful and the batter thin and flaky. Just the right consistency. The calamari was fresh and crispy. And the chicken hit the spot. Everything ranged in price from about $8 to $13.
Bandon Fish Market
249 1st St SE
Bandon, OR 97411
541-347-4282
HOURS:
Daily 11:00 am - 6:00 pm

⚓️ Broken Anchor
A short walk away you'll find the unassuming Broken Anchor. But don't let the modest exterior fool you. Inside awaits a hopping bar/restaurant, and more great fish and chips! In fact, theirs was as good as Bandon Fish Market's, if not better.
Here they use rockfish ($15) instead of the more typical cod or halibut, and it adds a pleasant differently take on the dish. As for the batter... it was crispy and flaky -- the kind that makes you just want to keep on eating it.
The vibe at the Broken Anchor is definitely more adult oriented, especially later at night. But they do offer a kids menu, so it's a great place to stop by for an early dinner with the family.
Broken Anchor
25 2nd St SE
Bandon, OR 97411
541-329-2326
HOURS:
Daily 12:00 am - 11:00 pm
🍺 Bandon Brewing
If pizza and a beer seem like the perfect way to spend an afternoon in Bandon, head on over to Bandon Brewing.
Also located in the Old Town center, this open front brewery and restaurant offers a variety of pizzas to eat there or to take out. We opted for a traditional pepperoni ($15 for a medium). The crust was not too think and the cheese was nice and gooey, so it ticked all the pizza boxes.
As the name suggests, this place also brews and sells it own beer. They usually have more than a dozen on offer, including a selection IPAs, pale ales, and even toffee nut brown ale that sounded delicious. Unfortunately, the day we visited their liquor license had expired, so all the taps were closed. Our recommendation is to call ahead to make sure you can grab a beer or two if you stop by.
Bandon Brewing
95 2nd St SE
Bandon, OR 97411
541-347-3911
HOURS:
Daily 11:00 am - 8:00 pm
☕️ Bandon Coffee Cafe
With all of the things to do in Bandon, Oregon, you're going to need some energy. The Bandon Coffee Cafe is happy oblige!
This charming coffee shop can make all your hot or cold favorite coffee drinks and they've got a nice food menu as well. Marlynn opted for a black + white mocha (with dark and white chocolate) as well as some avocado toast with eggs ($6.50). It was the perfect size for a not-too-filling breakfast.
For a hearty lunch, try the black forest ham sandwich ($9.50/whole) or the crab melt pita ($7.50).
Bandon Coffee Cafe
365 2nd St SE
Bandon, OR 97411
541-347-1144
HOURS:
Daily 6:00 am - 4:00 pm
🍩 Sugar Shack
Ok, technically this one's not in Bandon. In fact, the Sugar Shack is about an hour north of Bandon in a tiny town called Reedsport. But we felt we had to mention it because, well look at those donuts!
An employee at the Best Western Inn tipped us off to this little slice of heaven, claiming it had "hands down the best donuts on the west coast." We've had quite a lot of donuts so our first impulse was "challenge accepted!" We loaded up the family car and headed up there. And we gotta say, that guy may have been right!
We got a big assortment of donuts to make sure we did our due diligence, including a massive bear claw, some regular old glazed donuts, and even a bunch of macarons. They were all amazing. Like really amazing. Basically, if you're planning a trip to Bandon or anywhere on the southern Oregon coast, we recommend adding the Sugar Shack to your itinerary.
Sugar Shack
145 N 3rd St
Reedsport, OR 97467
541-271-3514
HOURS:
Daily 5:00 am - 6:30 pm
⛳️ Other activities in and around Bandon
One of the great things about Bandon is that there are so many things to do nearby. About a 45-minute drive south will take you to the majestic sea views of Cape Blanco State Park. On a clear day, the sweeping vistas open up and you can see for miles down the coast. One note: it can get really windy here since the cape juts out unexposed into the Pacific Ocean. So be careful when opening your car doors, and hold on to your hats!
Check out these other popular attractions
Bandon Dunes Golf Resort - Built on sand dunes perched 100 feet above the Pacific Ocean, this is one of the finest links courses in the country.
Bullards Beach State Park - If you enjoy camping, consider staying here. Just minutes outside of Bandon, it features RV and yurt camping, as well as a horse camp.
Coos History Museum - History buff? Discover some of southern Oregon's past at the Coos History Museum, located about half an hour north of Bandon in Coos Bay.
The Mill Casino - While you're in Coos Bay, you can also try your luck at the nearby casino, which is owned by the local Coquille Indian Tribe.
🧳 What to Pack for the Southern Oregon Coast
While Bandon usually stays in the low 70s even in the middle of summer, it can get chilly if you visit the nearby beaches and do other nature-y things in the area. Plus, this is Oregon so you never know when it might start raining.
That means it's a good idea to pack a few cooler weather items, just in case:
a waterproof (and windproof, if possible) jacket
waterproof boots or sturdy hiking/athletic shoes
jeans or fleece-lined leggings
layering tops
sweaters or hoodies
sunglasses
More Travel Guides