When wine tasting in Oregon's Willamette Valley, a stop at Bells Up Winery is a must. This micro-boutique winery features one-on-one attention, an interesting array of wines (Oregon Pinot Noir and much more!), and one of the most down-to-earth, friendliest winemakers you'll ever meet.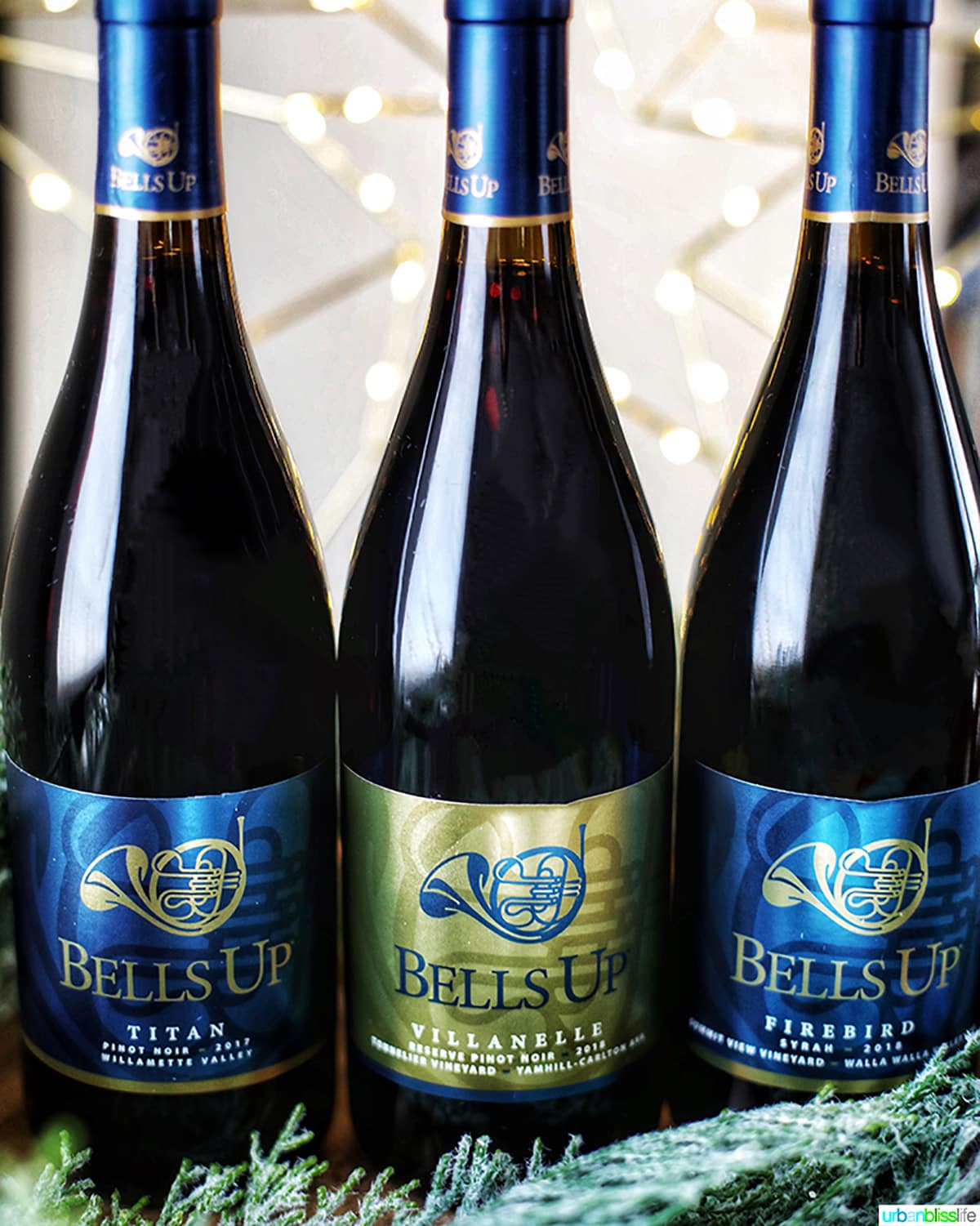 I remember the first time I visited Bells Up Winery. I zipped around the backroads of Oregon wine country into Newberg, Oregon. Slowly ambled up the unpaved final path to the winery, soaking up the vineyard views along the way.
As I entered the winery, winemaker Dave Specter and his wife Sara, the self-appointed "Money Honey" and co-owner, greeted me with huge smiles and an incredible line-up of their latest wines to taste.
I remember that first visit mainly because every single visit back - and there have been several! - has held the same warmth and kind hospitality as the first. While the wine portfolio may change slightly, the one constant you can always count on at Bells Up Winery are the friendly, engaging Specters and their enthusiasm and commitment to producing small production high quality, interesting wines.
Jump to:
📯 The Bells Up Winery story
Theirs is a winemaking origin story that is best told directly by the Specters, who are both artful storytellers through their words and their wine. But I'll condense and share the highlights here.
Dave Specter started making wine in his Cincinnati basement in 2006. A corporate tax attorney, he became smitten with the winemaking process. After Sara lost a dear friend and mentor to pancreatic cancer and Dave suffered a work-related breakdown, the couple decided it was time to pursue a new career.
While still working full-time, Dave began studying wine through the Washington State University enology certificate program. He also worked at a local wine shop, and was taken under Joe Henke's wing as a voluntary wine worker for Henke Winery.
After winning two national amateur winemaking competitions, the two sold their home in Cincinnati in 2012 and moved to Oregon's Willamette Valley to pursue their dream of opening a winery.
They named it Bells Up Winery for two reasons that intertwined:
The property is located on Bell Road.
"Bells Up" is a term used for the dramatic moment in classical music when the composer instructs the French horn players to lift the bells of their instruments up and project with maximum intensity.
For Dave, a French horn player for 20+ years, this winery is his Bells Up moment.
🍇 About the vineyard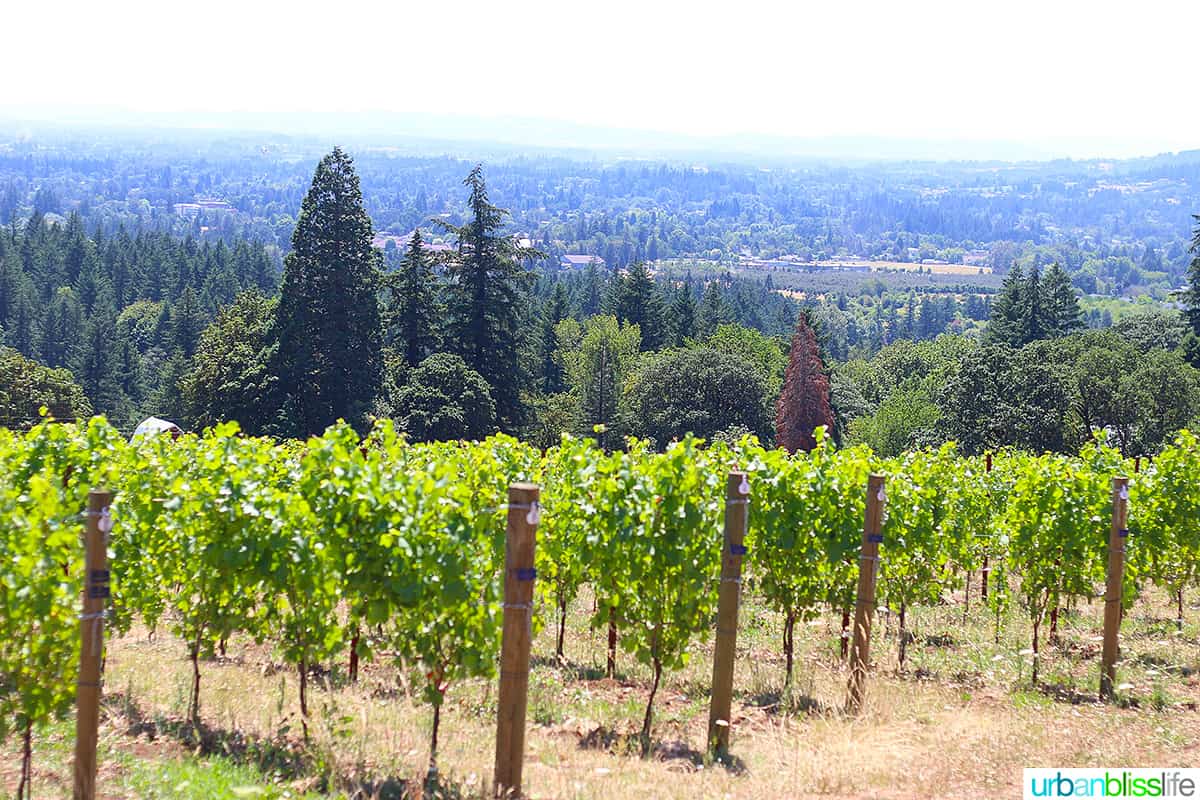 What is now Bells Up vineyard was once a Christmas tree farm overgrown with dead firs and blackberry brambles. The first plantings of the vineyard were in 2014, and the first harvest was fall of 2017.
The 9-acre vineyard sits on a south-facing lot in Newberg, Oregon. Currently, there are various clones of Pinot Noir, as well as the Willamette Valley's first planting of Seyval Blanc. The Specters are also growing Pinot Blanc and rare Italian varietal Schioppettino.
Currently producing a little more than 600 cases of wine per year, they have no plans to make more than 1,000 cases per year; in a recent webinar, Sara Specter said that even their current load is plenty for them.
🍷 Wine tasting at Bells Up Winery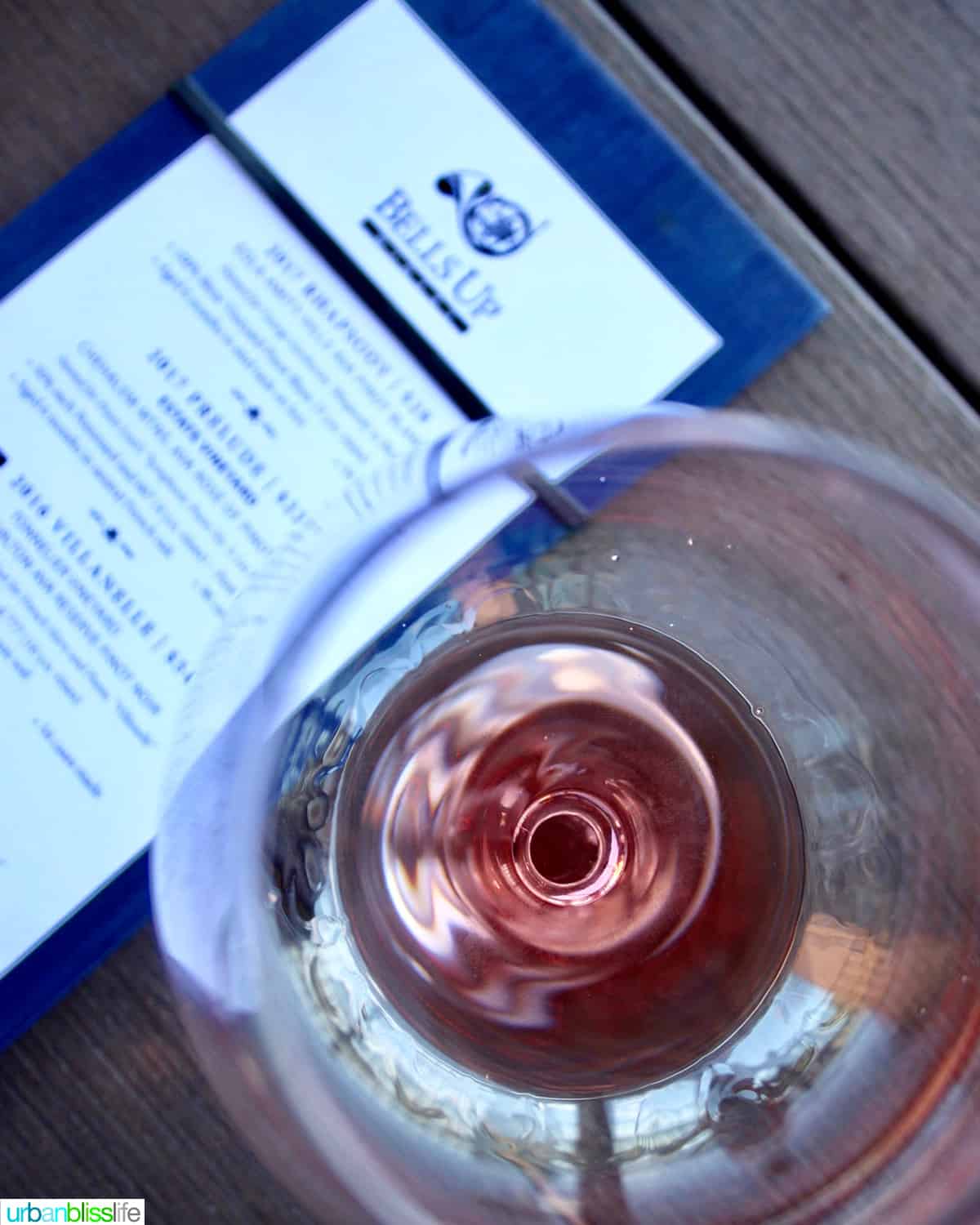 If you're looking for a see-and-be-seen kind of larger winery experience, or you're looking for the third stop on a wild and crazy bachelorette party wine tour, there are plenty of other wineries you can visit.
Here at Bells Up, they only accept one group wine tasting at a time. That means you don't have to worry about being forgotten or elbowing for the tasting room staff's attention to get your next pour. You have the full one-on-one attention of winemaker Dave Specter himself.
This is an amazing and unique winemaker tasting experience that you don't see often in Oregon wineries anymore. These private tasting experiences are perfect if you want to learn more about Oregon wines and how Bells Up is doing things a little differently.
🍷 Pinot Noir wines
All Bells Up Winery wines are only available in their Newberg, Oregon tasting room. You can also join their wine club, or call or email to purchase wine for shipment.
Titan Pinot Noir (Willamette Valley) - The flagship wine that Bells Up produces each year, the Titan hits all the right notes of a classic Oregon Pinot Noir. Light-bodied and fruit-forward, with notes of strawberry, raspberry and hints of earthy mushroom and forest floor.

Pair with: Air Fryer Salmon Bites or Creamy Pasta with Crispy Mushrooms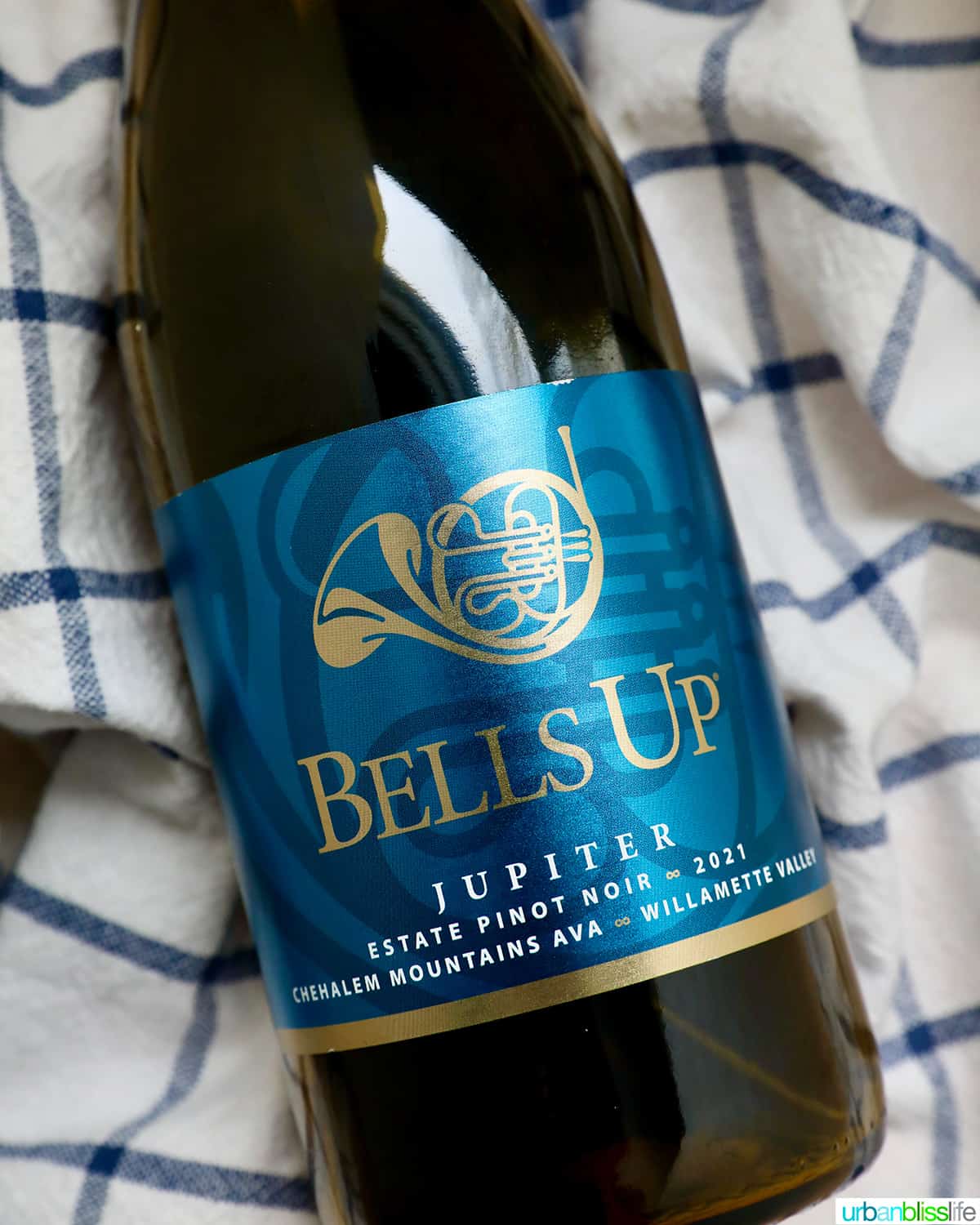 Jupiter Pinot Noir (Estate Vineyard) - In 2019, Bells Up was able to bottle their first 100% estate Pinot Noir. This is a beauty that cannot be rushed. At first opening, I enjoyed bright red fruit aromas, an almost strawberry candy flavor. It softened as it opened up to reveal increasing layers of elegance, more secondary notes of stewed berries.

The structure and finish on this one are impressive, and while it's a delightful drink now, I'm excited to see how it ages in about 5-7 years.

Pair with: Air Fryer Teriyaki Salmon or Air Fryer Whole Chicken

Candide Reserve Pinot Noir (Zenith Vineyard Eola-Amity Hills AVA) - A bigger, richer red than typical Oregon Pinot Noir palates, this wine is made with Wadenswil grapes sourced from Zenith Vineyard in Salem, Oregon, south of Newberg. This Pinot Noir has a slightly richer mouthfeel, with darker fruit aromas and flavors.

Pair with: Filipino Beef Mechado
🍷 Other red wines
Pinot fatigue can happen here in the Willamette Valley, and Bells Up has options to wake those senses back up in the form of a Syrah and a Cabernet Sauvignon. Both are aged for 12 months in French Oak.
Firebird Syrah (Summit View Vineyard Walla Walla Valley AVA) - A Syrah for Pinot lovers! With grapes sourced from Summit View Vineyard in the Milton-Freewater, Oregon part of the Walla Walla Valley AVA, Firebird has the flavors most loved in a Walla Walla Syrah - dark fruits like black cherry, blueberry, blackberry, along with black pepper and earthy notes - but it has lower tannins than your average Syrah.

Pair with: Dutch Oven Pot Roast with Vegetables

New World Cabernet Sauvignon (Summit View Vineyard Walla Walla Valley AVA) - With grapes also sourced from the PNW land of big reds - Walla Walla Valley - this wine is currently my favorite of the Bells Up lineup. Think black cherry, plum, blackberry bramble. This is my stormy night in by the fire kind of wine. Currently, the New World Cabernet Sauvignon is only available to club members.

Pair with: a classic Beef Bourguignon.
🥂 White wines, rosé, and bubbles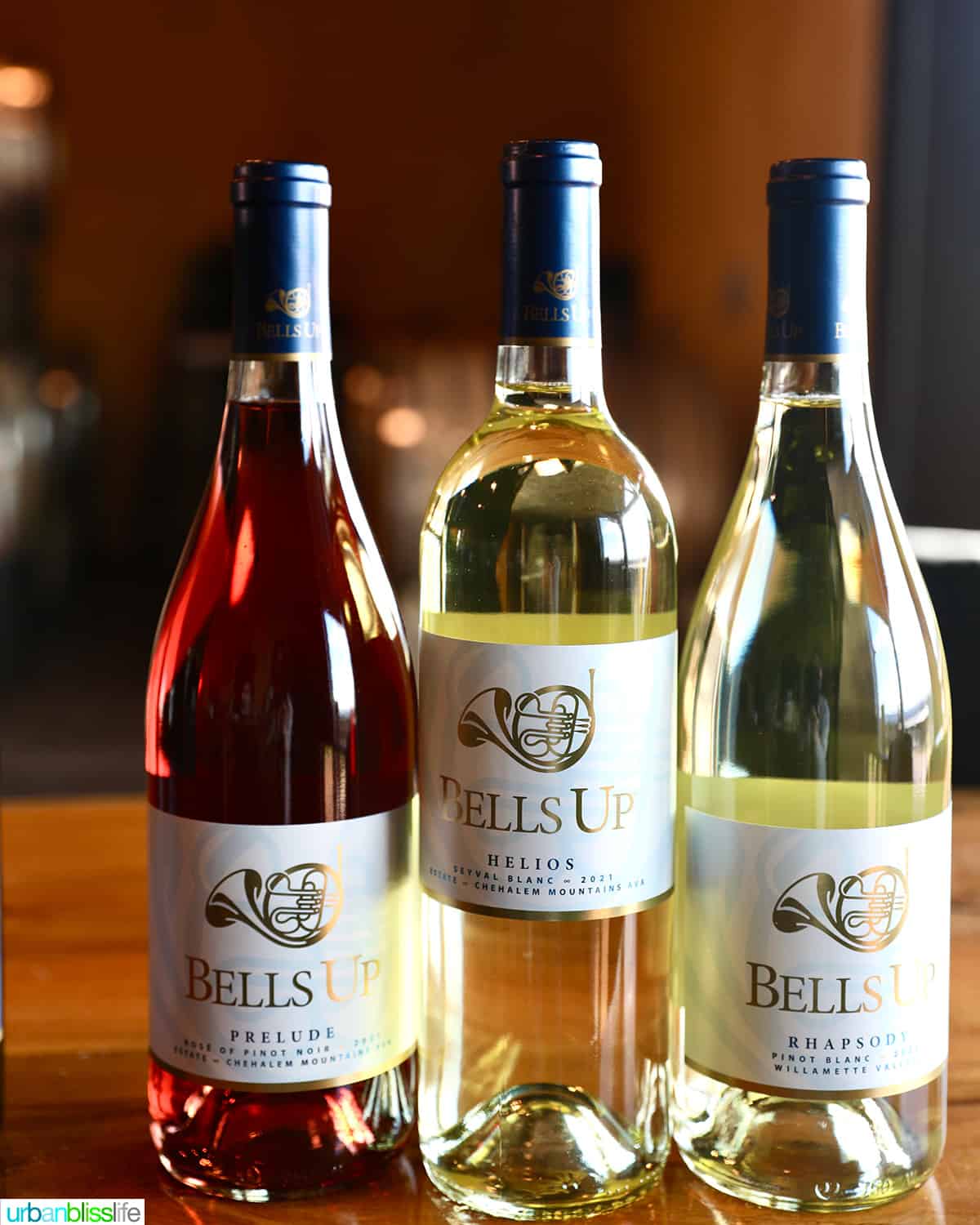 Bells Up also makes a few white wines, a fantastic rosé of Pinot Noir, and a new exciting sparkling wine.
Rhapsody Pinot Blanc - A nice alternative to the Willamette Valley's penchant for Pinot Gris, this Pinot Blanc is fermented and aged for six months sur lie. This helps produce a fuller-bodied wine. Meanwhile, the absence of malolactic fermentation produces a wine with soft minerality and bright acidity.

Pair with: Beef Pad Thai and an Asian Carrot Cucumber Salad

Helios Seyval Blanc - Bells Up has the first and only planting of Seyval Blanc in the WIllamette Valley. Seyval Blanc is a French hybrid grape that grows mostly in England, Canada, and the Northeastern US. It's a cool climate grape, and Bells Up has done a wonderful job nurturing its classic qualities here in the Pacific Northwest.

Helios is a bright, refreshing, zippy, curious white wine. Not quite like a Sauvignon Blanc (which, by the way, it is not a hybrid of), not quite a Pinot Blanc, this quirky wine is its own unique character. I love the tropical notes and crisp acidity.

Pair with: Grilled Pineapple Chicken

Prelude Rosé of Pinot Noir (Chehalem Mountains AVA) - I love a good darker, fuller-bodied rosé wine, and Prelude from Bells Up fits the bill.

Pair with: This is a great hot summer night backyard BBQ wine. It's versatile enough to enjoy with grilled salmon or grilled seafood boil packets.
2022 Joy Estate Seyval Blanc Brut - This is an exciting new wine to the lineup: the first Bells Up bubbles! No notes because I have yet to try it, but I'll update this post after I do!
🛍 Wine clubs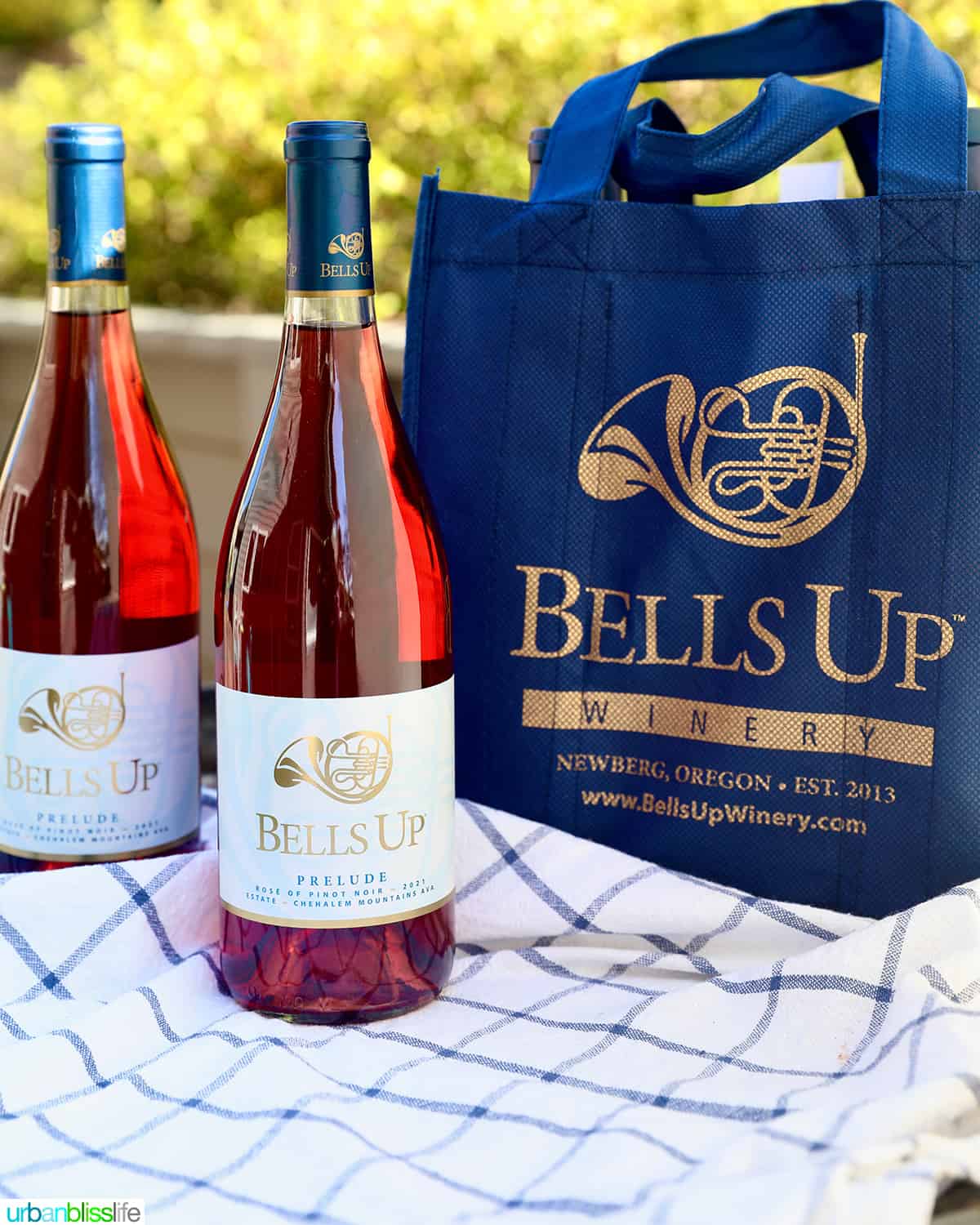 The Bells Up wine club, as you can imagine, also runs a little differently than traditional wine clubs. And that's a great thing for you and me!
Club members are only committed to one order of six bottles each year. And, you get to mix and match whatever current wines you would like to include in your shipment.
✨ Important winery FAQs
Are reservations required?
Yes. This Oregon winery only hosts three tastings each day: 11 am, 1 pm, and 3 pm. Only one winemaker-lead wine tasting is held at a time, so it's important to call ahead and book your wine tasting reservation. Maximum per party is six people. Tastings may be booked by calling the winery landline at 503.537.1328. Please allow 90 minutes for your group's private session.
What are the tasting fees?
No tasting fees are charged. However, because your party will be enjoying Winemaker Dave's full and exclusive attention for the entire appointment, there is a minimum 3-bottle purchase commitment per guest. No shared tastings, please.

Important note: To secure your reservation, a non-refundable deposit of $100 per guest must be paid in advance by credit card. The entire amount of each deposit is applied in full — "use it or lose it" — to each guest's minimum 3-bottle purchase commitment.
What is the dress code for this winery?
Like most Oregon wineries, Bells Up is a very casual winery. Feel free to dress up if you want, but jeans are perfectly acceptable.
Is there outdoor seating?
Yes, there is a lovely covered patio built out from the winery.
Is this winery kid-friendly?
Well behaved children are welcome, but at the time you make your appointment, please let Dave and Sara know if you are bringing children with you.
Is this winery dog-friendly?
Yes! Up to two leashed dogs are welcome per group. Please let Dave and Sara know at the time you make the appointment if you will be bringing any dogs.
May we bring our own food to the tasting?
Outside food is not permitted.
Visit Bells Up Winery
I highly recommend visiting Bells Up Winery if you are wine tasting in Oregon's Willamette Valley. Dave & Sara are two of the sweetest people in the industry, and their love of wine shines.
503-537-1328
27895 NE Bell Road
Newberg, OR 97132
For more information or to make your wine tasting reservation, please visit the Bells Up Winery website.
If you visit, please be sure to let them know that you read about it on Urban Bliss Life! And if you snap some pics, tag us @UrbanBlissLife and #UrbanBlissLife on Instagram, TikTok, Twitter, and Facebook.
More Oregon wineries