The Brooks Winery and Tasting Room does an impressive job in creating a space and atmosphere that you definitely will not forget on your next trip to Oregon wine country.
We live just three miles on the edge of Oregon wine country. A horrible place to live, really. Surrounded by gorgeous rolling hillsides peppered with vineyard after vineyard...vineyards that produce world class wines, host incredible farm-to-table events, and are run by the loveliest, hardest working families.
Yep. Living so close to wine country is really rough, I tell ya, but I do what I do for you, my wine loving friends! All for you. ;-)
So when a new winery pops up in town, I figure it's my bloggy duty to check it out. The winery scene in Yamhill Valley may be super casual and friendly, but in an area where competition is plentiful, it can be a challenge to create a winery and tasting room that helps distinguish yours from the masses.
I took a tour of the facility with my blog pal Melissa at their Media Open House, and am excited to share their lovely space with you here today.
Brooks Winery & Tasting Room
21101 SE Cherry Blossom Lane
Amity, OR 97101
BrooksWine.com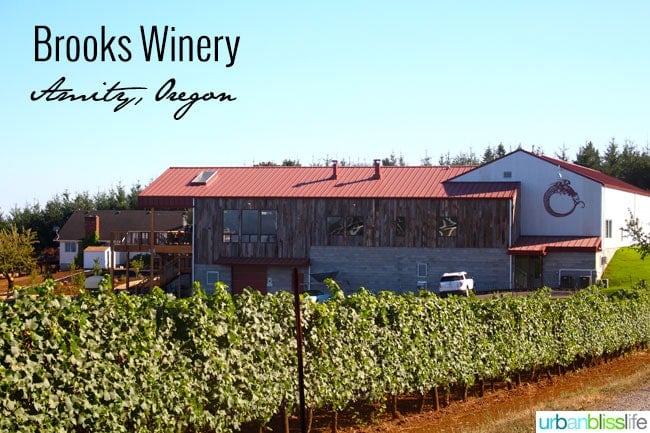 Founded in 1998 by the late Jimi Brooks, Brooks Wines continues its commitment to organic and biodynamic winemaking and is lead by his sister, Janie Brooks Heuck, and by his young son, Pascal.
In September 2014, Brooks opened a large new winery in Amity, Oregon. In an answer to the expression, "Go big or go home," Brooks went big.
The new Brooks Winery and Tasting Room is 12,500 square feet of gorgeous, expansive space overlooking the Eola Hills. The main tasting room is massive compared to the majority of tasting rooms in the valley, and they've managed to make this large space cozy and inviting.
The expansive main tasting room expands out onto a sweeping upper deck, with plenty of space to sip a glass of wine (or two) and enjoy conversation with good friends while taking in the beautiful vineyard views.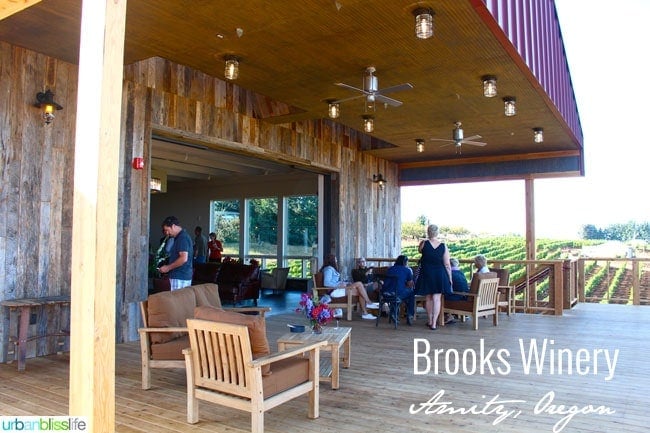 The view from Brooks Winery & Tasting Room is stunning. Everytime I am out in wine country, I am reminded of just how lucky we are to live in this gorgeous place with such diverse landscape.
On a clear day, we're told you can see four mountains -- Mt. Hood, Mt. Adams, Mt. Jefferson, and Mt. St. Helens -- from the deck of the new winery.
Inside, the modern rustic tasting room is flanked on both main walls by a brilliant wall treatment, made from old barrels from neighboring wineries. LOVE this so much. DIY friends, you're gonna want to pin this photo below!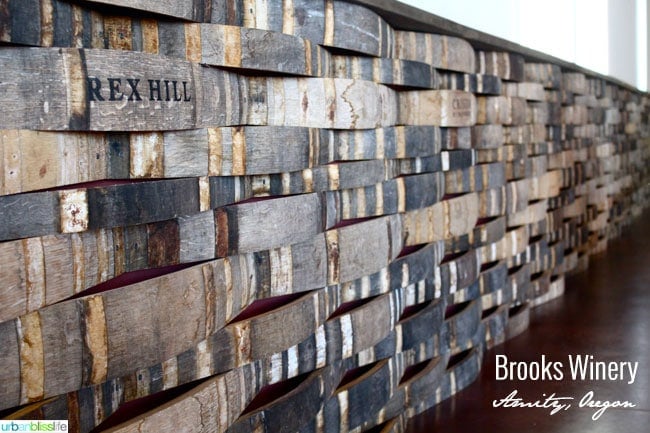 The decor is a nice blend of styles that reflects the softness of the view and the sturdiness of the surrounding pinot-producing terrain.
Downstairs, you'll find a spacious barrel room. . .
. . . and then step outside to yet another fabulous half-covered, half-open seating area that includes a dart board, fire pit, and wood-burning pizza oven.
Brooks Wines
Brooks does an excellent job with two main varietals: Pinot Noir (it is Oregon, after all) and Riesling.
The 2012 Willamette Valley Pinot Noir and the 2011 Temperance Hill Pinot Noir were recently included in Portland Monthly Magazine's list of Oregon's 50 Best Wines.
My favorite of the Brooks wines I have tasted so far is the Janus Pinot Noir. Touted as their flagship wine, this is an earthy wine with hints of dark berries and a sophisticated, smooth palate. It is a fantastic selection for a classic fall night by the fireplace.
Brooks also produces a Pinot Blanc, Pinot Gris, Gewurztraminer, and a soft Rose.
The new winery includes private rooms that can be reserved for events, and a full kitchen, which is a rare find in local tasting rooms.
On the evening of the media open house, the kitchen was put to the test, and we were treated to several creative appetizers by a local catering company.
While at the media open house, it was evident how much love and personal passion went into the development of the new winery. From the architects and builders, to the tasting room staff, everyone we spoke with clearly put their hearts and souls into this winery -- an extension of the commitment the Brooks family has to continuing Jim Brooks' legacy.
Visit Brooks Winery & Tasting Room
21101 SE Cherry Blossom Lane
Amity, OR 97101
BrooksWine.com
You can stop by the new winery Tuesday through Sunday from 11am - 5pm. They do take appointments only on Mondays, and you can contact heather@brookswines.com to arrange a Monday tasting room appointment.
Iris Flight- 5 White Wines, $15
Artemis Flight- 5 Pinot Noir Wines, $15
Pomona Flight- All 10 wines, $20
One tasting fee may be waived per every $50 spent, and sharing is welcome.