Going wine tasting in Oregon's Willamette Valley? Consider a stay at the Vintages Trailer Resort for a fun, whimsical stay that's in the heart of wine country!
If you're traveling to Oregon's Willamette Valley for a wine tasting weekend, consider a stay at the Vintages Trailer Resort.
Located off Highway 99 and then Highway 18/233 in Dayton, Oregon, the Vintages Trailer Resort is a private neighborhood of trailers within the 14-acre Willamette Wine Country RV Park. Being situated between Dundee and McMinnville, the location is ideal for travelers who plan to do some wine tasting in the area.
The Vintages Trailer Resort
Entering the RV park, you'll find the check-in building immediately to your right. There is also a community pool, clubhouse, fitness room, and general store are all currently closed because of COVID.
There currently are 35 trailers at the Vintages Trailer Resort.
All trailers have:
one designated parking spot for one vehicle per stay
heat and air conditioning
at least one cruiser bike (to remain on property, and dependent on the weather) )
gourmet pour-over coffee
terrycloth bathrobes
outdoor propane grill
plates, glasses, mugs, utensils, corkscrew
One advantage to the Vintages Trailer Resort is that no two trailers are exactly alike. Each one has its own distinct character and some unique features.
My husband and I recently had the opportunity to stay at the Vintages Trailer Resort during a wine tasting weekend. Here's a look at our accommodations.
The 1956 Royal Spartan Mansion
We had the pleasure of staying in the resort's newest trailer: the 1956 Royal Spartan Mansion. Located toward the back of the resort property on a corner lot, this is a fairly spacious, beautifully decorated trailer that's perfect for a wine weekend getaway.
When you enter, there's a sweet sitting area (pictured above) that also doubles as a day bed. This refurbished airstream trailer sleeps 3 adults or 2 adults and one child. However, I think it's ideal for a couples getaway.
I fell in love with the interior design and decor of the Royal Spartan Mansion trailer. They did a beautiful job creating a clean, streamlined space that still had lots of character.
This is one of the many trailers that has a private bathroom and shower inside. You'll find most of the same amenities you might find in a hotel, such as soap and shampoo.
There are a few trailers that have shared restrooms near them, so be sure to read the details of each trailer before making your reservation.
In the Royal Spartan Mansion, there is a separate bedroom at the back of the trailer that has a king bed. The room is actually larger than I expected an airstream trailer bedroom to be. And the bed is very comfortable!
The bedroom has a second door that leads out to a private wooden deck with a large soaking tub. This is actually a really nice private space that lets you soak up the sunshine without worrying about your neighbors.
Are dogs allowed at the Vintages Trailer Resort?
Dogs are allowed in the Shasta trailers only. One dog under 50 pounds is allowed. Or two dogs whose combined weight does not exceed 50 pounds, are allowed. There is a $75 non-refundable pet cleaning fee due at check-in.
What's nearby
As I mentioned in the beginning, the Vintages Trailer Resort is in a convenient location close to so many wineries, restaurants, and family-friendly attractions.
Here are my top picks for where to go nearby:
Joel Palmer House
Just a 5-minute drive from the Vintages Trailer Resort is one of Oregon's iconic restaurants. The Joel Palmer House is known for impeccable service & hospitality, fabulous cuisine that focuses on Oregon mushrooms foraged from nearby, and an excellent wine list. It's a sweet, relaxing setting, especially if you get the chance to enjoy dinner outside.
While the dining experience is on the upscale end, this is Oregon wine country, and you're encouraged to come dressed as you are for wine tasting. I've seen couples dressed up and groups dressed in all shorts and sandals.
Brooks Winery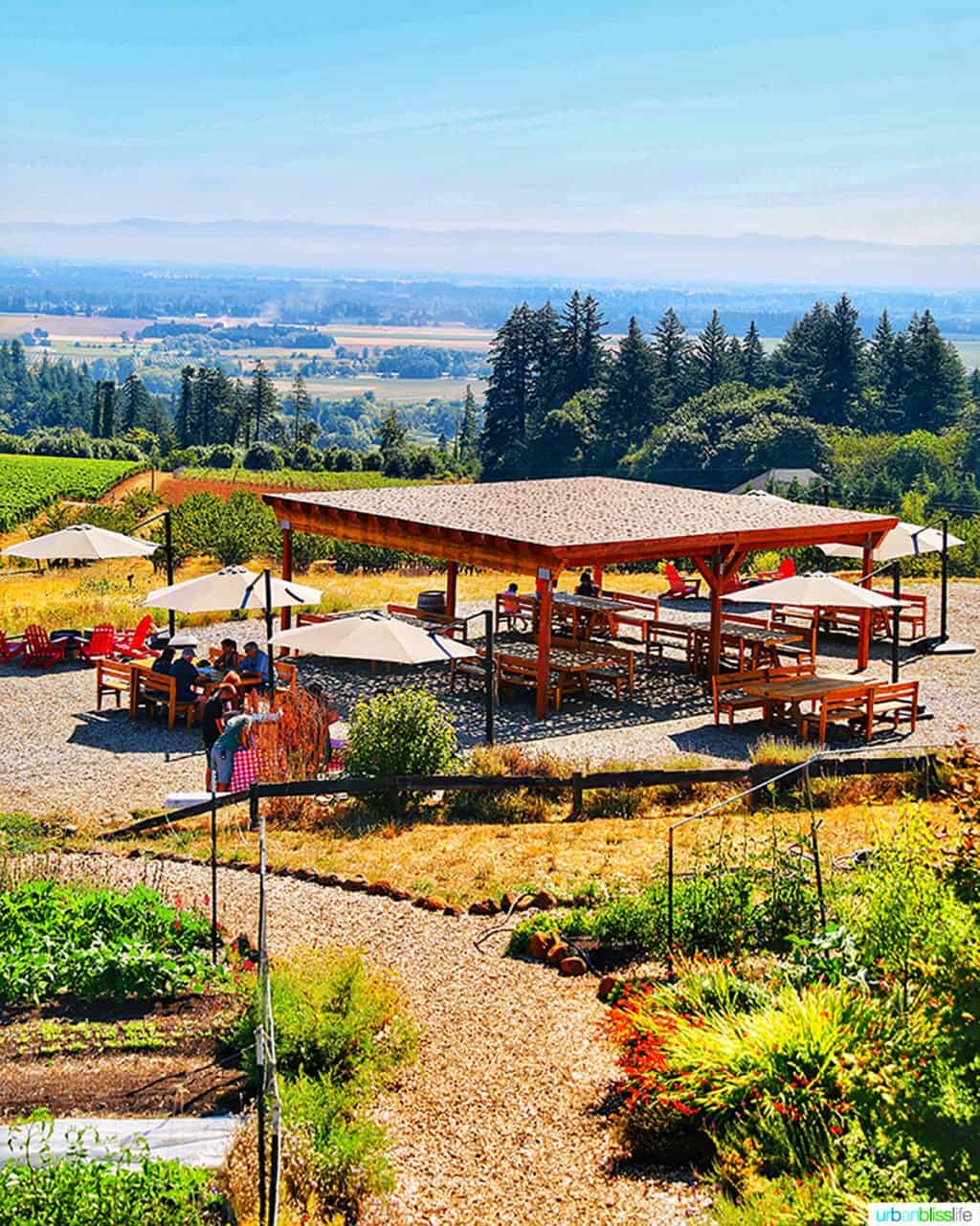 A short drive into neighboring Amity, Oregon, you'll find Brooks Winery. The tasting room has beautiful views, and plenty of options for social distance wine tasting. If you are in town during one of their events (especially brunch or pizza), I highly recommend you make a reservation. The food matches the high quality of the wines you'll find here, and the hospitality is always top notch!
Stoller Family Estate
Located a short drive north from the Vintages Trailer Resort, across Highway 99, Stoller Family Estate is one of the wineries I almost always recommend to people who are going wine tasting in the Willamette Valley. They have a long tradition of producing lovely, classic Oregon Pinot Noir, Chardonnay, and Rosé wines. There is also plenty of space with gorgeous vineyard views to enjoy a nice socially distance-safe wine tasting here.
Learn more about Stoller winery in my features of the opening of their new Stoller Experience Center, and of their 20th Anniversary.
Why stay at the Vintages Trailer Resort?
This is a fun, super casual place to stay if you're visiting Oregon wine country. It's a little like glamping. I enjoyed our trailer for a couples' getaway, but it might be cramped for a family of 3 or 4.
The Vintages Trailer Resort is a great place to stay for:
a couples' getaway
solo travel
girls' weekend
wine tasting with friends
If you're staying here with a small group, you could stay in different trailers and meet up for late night wine and early morning coffee at each other's trailer!
Rates vary depending on the trailer and season. Currently, rates range from $79 per night to $129 per night.
16205 SE Kreder Road
Dayton, OR 97114
Check-in time: 4:00 pm
Check-out time: 11:00 am
Book your reservation on the Vintages Trailer Resort website today.
PIN IT: