Learn more about Bob's Red Mill and the company's baking products, including their flours, breakfast items, and more.
Bob's Red Mill is located in Milwaukie, Oregon, just a few miles from where I grew up in Southeast Portland. I must have driven by the factory and the restaurant probably a hundred times throughout my life. But it didn't really mean anything to me until I was older and more aware of the importance of eating healthier food.
I finally stepped through doors of Bob's Red Mill for the first time this fall. And I can tell you this: it's every bit as lovely, warm, and authentically health-conscious as you imagine it would be.
About Bob's Red Mill
Bob and Charlee Moore founded Bob's Red Mill in 1978. Yes, unlike the Betty Crocker and Aunt Jemima brands, there is a real Bob behind Bob's Red Mill.
And, I was lucky enough to meet him! I also had the pleasure of hearing the story behind the company. Including how the book John Goffe's Mill changed his life and the way he looked at food forever.
Bob's Red Mill rejects modern, technology-driven milling methods. The Oregon-based company believes what helps set its grains apart is the use of the same kinds of quartz mill stones used by master millers since early Roman times. Pictured below is one of the very first mill stones used by Bob's Red Mill.
The 325,000 square foot, 17 acre facility in Milwaukee, Oregon is a certified organic processing plant that handles every ounce of operation for the entire line of products. Grains are sourced mostly from the Pacific Northwest, brought into the Milwaukie, Oregon facility, and then milled, sorted, tested, packaged, and distributed right there on site.
It's a large, impressive facility, that is almost spotless. I love how it's a no-waste facility; even the grain sweepings from floor cleanings are sent to farmers for animal feed. How cool is that?
High Quality Baking Products
Bob's Red Mill makes one of the largest lines of certified organic whole grain products in the country. From many different types of flours to corn grits, from pancake mixes to cereals and oats, every product is made with the same commitment to high quality wholesome natural goodness.
Bob's Red Mill Gluten Free Flour & More
For my gluten-free friends, Bob's Red Mill gluten free flour is a lifesaver. The company offers more than 50 gluten-free products. All gluten-free products are processed in a separate, dedicated gluten-free building on the property, and tested in a separate lab.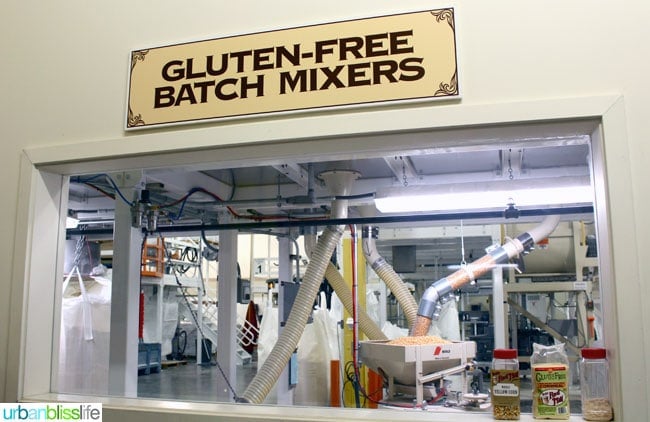 Employee-owned company
At the heart of Bob's Red Mill are the people behind the brand. There are approximately 400 employees. And each one we met on our tour possessed an incredible commitment and passion for the products they worked on.
It's a passion and set of values passed down from the top: from Bob Moore himself. On his 81st birthday, Bob gave the gift of his pride and joy -- his business that he spent decades building-- to his employees through an Employee Share Ownership Program (ESOP).
People like the three lovely individuals pictured below: Robert Farmer, the quality lab technician in the gluten lab; Jan, who is the gluten-free lab technician and has been with the company for 19 years; and Christie, our delightful tour guide, who has also been with the company for a number of years.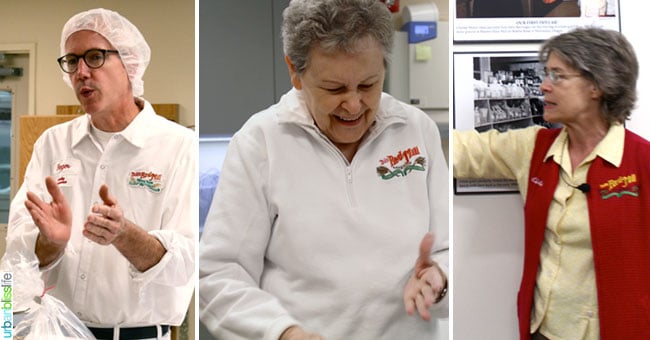 Listening to Christie share the many endearing stories of Bob's Red Mill is like listening to a relative lovingly retell a heartwarming family story that has been passed down through generations. She brings all of the goodness of the company and its people to life in a way that leaves you feeling all warm and fuzzy. (Thanks for the amazing tour, Christie!)
Bob's Red Mill Whole Grain Store and Restaurant
At the end of our tour, we headed to the Bob's Red Mill store, restaurant, and bakery. Located less than a mile down the street from the mill, it's a fantastic place to fill up on the delicious, whole grain goodness of Bob's Red Mill products -- both on the spot for breakfast, lunch or dinner in the restaurant, and to take home in the form of many products in the store.
So far, since the tour, I've used Bob's Red Mill products in cookies and cupcakes, and I can't wait to try out some of the new-to-me products, such as the Freekeh and potato starch. Some of my blogger pals who went on the tour with me have posted some tasty looking recipes. Check out Fabiola's awesome Freekeh Breakfast Bowl recipe and Michelle's Yellow Cupcakes with Dark Chocolate Creme Fraiche Frosting recipe.
We had a great time and I can't wait to incorporate more of Bob's Red Mill products into my baking and cooking!
Do you use Bob's Red Mill gluten free flour? What other products do you use?
Visit Bob's Red Mill
You can check out Bob's Red Mill for yourself the next time you are in town. And you can find their products, including the Bob's Red Mill gluten free flour, nationwide. Use their location finder to find products near you.
Bob's Red Mill
13521 SE Pheasant Court
Milwaukie, Oregon 97222
Bob's Red Mill Whole Grain Store
5000 SE International Way
Milwaukie, Oregon 97222
www.BobsRedMill.com