If you're coming to visit Portland, why settle for commonplace when you can experience cool? To get you started, here's my list of the best cool hotels in Portland, Oregon.
Portland is home to many awesome hotels, so it was hard narrowing it down, but all of the accommodations listed here are truly the ones I would suggest to my own visiting friends and family. These spaces are hip with super modern furnishings and art, comfy, kid-friendly, all but one are pet-friendly, they are located in different yet easily accessible parts of town, have excellent dining options (so important, am I right?!), free WiFi, and easy access to public transportation.
✈️ Visiting Portland, Oregon? Be sure to check out our 35+ Day Trips from Portland travel guide.
Hotel Eastlund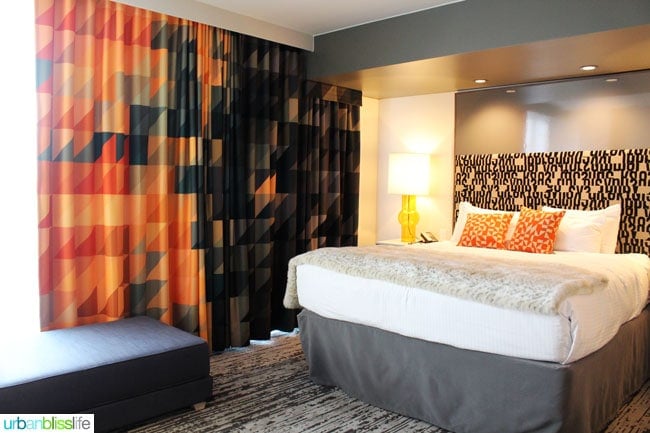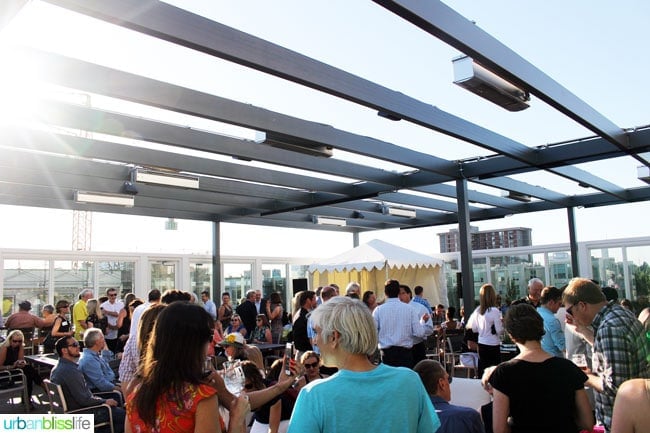 One of the newer hotels to spring up in Portland, Oregon, Hotel Eastlund opened to the public earlier this summer to a lot of hype that, in my opinion, has been well-founded. It is truly a beautiful hotel filled with all of the amenities you could want for a home away from home...and then some. The hotel is located right next to MAX lines and bus stops, and is right across the river from downtown Portland. The 168 guest rooms are all beautifully designed, with either California king or California queen beds, with plenty of lounge space to feel comfortable and work space within each room. Lightning fast WiFi throughout the hotel and more than 5,300 square feet of meeting & event space make this an excellent spot for business travelers. The awesome rooftop bar helps it reach the top of my list of cool hotels in Portland, Oregon.
Hotel Eastlund
1021 NE Grand Avenue
Portland, Oregon 97232
503.235.2100
Room Rates at press time: between $125 to $160/night
Room styles: King, Double California Queen, Superior Queen Suite
Dining options: Altabira City Tavern and Citizen Baker cafe
Room service: Yes! Daily from 6am until 11pm
Tech: super fast WiFi throughout, tons of outlets & USB ports,
Kids: Children 12 and younger stay free with an adult
Pets: Nope. Sorry, Fido & Fluffy have to stay home.
Reservations: http://hoteleastlund.com/
ALoft Hotel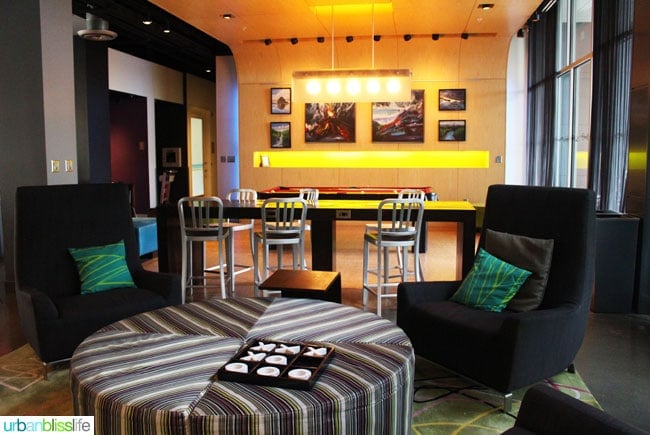 Located by the Portland Airport (PDX), Aloft is a convenient and hip spot for family & friends who might just be flying in for a night or two. I've stayed in plenty of airport hotels, and this is the coolest one I've stayed in by far. The decor is modern and colorful, there's a great pool, and because of its location near the airport, it's surrounded by dozens of dining and shopping options outside of the hotel. It's also right on the MAX line and close to major freeway interchanges, making traveling into the city easy.
My family stayed here one night for a staycation when my husband was home for just a few hours overnight in-between travels. The kids loved it here! They loved the pool; the room's furniture, fun layout, and amenities; and bright, colorful lobby lounge spaces. Aloft hotel is kid AND pet-friendly!
Aloft Hotel - Portland
9920 NE Cascades Parkway
Portland, Oregon 97220
(503) 200-5678
Room Rates at press time: between $110 to $160/night
Room styles: double bed or king bed rooms
Dining options: 24-hour grab-and-go shop in the lobby + w xyz bar on site. There are also dozens of restaurants & bars within walking distance in the Cascade Station area.
Room service: No.
Tech: each room is equipped with a charging station that can charge all laptops, cell phones, etc., and hook them up to a 42" flat screen. Free high speed internet.
Kids: Aloft has a "kids camp" program, which you can learn about more on their website. Children 12 and younger stay free with an adult.
Pets: Yes! Aloft offers your furry best friend a dog bed, bowl, treats, and toys. If your dog is over 40 pounds, you'll just need to sign a waiver.
Reservations: (503) 200-5678 or http://www.starwoodhotels.com/alofthotels
The Nines Hotel
For those who want to truly indulge during your stay in Portland, you'll want to stay at The Nines. This is by far Portland's swankiest hotel, located right in the heart of downtown Portland across from Pioneer Square and right on the MAX line.
Its opulence starts with the large chandeliers as you enter the doors and continues into every detail of each of its 318 guest rooms and 13 suites. Rooms are lavish here: ridiculously soft and comfortable couches, armchairs with velvet upholstery, big Luxury Collection beds with 350 thread count sheets and oh so cozy plush duvets.
Even though you are right in downtown Portland, this was the quietest hotel stay I have ever encountered in a downtown hotel. It's no wonder it's a favorite destination for couples and families going on staycations.
A group of girlfriends and I stayed here once for a girls' weekend getaway in one of the one-bedroom suites, and everything about our stay was fabulous! Dining options at The Nines Hotel are the best you can ask for in town, thanks to two of Portland's best restaurants under one roof: Urban Farmer, a modern steakhouse, and Departure Restaurant & Lounge, a hip, sexy restaurant with gorgeous views of the city.
The Nines Hotel
525 SW Morrison
Portland, OR, 97204
1-877-229-9995
Room Rates at press time: from $220 to $4,600 per night. Yes, you read that correctly. The Nines Suite and Meier & Frank Suite can go for $4K+ per night, while the smaller bedrooms and suites for us average Janes generally range from $220 - $350.
Room styles: Superior, Deluxe, Club Level, Hospitality Suite, One-Bedroom Suite (pictured above), The Nines Suite, or Meier & Frank Suite.
Dining options: Urban Farmer Restaurant on the 6th floor and Departure Restaurant & Lounge on the 15th floor. Be sure to read my restaurant review of Departure, too!
Room service: Yes. It will empty your wallet, but it's one of the best in-room dining experiences you can have in town.
Tech: Free WiFi, a decent amount of outlets, 42" HDTV.
Kids: Kids 12 and younger stay for free, with an accompanying adult. My kids, personally, haven't stayed here but I just KNOW they would love this hotel.
Pets: Pets 60 pounds or lighter may stay with you at The Nines Hotel. There's a long Pet Policy which you can read on their website.
Reservations: 888-627-7208 or http://www.thenines.com/
Hotel deLuxe
Located just across the freeway from the main hustle and bustle of downtown Portland is Hotel deLuxe. Designed with a Hollywood theme, guests are treated and made to feel like movie stars - whether you're traveling here solo or you are bringing the whole family, including your lovable pet. Although there aren't many shops or outside restaurants within immediate walking distance, Hotel deLuxe is conveniently located right on the MAX line and just a few short blocks from the heart of downtown Portland. Also, within Hotel deLuxe are two excellent dining options: I've enjoyed fun date nights in the Driftwood Room bar and lounge, and family dinners, business meetings, and meetups with moms and their kids in Gracie's restaurant. If you're in town when the Portland Timbers (men's soccer team) or the Thorns (women's soccer team) are playing down the street at Providence Park, this is an excellent place to stay.
Hotel deLuxe
729 SW 15th Ave
Portland, OR 97205
503-219-2094
http://www.hoteldeluxeportland.com/

Room Rates at press time: from $129 - $229
Room styles: Queen Deluxe, King Deluxe, King Studio Suite, Queen Premier, Queen or King Premier Suites, and the Marlene Dietrich Suite
Dining options: Gracie's restaurant and the Driftwood lounge
Room service: Yes, including Salt & Straw ice cream!
Tech: Free WiFi
Kids: Kids 12 and younger stay for free, with an accompanying adult. This hotel is a little calmer and sound seems to travel more than the other hotels, so just keep that in mind.
Pets: Pets are VIPs at Hotel deLuxe! For a $45 pet fee, your favorite furry traveling companion gets a bed, treats, a bowl, toys, and there is a full pet service menu. Read more about their Pet VIP Program on their website.
Reservations: 503-219-2094 or http://www.hoteldeluxeportland.com/
I hope you find this list helpful, whether you are traveling to Portland, Oregon this holiday season or you have friends and family visiting here from out of town!
Where to eat in Portland, Oregon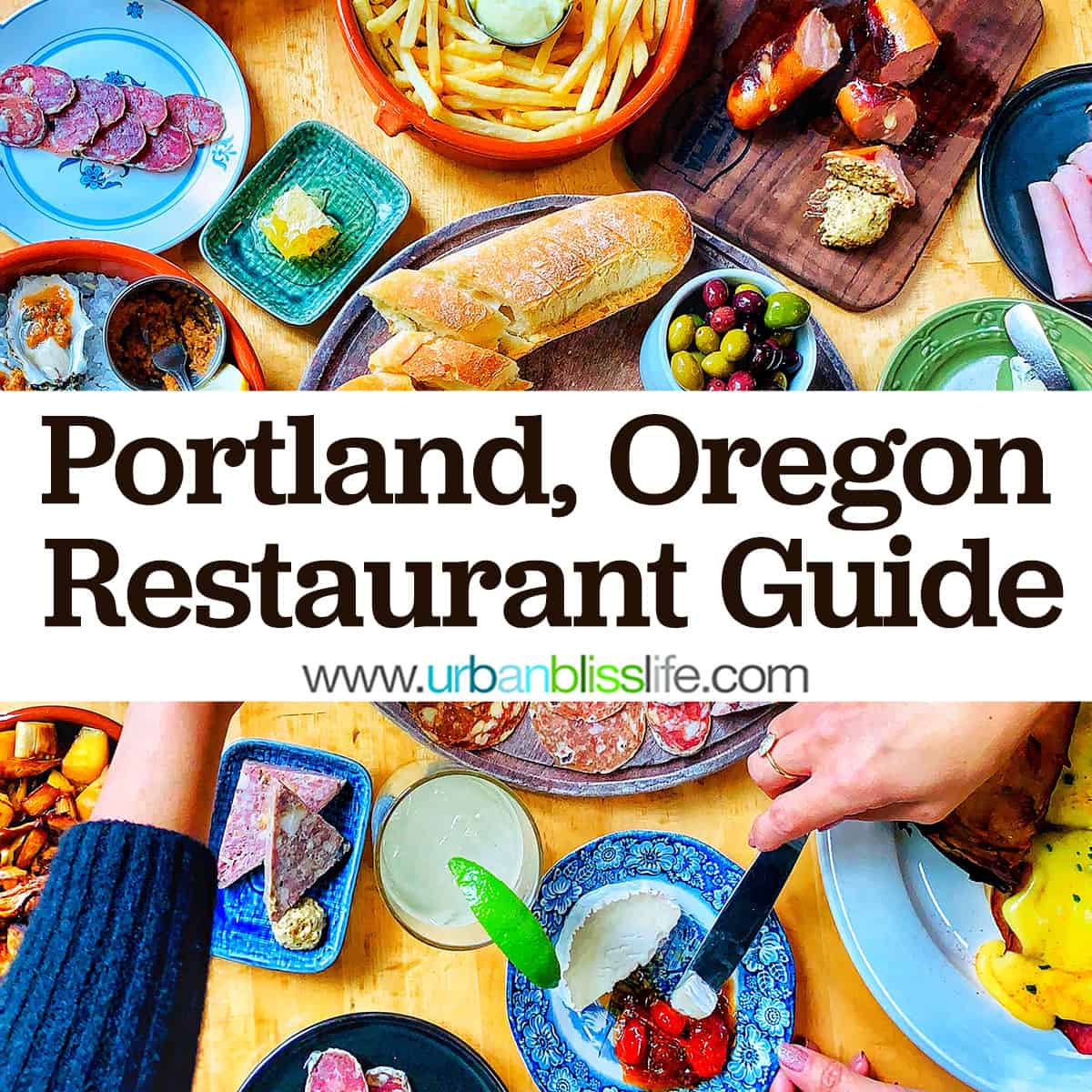 Portland is a true foodie town, with so many options for different dining experiences. Search for the best Portland restaurants in our Portland Restaurant Guide.
---
Have you stayed at any of these hotels? If so, what was your experience? If you have any questions about other hotels in Portland, you can leave a comment below and I will do my best to answer it!
If you visit, please be sure to let them know that you read about it on Urban Bliss Life! And if you snap some pics, tag us @UrbanBlissLife and #UrbanBlissLife on Instagram, TikTok, Twitter, and Facebook.
More Oregon travel ideas