Cast Iron Rib Eye Steak with Chimichurri Sauce is a fast, easy dinner recipe that is perfect for feeding a crowd.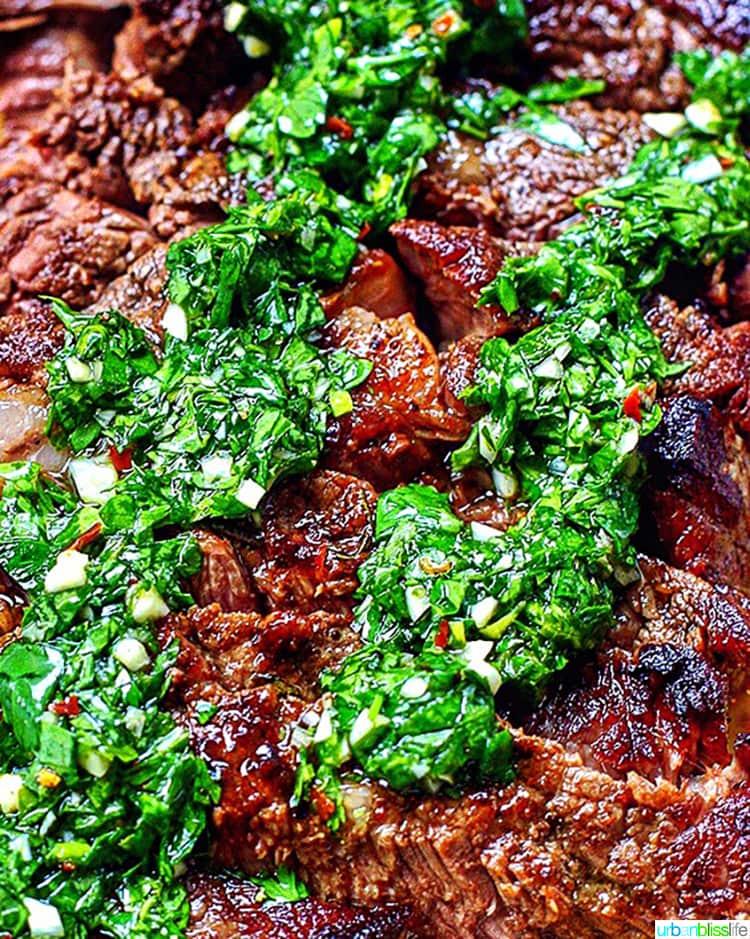 Do you cook steak at home often?
When I was in my twenties, I used to be intimidated by the thought of cooking steak. I'm not sure why, but it just seemed more complicated to me than cooking chicken or seafood.
Since then, I've come to realize that cooking steak is actually SO easy. It's one of the easiest proteins to cook with.
Our favorite steak cut: rib eye steak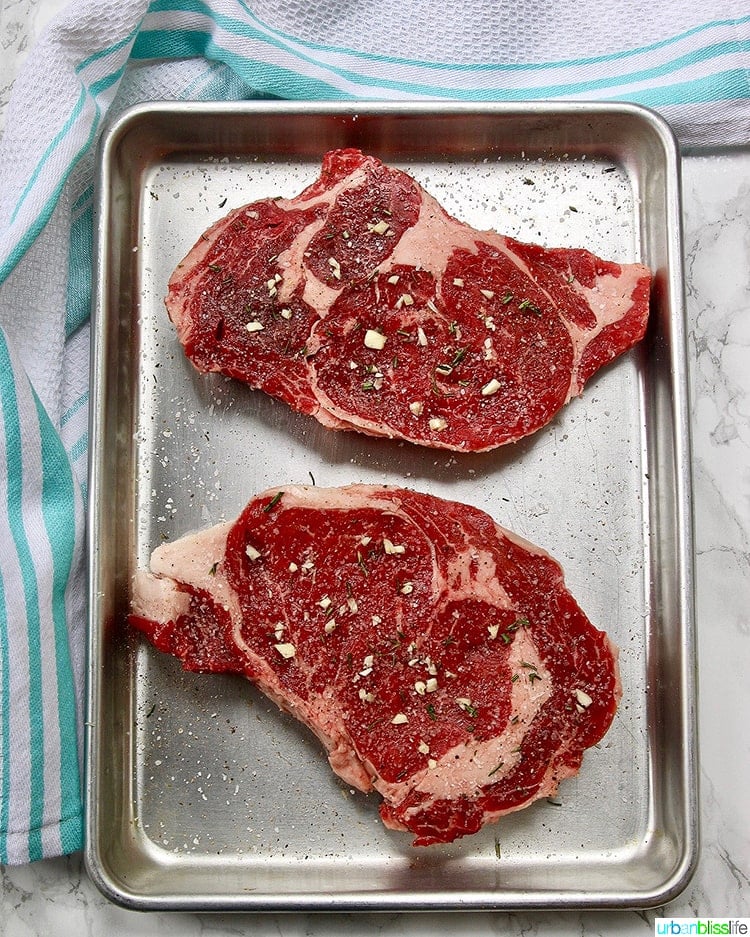 One of hubby's favorite cuts of steak is rib eye. Rib eye is the center best portion of the rib steak. It's one of the most popular cuts of beef, with good reason. It's super tender, juicy, and easy to cook.
If you want high quality steak, check out Snake River Farms steaks.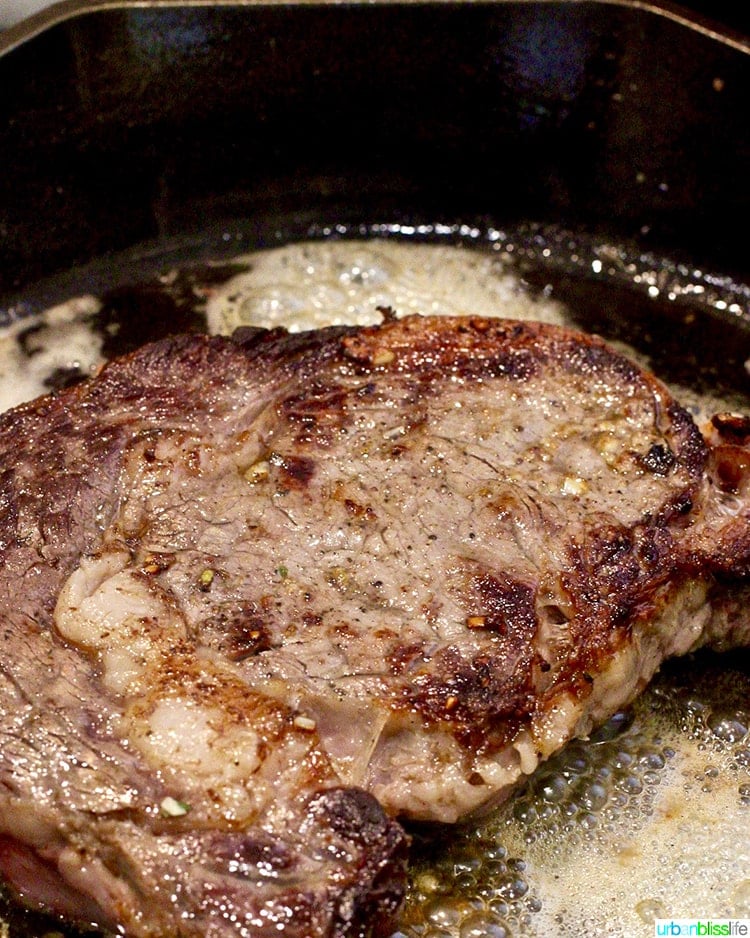 We love cooking with cast iron in our house, and for me, it's easier than grilling. All rib eyes need is some seasoning, and they're ready to go.
What you need to make this rib eye steak
For this recipe, since we're topping the steaks with yummy chimichurri sauce, I kept the seasoning simple: kosher salt, pepper, garlic, and rosemary.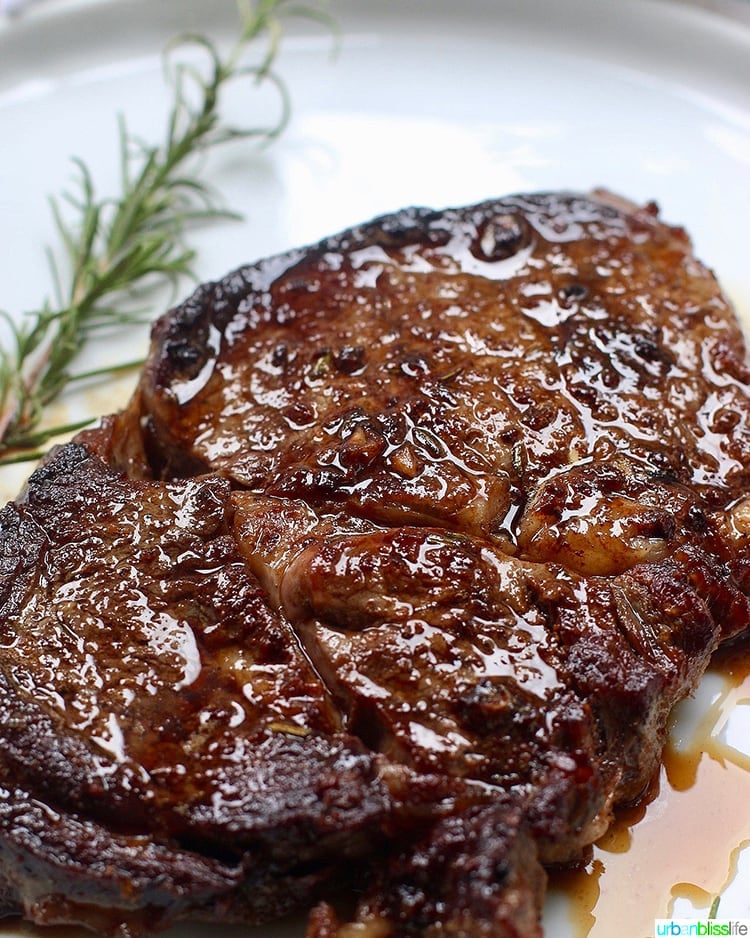 Don't forget to let your steaks rest for at least 10-15 minutes before slicing and serving. This helps preserve the juices inside and make them extra tender and tasty!
Easy Chimichurri Sauce
Chimichurri sauce is also one of those things in my twenties that I thought was too complicated to make at home. It's actually ridiculously EASY to make! Plus, it's very versatile.
For rib eye steaks, I like to use a basic chimichurri sauce recipe. This Argentinian sauce is usually served with beef.
Chimichurri starts with a base of high quality olive oil. Since the olive oil flavor really permeates this sauce, you want to be sure you use one that you love. I personally love Durant Olive Oils, and since my culinary adventures in Greece, I've become a big fan of Greek olive oil, too.
To the olive oil, simply mix in chopped parsley, cilantro, red wine vinegar, garlic, red pepper flakes, kosher salt, and pepper.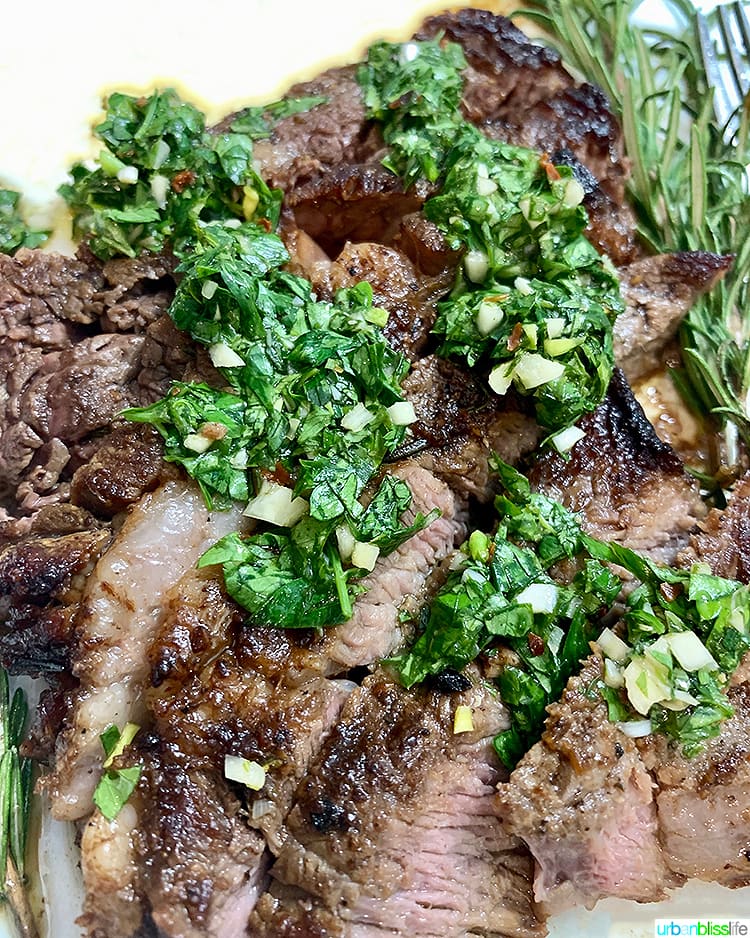 That's it! Super simple, and SO flavorful.
Ways to use Chimichurri sauce
I love how versatile chimuchurri sauce is. In addition to serving it with different cuts of beef, consider these yummy options:
use as a marinade and serve over simple lemon & herb grilled chicken
spoon over grilled white fish, such as Cod, Halibut, or Tilapia
use as a salsa in shrimp tacos
fancify your french fries with a generous topping
use it as a salad dressing
Which wine pairs well with steak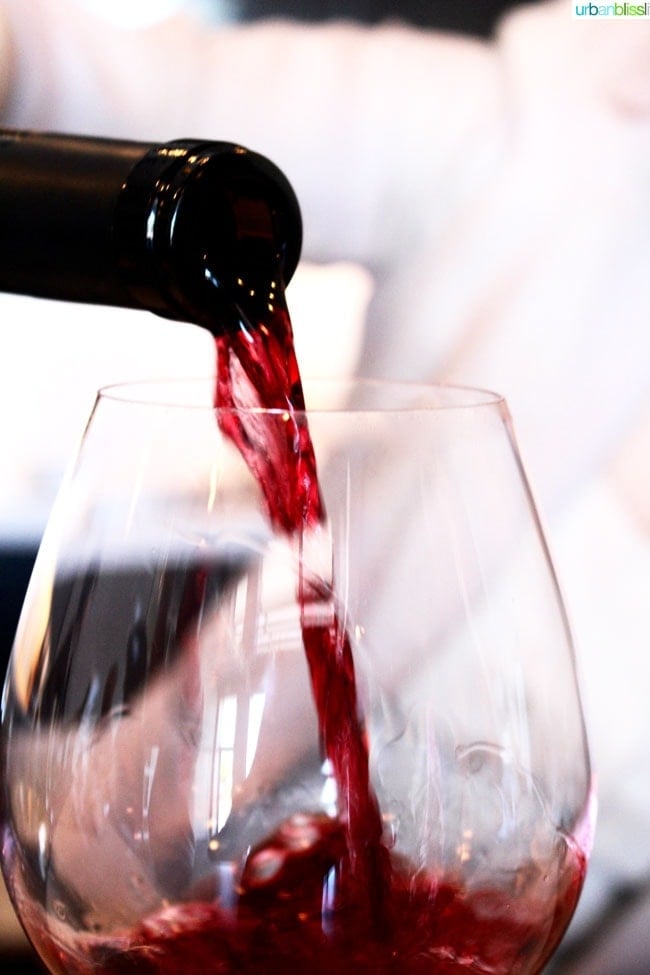 Most big red wines pair beautifully with this rib eye steak with chimichurri sauce. Try Cabernet Sauvignon, Zinfandel, or a GSM (Grenache/Syrah/Mourvedre blend) to complement the big, bold flavors of this dish.
More delicious recipes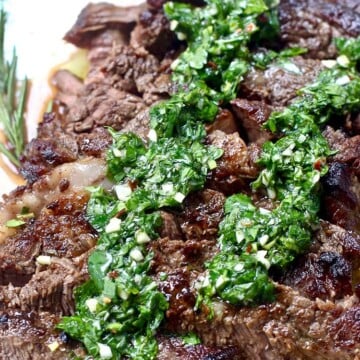 Cast Iron Rib Eye Steak with Chimichurri Sauce
Tender, flavorful rib eye steak with tangy, bold chimichurri sauce
PRINT
PIN
RATE
Ingredients
Rib Eye Steak
2

large, boneless rib eye steaks (approx 2-3 lbs)

1-2

tbsp

chopped rosemary

4

garlic cloves, minced

½

tsp

kosher salt (use more as needed)

½

tsp

ground black pepper (use more as needed)

3

tbsp

butter
Chimichurri Sauce
½

cup

extra virgin olive oil

½

cup

finely chopped parsley (curly or Italian flat leaf)

2

tbsp

finely chopped cilantro

2

tbsp

red wine vinegar

4

cloves

minced garlic

½

tsp

crushed red pepper flakes OR chopped red chili pepper if you want more spice

pepper
Instructions
Make the Chimichurri Sauce
Mix together all ingredients in a medium bowl. Stir well and let sit for at least 30 minutes up to overnight.
Make the Rib Eye Steaks
Generously season steaks on both sides with rosemary, garlic, salt, and pepper.

Heat butter in a large cast iron skillet (or other heavy skillet) over medium heat.

Add steaks to the hot pan. If they are too large to cook both in one skillet, cook in batches; you want to be sure each steak has room around it to cook evenly. Cook until you see the bottom turning brown, about for 4-5 minutes, before flipping over to cook the other side. Spoon butter from the pan over each side as it cooks.

Once steaks are cooked to your liking, remove steaks from skillet and allow to rest on a carving board/plate for at least 10 minutes. Serve with chimichurri sauce spooned over the sliced steaks.
PIN IT:
More Easy Dinner Recipes