This simple Lemon Grilled Chicken with fresh herbs is a mouthwatering, flavorful recipe you and your family will find easy to make and so yummy you'll make it again and again. It's a great dish to whip up for easy weeknight family meals and large weekend barbecues and parties alike.
Summer is here and I have to be honest: this is the most unscheduled summer we've had by far. I've never been a fan of over-scheduling my kids with camps and activities, but as they spend their summer break leading into starting middle school and high school, I feel a protective mama bear need to give them a happy, relaxing summer more than ever.
Our approach to cooking this summer has followed suit. I've always been about the simple, easy, delicious meals, but this summer I've become almost fanatical about it. I rebel against muss or fuss. I refuse to waste my time shopping for extra ingredients I don't already have on hand. One more trip to the store or farmer's market? No thank you. Enter this simple Lemon Grilled Chicken.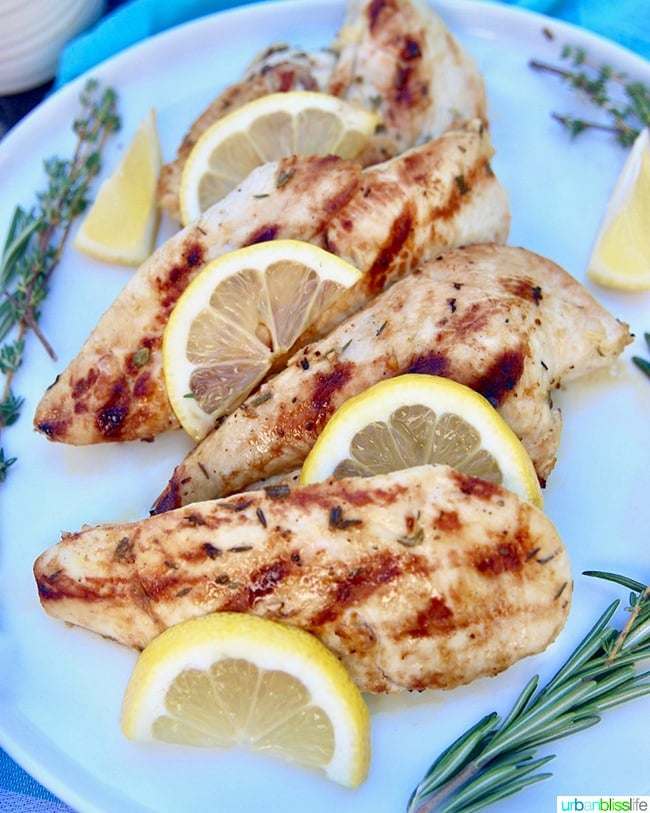 Anyone else feeling the love for super simple good food these days?
If so, I think you will honestly LOVE this easy chicken recipe. It seriously ROCKS my tired mama world. And if you're looking for super fast, easy, YUMMY and flavorful chicken that's ready in minutes, this simple lemon herb grilled chicken recipe is for you!
Simple Lemon Grilled Chicken with Fresh Herbs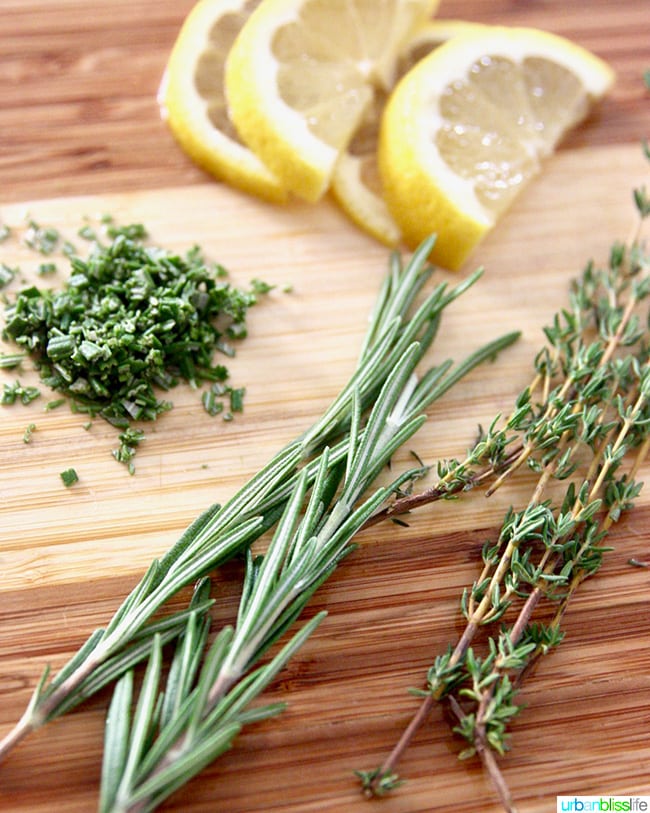 The best recipes start with simple, fresh ingredients.
I love using a bounty of fresh herbs when cooking, especially during the summertime, and especially when grilling. For this simple lemon herb grilled chicken, I use a healthy amount of fresh rosemary and thyme.

After generously seasoning chicken breasts with salt and pepper, add the herbs, lemon juice, olive oil, and seasoned chicken to a large ziplock bag. Marinade for at least 30 minutes, preferably 1-2 hours. You can also marinade the chicken overnight.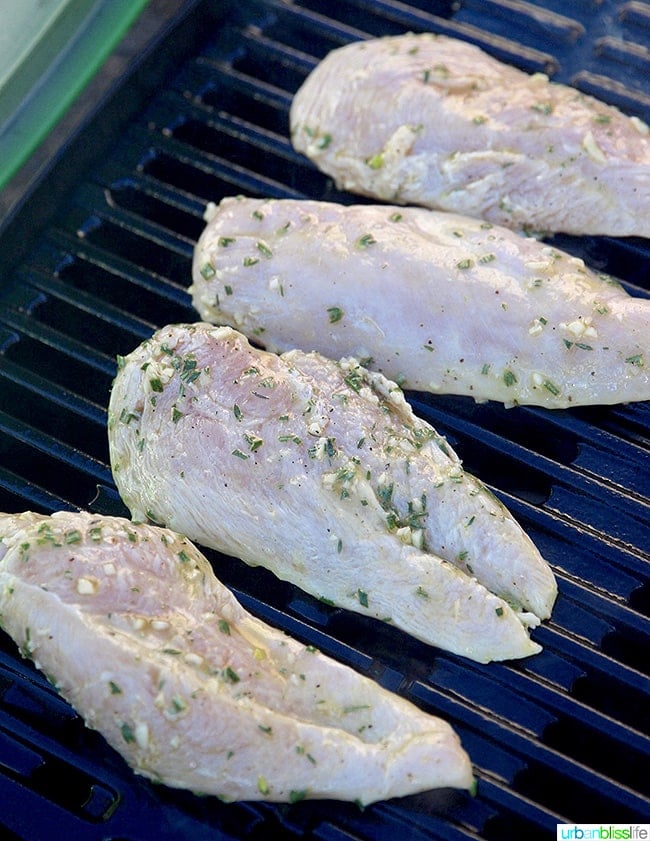 Once you're ready to cook the chicken, get the grill heated to medium-high (about 400 degrees), and grill each chicken breast for 5-7 minutes on each side.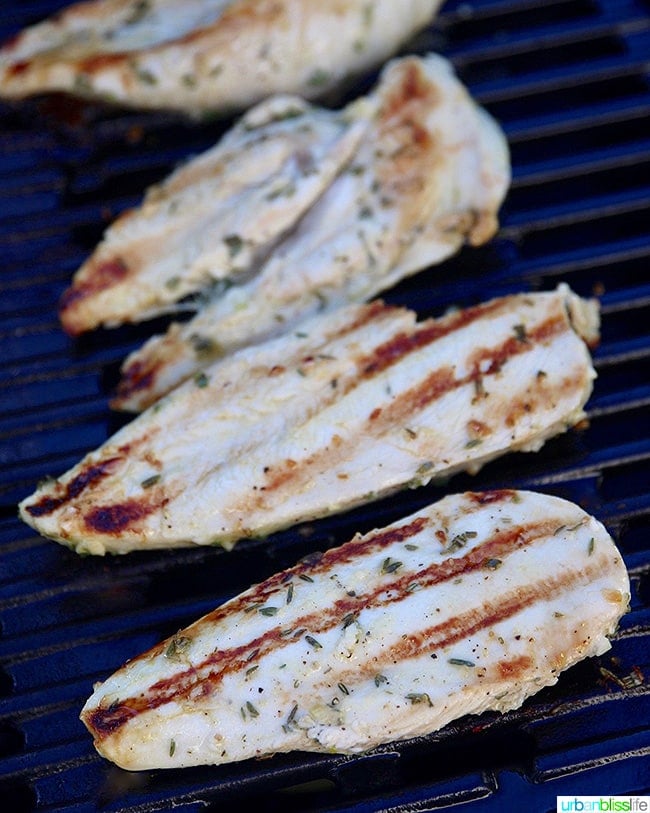 Grilling Tip: if you want the fancy grill marks everyone loves, try to only turn the chicken once on each side. Or, for a criss-cross design, turn 45 degrees to finish off the grill time on each chicken.
That's it! SO simple, right? Don't let how easy this recipe is fool you: this is a super flavorful chicken that you can serve on its own, or cut up and use in salads, pastas, or shred and use in sandwiches. I love how tasty this chicken is - the lemon and fresh herbs are so perfect for summertime feasts!
Wine Pairing Bliss
I pair this simple lemon herb grilled chicken with a bright Sauvignon Blanc. The citrus flavors in this wine help bring out the bright acidity of the lemon and the savory herbs in the chicken.
You can also pair this with a stainless steel (unoaked) Chardonnay, like my favorite: Stoller Family Estate Dundee Hills Chardonnay.
More grilling recipes
Simple Lemon Grilled Chicken
This simple, flavorful chicken recipe is perfect for easy weeknight dinners and you can double it for BBQs, picnics, parties!
PRINT
PIN
RATE
Ingredients
salt and pepper

4

skinless, boneless chicken breasts

¼

cup

lemon juice (the juice from about one large lemon)

¼

cup

olive oil

1

tablespoon

chopped rosemary

1

teaspoon

chopped thyme
Instructions
Generously season chicken breasts on both sides with salt and pepper.

Add lemon juice, olive oil, rosemary, and thyme to a large ziplock bag. Add seasoned chicken. Seal well and refrigerate for at least 30 minutes, preferably 1-2 hours, and up to 8 hours or overnight.

When you're ready to grill, heat the grill to medium-high. Once the grill is hot, add the chicken and grill for 5-7 minutes on each side. Remove from grill and let rest on a plate for 5 minutes before serving.
Notes
You can easily double or triple this recipe if cooking for a larger group. Just make sure you don't crowd the chicken in the ziplock bags when marinating or when grilling.
PIN IT:
More Simple Summer Food Bliss