This Ginger Grilled Chicken with Cider has tangy, bold flavors that are perfect for your next barbecue!
Shh . . . Listen.
Do you hear that?
The panicked whispers of "I can't believe summer is almost over" and nervous murmurs of "where did the summer go?"
Hush, child. SUMMER IS STILL HERE!
It's still sunny and summery and I intend to squeeze every last bit of summer bliss that I can. Join me?
Let's start with keeping that fire going on the grill, and the ice chilled on this year's "it" summer bevvy: cool, crisp ciders.
My Ginger Grilled Chicken recipe is the perfect marriage of both summer staples.
Ginger Grilled Chicken With Cider
I prefer using chicken thighs with the skin on because I love how the skin keeps all of the juices and flavors in while the chicken is cooking on the grill. You can take the skin off if you really want as you get about 5 minutes from the end, but I prefer to keep it on (because that's where the FLAVOR is, my friends!).
There are really just a few ingredients for this dish: chicken thighs, and then a marinade of hard cider, apple cider vinegar, ketchup, brown sugar, worcestershire sauce, lemon juice, diced onions, garlic, ginger, and lime juice.
For ciders, I recommend one of my favorite Oregon hard ciders:
Square Mile Cider
Atlas Hard Apple Cider
Reverend Nat's Revelation Newton Pippin Cider
Once you have your marinade, you let the chicken soak up all of that sweet and bright summer marinade flavor in for at least one hour (and up to six hours) before grilling.
I use the Oxo Good Grips Silicone Basting Brush to baste the chicken once while grilling, and the Oxo Good Grips Barbecue Tongs to turn over the chicken after a few minutes.
More grilling recipes
Make it your own
Here's the thing about this marinade: you can adjust the amount of any ingredient based on your tastebuds. Some ideas:
* Use more or less ginger and garlic. I just happen to LOVE ginger and garlic, so two tablespoons of freshly grated or minced ginger for me is awesome. If you don't like ginger as much as I do, then just use one tablespoon or two teaspoons.
* Add herbs and spices. This recipe would also be great with the addition of some fresh herbs like basil or cilantro, as well as different spices like cumin or coriander.
* Use less hard cider. If you just want a hint of that delicious hard cider flavor, just use half a bottle, and then add some water to the marinade.
* Add lime juice to the marinade. If you love lime, don't limit yourself to just squeezing some lime juice over the chicken at the end; feel free to add a Tablespoon of lime juice to the marinade as well.
Tools of the Trade
Many thanks to OXO for sending me this awesome set of tools to use with this recipe, and with the Avocado Corn Salad recipe I posted earlier this summer.
For this recipe, I used the Oxo Good Grips Silicone Basting Brush to baste the chicken with the marinade while grilling. The bristles in this brush are just the right distance from one another to make it easy to soak up a decent amount of marinade to baste the chicken and coat it well. I've used this brush for other recipes as well and just love it!
I also use this Oxo Corn Stripper regularly to strip the kernels off fresh corn on the cob for recipes like the Avocado Corn Salad and the Sausage, Peppers, and Corn, but also for my pickier daughter, who doesn't like to eat corn ON the cob.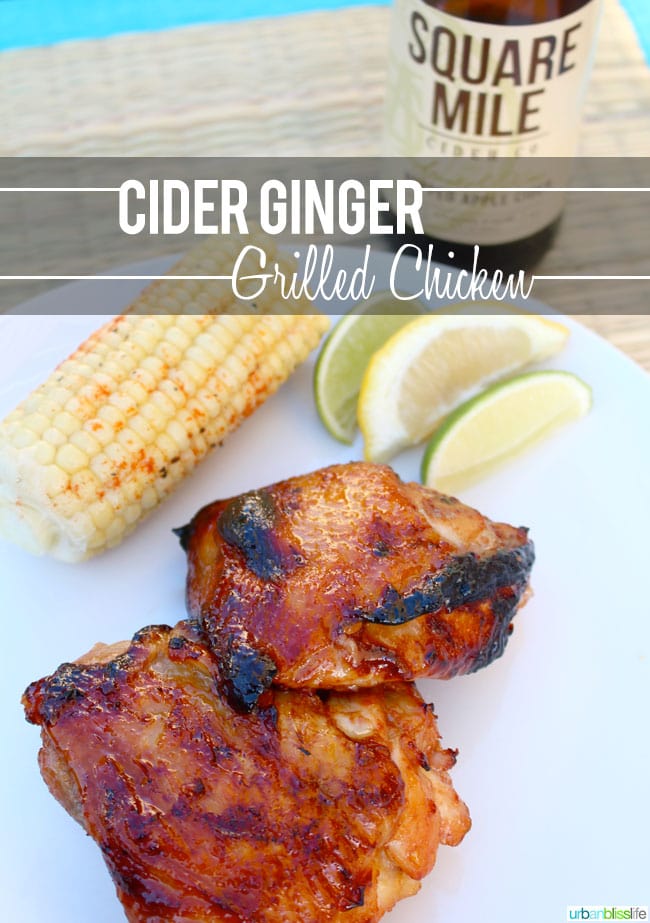 Ingredients
6

chicken thighs

1

bottle 12 oz hard cider

½

cup

apple cider vinegar

¼

cup

ketchup

⅓

cup

packed light brown sugar

2

Tablespoons

worcestershire sauce

1

Tablespoon

lemon juice

½

cup

chopped onions

1

garlic clove

minced

1

Tablespoon

minced ginger

Lime juice from sliced limes

salt and pepper
Instructions
In a large bowl, mix all of the ingredients for the marinade, from the cider to the minced ginger.

Add the chicken thighs and refrigerate for at least one hour (up to 6 hours).

Over a hot grill, grill chicken about 2-3 minutes per side.

Lower heat to medium and baste each piece of chicken with the marinade. Continue grilling for about 15-20 minutes. The juices should run clear when you gently pierce the meat.

Squeeze some fresh lime juice from sliced limes over each piece of chicken, then sprinkle lightly with salt and pepper to taste.

Transfer to a warm plate and serve immediately, alongside your favorite sides and cider.
Tried this recipe?
Please leave a star rating and comment! Then snap a pic of your dish and share it on social media. Tag @UrbanBlissLife and #UrbanBlissLife!
Nutrition information is a general estimate. Actual nutrition details may vary depending on the exact foods & brands you use to make this recipe. It does not take into account any substitutions, toppings, or optional ingredients.
PIN IT:
This post may contain affiliate links, which help support this blog.