Let me begin by saying what needs to be said: I never in a million years imagined ever writing an article titled "Tips for Taking Your Teen to Warped Tour." I might have imagined writing a kickass article sharing with you tips on How to Convince Your Parents You Should Go to Warped Tour, or How to Meet a (Good) Guy at Warped Tour.
But, no. Here I am, eons older than I feel. And there I was, at the Vans Warped Tour. Staring down my own youth of years past in a sea of colored hair, tattoos, and teenage confusion.
Funny how things really don't change. The teens at Warped Tour today are the same teens as we were way (way) back then when Warped Tour started in 1994. And the tour itself continues to be a launching pad for skate punk, electronica, hip hop, ska, pop punk, and metalcore bands.
Now entering its 20th year, the Vans Warped Tour has become America's longest running touring festival concert tour and reaches more than 500,000 fans every summer. Usually held in an outdoor venue, bands usually start playing at 11am or 10 am and play 30-minute sets on over 10 stages, with the last set of bands ending around 9pm.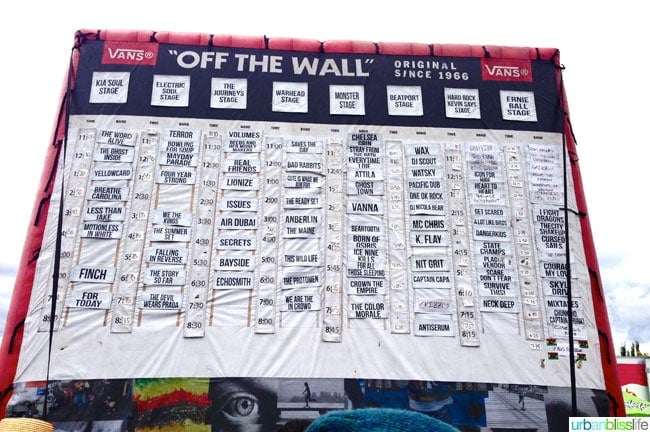 With more than 40 dates in as many cities this summer, you can still catch the tour in select cities this year.
I was lucky enough to get two media tickets to the Portland, Oregon Warped Tour this year, thanks to Kia. I've worked with Kia in the past, and they are one of the sponsors of Warped Tour 2014. You can stop by the Kia Soul Lounge for band signings, airbrushed tattoos, and take Kia #SoulSelfies to connect with other concert goers.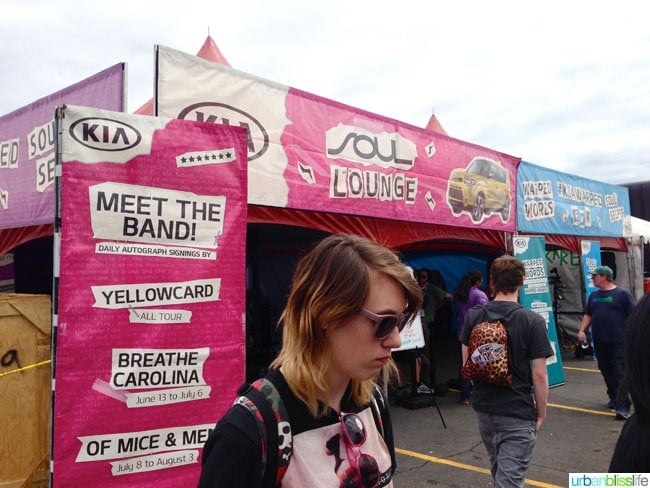 I loved my Kia Soul cassette tape tattoo!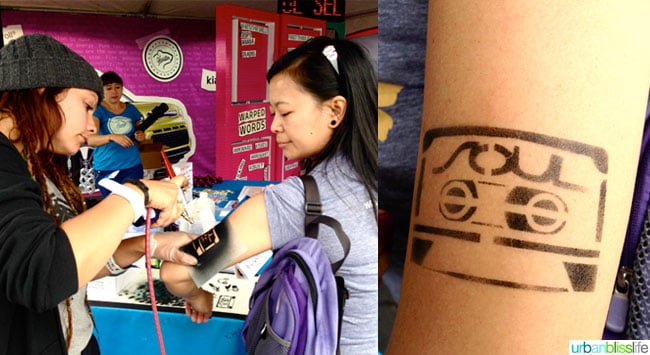 So while many moons ago, I would have written a post about tips for navigating the massive Warped Tour concert as a teen, my fellow PARENTS: this post is for you. I know your 13-18 year old sons and daughters will want to go to Warped Tour. And let me tell you as a fellow parent: I would happily take my own teen to Warped Tour.
Warped Tour is managed so well - they have thought of everything to make this a fun, safe, exciting event for concert goers of ALL ages. It's well organized, there is plenty of space so that you don't feel like you'll be trampled or squished, and there is a lot going on to hold everyone's interests. Also: there is a ton of security.
If your teen is asking you to go, here are some tips for my fellow parents.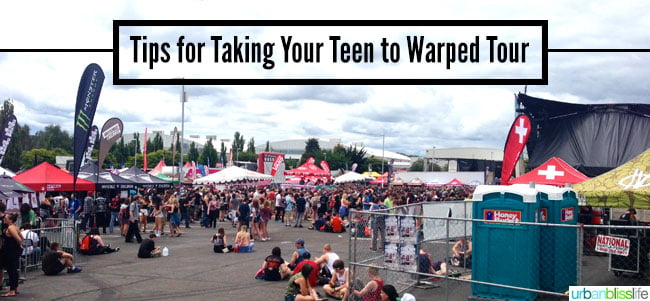 Tips for Taking Your Teen to Warped Tour
1. Parents can get in for free.
Don't overlook this very important fact! If you accompany a child with a paid ticket, this is a FREE concert for you, my friends! Just show your teen's purchased ticket at the tent labeled "Parent ticket," and they'll give you a wrist band to enter the concert free of charge. Super smart marketing, isn't it?
2. Dress appropriately.
I'm fairly certain that all of you own at least one pair of jeans and one t-shirt. Right? Good. That's what you should wear. Leave the colorful blouses and fancy jewelry at home. On the other hand, don't try to pretend you are 21 all over again. Newsflash: you're not. This concert is about your kid, not you, so don't embarrass them by trying to be as cool as they are and dressing like them. Because, newsflash: you're not.
3. Wear comfy shoes
You're going to be on your feet for hours, either walking or standing, so wear your most comfortable sneakers. Again, doesn't matter what they look like because nobody will be looking at your feet.
4. Bring a small backpack
You are allowed to bring in a small backpack (leave the purse at home), and you can bring cell phones, one small snack from home, one bottle of water that is unopened, and sunscreen. Do NOT forget the sunscreen; this is an outdoor concert, and you will need it.
5. Leave the fancy DSLR at home
You won't be allowed to bring in your DSLR, the one you use to record all of your kid's precious moments. You can, however, bring in a very small digital camera (think Olympus one-shot) and, of course, your cell phone. I am almost never without my DSLR, but I played by the rules and just used my iPhone camera for all Warped Tour photos. If I can do it, you can too!
6. Listen. Really listen
If you have no clue who these bands are, I suggest you kick back and enjoy the shows. You might find a new favorite band. You might find that your daughter or son actually has really good taste in music, and you'll be able to connect with them on this level from here on out! Of course, you liking their music may also turn them OFF of it, because, well, you are their parent, and of course, anything you like surely can't be cool.

7. Tag team with another parent
One of my friends went with her 13 year old daughter, her friends, and one of her friend's dads. I thought this was brilliant. My friend and the dad were able to tag team and make sure the girls were always safe without really hovering.
8. Hydrate
You're going to be there all day, so make sure you drink plenty of water. You can bring in one closed water bottle into the concert, and then there are free water stations (if you buy one of their bottles), as well as soda and water available at various food vendors. There are also 21+ beer gardens at Warped Tour, so if you are there with a group of parents, you can take turns watching the kids and taking breaks with a cold brew.
9. Reverse Daycare
I'm conflicted on this one, but I'm intrigued that the Warped Tour offers it, so I feel I have to share. There's a section for parents to sit down in a low-noise booth, called Reverse Daycare. I am sure they are different in each city, but the one in Portland tripped me out. It was SO. QUIET. The people in there looked like zombies. I was more afraid of them than of anyone and anything else there. So my friends and I opted to chill in the beer garden instead, where people were actually talking and having a good time. But, it's worth checking out, especially if you really need a break from walking and loud music.
10. Check out the booths
Your teen is here for a reason, and you are here with them: it is the perfect opportunity to check out the different vendor and sponsor booths so that you can see what your kids are interested in, not interested in, and how companies are marketing to YOUR kid. You also might find some cool t-shirts for yourself while you're checking them out.
Have fun, parents of Warped Tour teens! It's an absolutely FUN time if you do it right!