Looking for a quick, easy, and mouthwatering side dish? This vegetarian side dish would be perfect for Thanksgiving or any busy weeknight meal. Try this recipe for Roasted Brussels Sprouts with Apples!
Have you ever enjoyed a dish that completely changed your thinking about a certain food?
For me, it was the Brussels sprouts with chili, lime, and mint dish at Departure restaurant in Portland, Oregon. Before trying that dish, I had only experienced bitter, tasteless Brussels sprouts that were either too soggy or on the raw side.
Yet the talented chefs at Departure opened my eyes to what Brussels sprouts could and should taste like. They were bursting with bright herb flavors, and sang of a little citrus. I wanted more!
Since then, I've really loved trying new ways to cook this beloved fall vegetable.
Roasted Brussels Sprouts
While there are many ways to enjoy these leafy green veggies that are part of the cabbage family, my favorite method is roasting.
Roasting brings out the natural sugars and helps reduce the bitterness of Brussels sprouts. It also creates a lovely crunchy outer coating of leaves.
Roasted Brussels Sprouts with Apples
If you're looking for a super simple vegetarian side dish that is healthy and flavorful, this Roasted Brussels Sprouts with Apples recipe is it!
I love the crunchy combination and the sweet/savory mix of Brussels sprouts and apples together. Two great fall favorites in one yummy vegetarian side dish!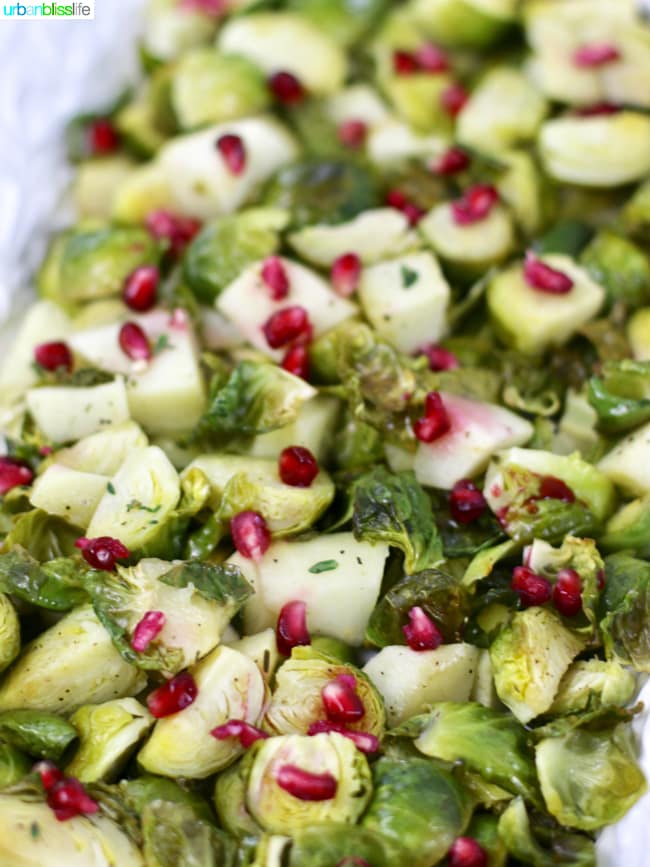 I add a bit of hard cider to coat the Brussels sprouts and apples before roasting. This gives it added flavor and helps bring out the natural sugars even more.
You could enjoy this vegan side dish as it is, or punch up the color and add a touch of extra flavor with pomegranate seeds, as I did here.
This vegan holiday recipe makes enough to serve a crowd, and would beautifully complement your savory Thanksgiving turkey and creamy mashed potatoes.
It's also easy enough to whip up for any busy weeknight meal throughout the year.
Roasted Brussels Sprouts with Apples Recipe
Ingredients
1

pound

Brussels sprouts

de-stemmed, washed, and cut into quarters

2

medium apples

cored, peeled, and chopped into cubes

2

tablespoons

olive oil

¼

cup

hard cider

½

teaspoon

thyme leaves

salt & pepper

OPTIONAL: pomegranate seeds
Instructions
Preheat oven to 350 degrees.

In a large bowl, toss Brussels sprouts and apples together with olive oil, hard cider, and thyme leaves. Season with salt & pepper. Spread out onto an 11 x 17 rimmed baking sheet.

Bake at 350 for 30 minutes, or until the Brussels sprouts achieve a slightly browned, crunchy outer texture.

OPTIONAL: top with pomegranate seeds for extra flavor and color
What are YOU making for Thanksgiving dinner this year? Be sure to like Urban Bliss Life on Facebook for more Thanksgiving recipes and inspiration this month!
PIN IT: