As of fall 2018, Ray is closed.
Refined Israeli cuisine shines at Ray restaurant in Portland, Oregon.
On March 24 (my wedding anniversary!) of 2017, Chef/Restaurateur officially opened her Israeli concept restaurant, Ray.
Located in her former flagship restaurant, Lincoln, the bones of the former remain relatively untouched, while the dishes that grace the table harken you to a completely different place and time.
Falafal, hummus, shakshuka, shawarma... all the beautiful dishes of Israeli cuisine take center stage now, with a bit of a Portland twist on each dish.
Ray restaurant
Recently, I had the pleasure of dining at Ray with a small group of fellow food bloggers. I was pleased to note that Ray still retains the open yet intimate atmosphere, where conversations could be jovial yet private, and there was a warm, inclusive neighborhood feel.
We started the meal with some bubbly, because every great meal starts with bubbles.
The olives ($6) are marinated with almonds and sesame - perfect for munching on over pleasantries while we settled in and got comfortable.
At the time of our visit, the seasons were transitioning, and we were able to enjoy the last of this summer cocktail: a ginger lemonana slushy with prosecco. It's probably a good thing that this isn't offered year round because it's dangerously good. They go down like regular lemonade on a hot summer day.
Small plates and salads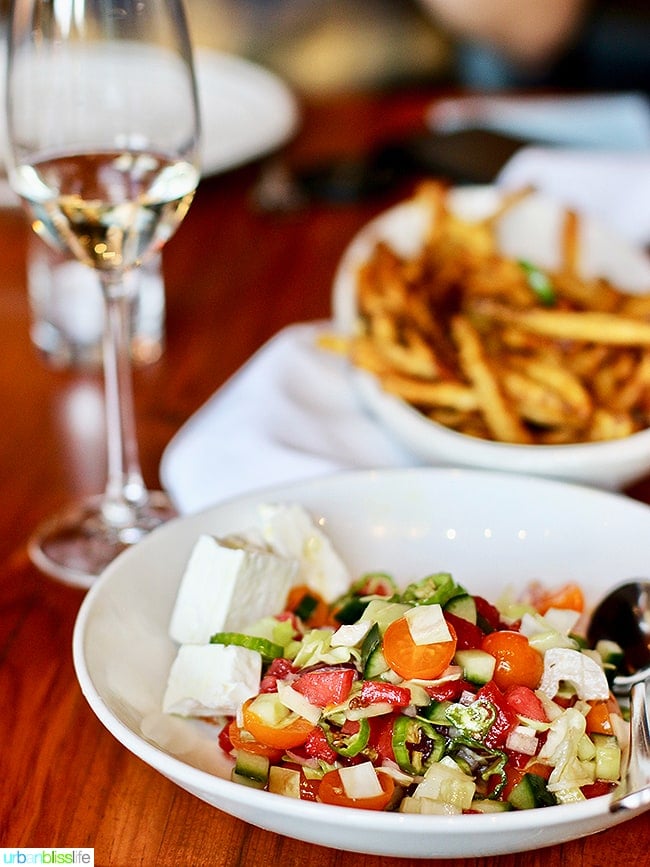 Ray always offers a tahini ceasar salad as well as an Israeli salad. During our visit we sampled the vibrant, technicolor Israeli salad with tomato, watermelon, cucumber, cabbage, and basil. It was as flavorful as it was colorful.
If you live in this neighborhood, I don't understand how you wouldn't be able to stop yourself from walking in here and ordering this salad at least once a week. I love this salad!
As much as I love beautiful bright salads, I equally adore shawarma. So when we were told that these were shawarma fries, I couldn't contain my excitement.
Seasoned with garlic and jalapeno, Ray's shawarma fries ($9) are the kind of fries my kids dream of: salty, savory, and perfectly crispy on the outside.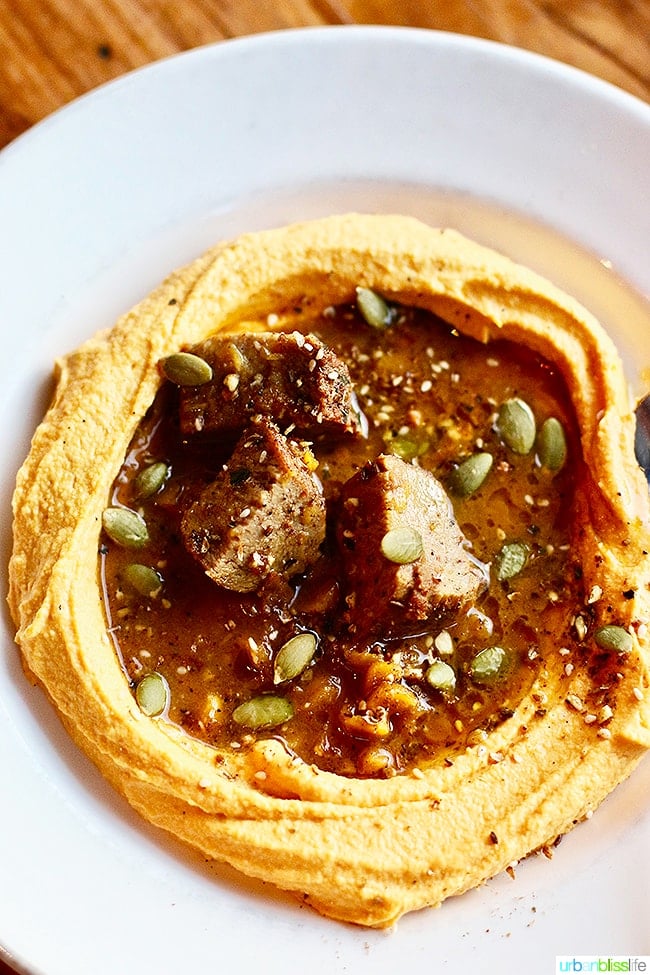 Hummus is abundant in Israeli cuisine, and here at Ray, you can choose from three different kinds. We feasted on the carrot hummus with braised lamb, pumpkin seeds, and dukkah ($15). It had a nice balance of creamy hummus, hearty lamb bites, and crunchy seed texture.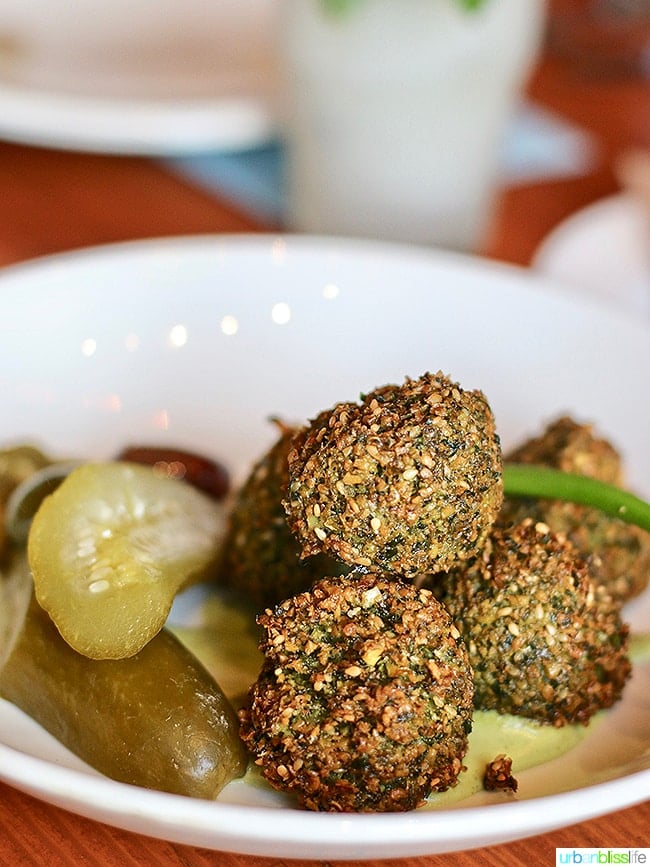 Falafel is also a mainstay on the Israeli modern table. At Ray, Chef Louis mixes it up a bit by offering an inventive falafel with green tahini, green chili, israeli pickle ($10).
The lamb flatbread ($15) is like a filling, slightly spicy lamb pizza, topped with tomatoes and chilis.
Large plates
Another popular Israeli dish, shakshuka ($15), is prepared classically at Ray, and given sprinklings of chilis (more chilis!) and cilantro.
Always one to keep things interesting, Chef Louis offers a couple of different specials each week. If you can dine here on a Tuesday or Wednesday, be sure to order the day's special.
Tuesday: dumpling day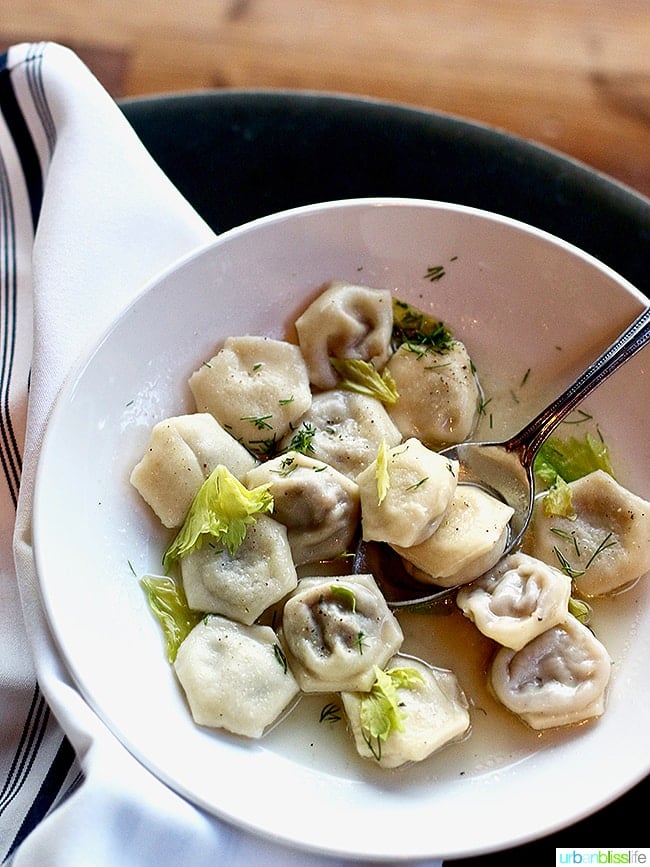 Every Tuesday is Dumpling Day at Ray restaurant. That means you might be able to enjoy these delectable pillows of pelmeni filled with braised goat and caraway that we feasted on during our dinner.
The filling actually does change from time to time. In the past, Chef Louis has made a similar pelmeni but with albacore instead of braised goat; pelmeni with potato and caramelized onions, dill, and cherries; and she's even served a gorgeous spinach pierogi in the past.
Wednesday: Israeli fried chicken
Next on my must try list: the famous Israeli fried chicken! Each Wednesday, Chef Louis serves a reportedly incredible Israeli fried chicken that is perfectly fried, crispy, and packed with spices.
Sadly, I can only say "reportedly" since I have not been yet, but I have plans to visit in the near future and will update with a photo afterward! Fried chicken is my jam, y'all!!
Dessert
As with the starters, small plates and large plates on the menu, Ray serves desserts prepared with thoughtful ingredients and simple, elegant presentation.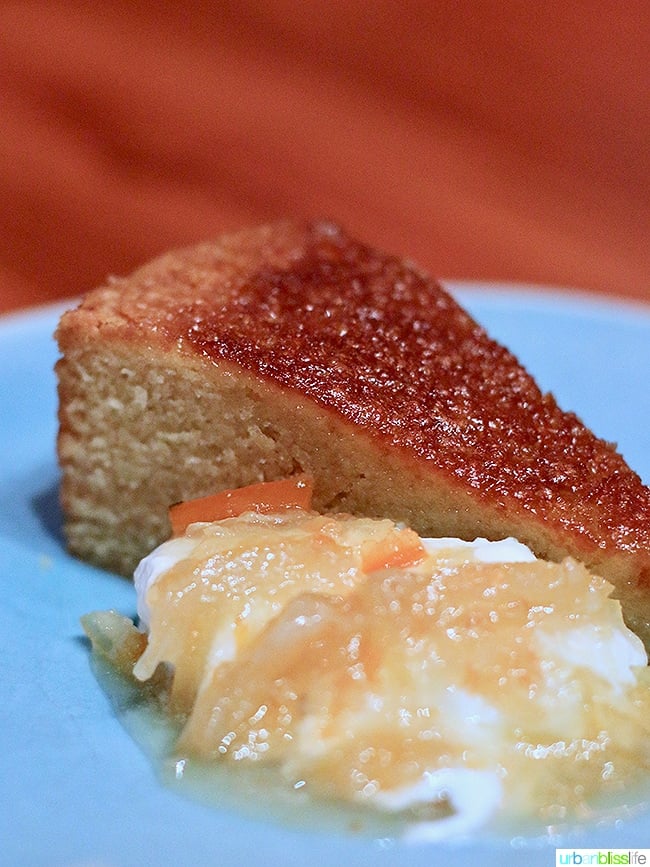 The semolina olive cake ($8) is a delightful finish to the meal. Moist and tender, with a slightly crisp to the outer crust, topped with a sweet marmalade.
The malabi ($7) is a classic Israeli milk pudding (similar consistency of Italian panna cotta). Ray tops it off this creamy dessert with pistachios, rose petals, sesame brittle, and ginger.
Dine at Ray
Ray is a wonderful place for date night or a night out with a small group of friends. The plates are small and meant to be shared. I would order 3-4 small plates and 1-2 large plates, plus a dessert to share among a group of 4. The dishes are beautiful and deliciously accessible; they are a great introduction to Israeli cuisine for those who are not as familiar with the ingredients. And to those who are familiar, you will find great comfort and satisfy your cravings with Ray's update on the blend of classic Israeli dishes.
3808 N Williams
Portland, OR 97227
503-288-6200
hello@raypdx.com
HOURS
Dinner: Tuesday - Saturday 5:30 to close
Happy hour: Tuesday - Friday 5:30 to 7:00
For more information and to make reservations, visit the Ray restaurant website.
Are you familiar with Israeli cuisine? Which dishes pictured here would be your favorites?