Surround yourself in rustic Pacific Northwest comfort, embrace adventure, and soak up stunning views of the Columbia River Gorge with a stay at Skamania Lodge in Southern Washington.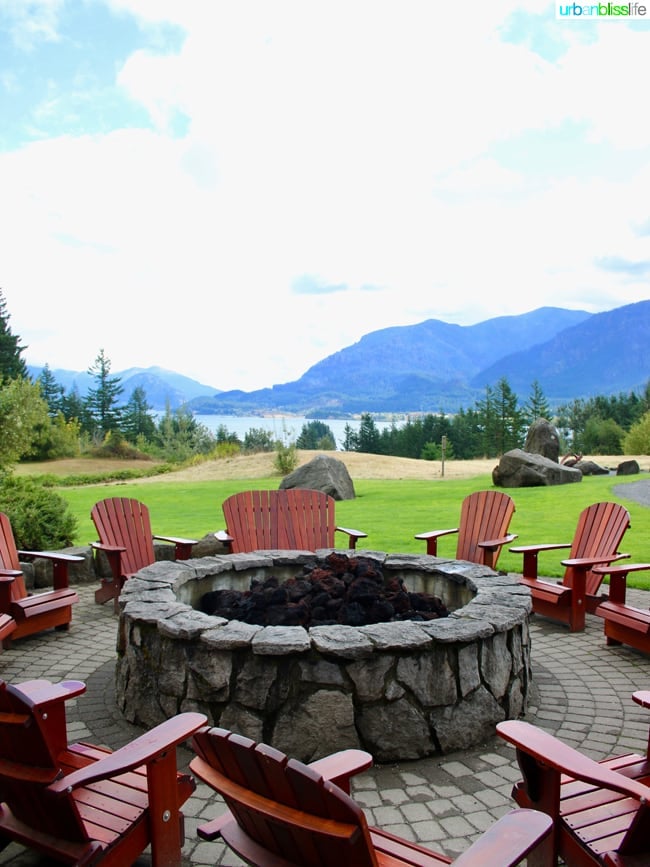 Oh, Mighty Columbia River Gorge. Our stunning fixture of strength and nature's awe.
We watched in heartbreaking horror as the forests along parts of our beloved Columbia River Gorge went up in flames this summer during the Eagle Creek fires. Our collective Oregon hearts stopped in solidarity.
Just one week after the Eagle Creek fires were downgraded to less of a threat, I was invited to visit Skamania Lodge.
This historic hotel is situated along the Washington side of the Columbia River Gorge in the small town of Stevenson, with a direct view of the fire zone.
I drove there in the pouring rain with a swirl of emotions: gratitude for the rain, trepidation of the sight that might await me.
As I stood in my suite at Skamania Lodge, I stared across the Columbia River and started to breathe again.
It was all there: the mountains, the hillsides, the Columbia River, and so many more green trees than I imagined.
And Skamania Lodge was a relaxing rustic oasis from which to take in Pacific Northwest's beauty.
Skamania Lodge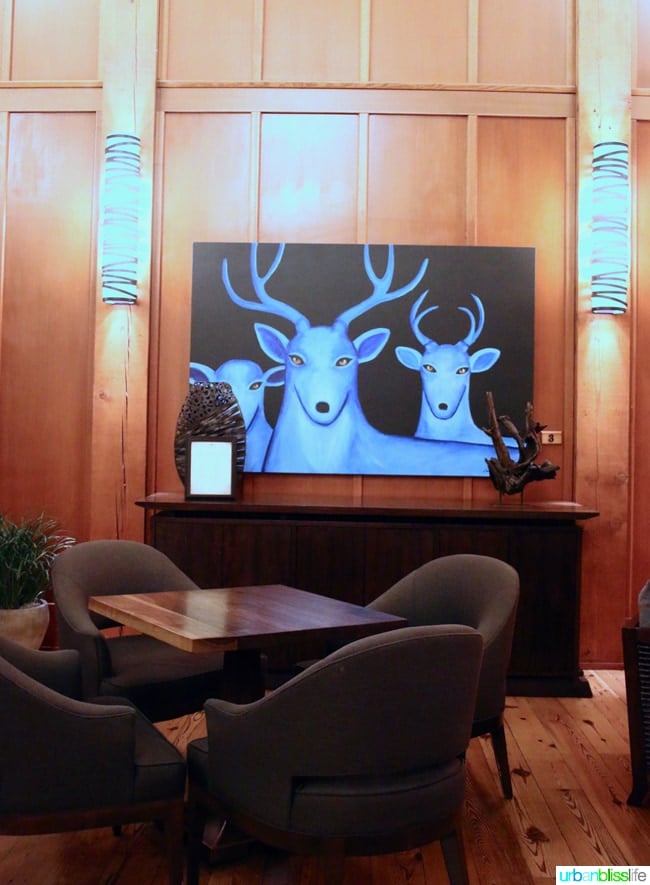 Skamania Lodge has been a fixture in the Columbia River Gorge since 1993. It opened to much fanfare back then, as upscale accommodations that retained the rustic charm of the area. 100-year-old timber columns stand tall throughout the lodge, and a mix of wood, stone, and local artwork mingle in both the main public areas and guest rooms.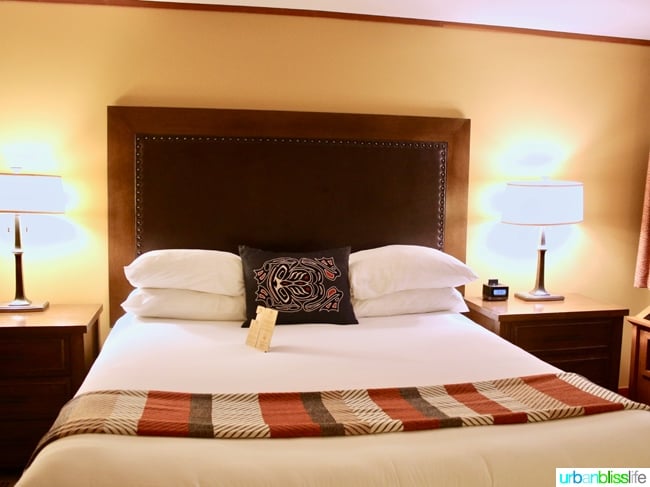 I stayed in a Superior River Room with king bed (starts at $180/night) and really enjoyed my room. There are also several different room and suite options available.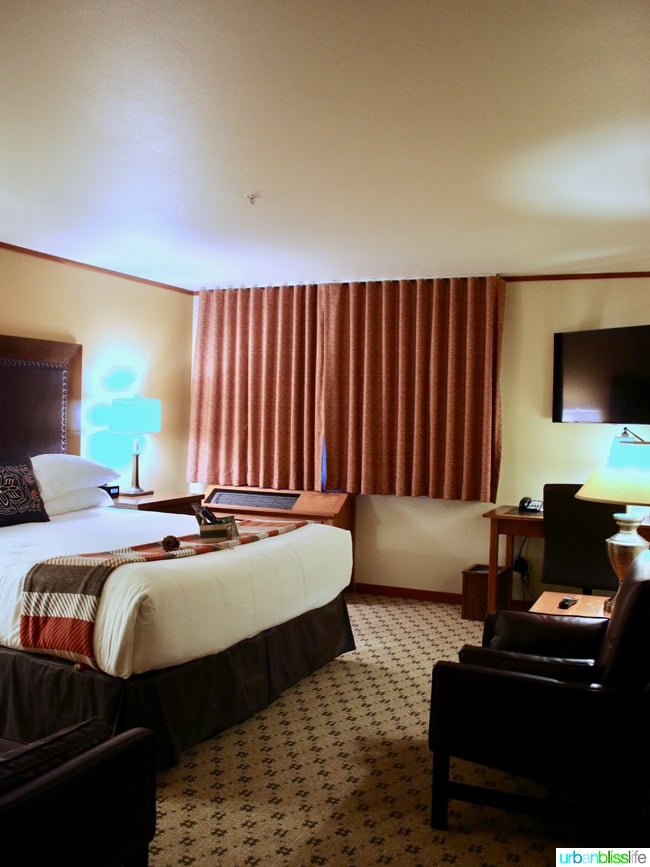 I found my room to be comfortable, quiet, clean, and again: the view of the Columbia River just can't be beat. (the photo of the Gorge located five photos above was taken from my room).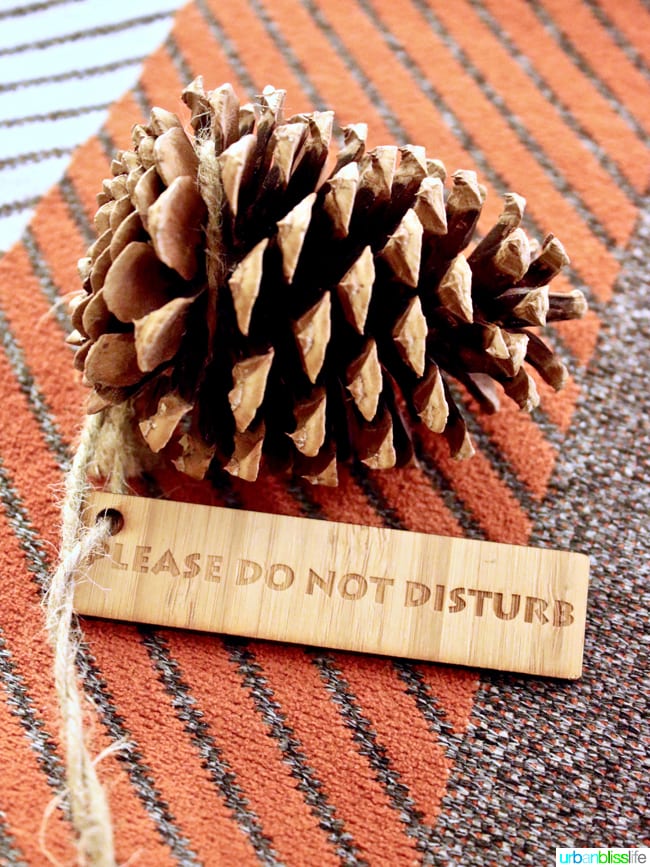 Pacific Northwest rustic charm exudes throughout the room. It's in every little detail of the lodge - from Pendelton blankets to the pinecone "Please Do Not Disturb" signs.
Aerial park
While at Skamania Lodge, you have the option to simply relax and retreat - or you can partake in one of many fun outdoor adventures nearby and on the property.
In addition to the lodge's ziplining facilities, Skamania Lodge recently expanded its outdoor adventures to include an awesome new Aerial Park.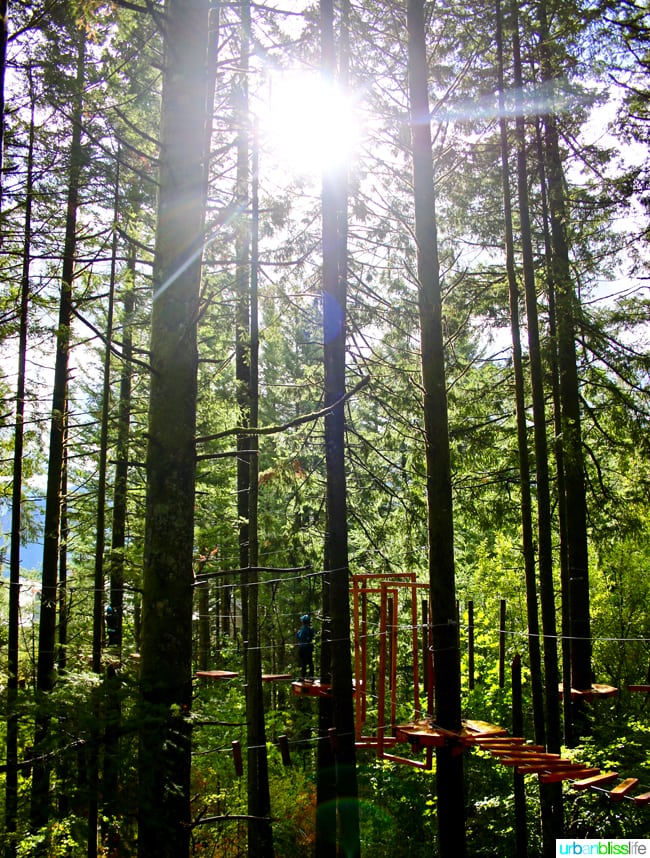 The Aerial Park opened in late August, and it is SO much fun!
You maneuver at your own pace through 22 different obstacles on the course, which is built across from the lodge among a forested area.
All participating guests must be at least 6 years old with a parent/guardian or at least 8 years old AND be able to reach up to 6 feet in order to participate without a parent/guardian. Guests must also weigh no more than 275 pounds.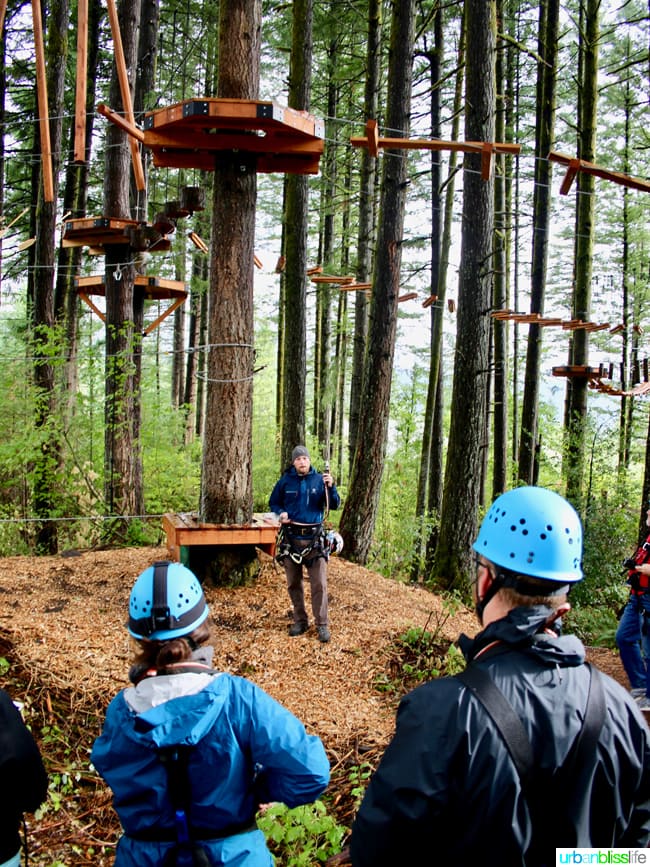 You'll start off getting outfitted with gear and you'll go through a safety demonstration with a guide before tackling the course on your own. Park monitors are there on the ground watching you the whole time and are available to assist as needed.
The course is full of unique obstacles that will test your abilities while allowing you to have a lot of fun at the same time. You'll go across canoes and bridges, climb ladders, maneuver across tree stumps and large picture frames, and balance tightrope walks.
This aerial park is no walk in the park!
It is a true workout: you'll rely on your core, grip strength, and balance in order to maneuver through the series of obstacles hanging amid the trees.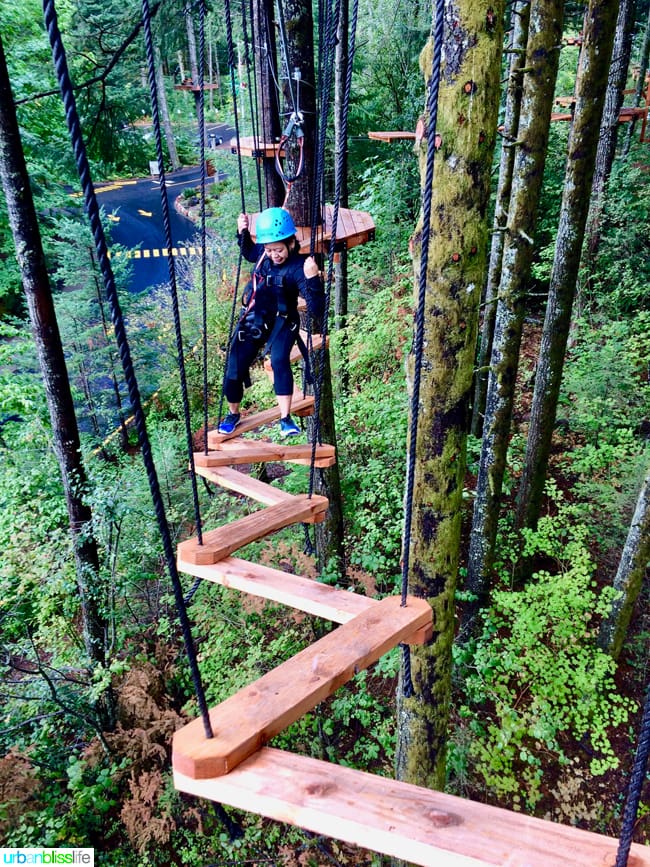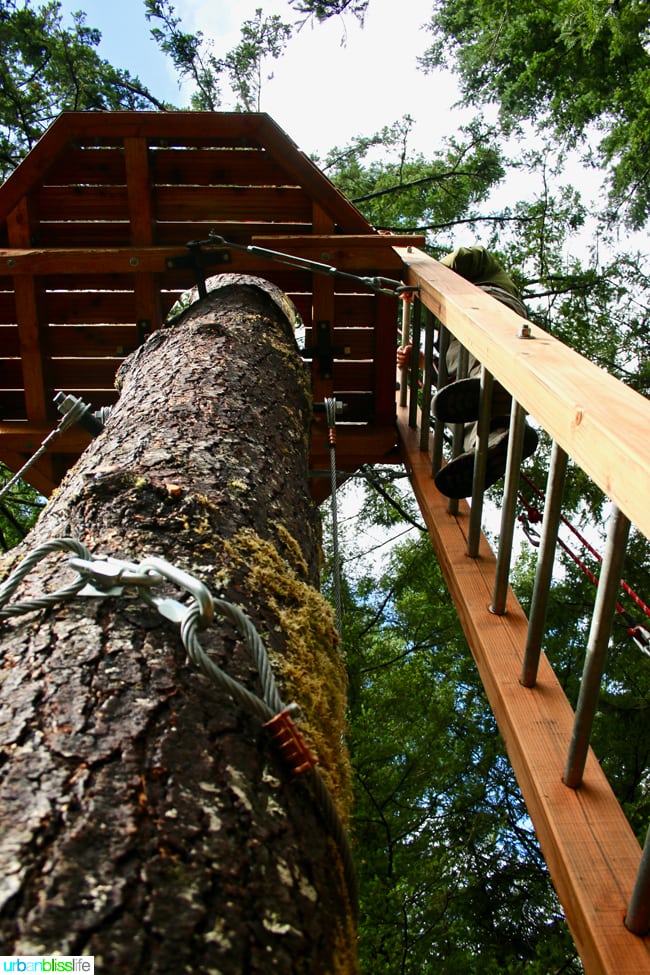 The highest point of the Aerial Park is the Eagle's Nest, which you reach by climbing up a ladder - always connected by carabiner, of course.
The reward: one amazing view.
Only two people can stand on the Eagle's Nest at a time, so soak up the views of the Gorge just past the lodge as long as you can. It's truly breathtaking and my photos do not do it enough justice.
Skamania Lodge Tree Houses
In addition to the guest rooms and suites in the main lodge building, Skamania Lodge recently added Tree Houses to its property.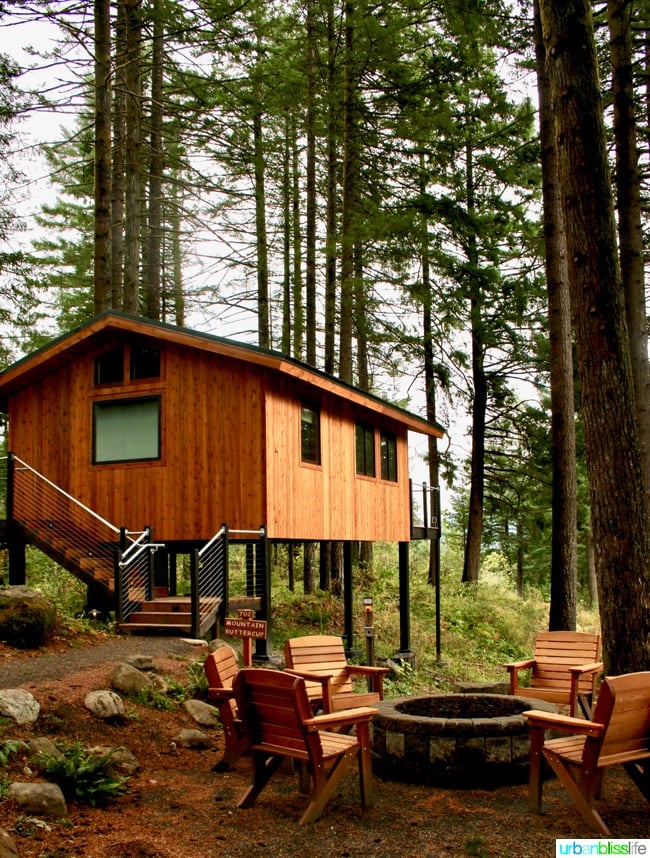 These accommodations are across from the main lodge area, close enough to lodge amenities but secluded enough to feel truly like a private oasis. Each tree house comes with an outdoor fire pit and outdoor living space, which helps expand the living space of these quarters.
I just ADORE these tree houses. They are beautifully designed, inside and out.
Each tree house has one king size bed, a large en suite bathroom, and indoor/outdoor fireplace. They start at $399 per night and would be great for a couples getaway. I'd book this for an anniversary weekend!
Dining
Skamania Lodge as two main restaurants, in addition to room service. I had the pleasure of dining in both, as well as enjoying a catered lunch in one of the lodge's many conference/meeting spaces.
I celebrated my first night at Skamania Lodge with dinner in the more casual River Rock restaurant. To toast my stay with a local wine, I ordered a voluptuous and daring Barbarrica red wine from nearby Ane Che Cellars.
I was told the Loaded Nachos ($16) and the Bison Burger ($18) were popular menu items. However, the day's special entree called to me: Steelhead salmon on a bed of white beans.
I also enjoyed a cup of Salmon Chowder ($8) which was served with delicious crispy crackers.
The next morning, I started the day with a classic breakfast of eggs, bacon, and toast (with coffee!) in the larger Cascade Dining Room. Guests have the choice of ordering off the menu, or enjoying the breakfast buffet.
Visit
Skamania Lodge is a lovely place to getaway for a weekend with friends, as a couple, or for conferences and work retreats. Children are welcome here; the restaurants do offer kids menus and both ziplining and the aerial park are open to children older than age 6.
It truly is a gorgeous setting, with so much to do on the property, as well as around the area. You can go hiking, fishing, visit nearby breweries and wineries, take the boat out on the Columbia River, or simply relax by the fire and enjoy the views.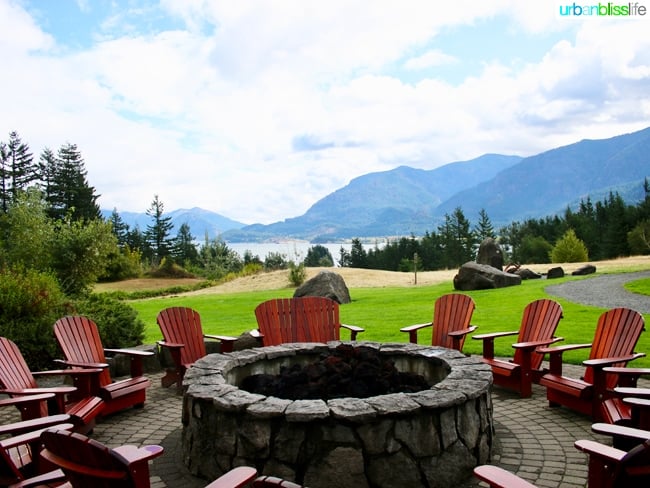 For more information and to make reservations, visit the Skamania Lodge website.
More Northwest Outdoor Travel Ideas
My stay and aerial park adventures were both compliments of Skamania Lodge. All opinions and photos are, as always, my own. I had so much fun here and think you will, too!