This Steak Pesto recipe puts a twist on traditional pesto by adding cilantro with the basil, and swapping out pine nuts for almonds.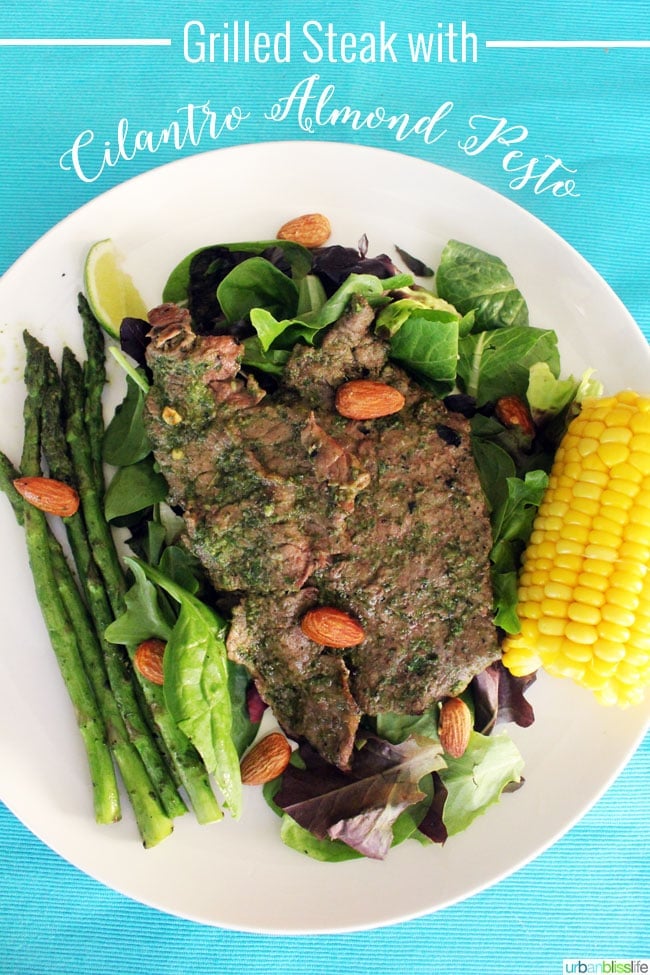 As much as I adore traveling, road tripping and an overwhelming work load have turned me into a summer hermit of sorts. We've got more travel plans soon enough, but for now, I'm enjoying the adventure of being home.
Grilled Steaks
Now that the temperatures are back down to the heavenly, non-sweltering 70s and 80s, the grill makes our backyard an adventurous spot. For fast, yummy dinners, I think grilled steak pesto is a winner.
You can enjoy grilled steaks with grilled veggies or toss them on salads. Try piling them into sandwiches for fast, easy meals. And, you can easily create new dishes from one night to the next simply by switching up the marinade you use.
Cilantro Almond Pesto Sauce
In addition to traditional BBQ sauces and teriyaki sauces, I like throwing together a super quick pesto sauce. Chop a few ingredients, throw them all into a blender and in just about 10 minutes: BOOM, you have the start of a delicious dinner.
What makes my steak pesto a little different is that I use cilantro in addition to the basil.
I also use almonds instead of pine nuts. The almonds add a depth and nutty flavor that is richer than traditional pine nuts.
Ways to Use Pesto
I love how versatile pesto is. I use it on:
steak, pork, or chicken marinade
as a pasta sauce
as a dip for veggies
to mix into frittatas and omelets
as a condiment for almost any sandwich
as a salad dressing
Steak Pesto Recipe: Grilled Steak with Cilantro Almond Pesto
Ingredients
1

pound

of thinly sliced sirloin steak

1

cup

fresh basil

½

cup

fresh cilantro leaves

⅔

cup

extra virgin olive oil

½

cup

Blue Diamond lightly salted almonds

2

garlic cloves

roughly chopped

½

teaspoon

salt

½

teaspoon

lime juice

cracked pepper
Instructions
Lightly season steak with salt & pepper, and set aside.

Toss all of the remaining ingredients into a blender.

Pulse until almonds have been sufficiently crushed, then blend/puree for about 2 minutes, until you have a nice thick but somewhat smooth sauce/dip consistency.

Coat the steak by placing it in a large ziplock bag with about ½ of the prepared pesto. Set the remaining half of the pesto aside in a jar or airtight container and save for other uses later in the week.

Grill the steaks for about 4-5 minutes.

Remove from grill and serve. You can also top with a spoonful of additional pesto if you'd like.
Notes
You can keep any remaining pesto in an airtight jar in the refrigerator for 1-2 weeks, or freeze in a freezer safe container for longer.
Do you like pesto sauce and what's the best way you like to eat pesto?
This post is sponsored by Blue Diamond Almonds. All photos, recipes, and opinions are, as always, my own.