Butternut Squash Hash is a healthy, dairy-free butternut squash recipe that's perfect for breakfast, lunch, or dinner!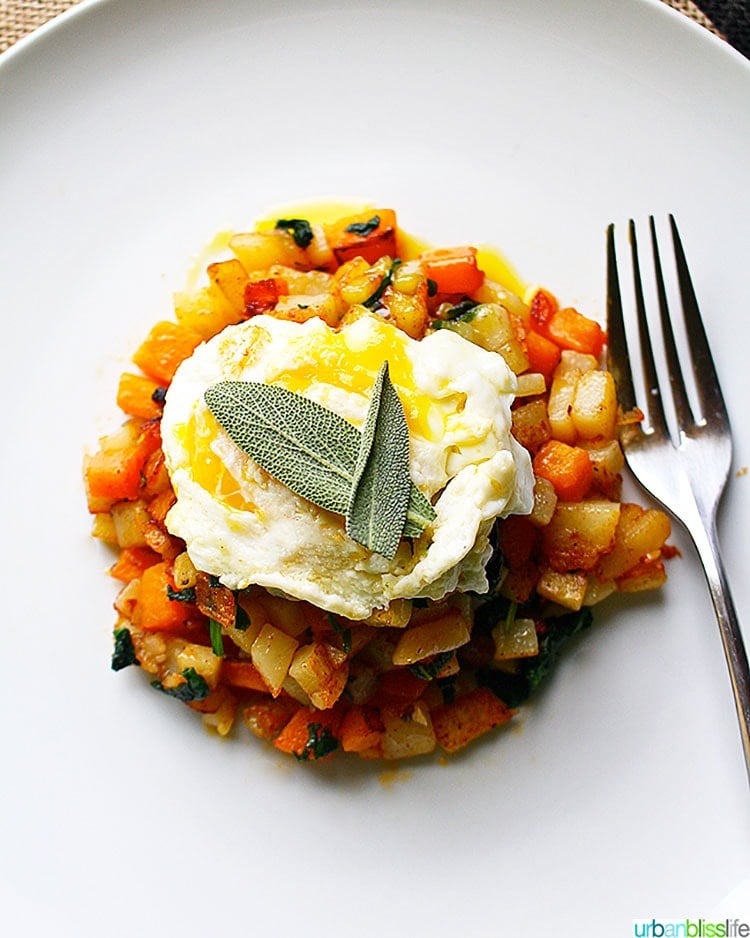 This butternut squash recipe first came about shortly after learning I can't have dairy. No milk, yogurt, cheese -- not even goat cheese. Also on the Do Not Eat list: bananas, pineapples, and pecans.
So, how does a food blogger who is used to eating EVERYTHING, cut back on all of these things?
By seeing this new diet as a challenge, and learning to cook delicious dairy-free meals!
Approved Food List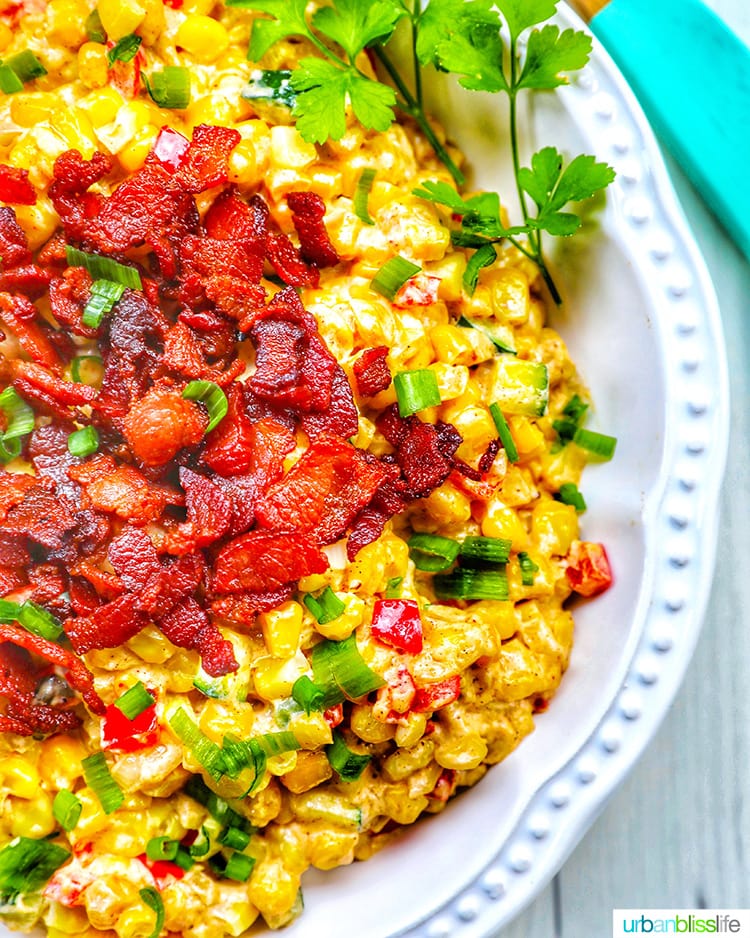 Most of my favorite food & drinks are still on the Good List. I can still enjoy pasta, seafood, bacon, wine, coffee, and chocolate, thank goodness.
If those beloved items were on my Do Not Eat list, I would be having a life crisis of major proportions!
I can also still have butter, which confuses people because butter is dairy. Since butter is made mostly from milk fats vs milk protein, my body doesn't react to it the same way it does to most milks and cheeses.
So YAY BUTTER! Long live butter! (Although, I do love this vegan dairy-free butter alternative).
Getting Creative in the Kitchen
The intolerance testing results blow is also softened by this a sick and twisted addiction that I have to change and being challenged. So on the flip side, this has created a whole new exciting cooking arena for this adrenaline junkie.
I've loved trying out new dairy free recipes. And I've enjoyed expanding my cooking and baking to Paleo and Vegan recipes. The fact that I am forced to expand my palate and get out of my cooking comfort zone is a very good thing!
So enter: more butternut squash recipes.
Healthy Butternut Squash Recipes
I've never cooked much with butternut squash until now.
In effort to balance out my new diet, I decided to beef up my veggie options. I tend to always cook with the same veggies. Do you fall into that rut? For me, it's spinach, kale, bell peppers, potatoes, corn, green beans, broccoli, carrots, and brussel sprouts. So I needed something new.
Butternut Squash is a versatile vegetable that can be made into so many different dishes. I've learned to love butternut squash pastas, hand pies, stir fry dishes. And, easy roasted butternut squash has become one of my favorite snacks!
Butternut Squash Hash Ingredients
With versatile ingredients, this butternut squash hash makes a fantastic breakfast, brunch, or fast lunch recipe.
butternut squash
baking potato
garlic
olive oil
cumin
paprika
chopped sage
optional: poached egg
How to Make Butternut Squash Hash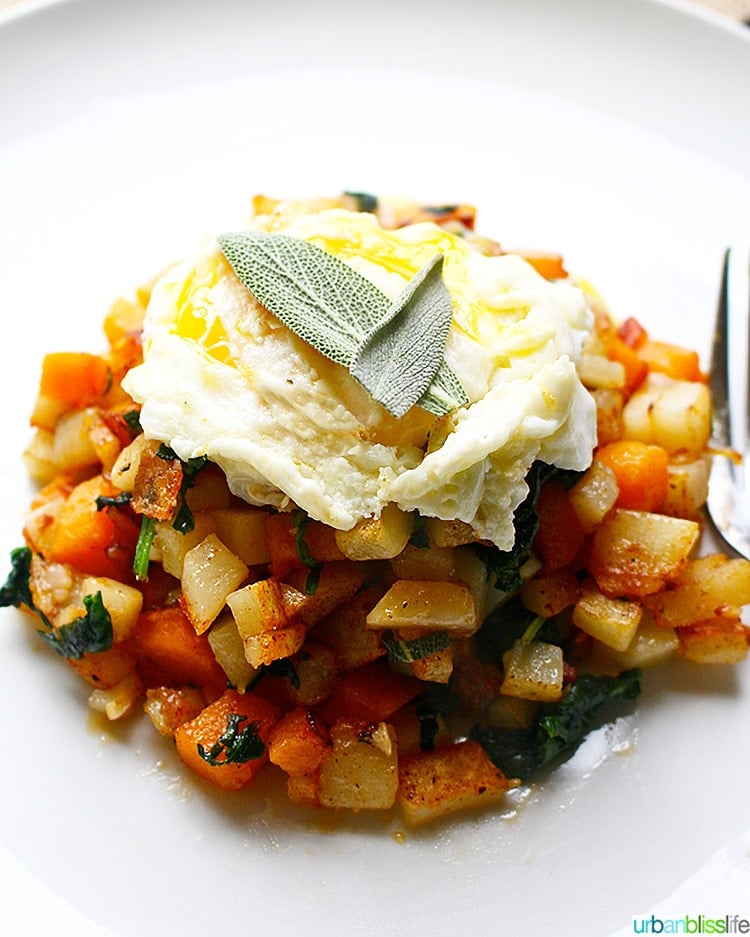 In a large sauté pan or skillet, heat 2 tablespoons of olive oil over medium heat.
Add one minced garlic clove.
Chop up very small cubes of butternut squash and baking potatoes. Toss into the pan.
Season with salt, pepper, paprika, and cumin.
Stir, mix, sing a little song, do a little dance. Then toss in some color, which I did in the form of a large handful of spinach.
Toss in one tablespoon of roughly chopped fresh sage. Sage is what makes this dish sing. It is such a fragrant herb that really brings out the sweetness of the butternut squash.
Then toss the ingredients around a few times and cook until the edges of the potatoes and butternut squash are lightly browned.
I topped this with an egg cooked over easy. Luckily, I don't need to cut out eggs, but I'm told that many people have an egg intolerance, so if you can't have eggs or don't like eggs, simply leave this out.
I'm excited to embark on this new food journey. I look forward to testing out and sharing more dairy-free recipes here with you!
Butternut Squash Hash
This easy butternut squash recipe is great for breakfast, lunch, or dinner!
PRINT
PIN
RATE
Ingredients
Instructions
Heat olive oil on a large saute pan or skillet over medium heat.

Add garlic and saute for 1 minute.

Add butternut squash and potatoes, season with salt, pepper, cumin, and paprika, then saute for about 6-8 minutes, until the potato and squash edges are slightly browned.

Add chopped sage and stir into the other ingredients, continuing to saute for 1-2 more minutes.

Remove from heat.

Add a fried egg, cooked to your preference, if you wish.
Tried this recipe?
Please leave a star rating and comment! Then snap a pic of your dish and share it on social media. Tag @UrbanBlissLife and #UrbanBlissLife!
Nutrition information is a general estimate. Actual nutrition details may vary depending on the exact foods & brands you use to make this recipe. It does not take into account any substitutions, toppings, or optional ingredients.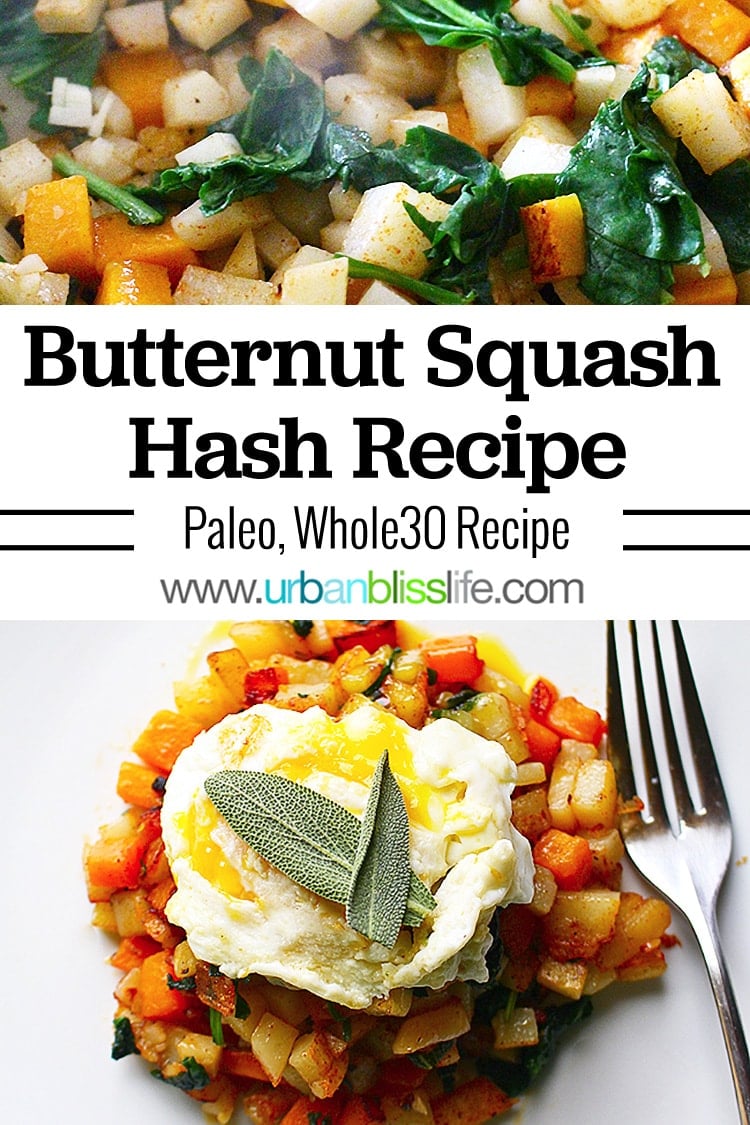 More Easy Recipes
This post was originally published November 7, 2014. It was updated January 24, 2020 with new photos and additional content.