This creamy Vegan Cauliflower Soup is a nutrient-rich dish that takes less than 30 minutes to make. Perfect for a quick lunch or easy dinner recipe.
This vegan cauliflower soup recipe came about when I discovered a head of cauliflower that I had forgotten I purchased a few days prior, and I wanted to try something different.
I love making cauliflower rice, mashed cauliflower, and cauliflower fritters, but I really wanted to make a rich, creamy, super veggie-packed soup - and I needed it to be QUICK.
I threw some veggies together, along with my usual dairy-free soup base of coconut milk + vegetable stock.
Turns out, cauliflower + carrots + potatoes + a few fave spices = MAGIC!
How to Make Vegan Cauliflower Soup
Prep time for this yummy soup can take 5 minutes up to 10 minutes, depending on how long it takes you to wash and chop the veggies.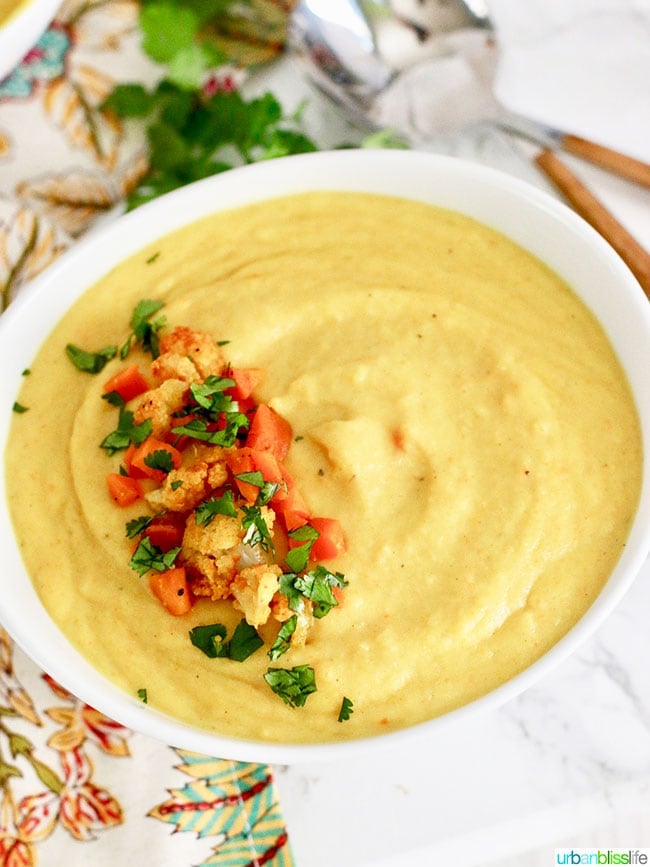 From there, you simply season and then roast the veggies for about 20 minutes.
You want the veggies to have a richer color and be tender enough for a fork to easily pierce through one - but not too soft that they turn to mush at the touch.
Let the veggies cool for a minute or two outside of the oven, and then pour them into a large stockpot, along with the coconut milk and vegetable stock. Puree until smooth with an immersion blender, and then eat up!
Note: if you don't have an immersion blender, you can also puree the roasted veggies, coconut milk, and vegetable stock in a regular blender.
Healthy, Nutrient-Rich Soup
This vegan cauliflower soup is rich and creamy, without any dairy, so it's a vegetarian soup and a vegan soup. It's a nutrient-packed soup that satisfies your comfort food cravings!
Cauliflower provides up to 77% of your daily vitamin C. It's also a good source of vitamin K, protein, thiamin, riboflavin, niacin, magnesium, phosphorus, fiber, vitamin B6, folate, pantothenic acid, potassium, and manganese.
Carrots are rich in beta carotene, which converts to vitamin A. Carrots have been known to help reduce cholesterol, lower risk of heart attacks, prevention of certain cancers, improve vision, and reduce signs of premature aging. These mighty orange veggies also reportedly have the ability to improve the skin, boost the immune system, improve digestion, and protect cardiovascular health.
Potatoes are fiber-rich veggies, providing you with potassium, vitamin C, and vitamin B6 content, and helping lower the total amount of cholesterol in your blood which helps decrease your risk of heart disease.
Bonus veggie power: add some homemade vegetable stock that is also packed with nutrients from your saved veggie scraps!
What wine do you pair with cauliflower?
An earthy, thick soup like this Cauliflower Carrot Soup that also has rich spices would pair well with a nice bright Pinot Gris. I am currently crushing on two Pinot Gris from Oregon: the Rainstorm Pinot Gris.
This white wine is very food friendly and pairs well with vegetable-rich dishes, as well as seafood dishes. The fresh acidity helps balance out the subtle spices in this cauliflower carrot soup.
Vegan Cauliflower Soup Recipe
Ingredients
2

tbsp

olive oil

1

Medium head of cauliflower

chopped into small pieces (discard leaves & tough core)

2

Medium carrots

peeled, sliced into ½ slices

1

Large baking potato

peeled, chopped into ½" pieces

2

Garlic cloves

minced

½

tsp

ground paprika

½

tsp

ground turmeric

½

tsp

salt

¼ tsp

tsp

black pepper

1

can

coconut milk (14.5 oz can)

1

cup

vegetable stock (or broth)
Instructions
Preheat oven to 425 degrees.

Place cauliflower pieces, carrot slices, potato pieces into a large bowl. Drizzle olive oil over veggies. Sprinkle minced garlic, paprika, turmeric, salt and pepper over veggies. Gently toss veggies and oil & spice mix all together and spread veggies in an even layer over a rimmed baking sheet. Bake at 425 degrees for 20 minutes.

Allow roasted veggies to cool at room temperature slightly and then add to a large stockpot. Pour coconut milk and vegetable stock (or broth) over veggies. Puree with an immersion blender until smooth - or puree in a regular blender.

Serve and enjoy immediately!
I really love this soup, and I hope you will, too! You can easily double the recipe to make a larger batch of soup. Since it doesn't have any dairy, it should freeze fairly well and keep in an airtight freezer container for up to one month.
PIN IT:
More 30-Minute Meals:
What late winter/early spring veggies are you crushing on right now?