The Suttle Lodge dining experience in Sisters, Oregon is a mix of cabin comfort and upscale cooking, with culinary moxie that proves the chefs here offer more than just grown-up camping fare.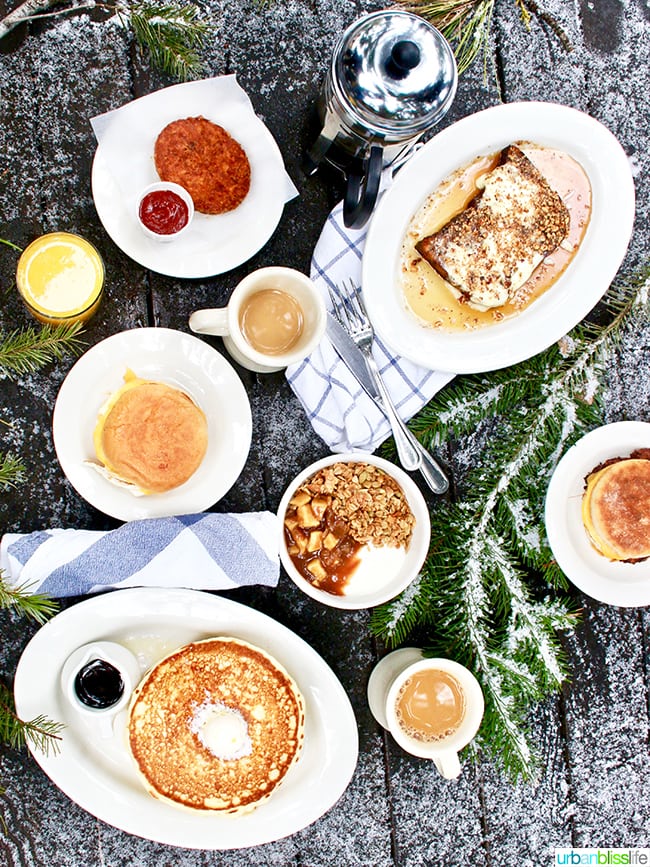 A stay at The Suttle Lodge in Sisters, Oregon is all about immersing yourself in nature - without actually having to sleep and eat in the sometimes cold, harsh outside elements of the Deschutes National Forest.
Complementing the natural surroundings, the menu at The Suttle Lodge - created by Portland-based chef Joshua McFadden (Ava Genes) – gives an approving nod to classic cabin comfort food.
Dining hours at The Suttle Lodge vary depending on the season (see the bottom of this post). You order at the small bar, where you'll find the appropriate menus, and then grab a seat anywhere in the lounge/lobby area or, weather permitting, outside on the back deck looking out toward the lake. The Boathouse, located to the side of the main lodge by the lake dock, is open during warmer weather and offers a small menu of similar food and drinks.
Jump to:
Breakfast
Before you head out for a day of hiking, skiing, or even just lounging and reading by the fireplace, you'll need to load up with a hearty breakfast.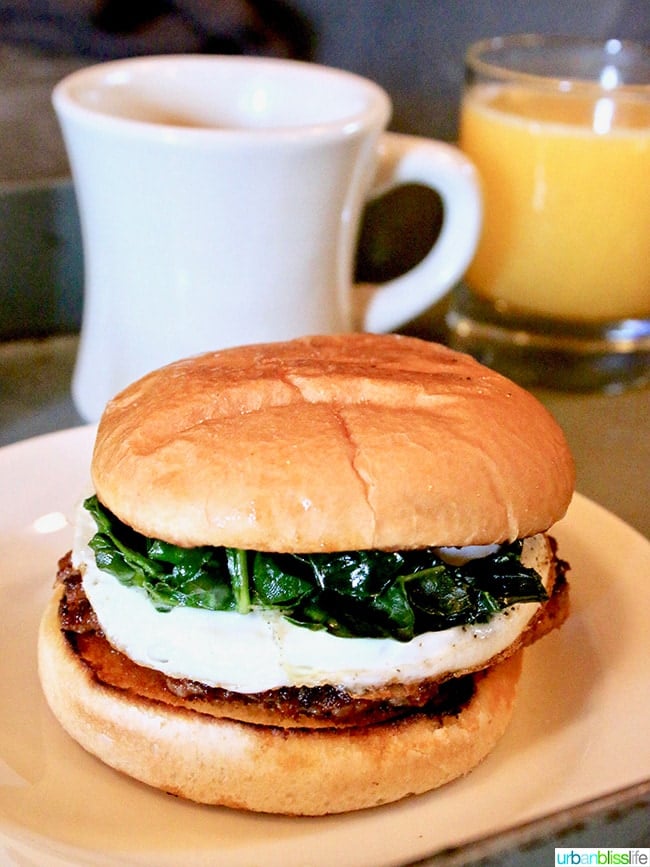 The Steamed Egg Sandwich is easy to customize: you choose from either an english muffin or a soft bun, with bacon or sausage, and you can add greens! So yummy.
One of my favorite dishes from The Suttle Lodge breakfast menu is the Buttermilk Pancakes, with maple syrup and a big mound of butter. This is a triple stack of super fluffy pancakes; one serving is enough to feed two people.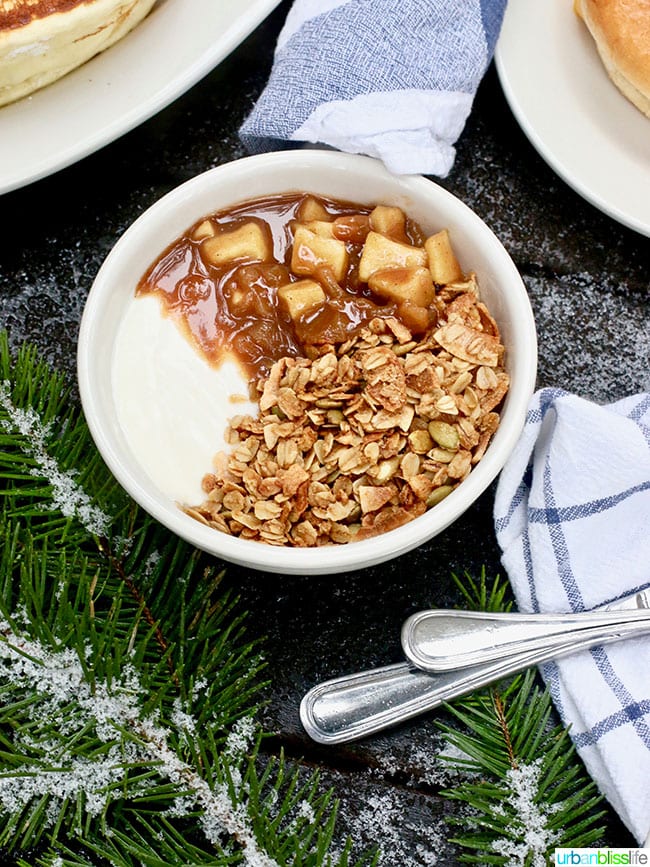 The Boat House Granola is a beautiful bowl of seasonal fruit and honey yogurt.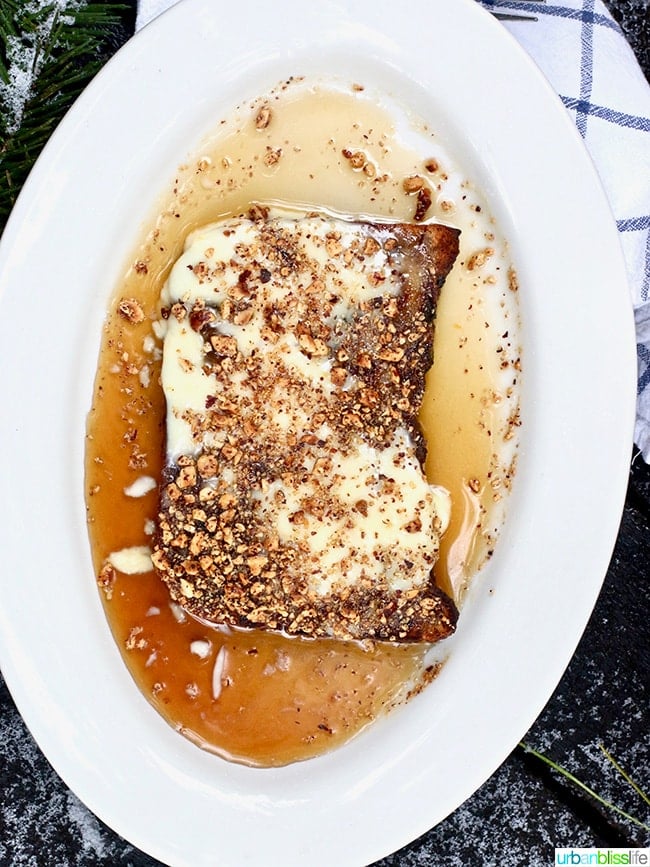 Having the toast special is like enjoying dessert for breakfast. So sugary and sweet, doused in syrup and cream, but remember: this is magical vacation food, and calories don't count on vacation, right?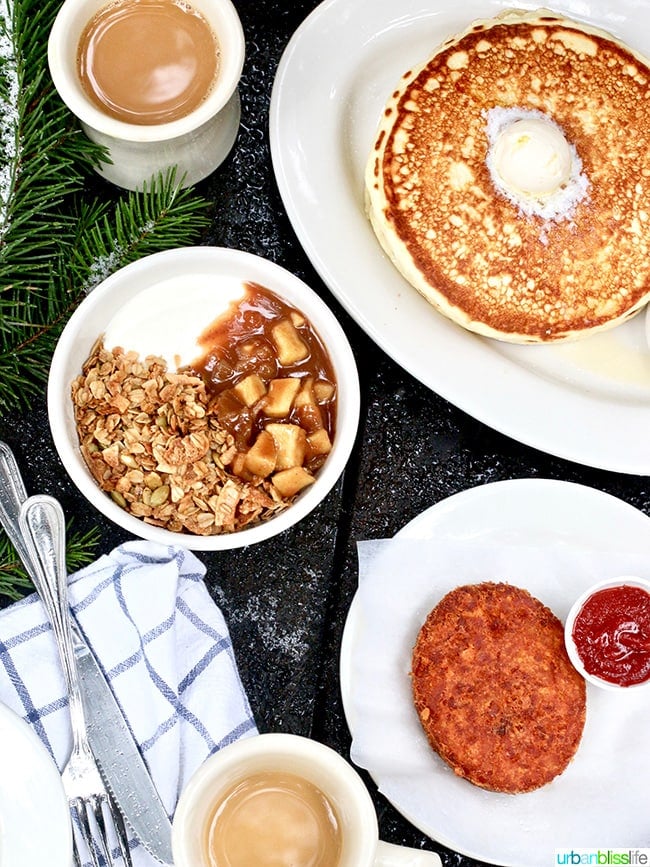 And this may sound crazy, but you haven't had a hashbrown until you've had the ones at Suttle Lodge. These are beautiful, crispy-on-the-outside, perfect-on-the-inside local potatoes that have been hand cut and fried.
Drinks
The cocktail program at Suttle Lodge is spot-on.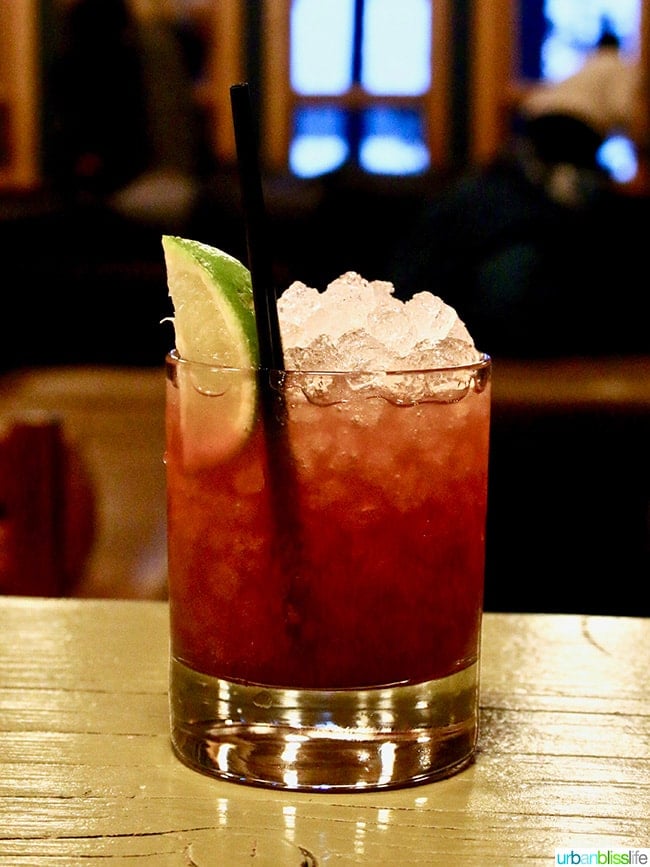 My favorite is the Table Sled: Bourbon, lime, demarara, and doug fir.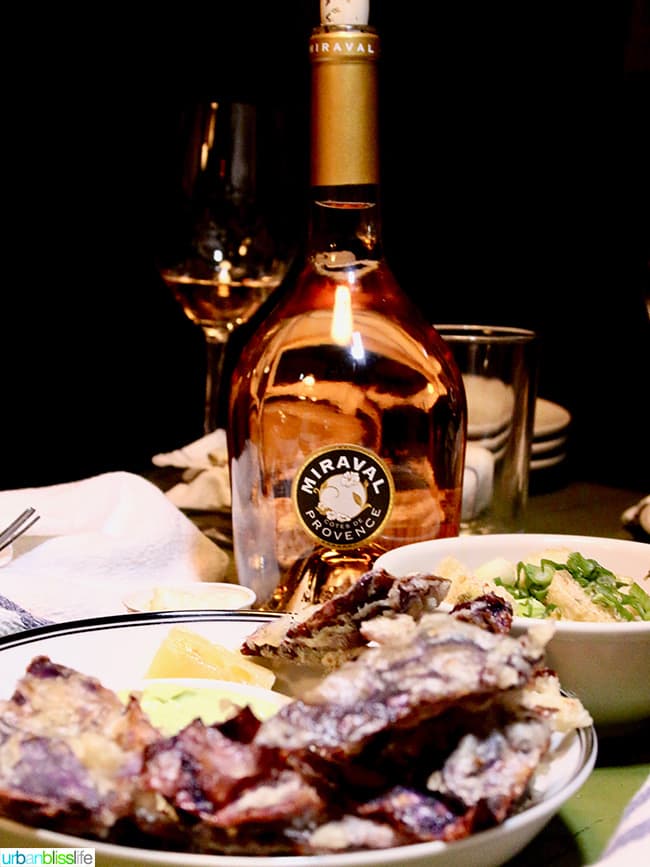 They also have a small but mighty wine list, including one of my favorites - Gruet Brut Rosé - and the Miraval Rosé, which I first had at Feast Portland this year. It's made by the winery owned by Brad Pitt and Angelina Jolie, but don't hold that against it ;) - the wine is delightful with most of the dishes at Suttle Lodge.
Lunch and dinner
The dining options can be more limited during off-season times, and the menus change based on what's available, but here are some of my favorite lunch & dinner options that I enjoyed during my stay at Suttle Lodge.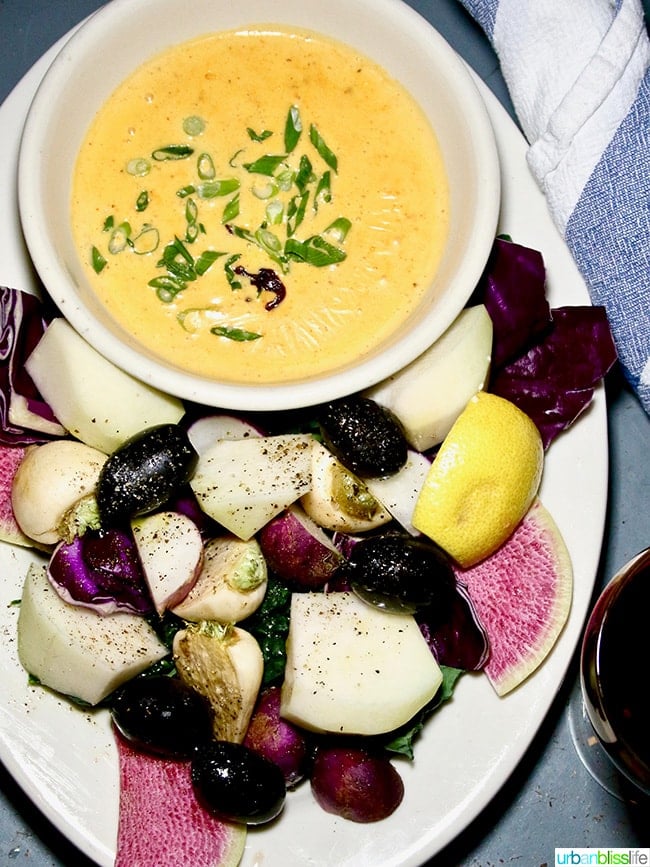 The Lodge Queso and Crunchy Vegetables was most definitely a crowd favorite during our stay here. I love that instead of the typical tortilla chips, this queso is served with a pile of beautiful seasonal vegetables.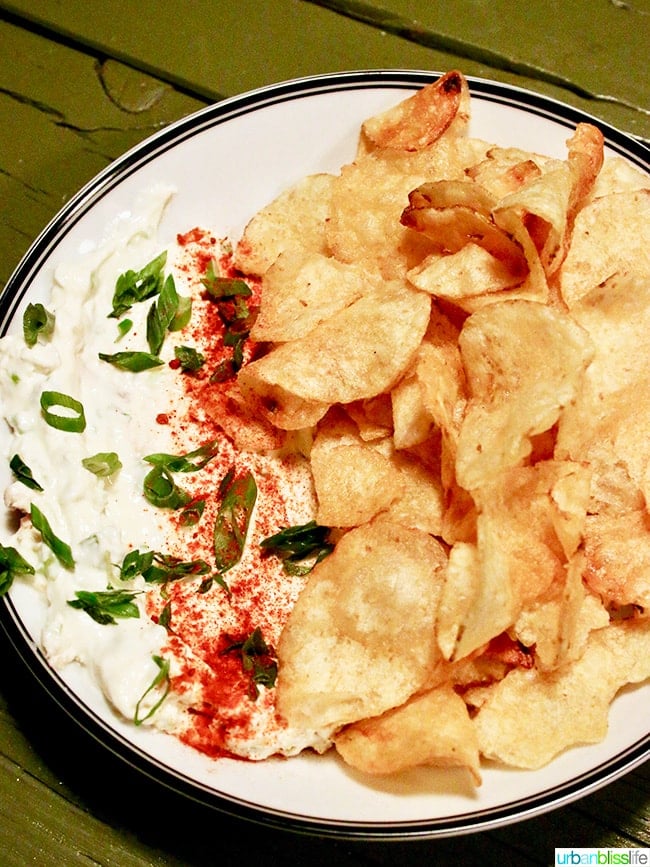 Equally addictive was the Trout & Artichoke Dip, which was served with potato chips, and rightfully so. The salty chips proved to be the perfect crunchy vehicles to enjoy the cream cheese-based dip.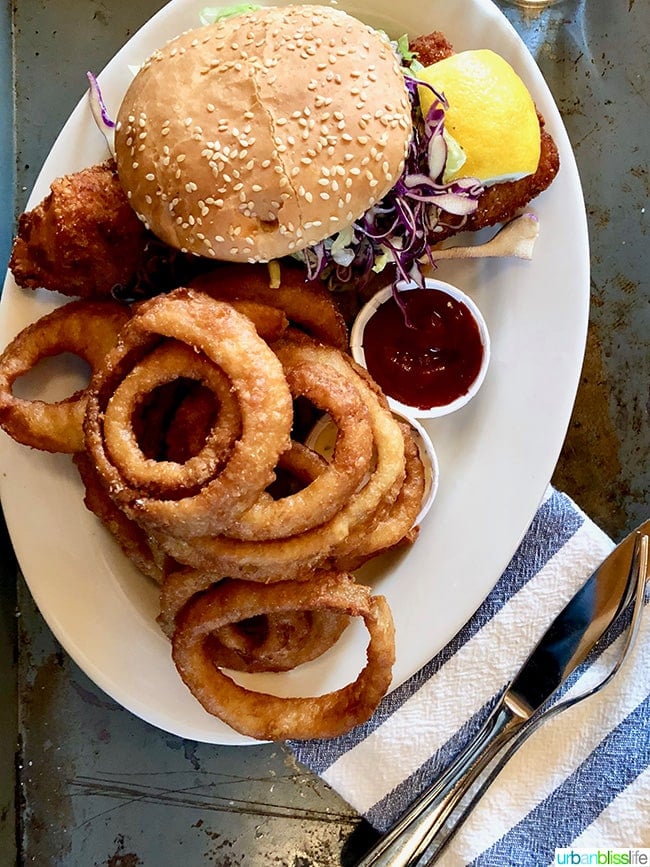 While there is no room service at Suttle Lodge, you can opt to do what I did one day: I ordered my lunch at the cocktail bar and took it back to my room to enjoy the view of the lake in serene silence. I ordered the FISH & "CHIPS" AS A SANDWICH which consisted of Kettle chip-crusted trout, served with slaw. I also added a side of onion rings, because seriously: I can't get enough of the onion rings here.
The sandwich was GINORMOUS - enough to feed two people, easily. The trout tasted fresh and I loved the Kettle chip crust.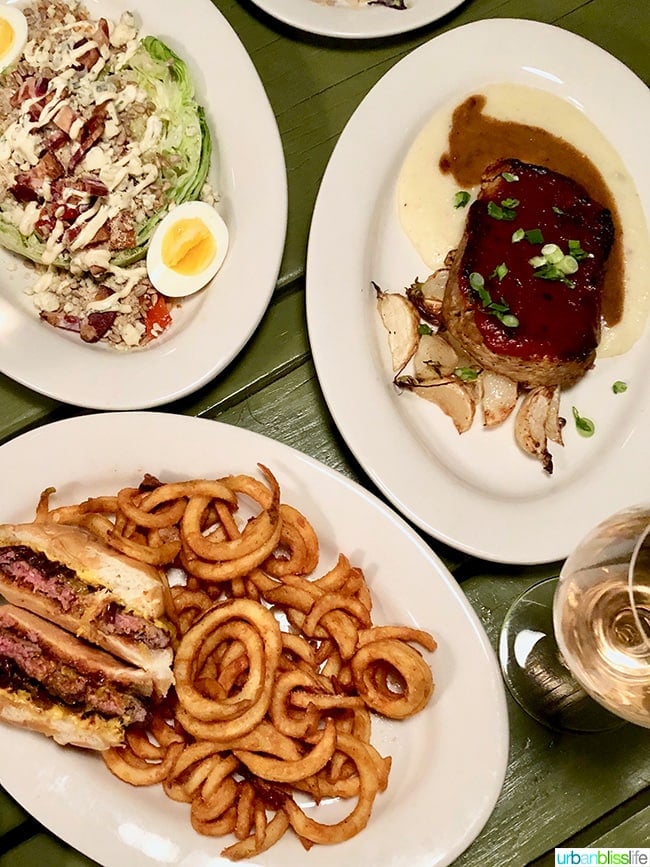 You can also order a good classic burger (Grandpa's Burger) here, as well as a loaded iceberg wedge salad, and sandwiches like Mom's Meatloaf Sandwich, as well as a variety of pizzas.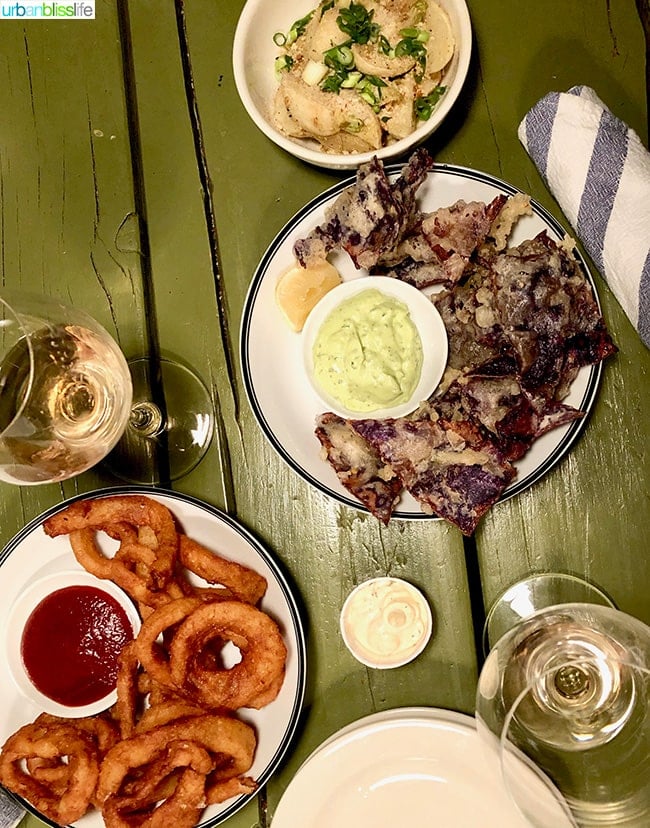 If the Fried Purple Cabbage is on the menu when you visit The Suttle Lodge, GET IT. It is crazy delicious. Who knew fried cabbage could taste so good?
And the onion rings are beautifully crispy with just the right amount of greasiness to them.
Dessert
Though the dessert options are limited at The Suttle Lodge, the ones available are mighty.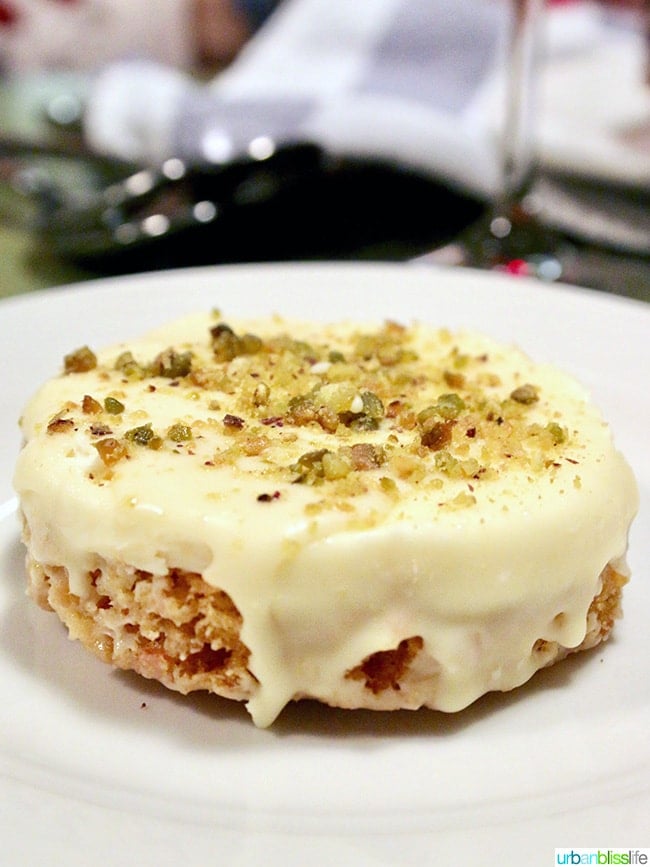 This pistachio topped cake was sweet and decadent.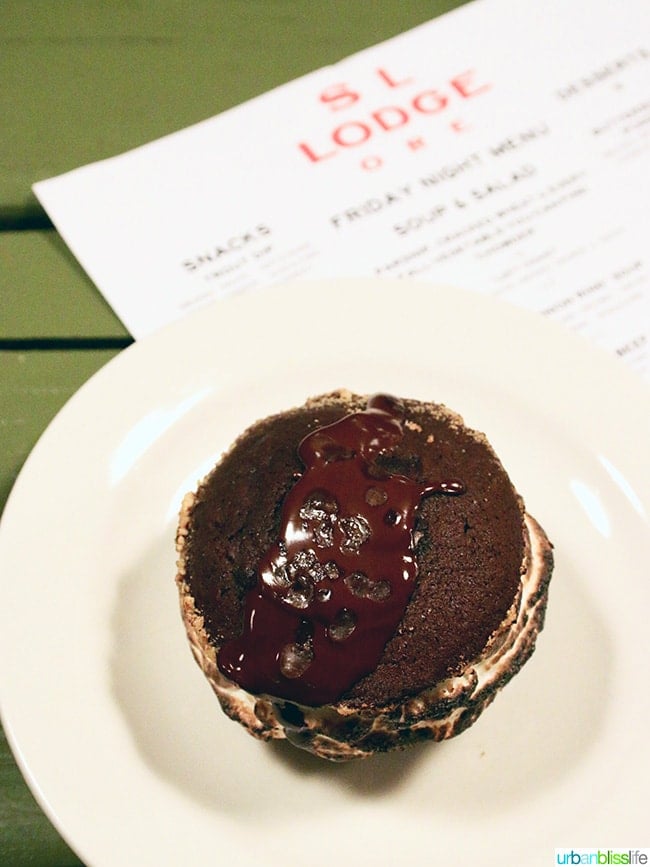 The s'mores whoopie pie concoction was a wonderful updated nod to the traditional camping dessert.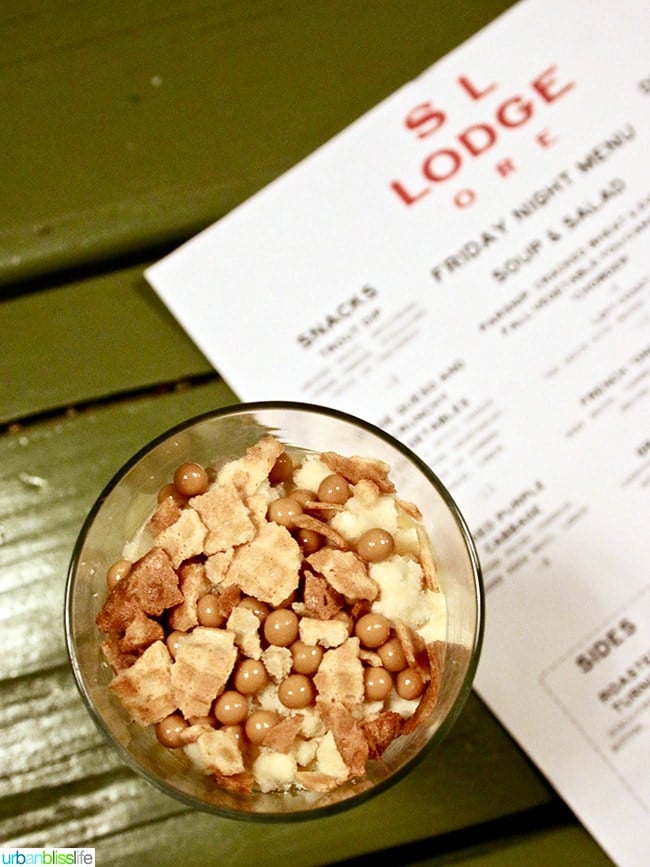 The Butterscotch Pudding with a variety of toppings was another great way to end a meal!
Dinner series
One of the coolest culinary offerings in the Sisters, Oregon is the Suttle Lodge Dinner Series.
About once a week, the Suttle Lodge invites a visiting chef to prepare a special meal as part of the dinner series. Reservations are required, and the cost varies per dinner.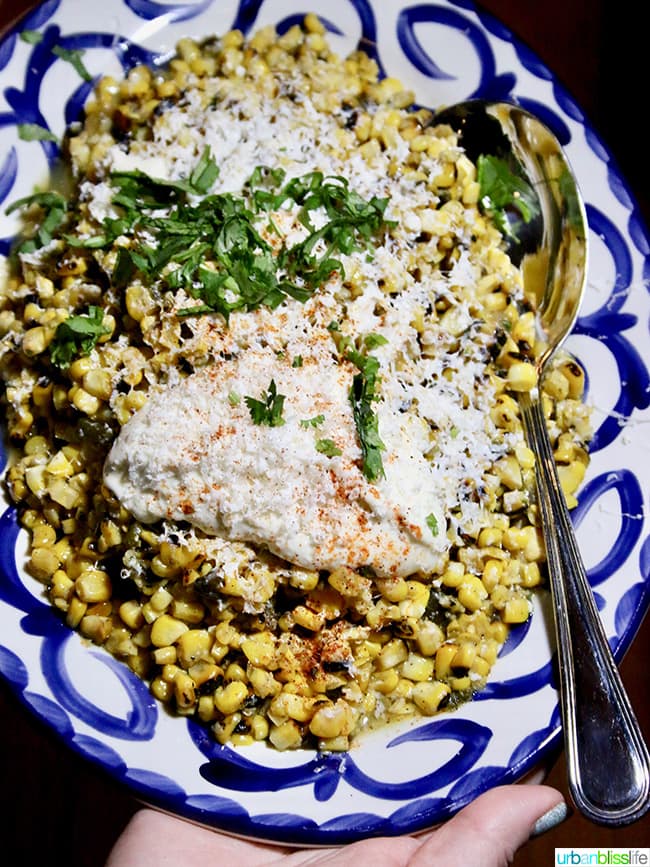 During our weekend here, chef Patrick Ryan of Kansas City's Port Fonda was the visiting chef.
He prepared an incredible feast, which included the Mexican corn pictured above. I could have eaten the whole gigantic serving bowl - it was amazing!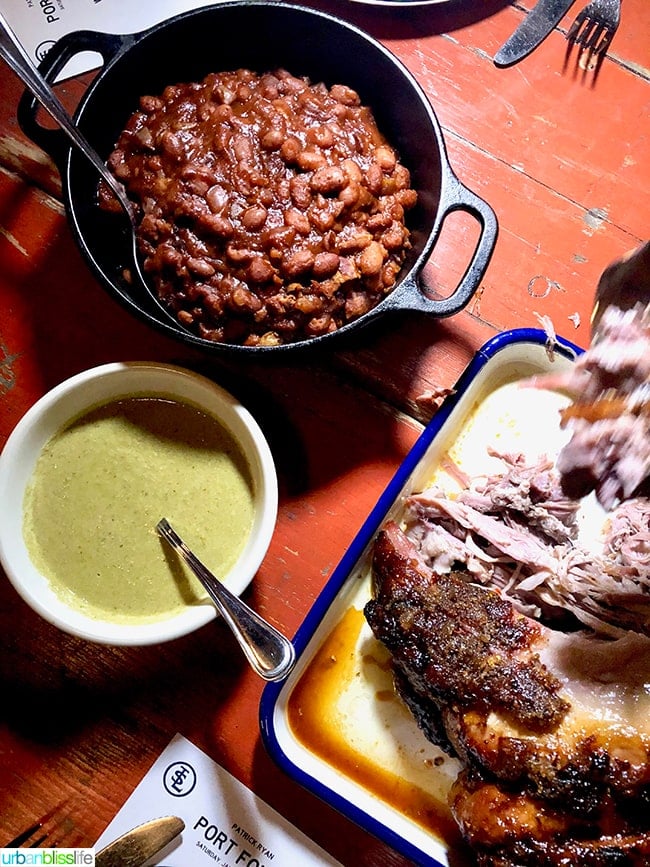 We also enjoyed a delicious Carnitas Caseras - pork carnitas prepared homestyle, with a browned sugar outside and tender meat. It was served with cornbread, beans, and braised greens.
The dinner series meal concluded with ricotta donuts, which were AMAZING. Some of the best I have ever had -- and I've had a lot of ricotta donuts!
For more information about upcoming dinners in The Suttle Lodge Dinner Series, be sure to check their website, and be sure to make reservations in advance before they sell out!
Visit
Overall, I found the dining experience at The Suttle Lodge to delicious. It was all warm, comfort food, with Pacific Northwest freshness. One thing that stood out to me was how many locals from neighboring towns like Sisters, Oregon, I met. You know that it's a good place to eat when the locals travel in to dine there!
During warmer weather, the Boathouse will be open, offering light menus right on the lake. I, for one, am looking forward to returning and experiencing the summer menus on the water.
HOURS:
BREAKFAST
Monday, Tuesday, Wednesday: lodge breakfast only 9am - noon
Thursday - Sunday: Hot breakfast 9-11am
LUNCH
Thursday - Sunday 11am - 4pm
DINNER
Thursday & Sunday 4-8pm (or later)
Friday & Saturday 4 - 9pm (or later)
For more information or to make reservations for lodging or for one of their dinner series events, visit the Suttle Lodge website.
All meals photographed in this post were complimentary as part of a blogger weekend. As always, all opinions and photos are my own.